Tuesday March 1 2022 – Long read alert – lots of photos!
We had formulated a plan for the day. Remarkably, the plan held together up to but not including lunchtime, after which we fell back into the old ways of making it up as we went along. Jane's rather good at that, so we've had a good day and I have lots and lots of photos to share with you. There, I bet that makes you feel good.
The Plan, such as it was, was to get to a tourist tick box at the extreme north of the island,  and work our way basically southwards with a couple of eastward diversions.  The starting tick box was the Mirador del Rio, one of the many César Manrique landmarks which can be found across the island, and a very popular site, hence wanting to get there fairly early, before it was overrun by bloody tourists. That bit of the plan worked well, and the car park had plenty of space when we got there. (It filled up quickly and newcomers had to go to an overflow area)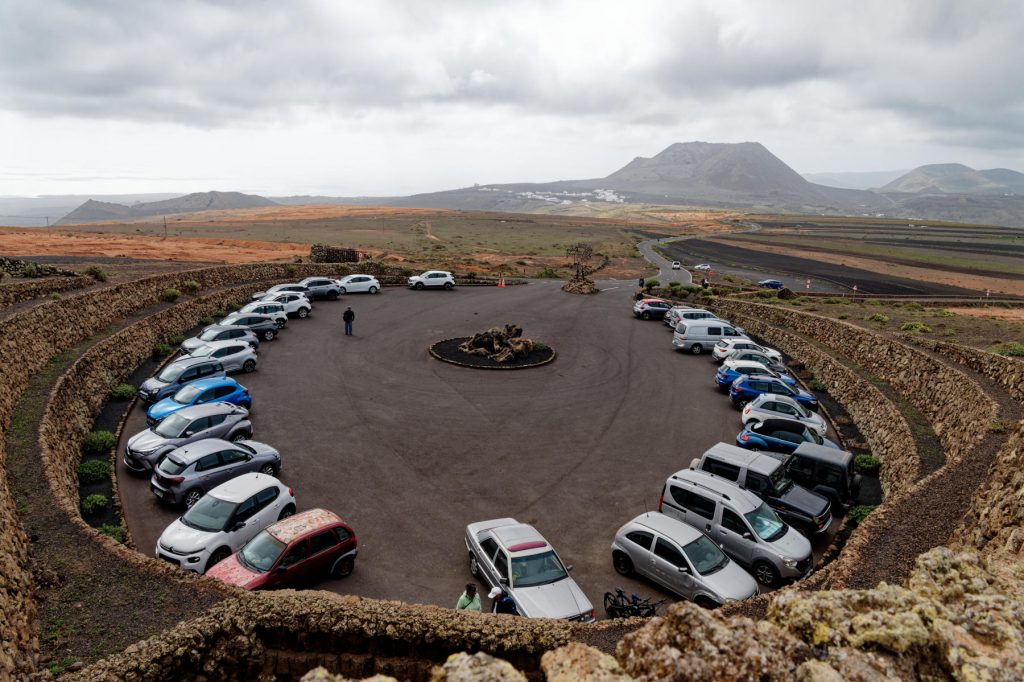 It's deservedly popular.  You buy your ticket and go into the building there, and the first thing that greets you is a coffee bar with very striking panoramic windows.

As you'd expect in a Manrique creation, there are typical touches all over, including the coffee bar's light fittings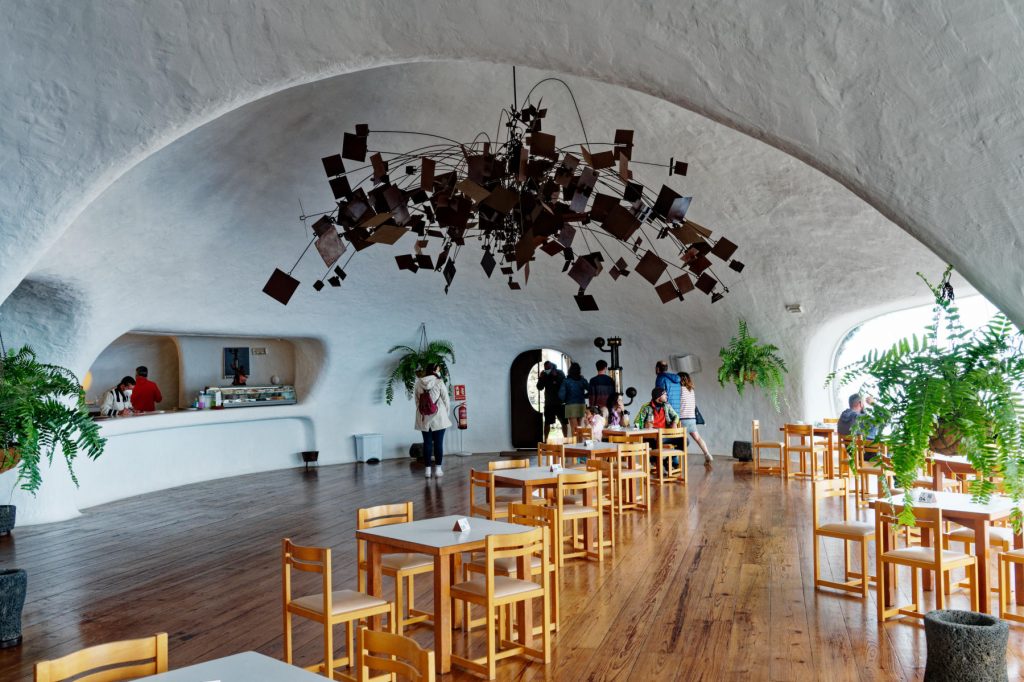 and a curved seating area with a porthole view over the car park. (The porthole is the only building feature you can see from the car park.)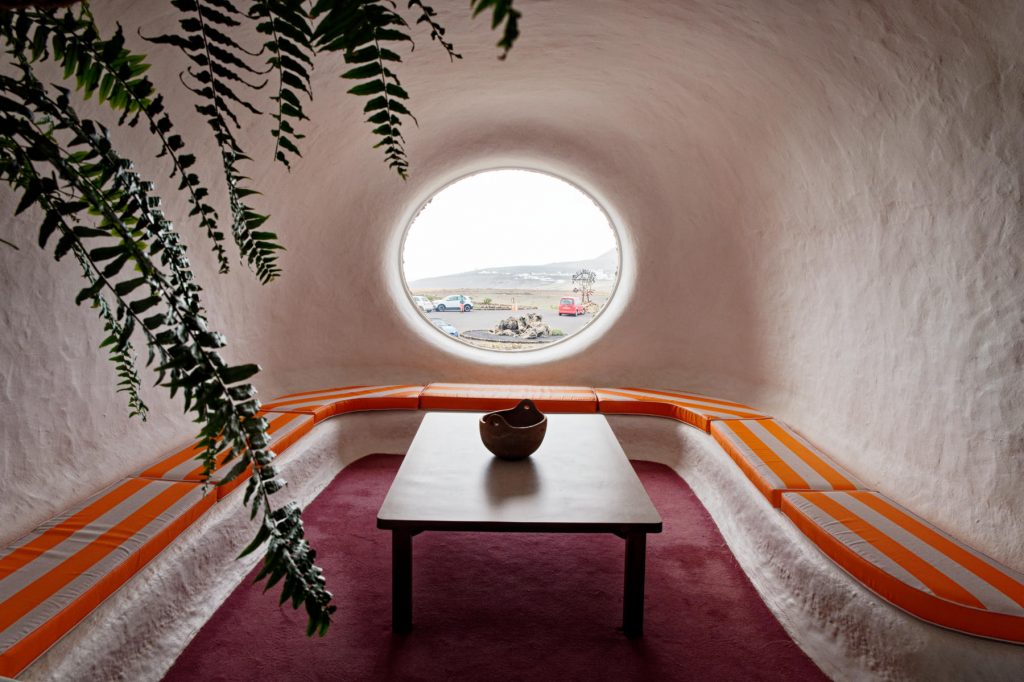 From the coffee bar, you go outside and get blown to smithereens by the bloody wind are immediately presented with a splendid view over the neighbouring island of Graciosa.  You can then climb a spiral staircase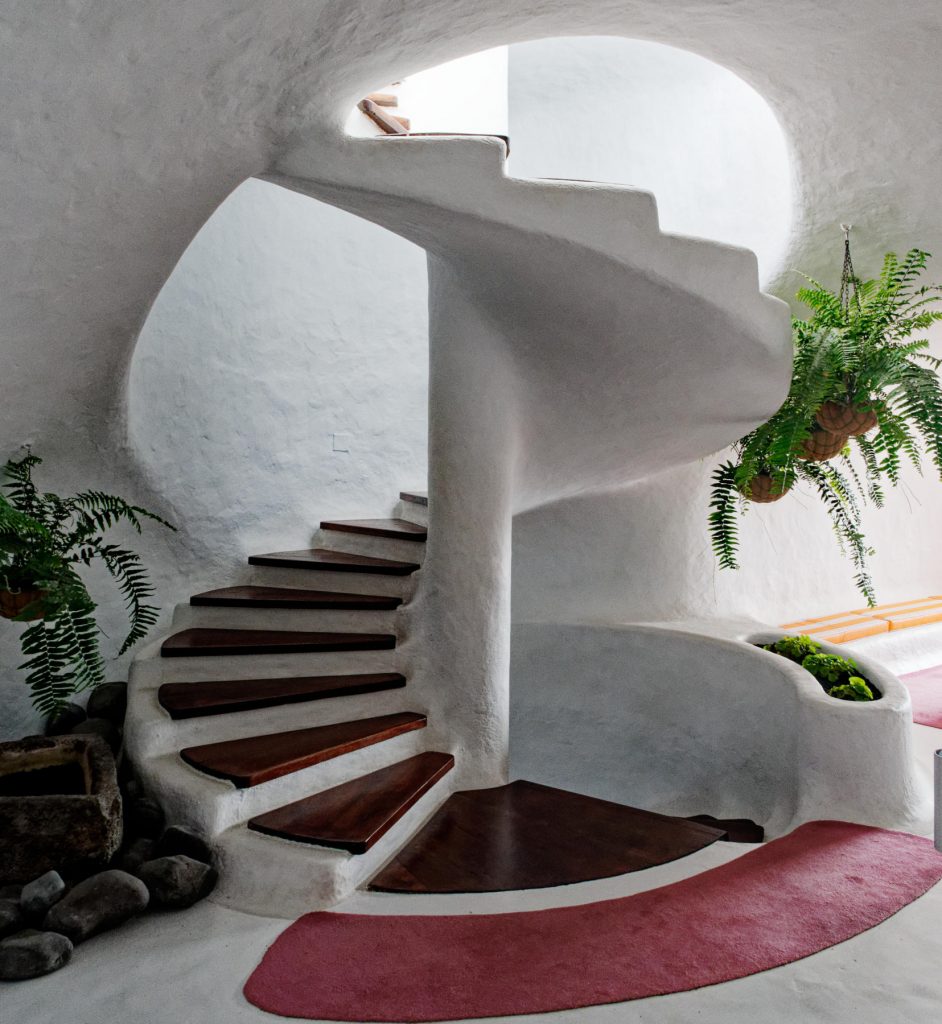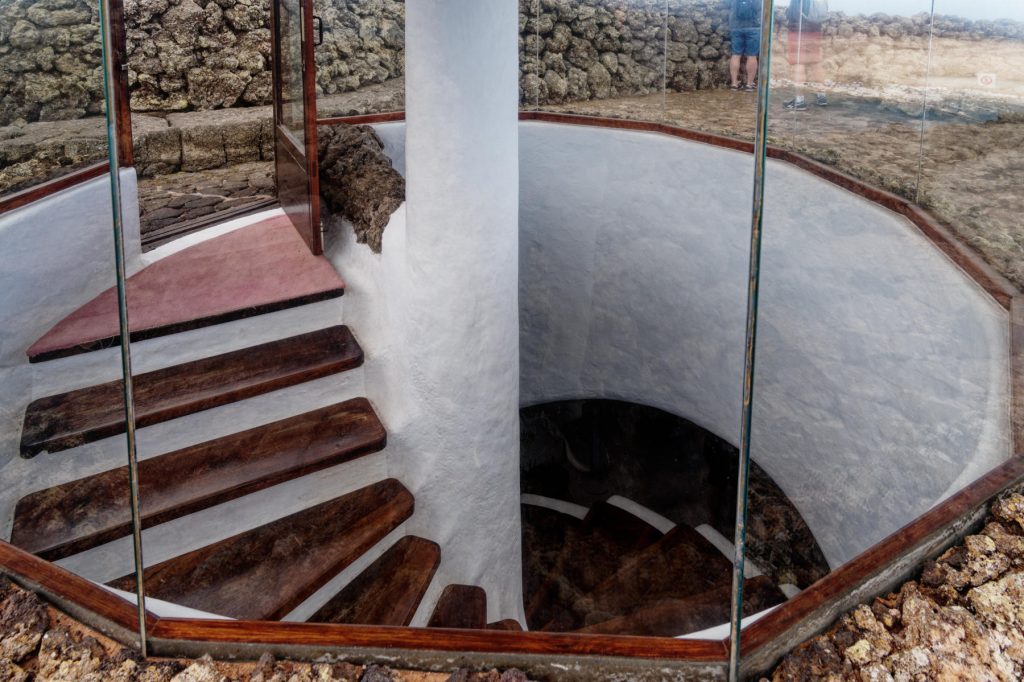 to a higher level, where you get an even more impressive view.

Upon leaving you are offered the chance to follow a narrowish road that follows the clifftop for a couple of kilometres.  The views are spectacular, but the track is sufficiently narrow that it can be difficult to stop to take photos, so we didn't.  However, courtesy of the "Walking in Lanzarote" book, we'd read about a path that led off to a "stunning picnic spot", so we thought that might be worth a punt.  I'm glad we did.  It was a short walk to what did indeed look like a convenient place for a picnic.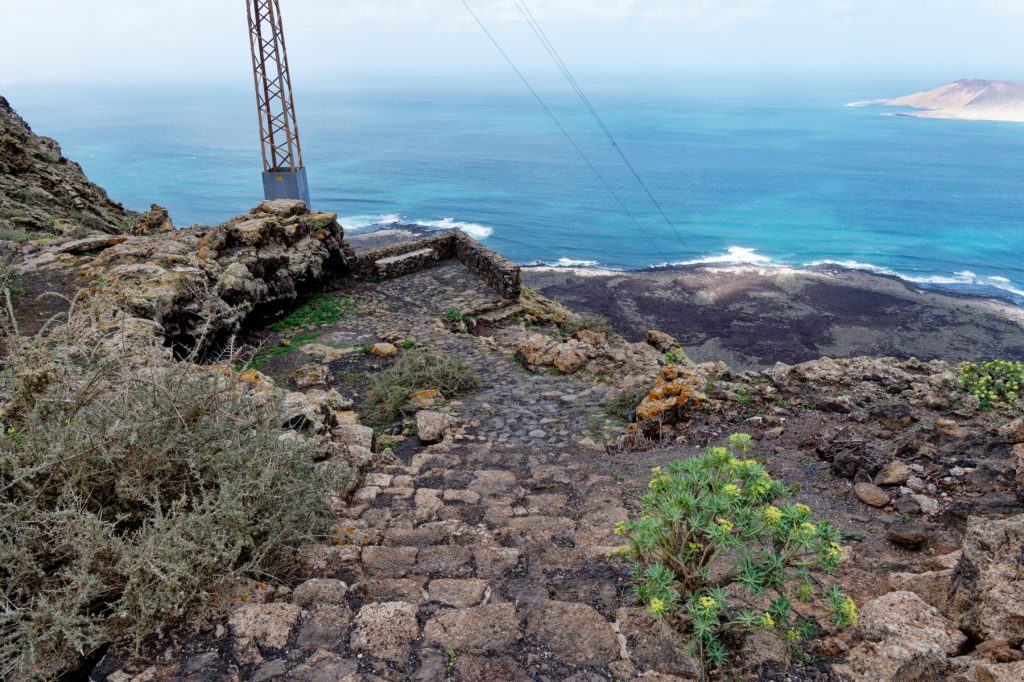 and it did indeed offer a splendid view.
If you look closely at the piece of mainland closest to Graciosa Island, you can just make out some salt flats (Salinas del Rio).  I only mention this because one option at this point would have been to continue down the mountain on a very perilous-looking track and walk to the salt flats and then back – back up the perilous track.  This walk is described in the book as "very strenuous", to which my reaction is "no, really?"
Our route took us next to the town of Haría, where César Manrique made his final home, which has now been turned into a museum.  As we approached Haría, we had no idea how big the town was, whether the museum had parking or how crowded the place would be.  So we followed the first signs to a car park that we saw, which led to a frankly rather scruffy car parking area in a rather scruffy-looking area of town.  But at least it was somewhere to leave the car, and so we set off in search of the museum.
It was a mile away. On the other side of town.
However, as we discovered during the walk, there are many handsome buildings and pleasant sights in Haría; it's not all scruffy.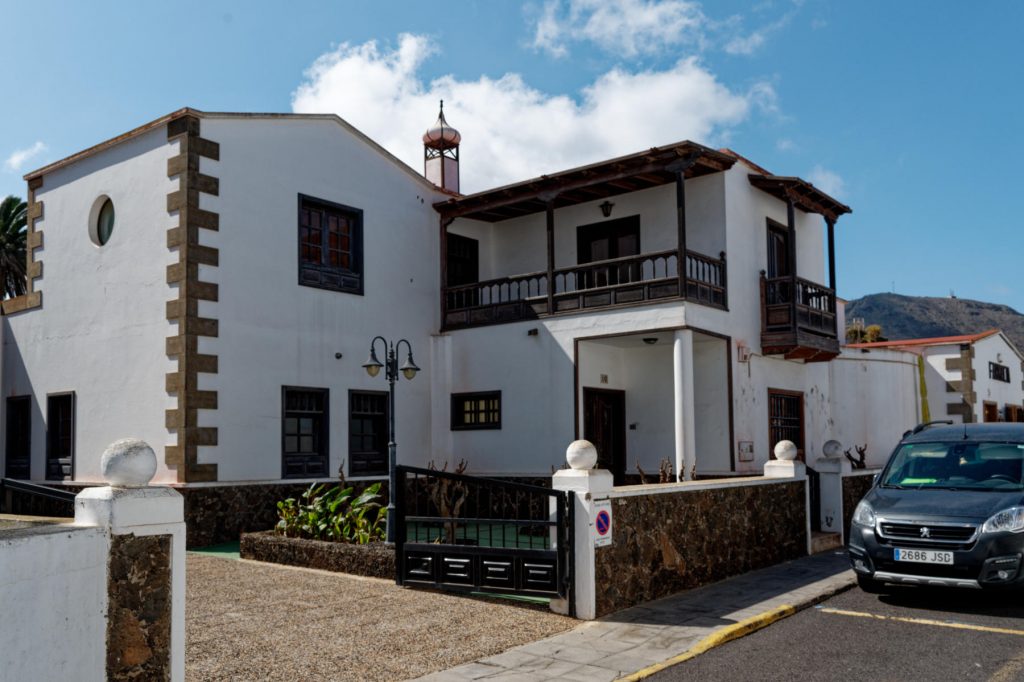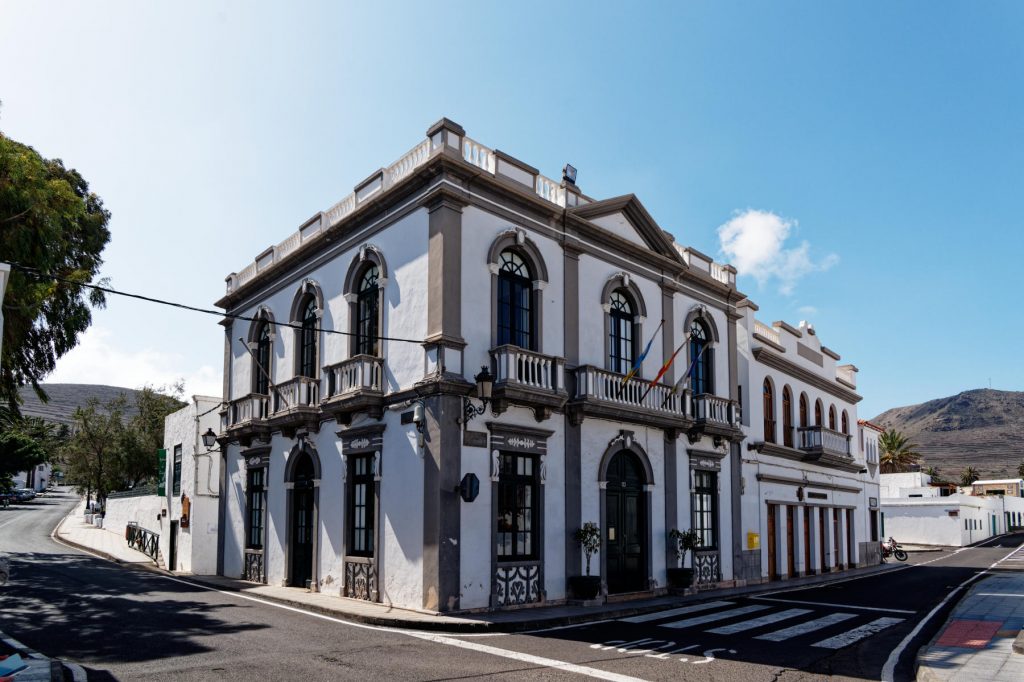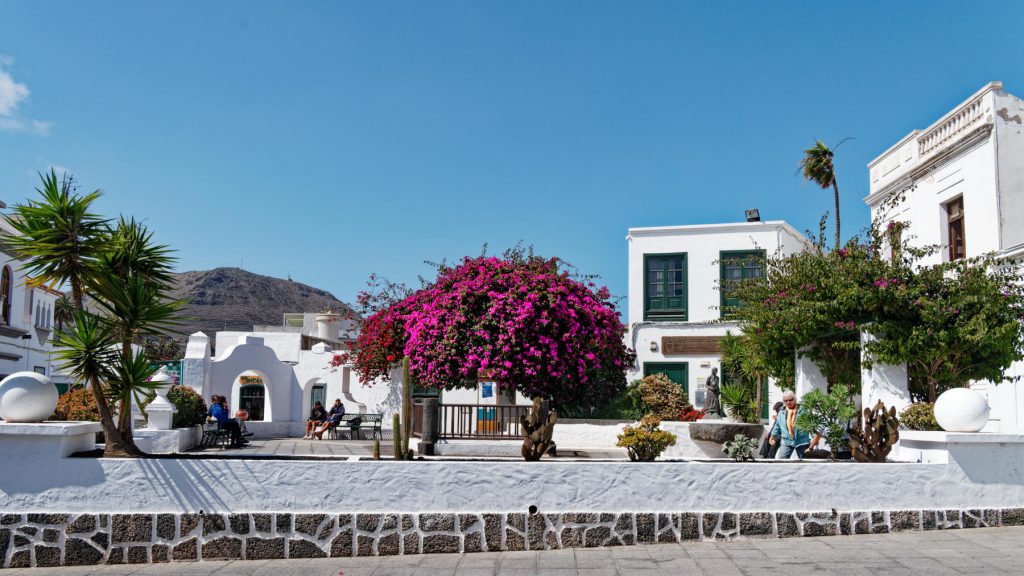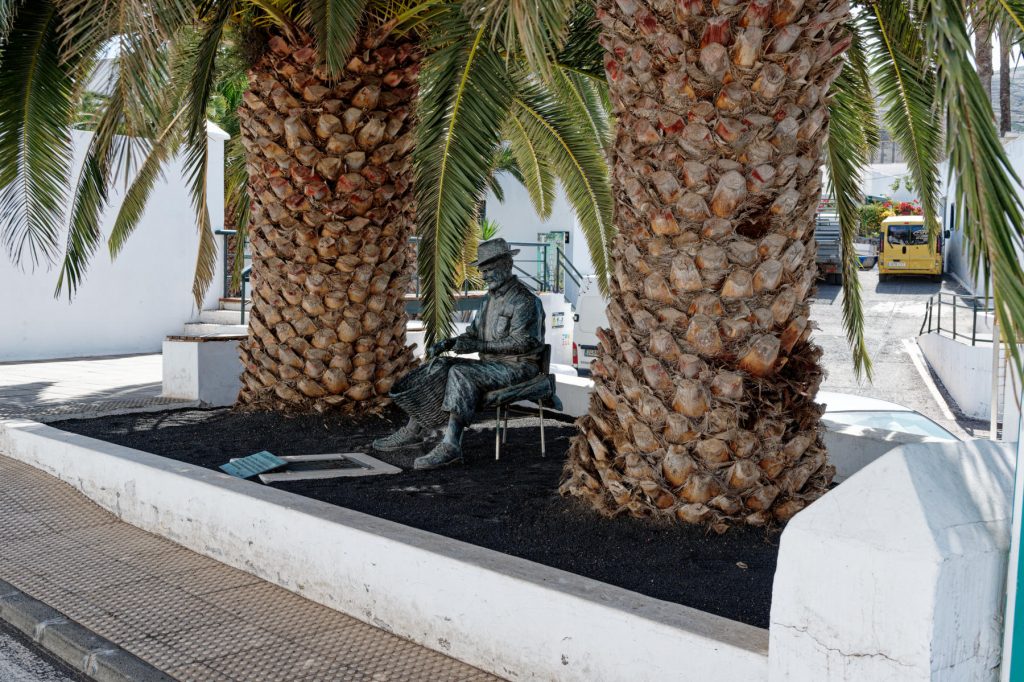 We eventually found the museum.
It has a car park.
We bought our tickets and went in.  You're not allowed to take photos inside, something which annoys me, as I can't see what the justification is for the prohibition beyond selling you a book with photos in it. And actually the place was, unlike the Fundacion location in Tahiche that we'd visited yesterday, quite prosaic. It was just a home, not a work of art – and a very obviously 1990s home, at that. Nice enough but really not that striking (except the bathrooms – Jane thought that he gave great bathroom).  The outside is pleasant though.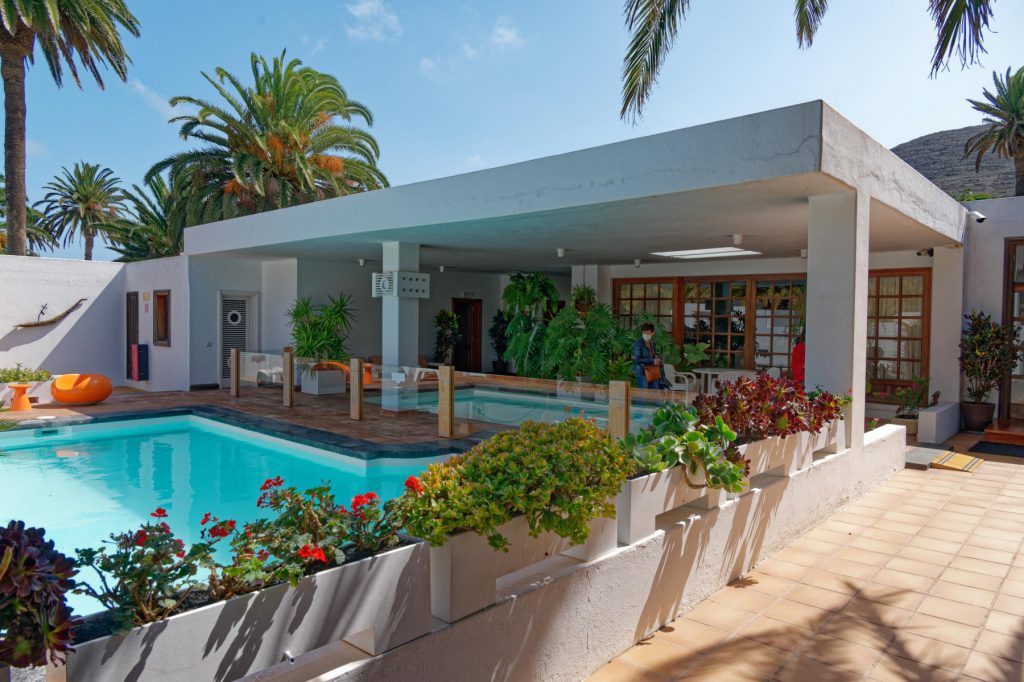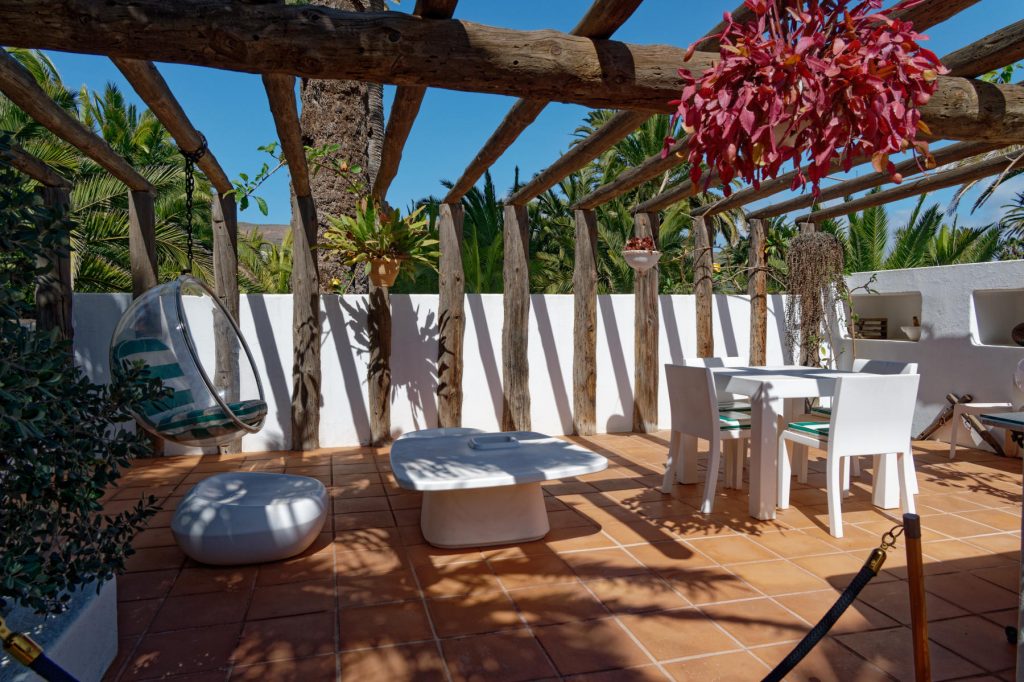 and you can visit his studio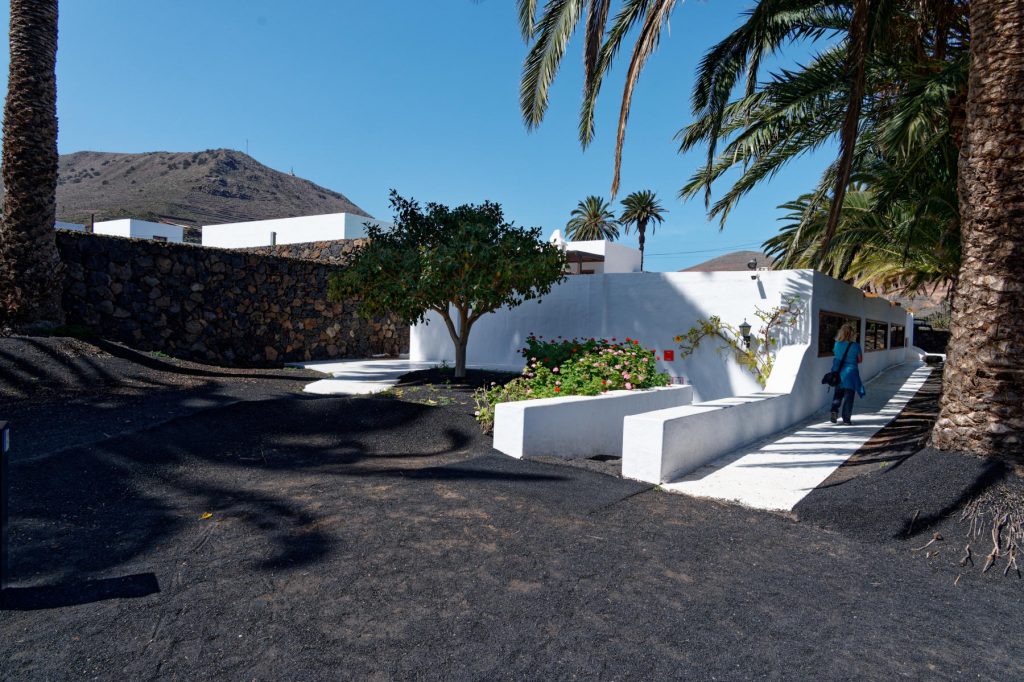 where I risked the anger of The Authorities and grabbed a quick illicit shot as I left.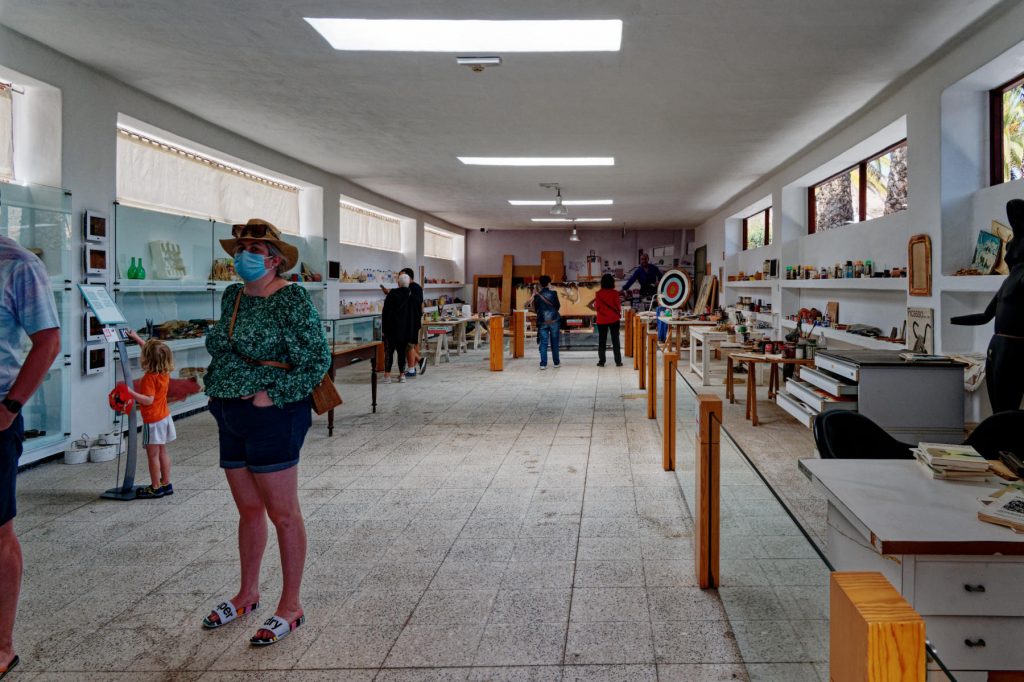 Overall the place might be of great interest to a Manrique devotee, but I'm not one. That, and the photo prohibition, left me less than impressed.
And it was a mile back to the car.
But there were some more handsome buildings and nice sights to see en route, so it wasn't too bad,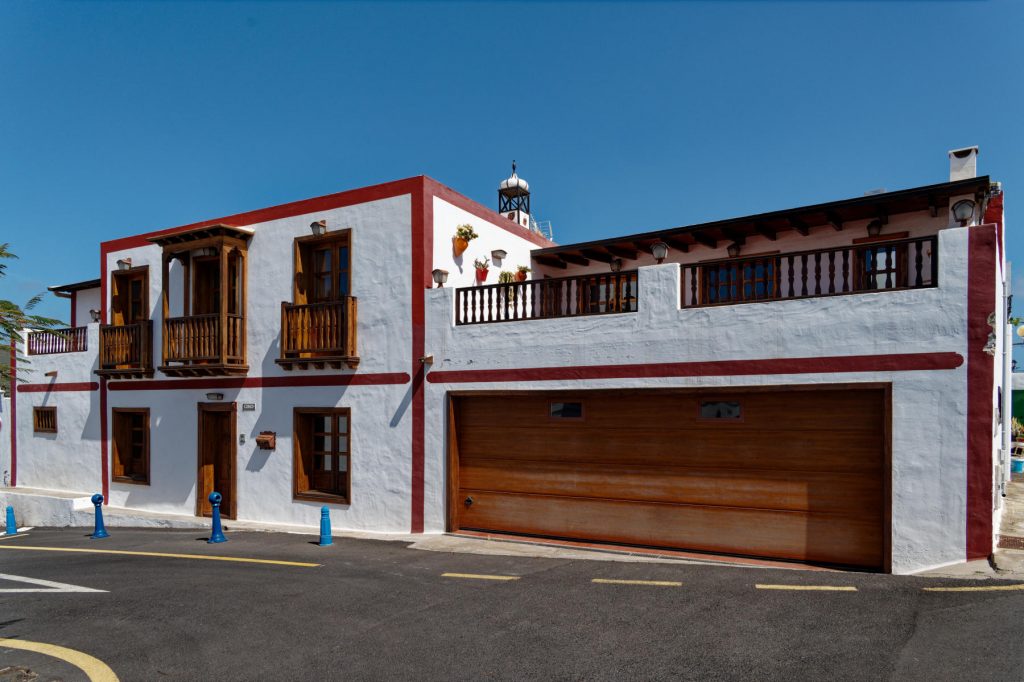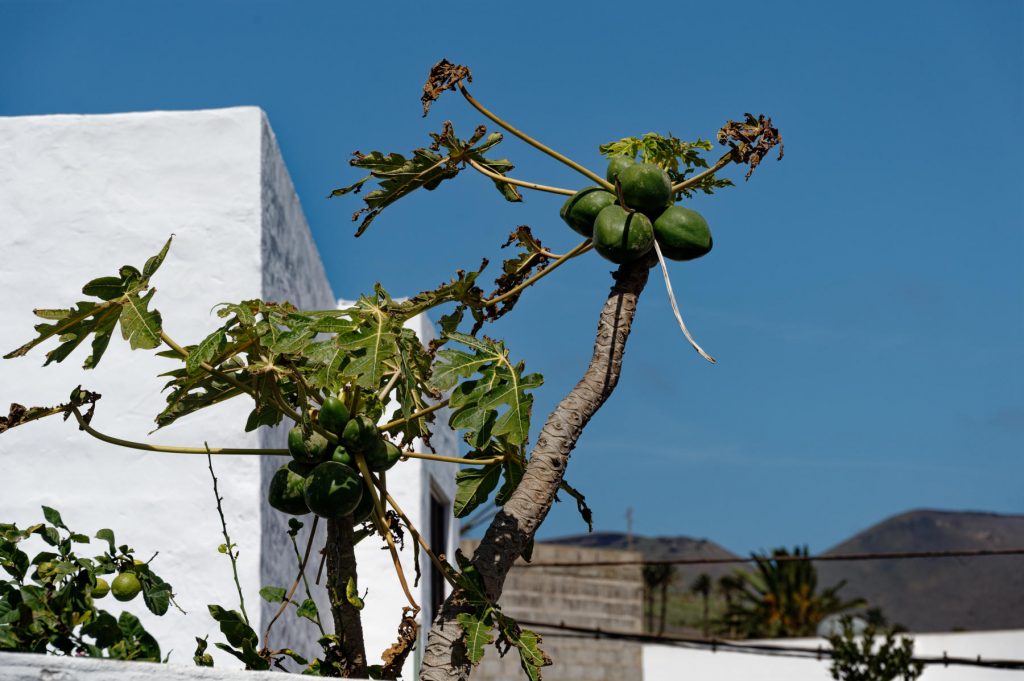 and it appears that the Aloe thing reaches even out here.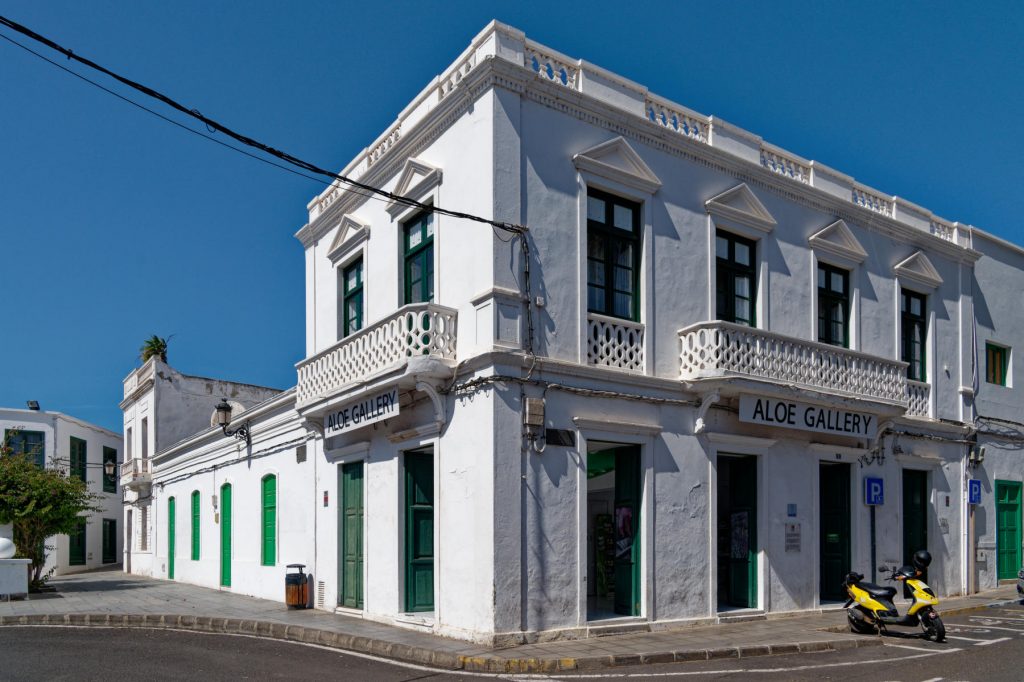 Miradors abound in this neck of the woods, and we wanted to visit the next significant one, Mirador de Haria, as it offered (as well as a view of Haria, as might be inferred from the name)  glass walkways over a precipice, just to give you that extra fillip.  Sadly, too many other people had had the same idea and there was nowhere we could leave the car safely to go in.  So we carried on to the next, somewhat higher, viewpoint, which is called Mirador de los Helechos.  Parking here was easy, and it was clear that a decent view would be forthcoming.  The turnstiles to access said view required a €1 coin, which was a bit of a facer, since we had no coins at all.  We went into the restaurant to try to get some coins, and it became clear that if you were to buy a coffee they would let you out to the view. So we treated ourselves to the second coffee of the day and accordingly got out to see what is indeed a great view.

If you look closely you can just spot, on the left hand side, the Mirador de Haria.  Here, let me show you: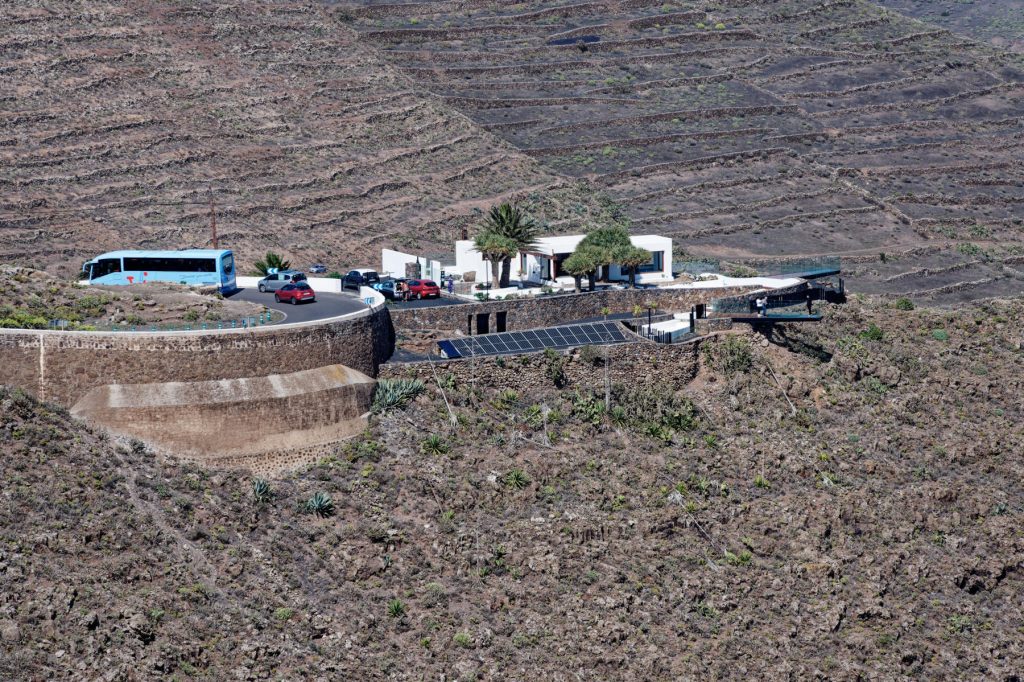 You can see how inconveniently small the car park is.
There's a view over the towns of Haría and Máguez, which you can see to the right here (I've left in the other mirador for context)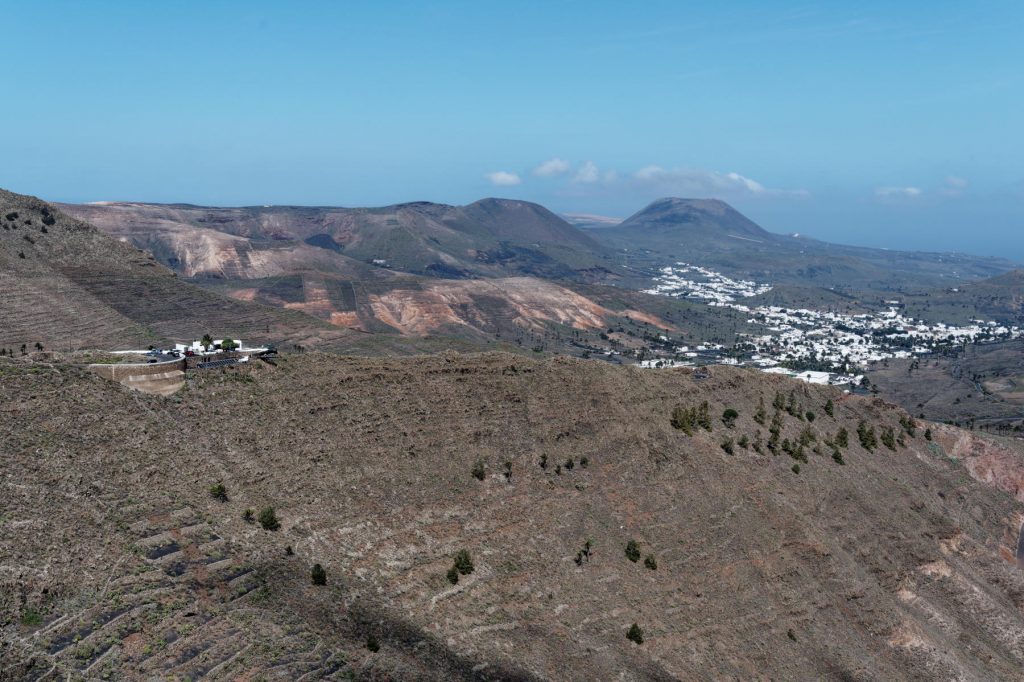 and the towns present a bit of an optical illusion of a witch riding a broomstick, with the upper part, Máguez, being her hat.
It's interesting to see the extent to which the land is  cultivated, and this viewpoint gives a good insight.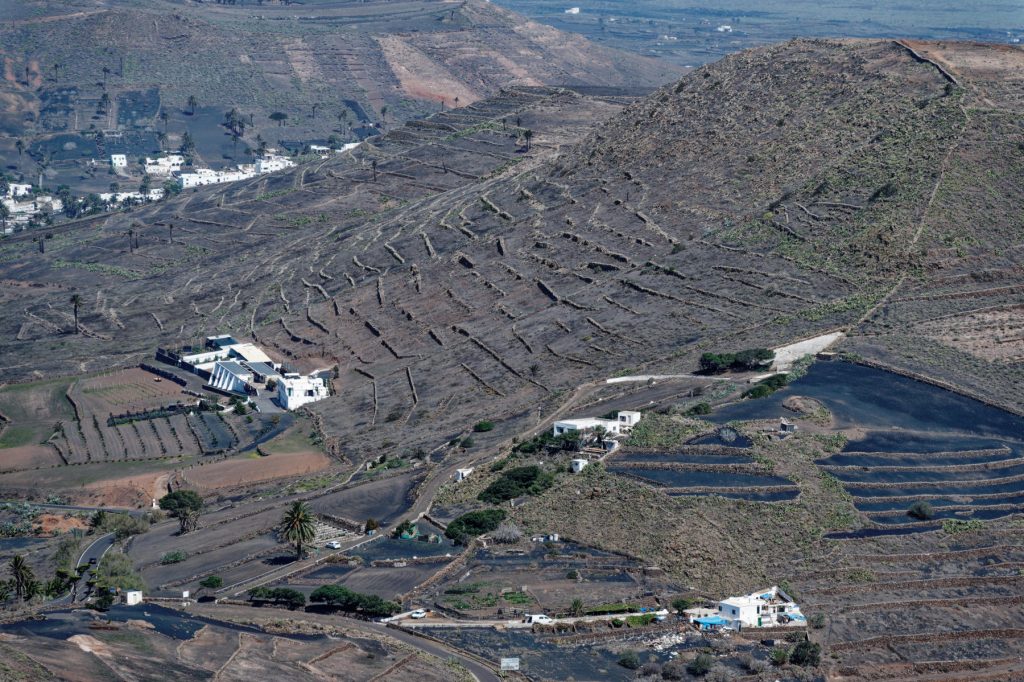 You can see that terraces have been created from bottom to top of hills.  It must be back-breaking work to cultivate them but it's clear that this is the way of things.
By this time, lunch was calling, and this is where our plan basically came unstuck. We had hoped to lunch at another viewpoint, Restaurante Mirador de Los Valles, a bit further along. But by the time we got there, it was full.  We would have phoned to book, but since we had no idea what time we'd get there we thought we'd try our luck.  Since it was by now 2pm – prime lunch time in these here parts – our luck was out. The staff made a desultory attempt to put us at an outside table, but since the wind was gusting around and they didn't even come for several minutes even to ask if we wanted a drink, we decided to move on and try our luck elsewhere. So the improvisatory nature of this holiday came once again to the fore and Jane suggested we go to the nearby town of Teguise. This turned out to be an excellent idea.
Teguise was at one stage the capital of Lanzarote, and it shows.  There are many fine buildings and plazas and a general sense of Being Something.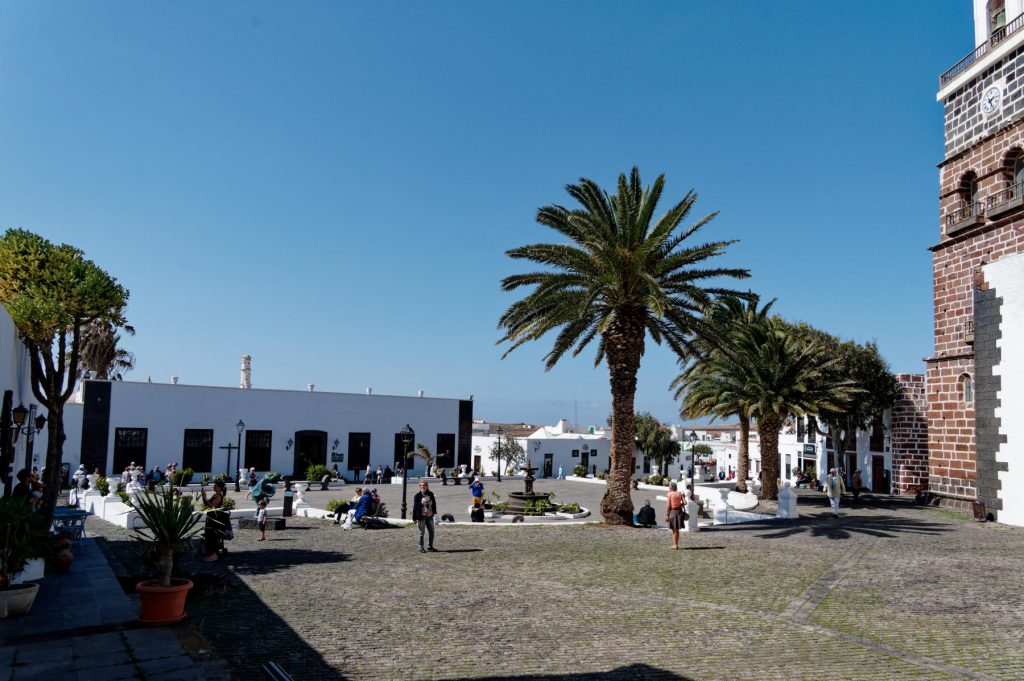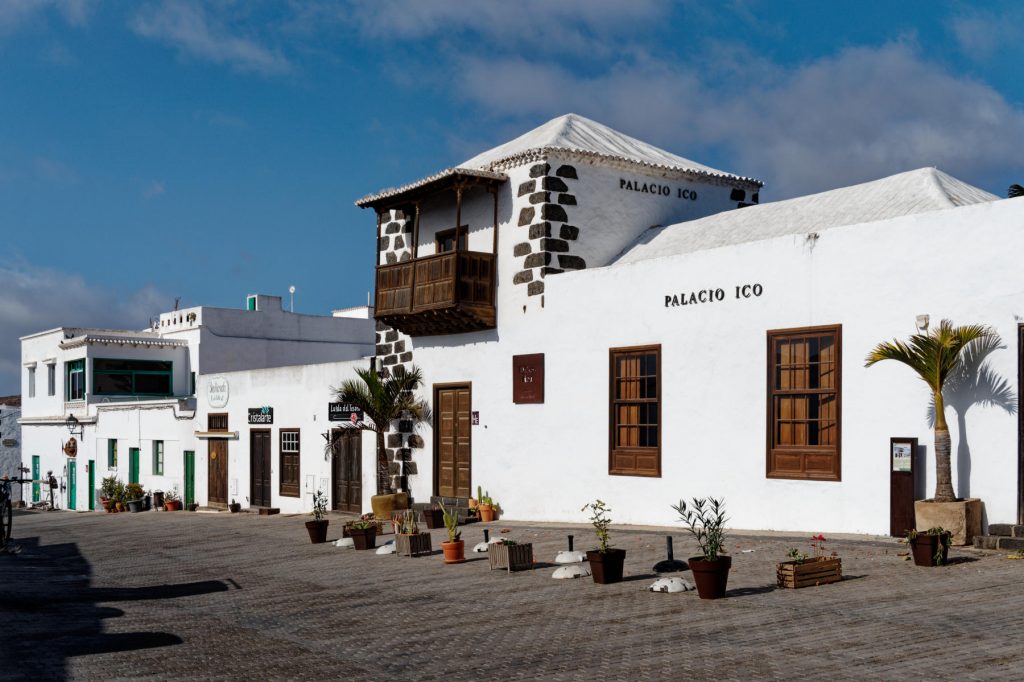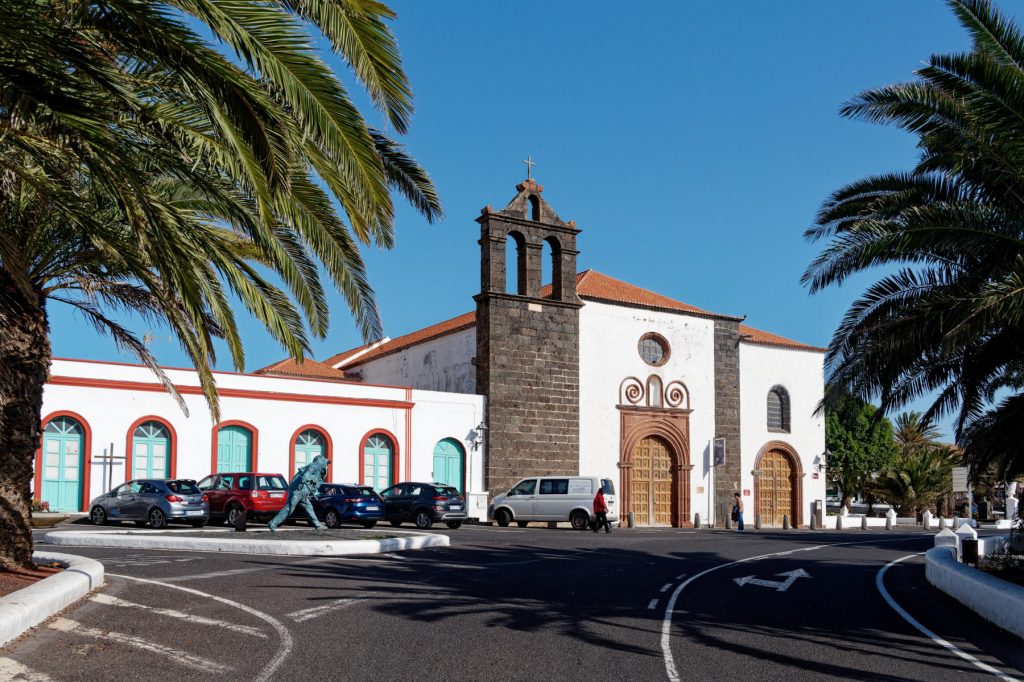 On a hillside overlooking the town – and closed for obvious reasons when you see the photo – is something that simply had to be photographed – Santa Barbara Castle.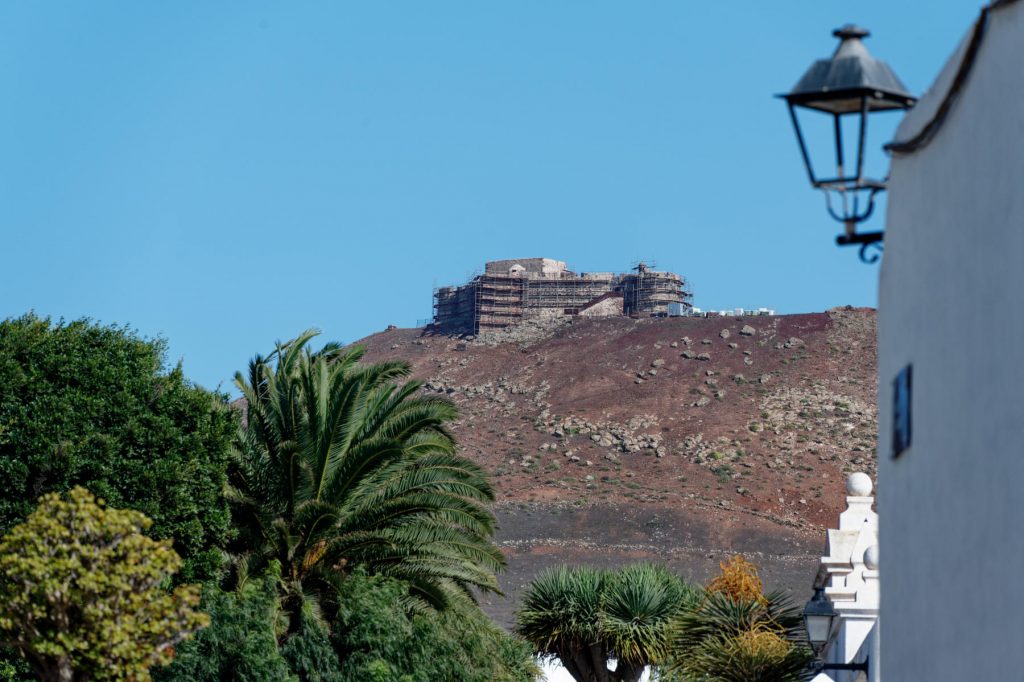 (I guess you have to be of a certain age to appreciate the significance of the name.  If you're not, then look it up, OK?)
One place we wandered past had a blackboard publicising tapas on a roof terrace, so we thought we'd give that a shot. The first impression was a bit strange – it was dead quiet as we walked in. But a waitress encouraged us up the stairs and there was a nice terrace; in the shade and out of the wind.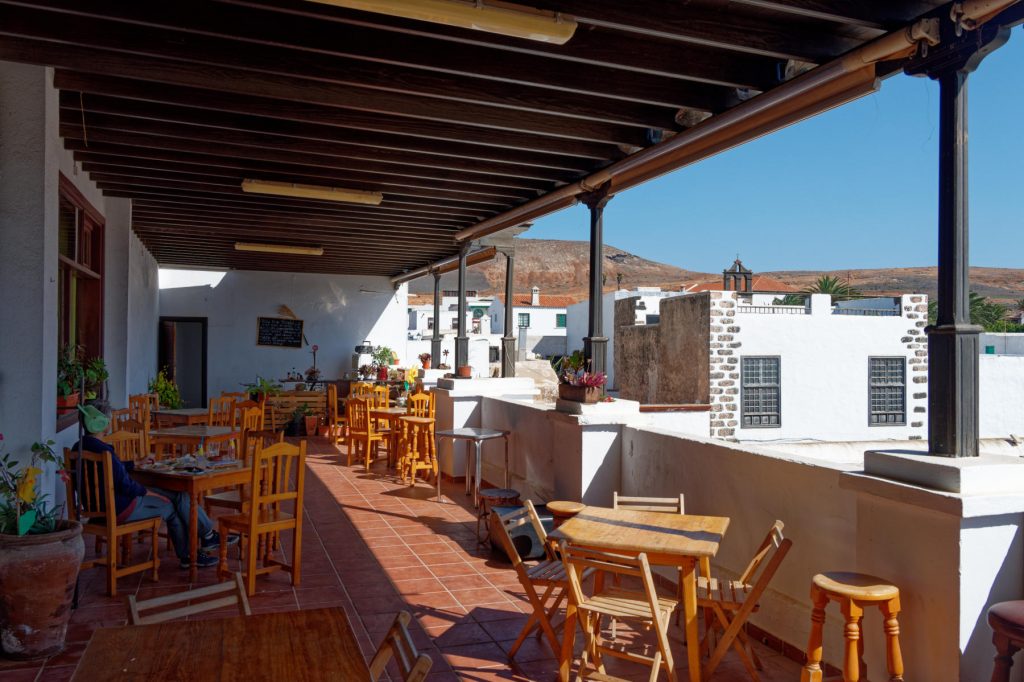 We noticed that there were water bottles jammed into the eaves of the roof.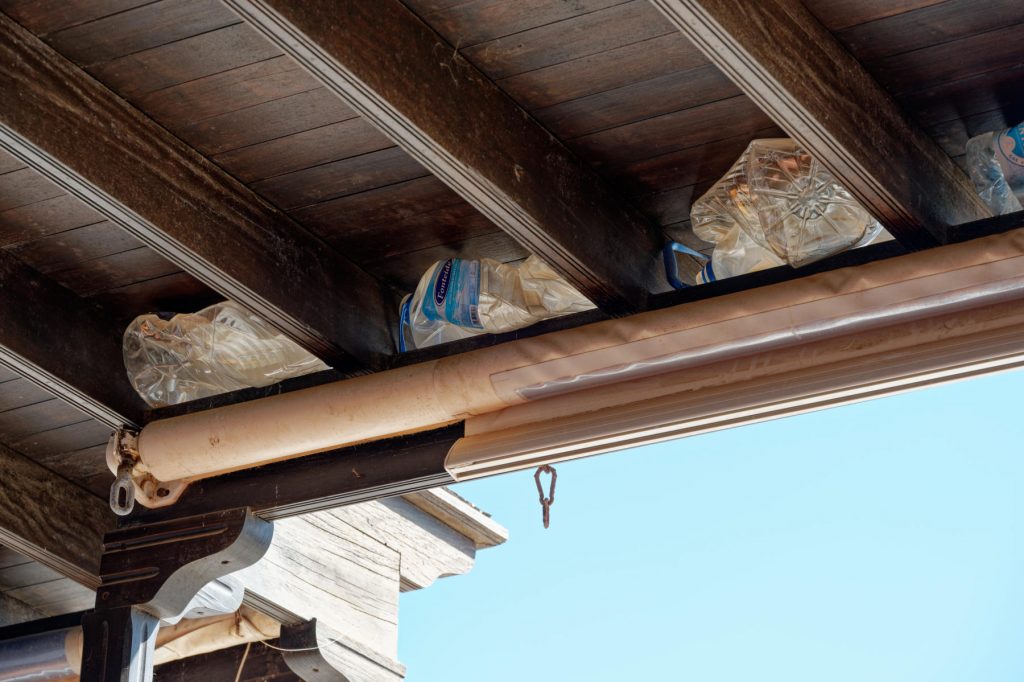 On reflection, we thought they were probably there to dissuade roosting and/or nesting by the doves which were in plentiful evidence.
The menu was handwritten on a notepad, but included some tapas and they also offered gin, so we stuck with it and it turned out to be a very nice lunch, particularly once a noisy family with kids had left.
The place was actually the Social and Cultural Centre of Teguise – a very quirky and slightly odd building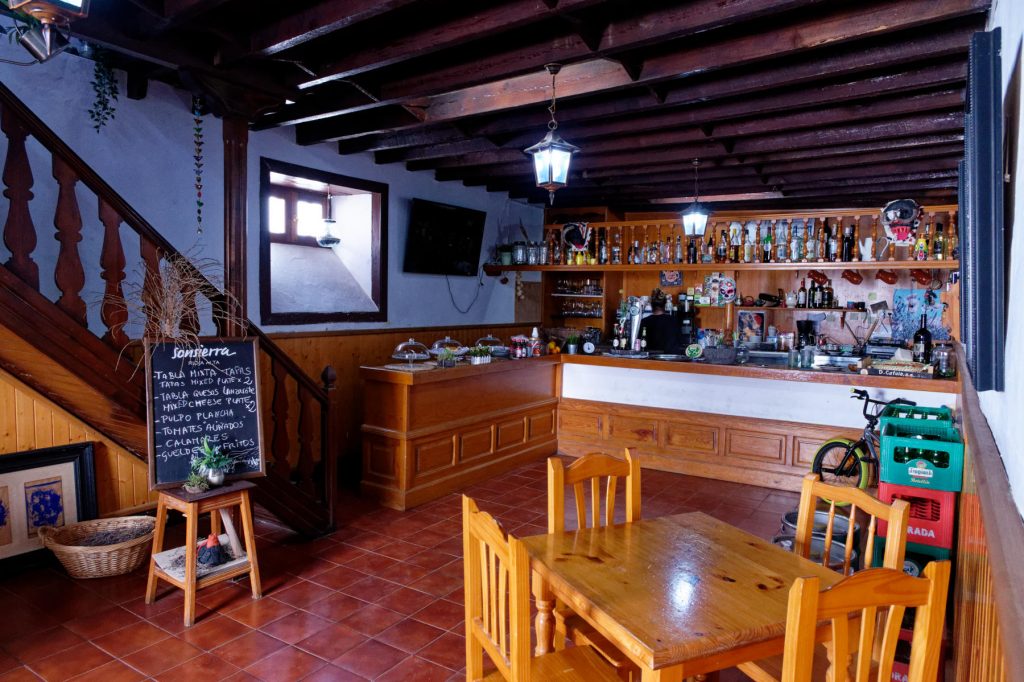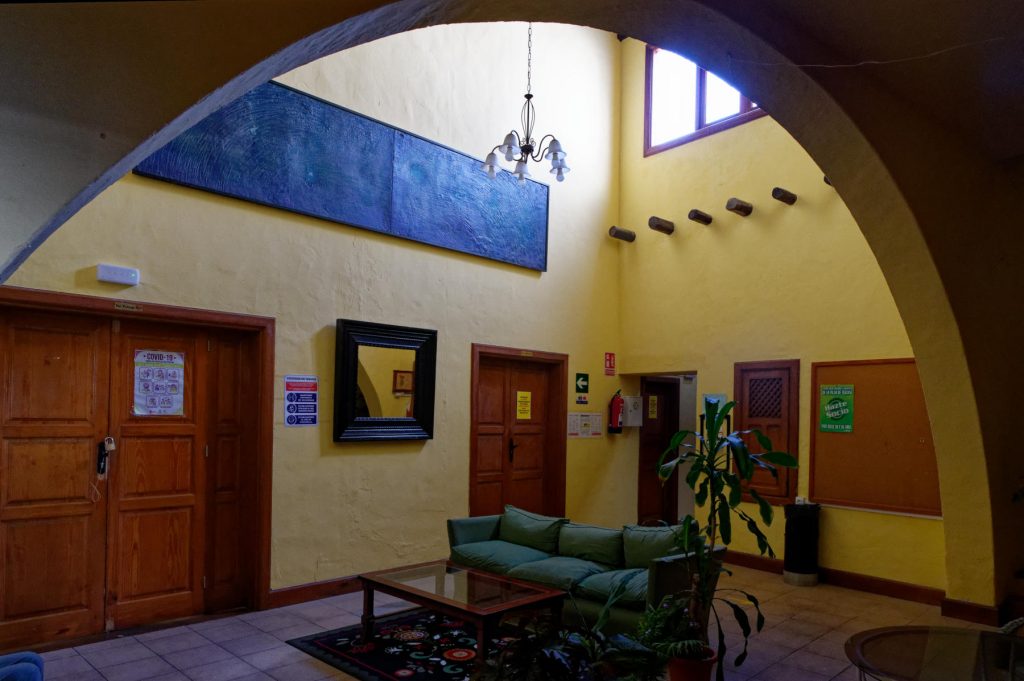 but handsome from the outside, like so many others in the town.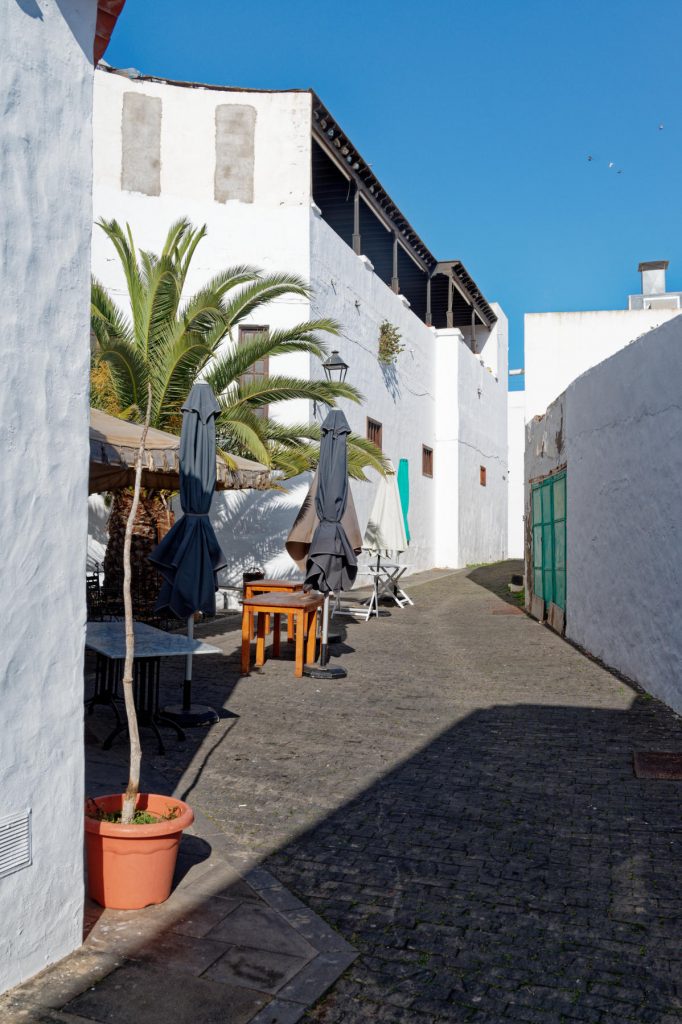 We walked around the town after lunch, admiring the place, and I tried my hand at some Arty Photos,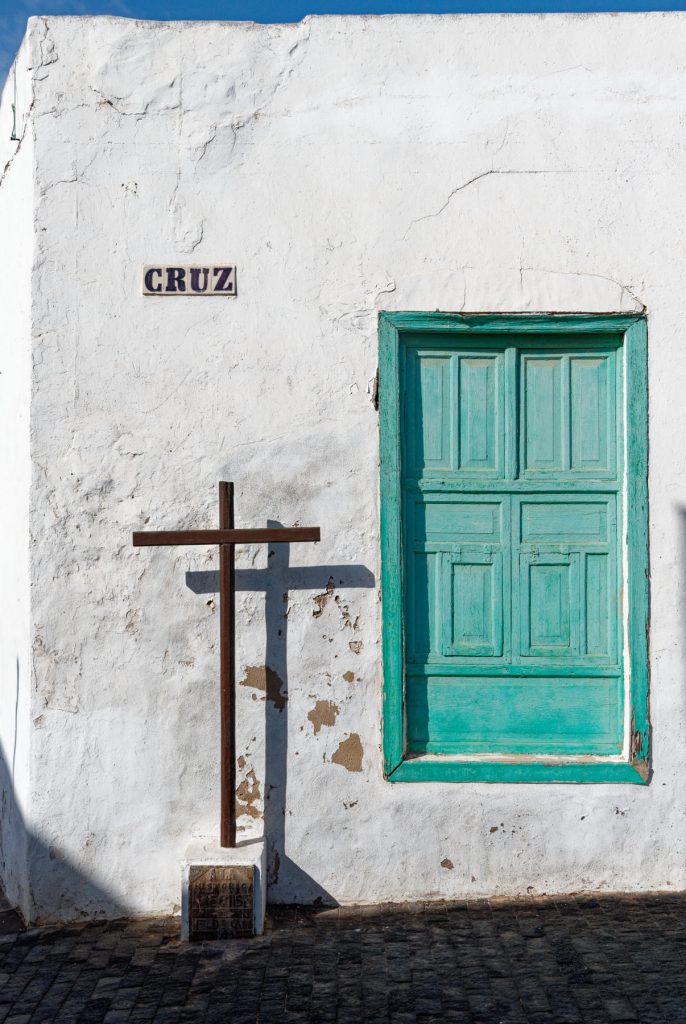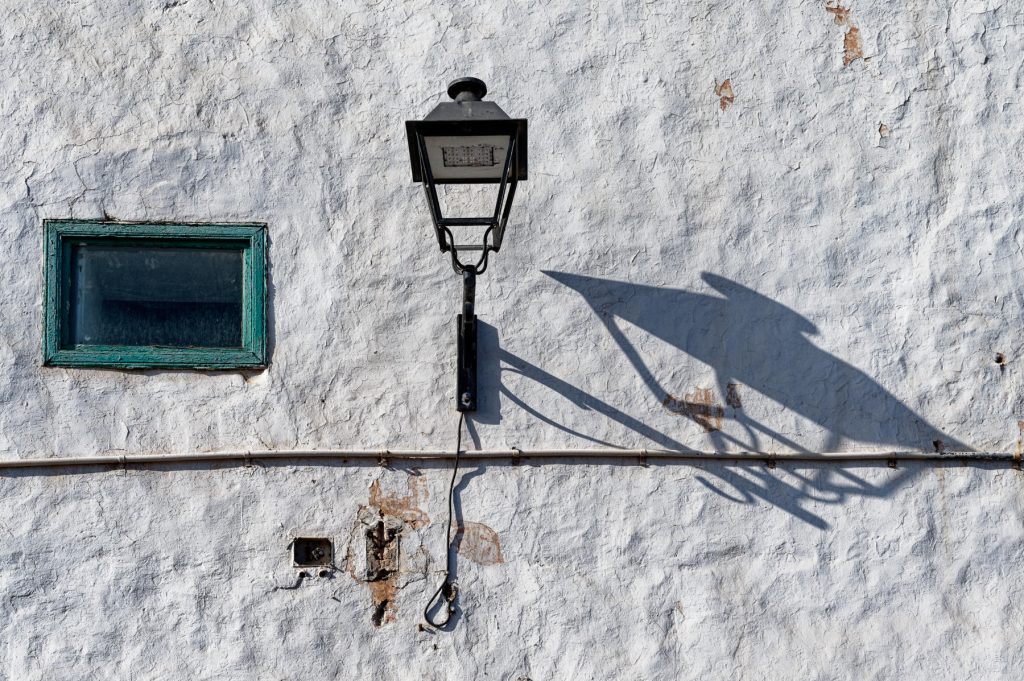 and a few other views of the place.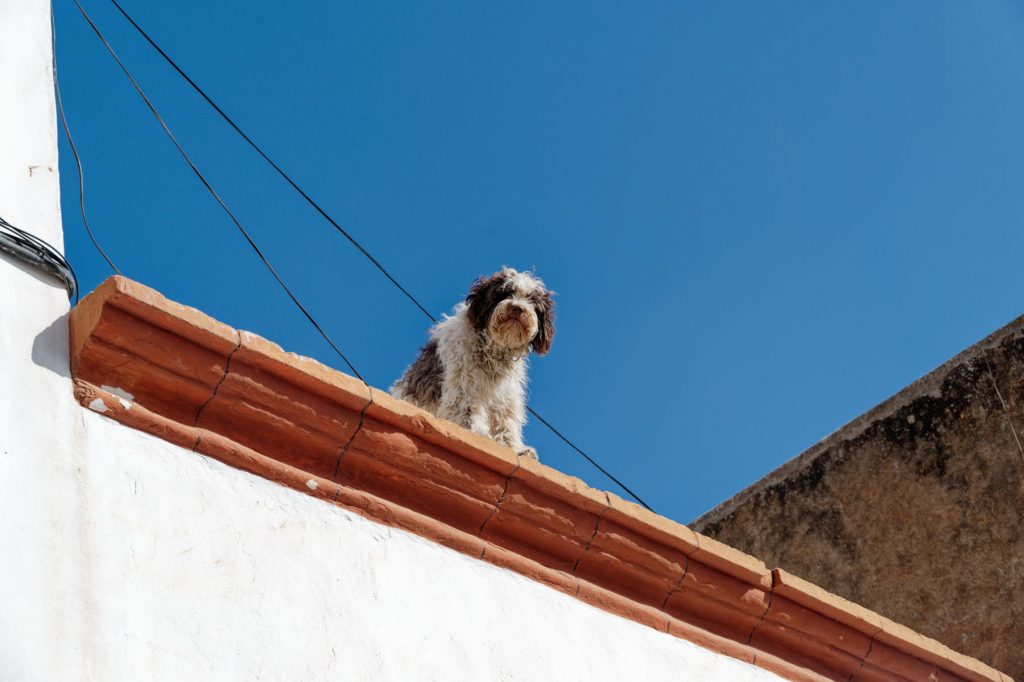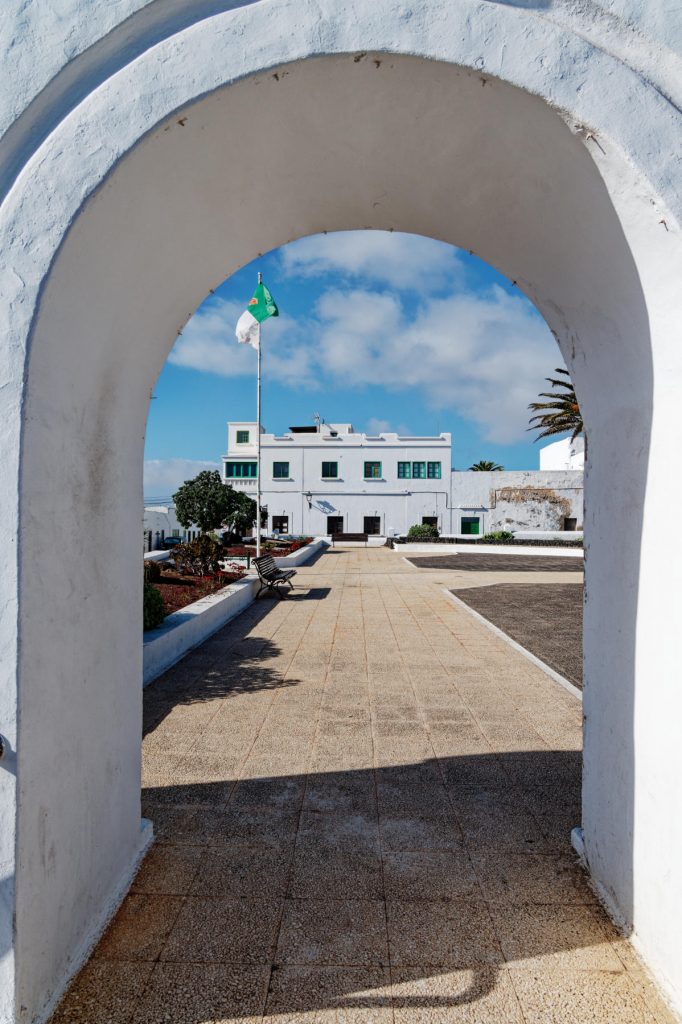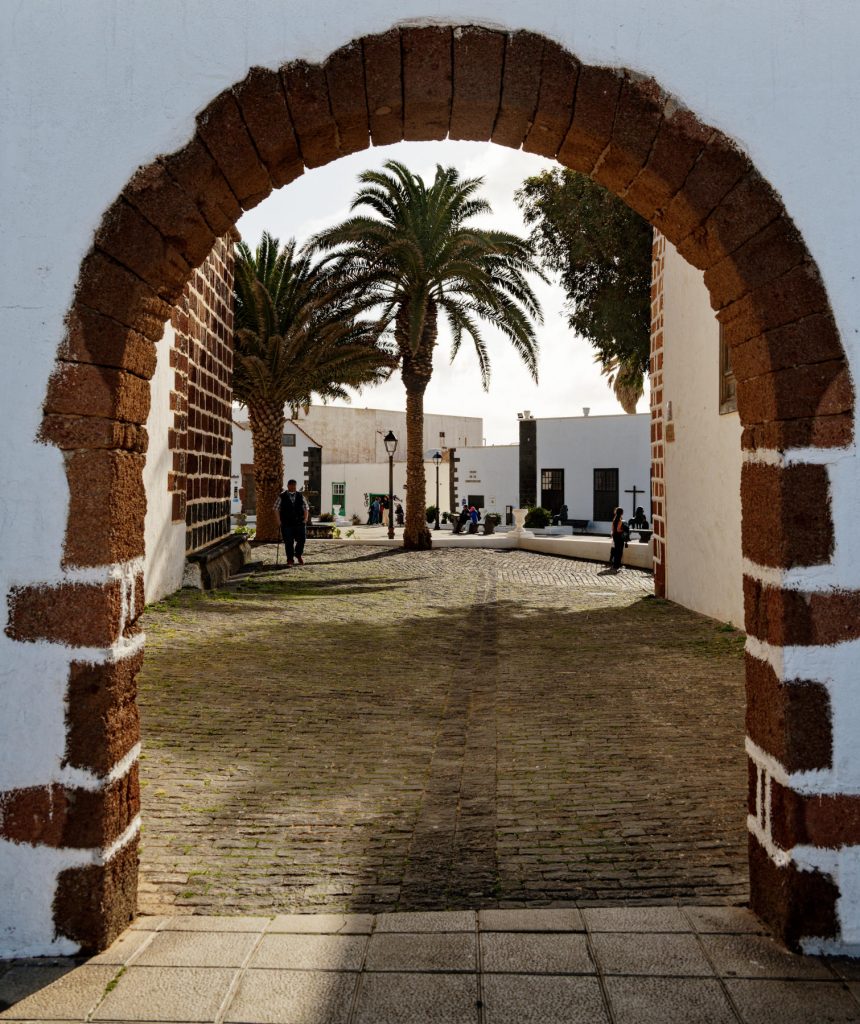 We saw a couple of unusual statues. The first was of a typical musician who might be part of a local troupe.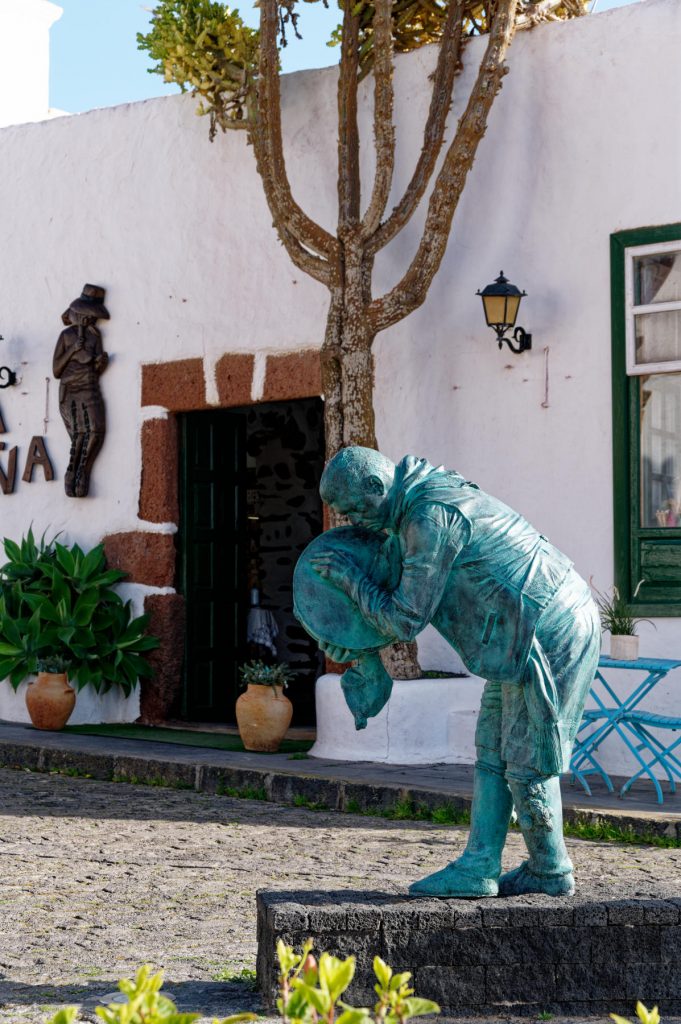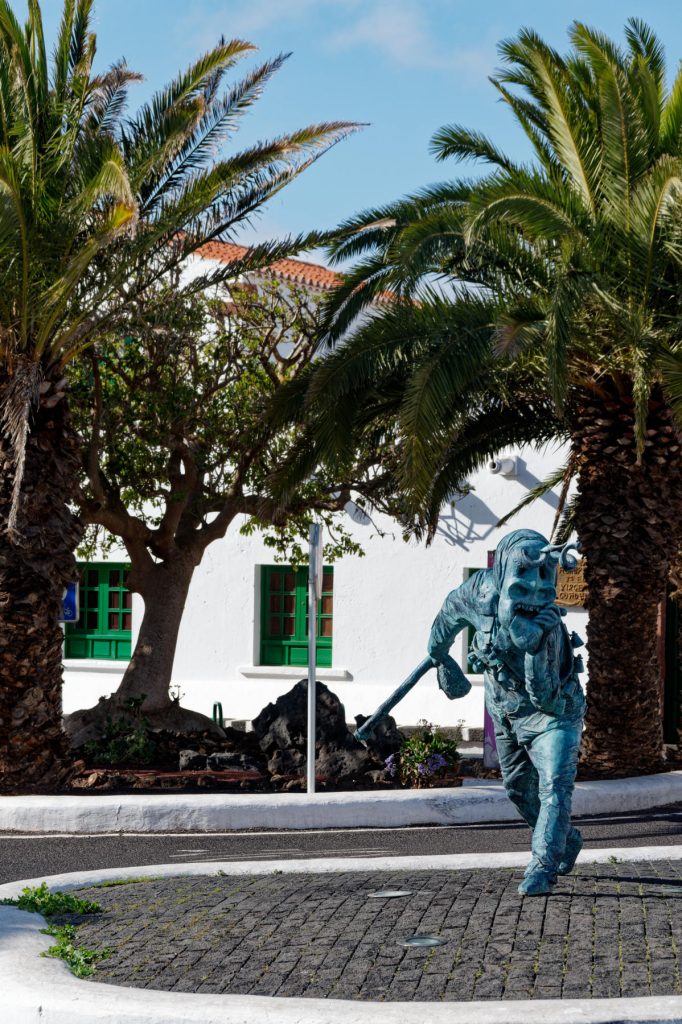 The second is a masked monster, to do with Carnival time – and, unplanned, we'd arrived on Mardi Gras; a complete accident of fate.  Amusingly, as we walked back to the car, we saw a chap dressed in a similar way to the statue for Carnival celebrations that very evening.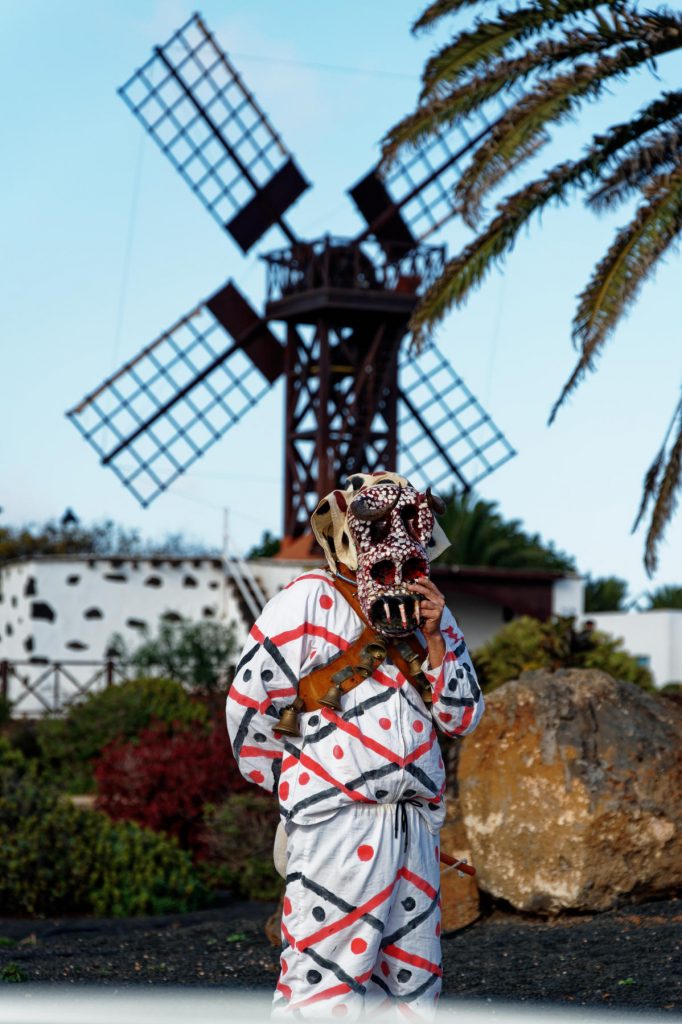 Because we never cover as much ground as we plan to, there were still many, many tourist boxes to be ticked in the northern reaches of the island – too many to attempt at this point, so we decided to head back to the hotel; after all, we'd had a full day. Just look at all them photographs!
So the morrow will see us back in the northern part of the island, where there's aloe and cochineal and salt, and caves and cactus, and probably a whole load else.  So you'd better check in and see what we managed to cover, eh?