Monday 7 October. We decided to tick a few more local boxes – see the cloisters at the local Carmelite church, visit the museum, attend the daily organ recital at the cathedral, that kind of thing.  As we walked out of the hotel, it was clear that there was a very, very blustery wind today, which meant that items such as any bit of furniture outside cafes not chained down was blown around a lot; no umbrellas were up; and all the lovely touristy things like glass-bottomed boat trips were orff!
The first item on the agenda, though, was to walk along Cami D'Es Castell again in search of something we'd completely missed the day before – a windmill, called the King's Mill – Moli del Rei.  When we found it, you can understand why you have to know it's there, otherwise you'll walk right on by.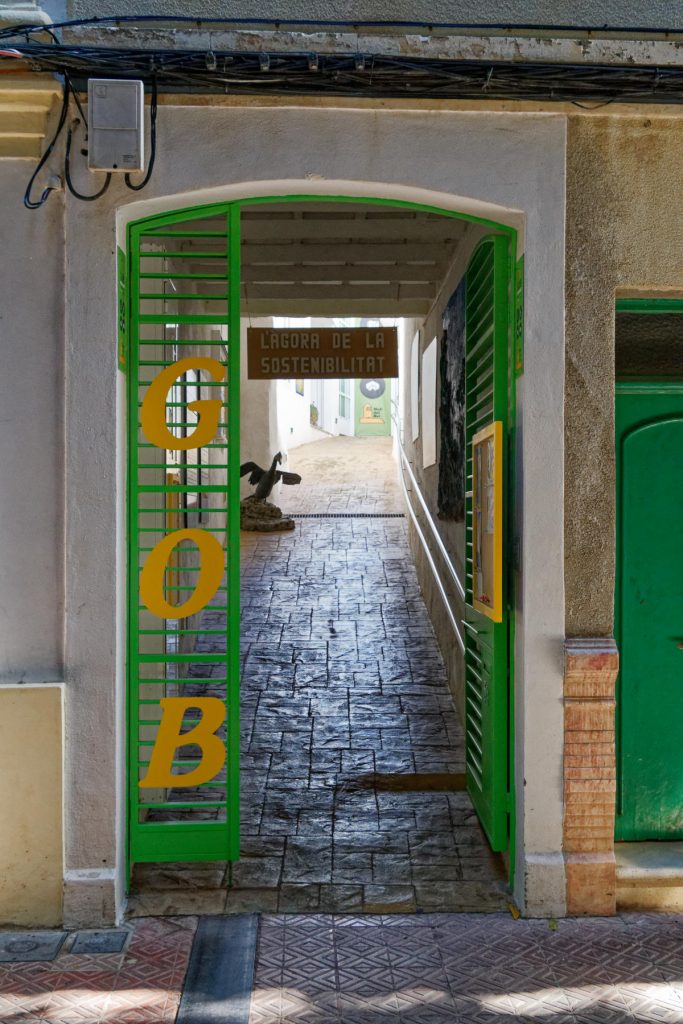 GOB is the Balearic Group of Ornithology and Defence of Nature; "Conscientious Ecology" is their strapline, and it has adopted the mill.  Entry is free, they have a pleasant exhibition room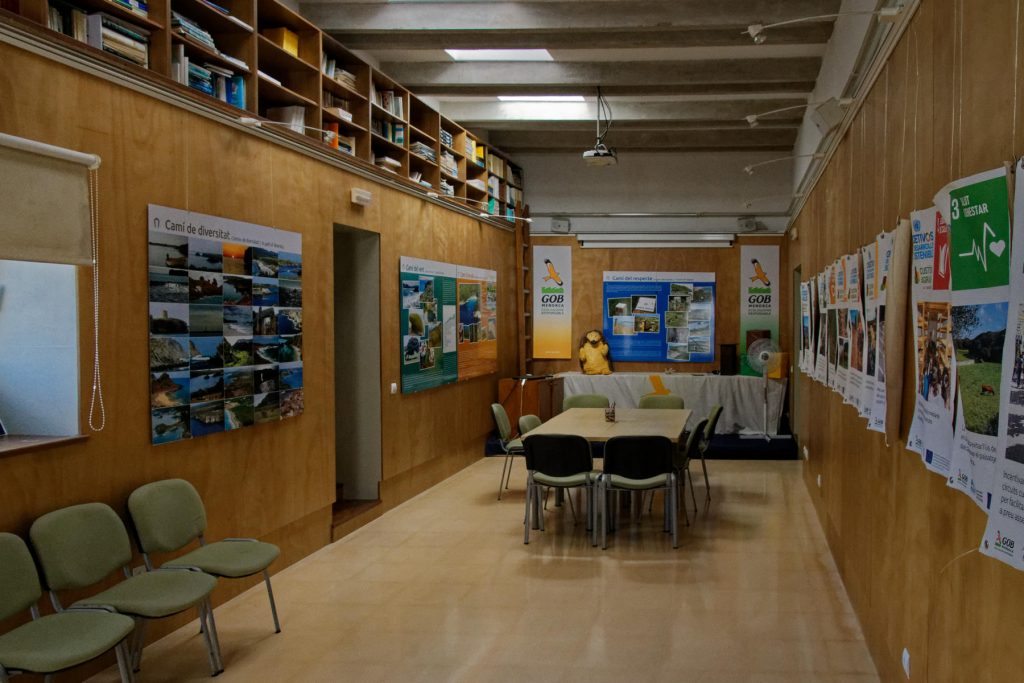 and when you finally get to the top, you get a nice view over Mahon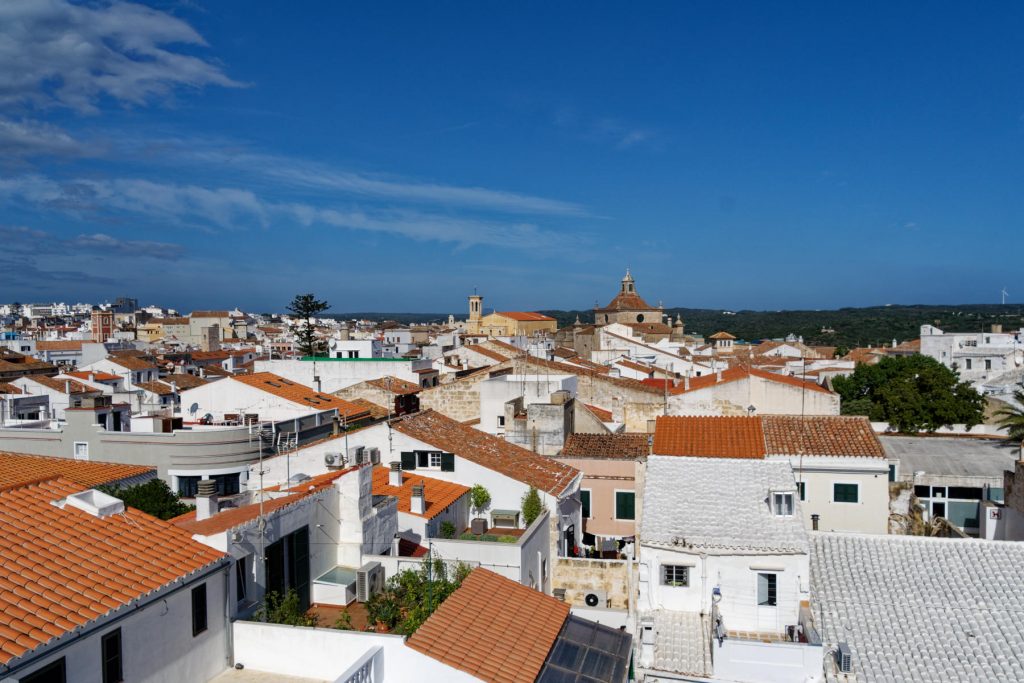 including one where you can see the windmills of the future on the horizon.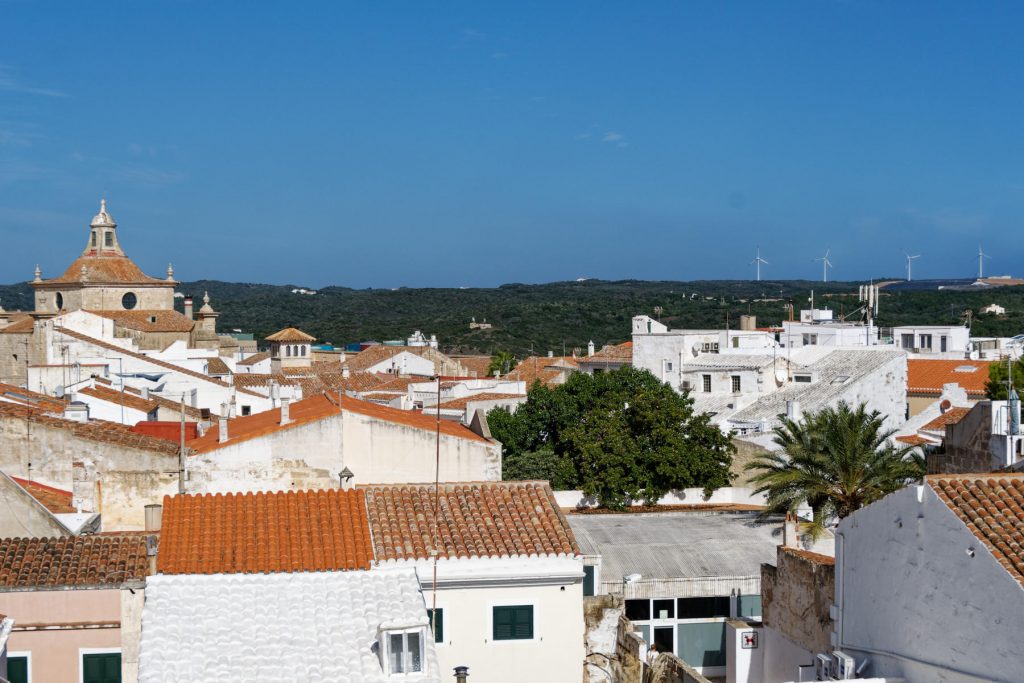 It's impossible to see the mill itself from any of the nearby streets, so we fossicked about until we found a car park from which you can actually see it.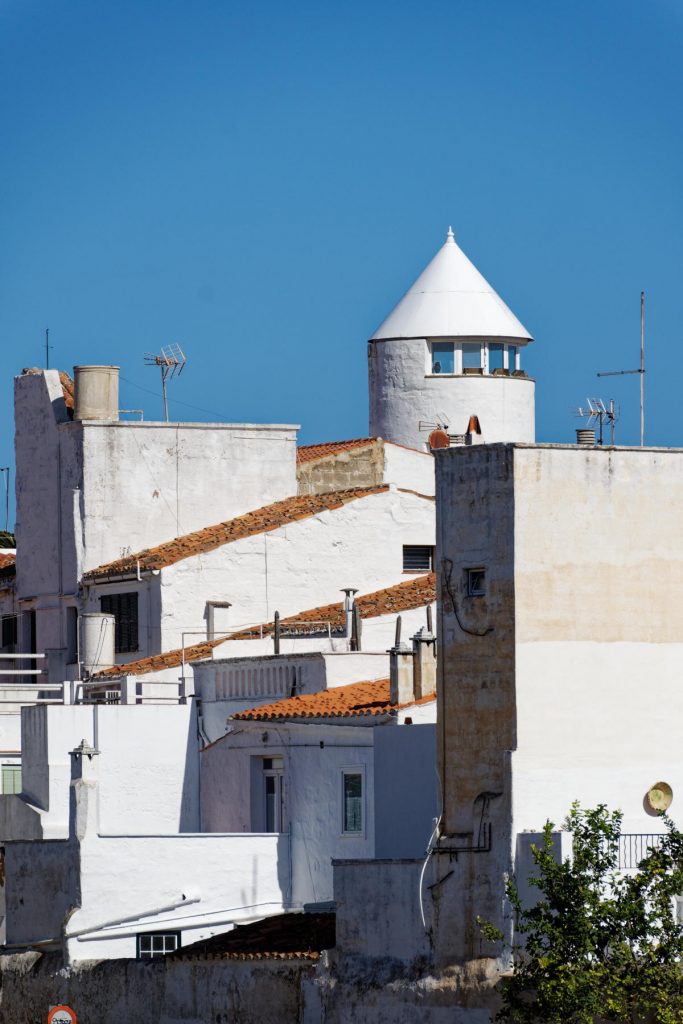 After that, we tried to get into the museum, but it's closed on Mondays, so instead we went to the Carmelite Church, which has a cloister courtyard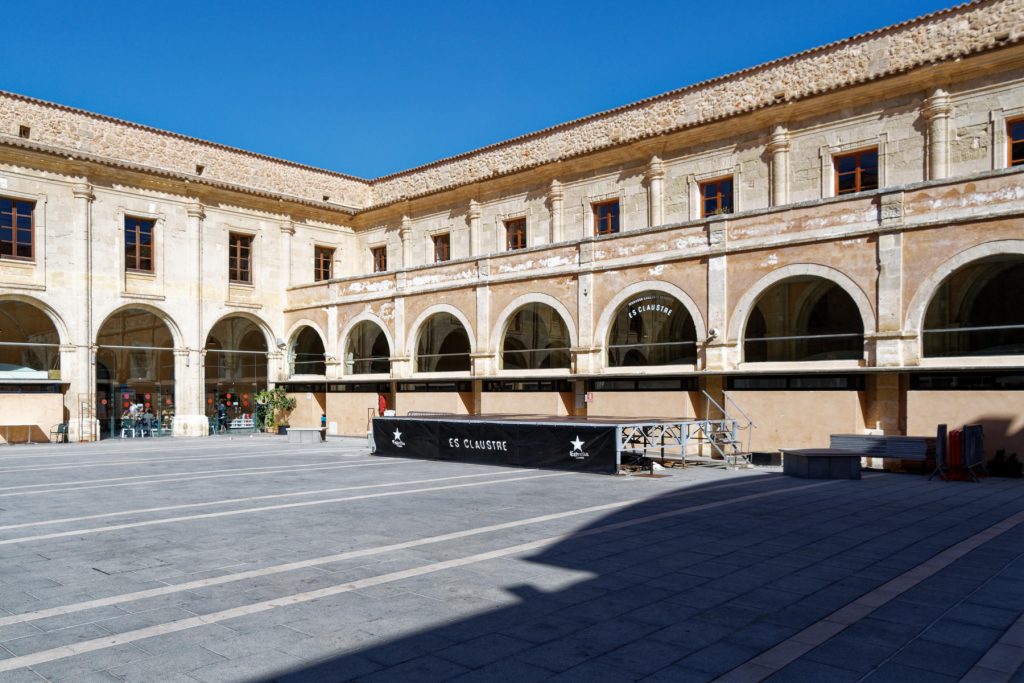 now the scene of a market, which was quite busy on a Monday morning.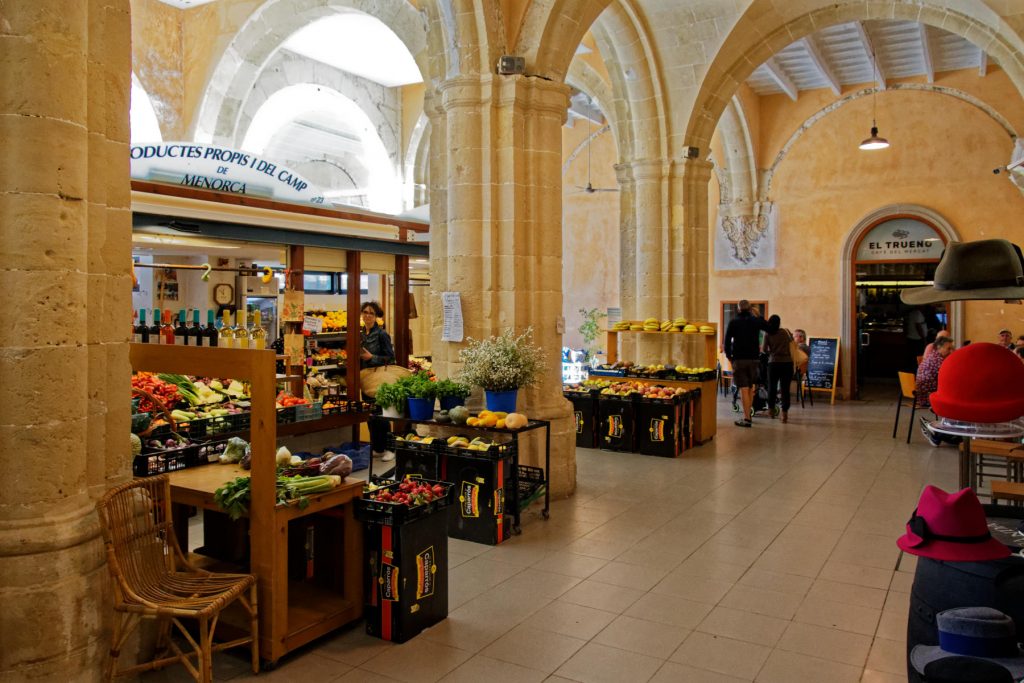 We went back later so I could get a less crowded shot of the inside of the cloisters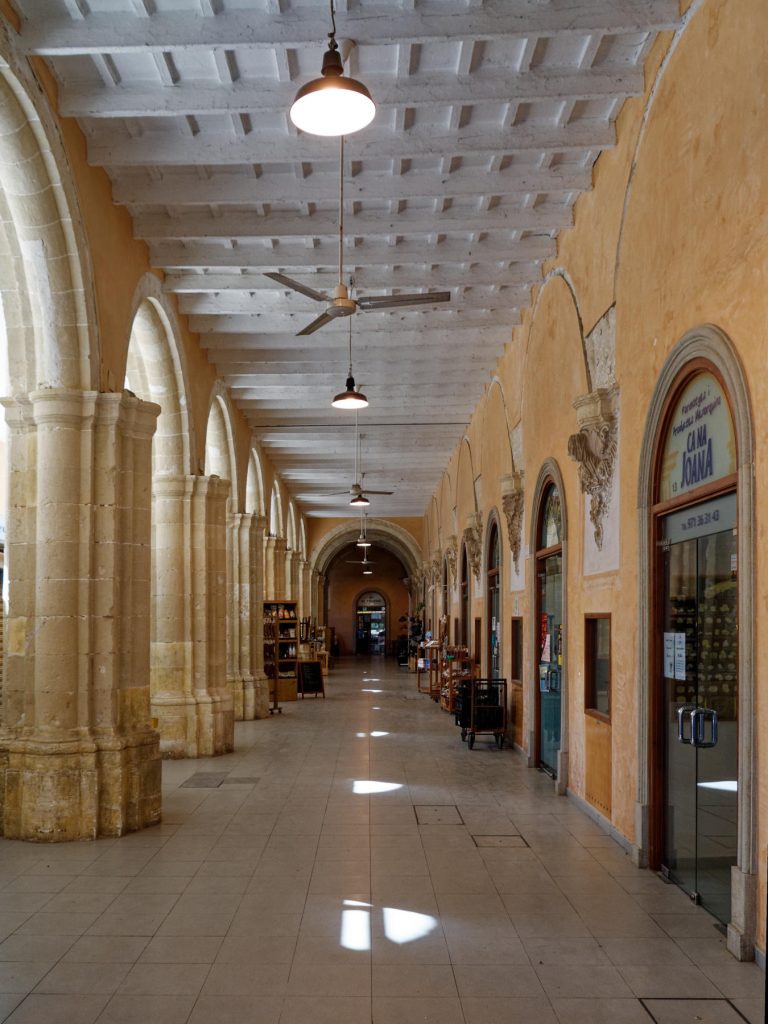 as well as to buy some of the local gin, which we'd seen attractively framed on the wall of a coffee shop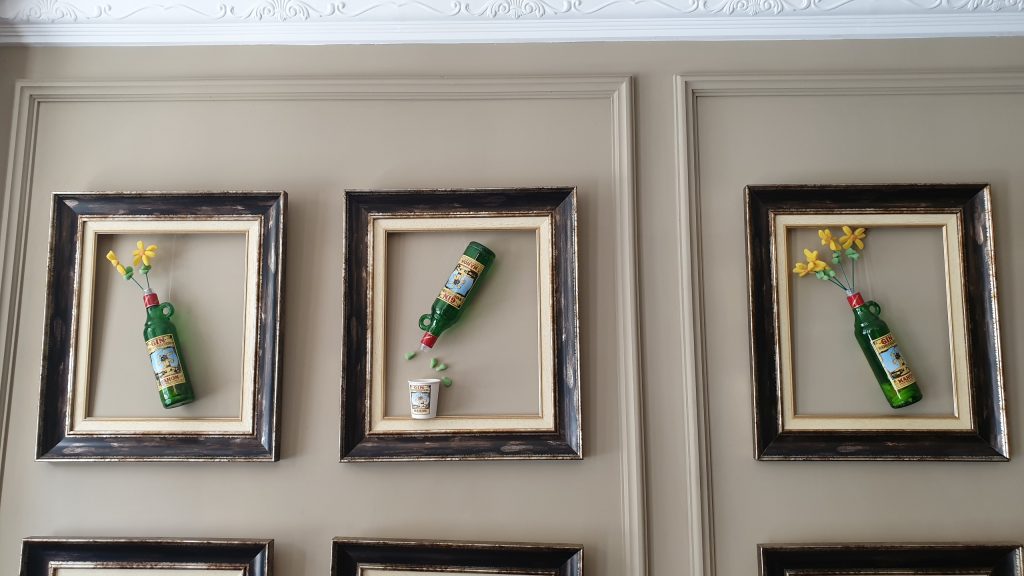 the gin being available in the large modern supermeercat supermercat  to be found on the floor beneath the cloister market pictured above!
You'll have seen in an earlier post that the cathedral, Santa Maria, has an impressive organ; every weekday there is a recital at 1pm for half an hour, so we thought we'd drop in on that.
The organ is at the back of the church, so seated people face away from the organ.  To counter that, a screen had been set up which we guessed (correctly, as it turned out) would replay video of the organist as he played.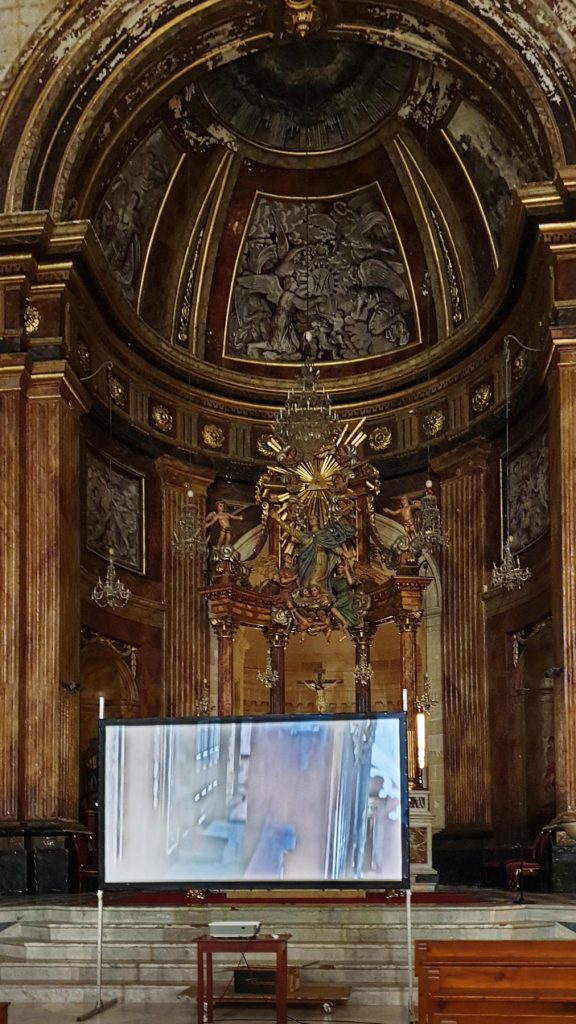 This was all being set up by a dodgy-looking, long-haired geezer (we'd spotted him earlier in the cafe over the way, the one with the framed gin bottles) who was feeding cables down from the balcony and setting up the projector and generally looking like a typical AV support chap.  It turned out he was the organist, as, after setting things up, he sat down and started playing:
It was all very interesting to watch.  The organ makes a very impressive sound, almost all of it in tune, but it has to be said that the acoustics of the church swallow up any delicacy of execution and it just makes a wall of organ-type noise.  But we were glad to have seen the proceedings.
After that, there was nothing for it but to be blown to pieces walking about trying to find a restaurant for lunch.  Monday appears to be the day that all decent restaurants close, so we settled on a place called Pierro's, along the waterside, which bills itself as selling pizza, but also does pasta, paella, curry, burgers and sandwiches as well as your standard selection of fish and meat dishes – truly a multi-purpose eatery.  I had a burger (after all, I've had nothing but fish for days!) and Jane tried a noodle paella, a concept we'd heard mooted by our friend Deborah in Barcelona.  It turned out to be really rather good, much to her surprise.
Lunch over, we sought a further tourist box to tick – the "Little Mermaid of Mahon", Sirena Mô.  Rather like her Copenhagen sister, she's easily missed, as we'd walked past her several times since arriving in Mahon.  But we did find her, just along the road from the restaurant – at exactly the wrong time for photography.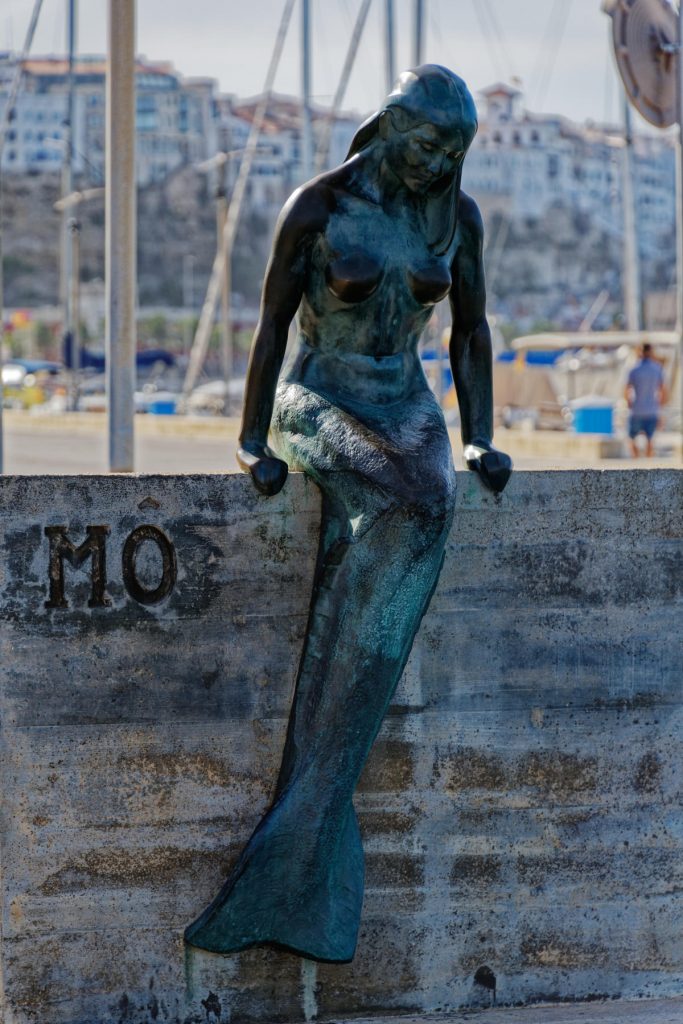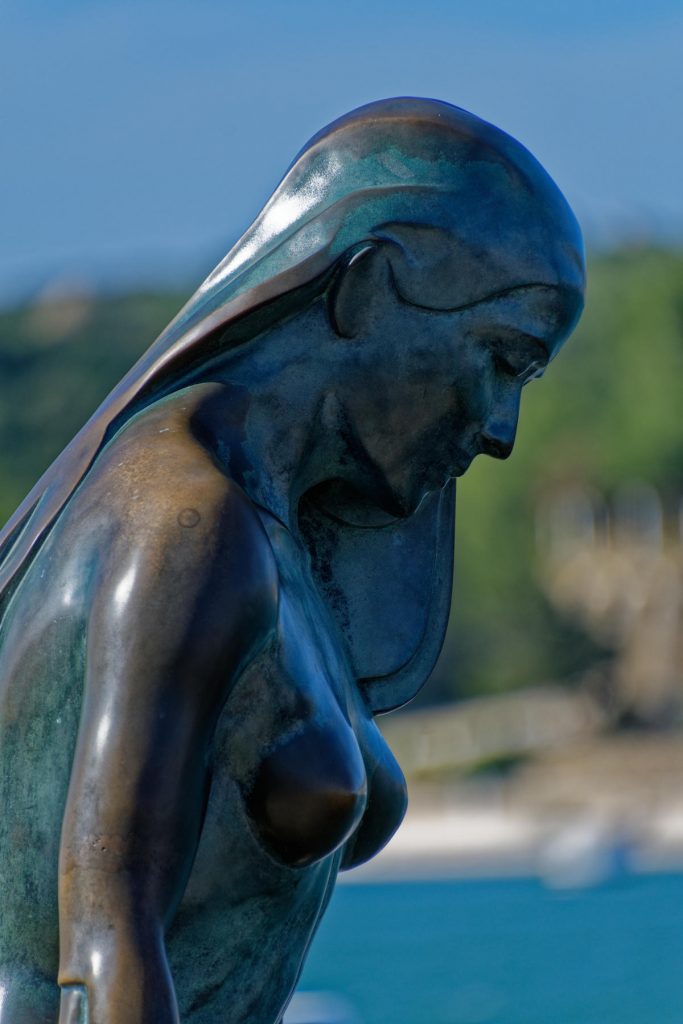 Then it was back to the hotel for some admin time (e.g. paying for tomorrow's adventure, which you'll have to wait to read about, obvs).
Later on, just as the sun was going down, we set out with a couple of objectives:
Get Jane a pair of shoes in the Menorquina style, called "Abarcas" – the market under the Carmelite church had a boutique that she thought worth exploring;
Get me some photos of Mahon as the light faded, given that we knew that Mô had her own private street light which might enable a worthwhile shot.
On 1. we had success, but in two stages.  The boutique had plenty of shoes in the style that Jane was after, but nothing in her size or the right colour.  So Google Maps found us a street which appeared to have very little other than shoe shops, although they all seemed to have really fancy shoes, whereas Jane was after something much more traditional (and cheaper).  However, one of them, which seemed to sell mainly handbags, had just what Jane wanted, mirabile dictu, and only twice the price of the market boutique.
With that box ticked, we headed down to the harbour, and guess what was the first shop we passed on the waterfront?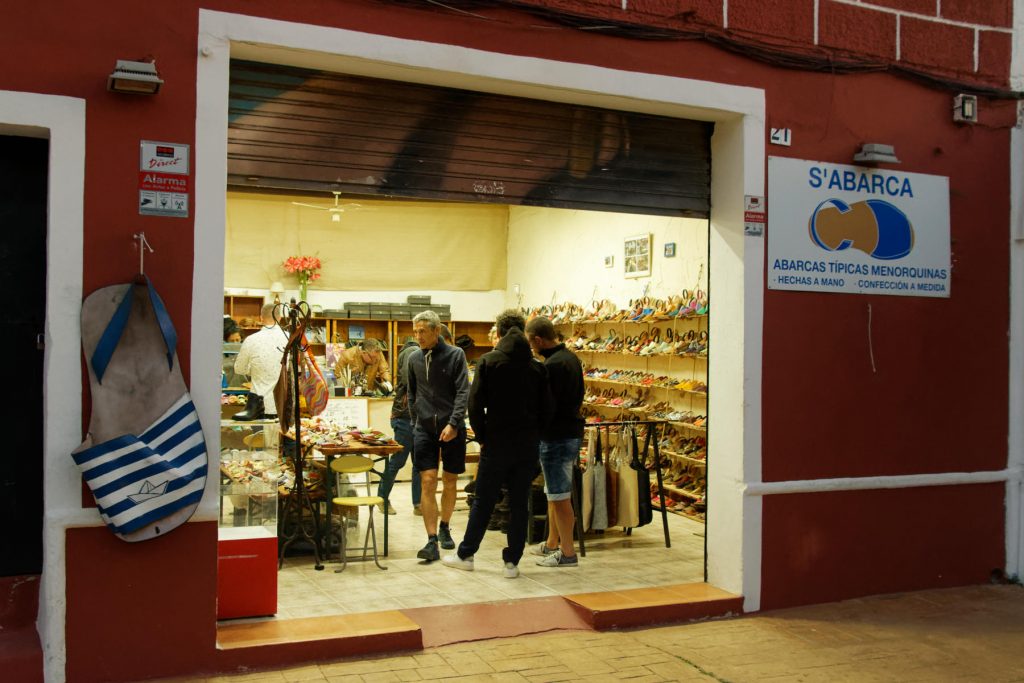 Yes, a shoe store specialising in abarcas, all neatly arranged by size and everything! (But it wasn't worth going in, as Jane had what she wanted.)
We moseyed gently out towards Mô, and by the time we got there, the light was about right, so I took some shots of her under her own private sun.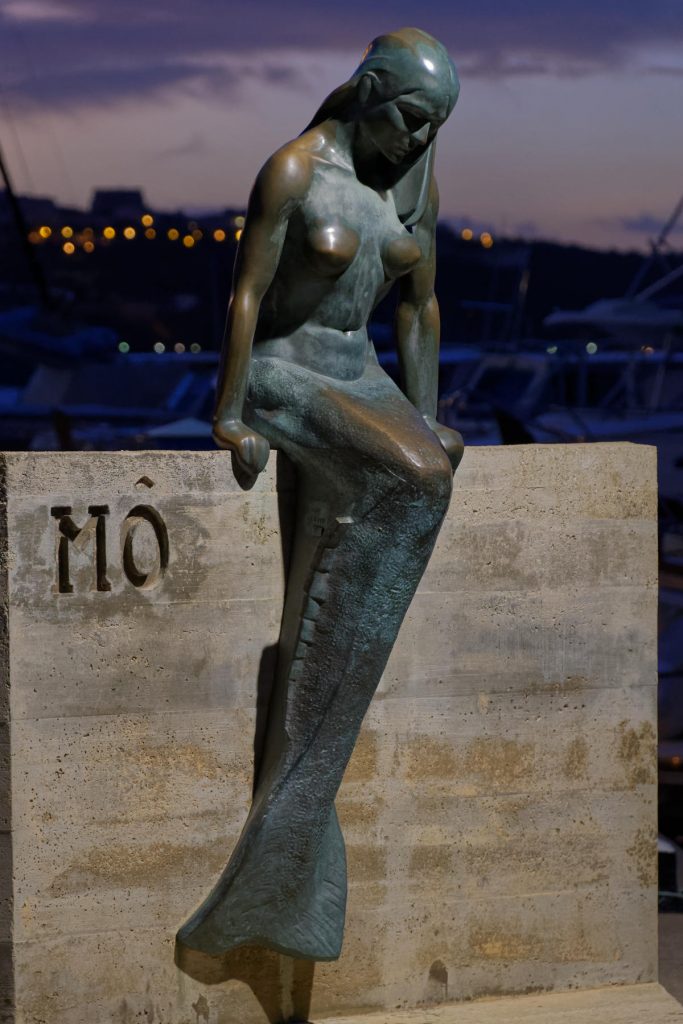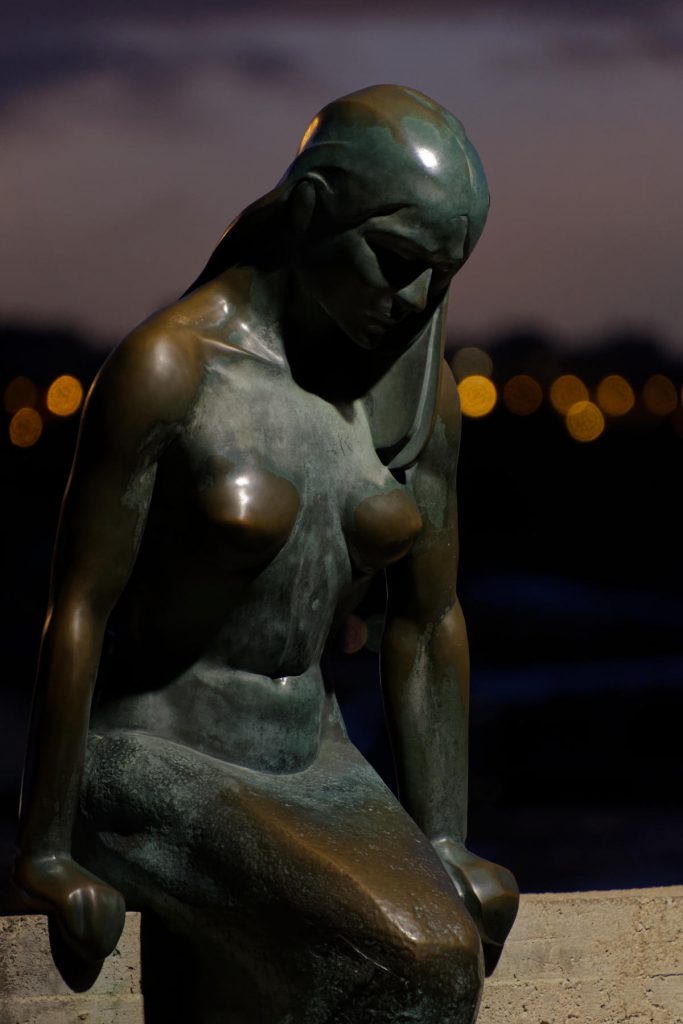 and then we headed back to the town proper in the hope that there would be some nice shots of illuminated buildings.  There are indeed some good shots to be had, but not from the waterline, as boats' masts get in the way.  We might try from the upper walkway on another evening to see if we get better results.  Here's what I managed this evening.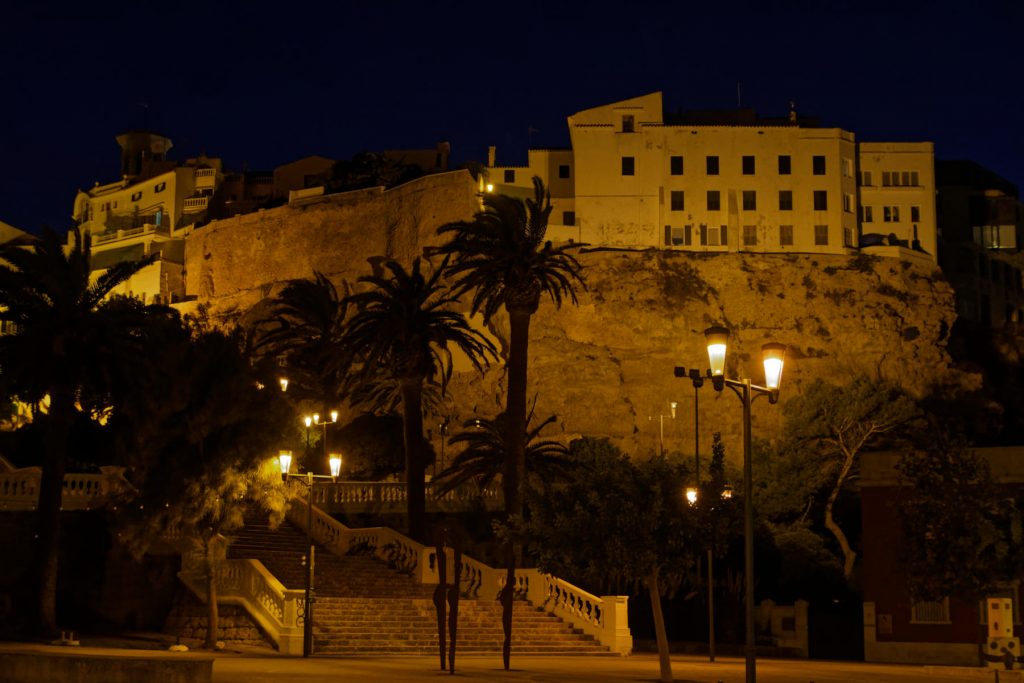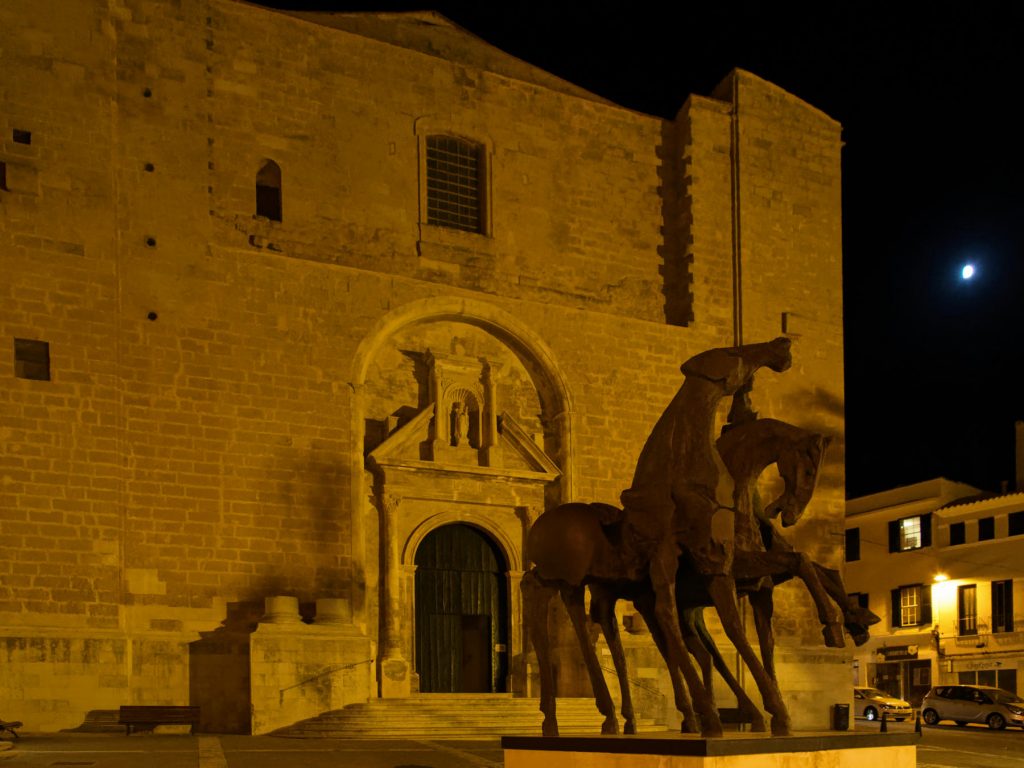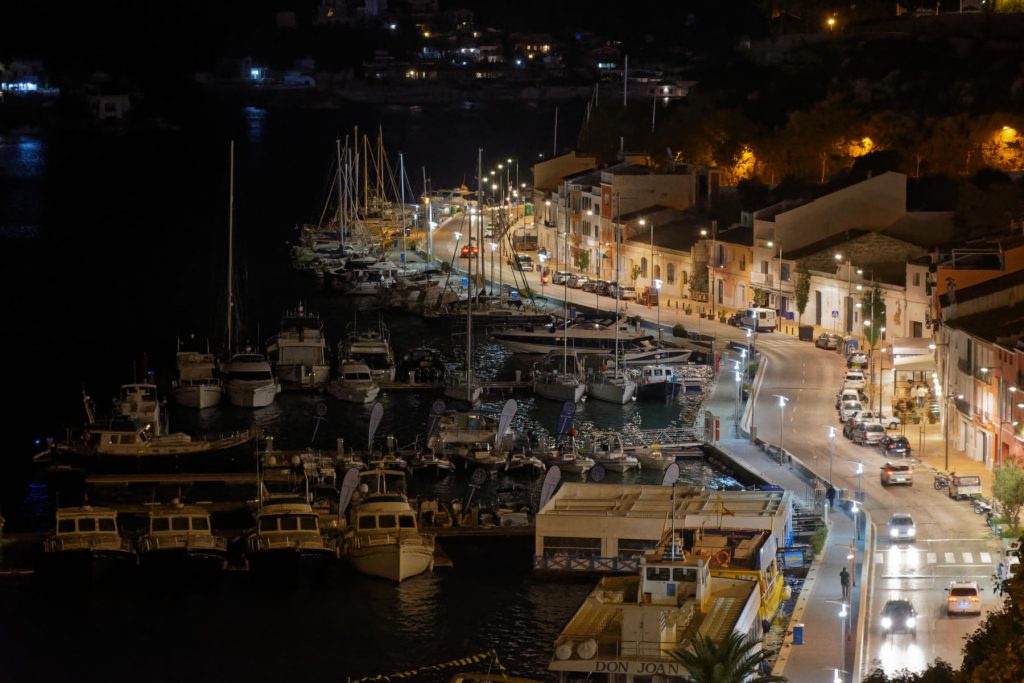 It's been a pleasant day, despite getting blown to buggery by the strong winds – some small but unexpected and therefore delightful nuggets during the day.  Tomorrow we have booked a driver to take us around the eastern bits of the island, so we'll be in full tourist mode.  I'll try not to bore you with too many photos, but I can't promise anything at this stage, you understand…