Friday 4 October. We were a bit nervous about the arrangements for getting from Mallorca to Menorca. We were travelling by ferry, so had to get to Port d'Alcúdia – a 45 minute drive – to catch the boat at 9am. We had a rental car from a local firm called Roig, and this had to be dropped off at Port d'Alcúdia's Avis office; the official opening time of the office is 9am, so special arrangements were needed. Our Castaways rep, Jane, had contacted Avis to ensure that someone would be at the office at 8am, and that someone would call a taxi for us once we'd handed the car over. This is exactly the sort of plan which looks good on paper but can go disastrously wrong in real life, hence our apprehension.
It seems that the only time we have to get up in the dark these days is when we're on holiday.
All the above meant leaving the hotel at 7am, well before their breakfast service, and we'd arranged to be given a packed meal to take with us. This was ready for us and so we left the Hermitage – which has been a wonderful place to stay – bang on time, with the satnav programmed to guide us to the Avis office and Jane prepped with a Google map to take us to a petrol station so we could refuel before leaving the car. Apart from getting stuck behind the council dustcart in Port d'Alcúdia, the journey was uneventful and we arrived good and early at the Avis office. Fortunately, so did the lady to whom we had to hand the car over, so we got that admin done promptly and she arranged a taxi for us which also turned up within minutes.
So we arrived at the ferry terminal in good time, joined the boarding security queue (I was glad at this point that I had packed my penknife in my suitcase) and headed for our ferry.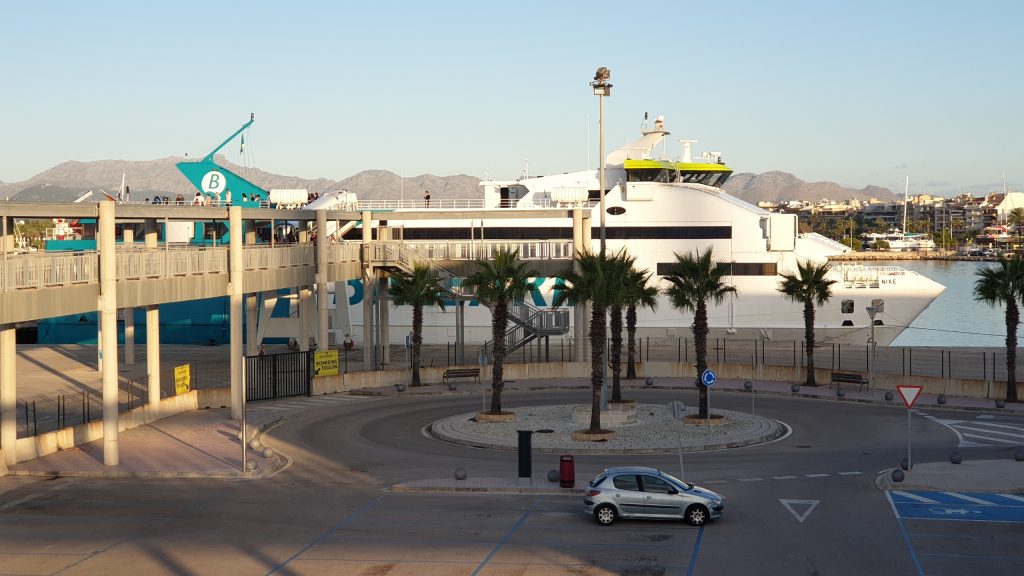 Now that we were on board and everything looked set fair for our journey, we suddenly realised we were ravenous, so tore into our packed breakfast – a ham roll and a banana – with relish. The boat set off a couple of minutes early and we had an uneventful journey. It was a little rocky in places, and a couple of passengers got quite queasy, but we arrived on time after 90 minutes in transit ferry.
The ferry from Mallorca arrives in Ciutadella, the old capital of Menorca, which is at the opposite end of the island from the new capital, Mahon (Maó in the local, Catalan-based, dialect) and, after a long walk from ferry to terminal building, we were met by a young lad called Sam who had excellent English and a nice Merc. He smoothly drove us the 45 minutes to Mahon and explained a few things about the island as we went; it transpired that his excellent English came from a bi-lingual upbringing, as his mother hailed from Bristol.
Sam dropped us off by our hotel, the Hevresac (yes, it means haversack) and we had our first initiative test of the day, which was to find out how to get in to it, as neither of the doors would actually open. Rattling the doors had the desired effect, and a lovely lass called Agustina opened up, let us in and checked us in. The minimalist nature of the hotel was underlined by the reception desk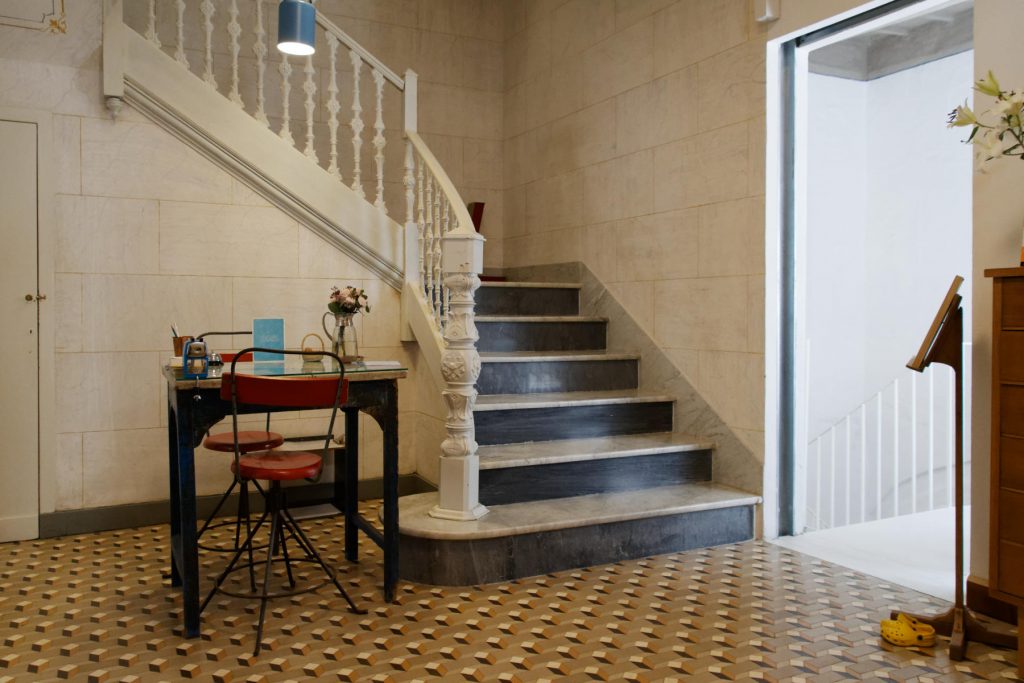 and the check in process (Agustina used a mobile phone to photograph our passports and to record our signatures – very trendy and modern!). The hotel itself is more like a sophisticated and delightfully quirky B&B – common breakfast room and lounge areas, kitchen facilities we can use, that kind of thing; and the decor is very individual. Here, for example, is the breakfast room where I have been slaving over a hot blog.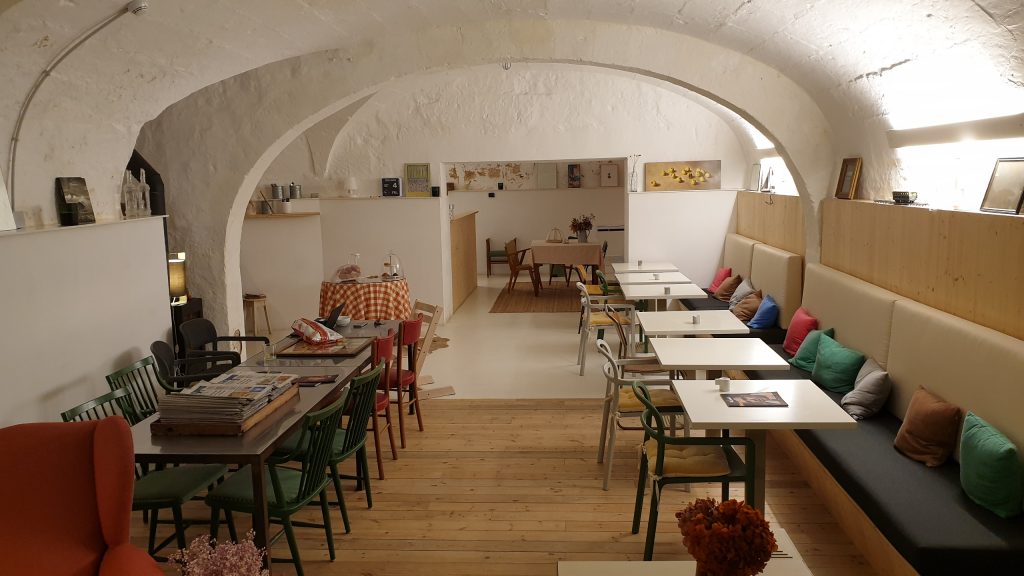 Our bedroom is very quirky, too, as are the other areas of the place, like the lounge;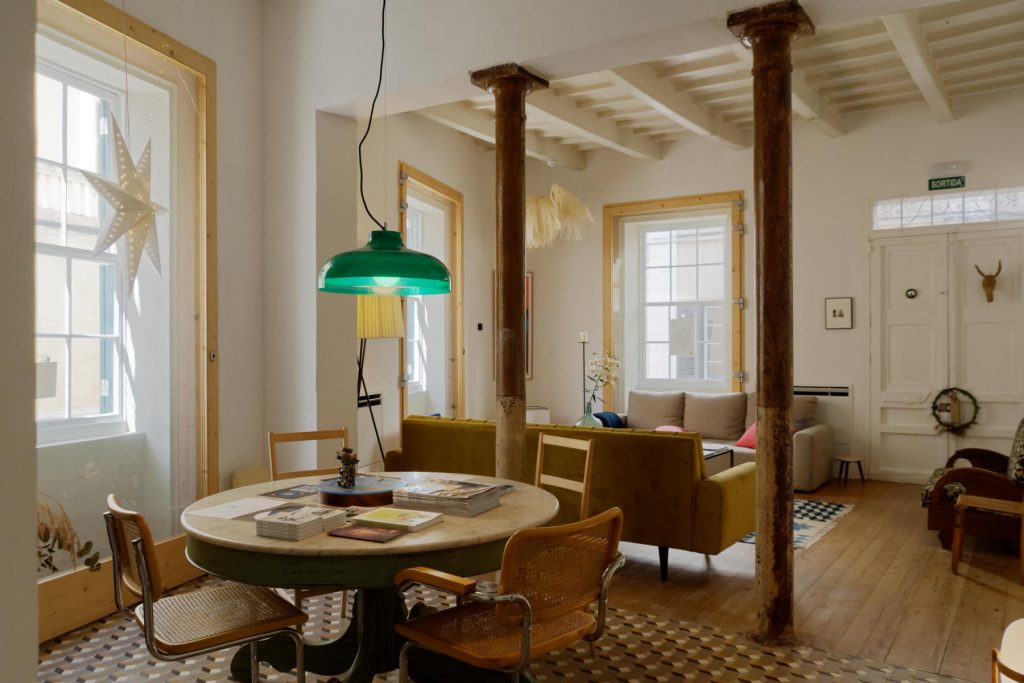 and here's a view down the stairs.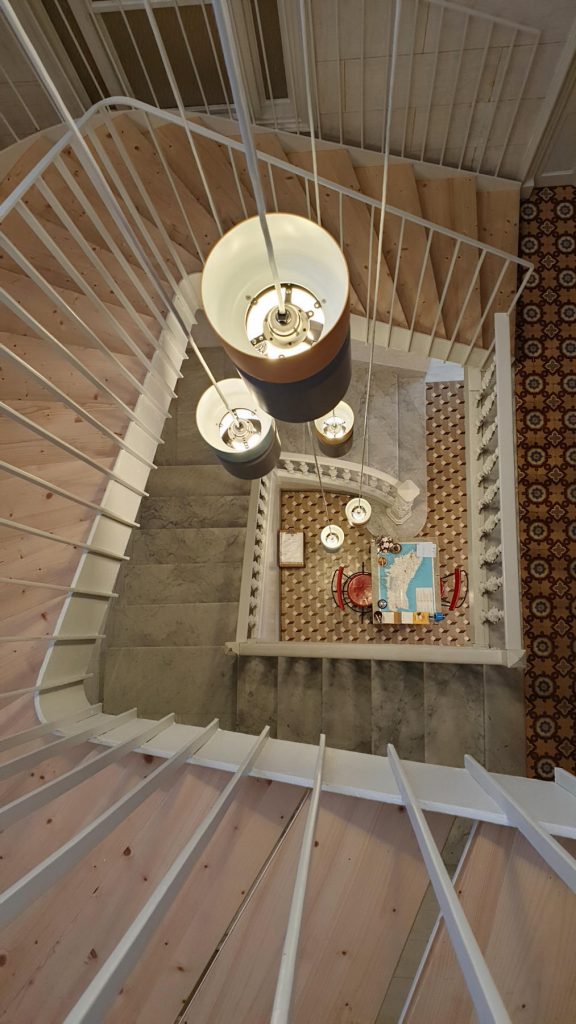 Whilst we had a quick coffee, our room was finally made ready and so we dropped our stuff off before heading out for a mooch around.
Initial impressions of Mahon: favourable. Just down the (very narrow) road from our hotel was a mirador which gave a great view over the port and harbour of Mahon.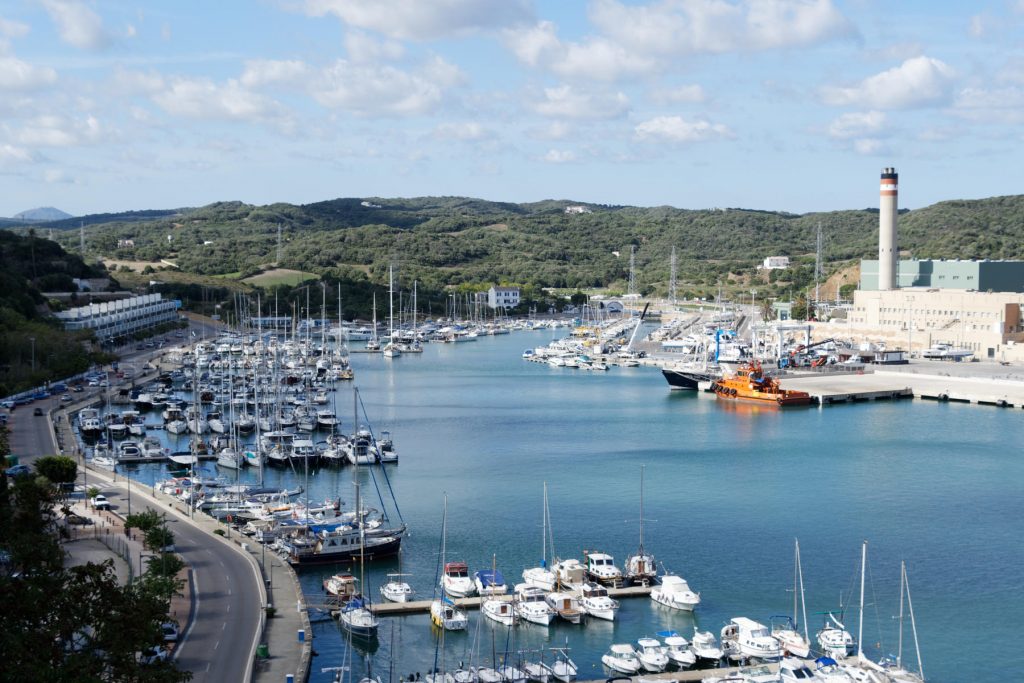 The harbour is the only large thing about Mahon – it is the biggest natural harbour in the Mediterranean, as we were about to discover; everything else is on a much smaller scale, with narrow streets and tight corners. We decided to walk out along the top of the cliff on the south side of the harbour and were rewarded by some nice views as its scale became clearer.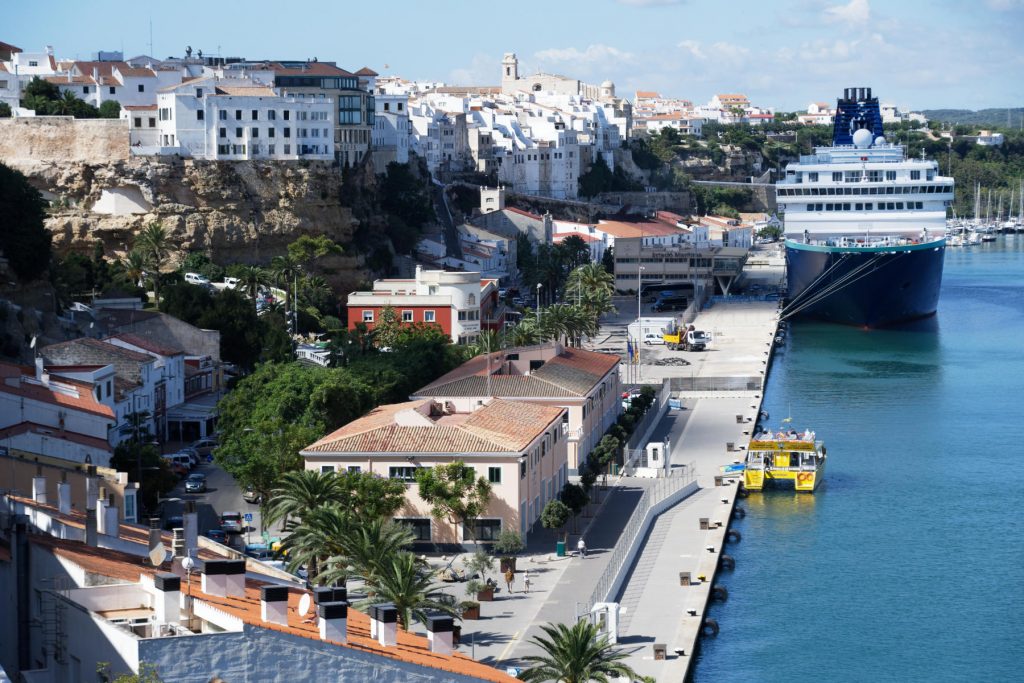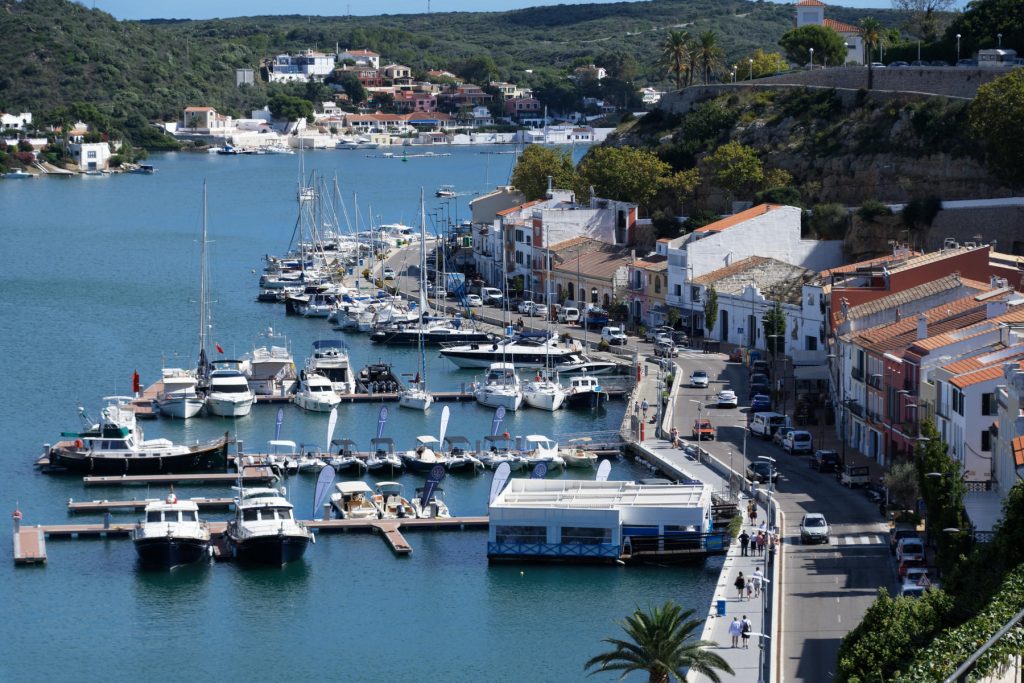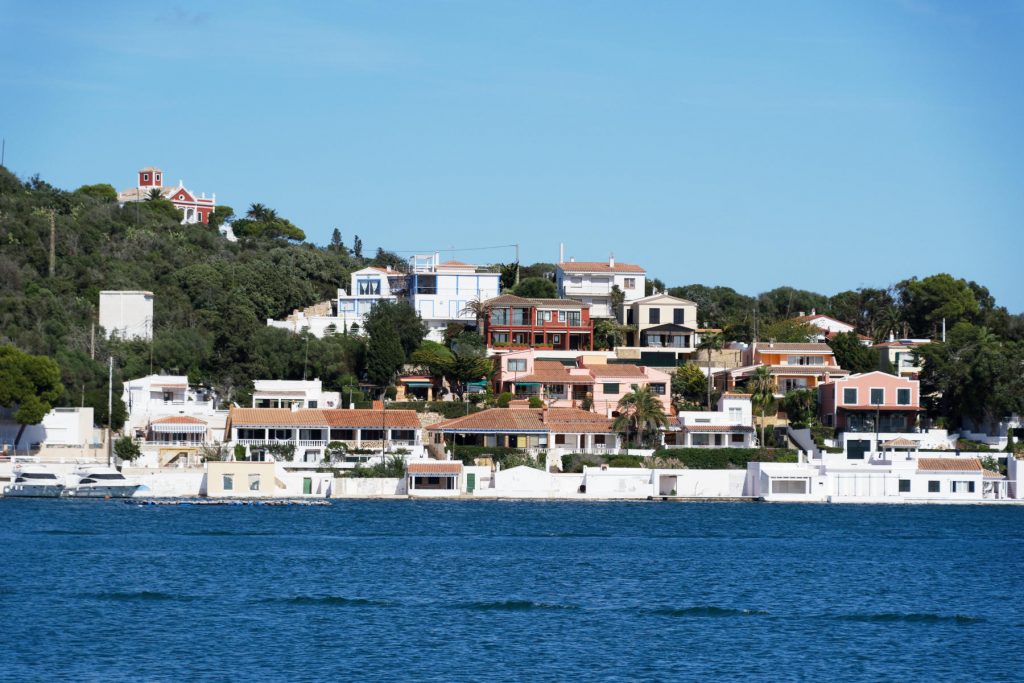 After about half an hour, thoughts of lunch began forming in our minds, and then suddenly we were assailed by the smell of fish cooking, so we decided to seek the source. We walked down from our clifftop height and started to walk back towards Mahon, and it became immediately clear that there were lots of restaurants at this part of the waterside. So we stopped at one, called Latitud 40, where we were served a nice lunch by a young lad who had very good English; it transpired that his dad was British and he'd lived in London for a year.
After lunch we continued our walk back along the waterside back to Mahon, past a ceaseless array of restaurants. Our hotel only serves breakfast, but we'll be eating well this week, I'm sure. Then we worked our way back up into the town from the harbourside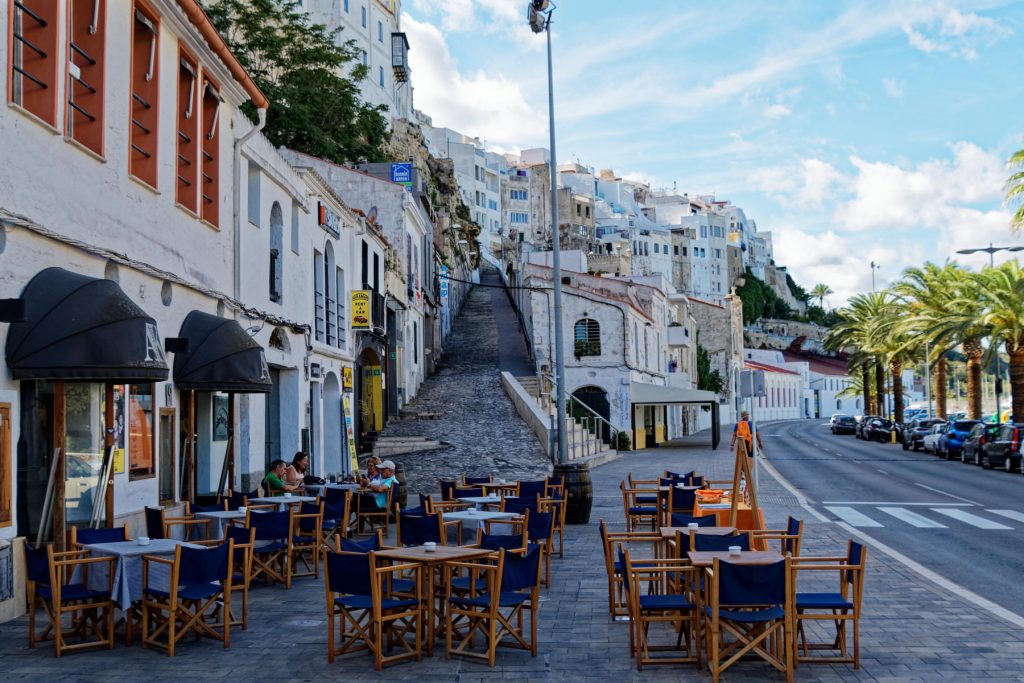 and were rewarded by more harbour views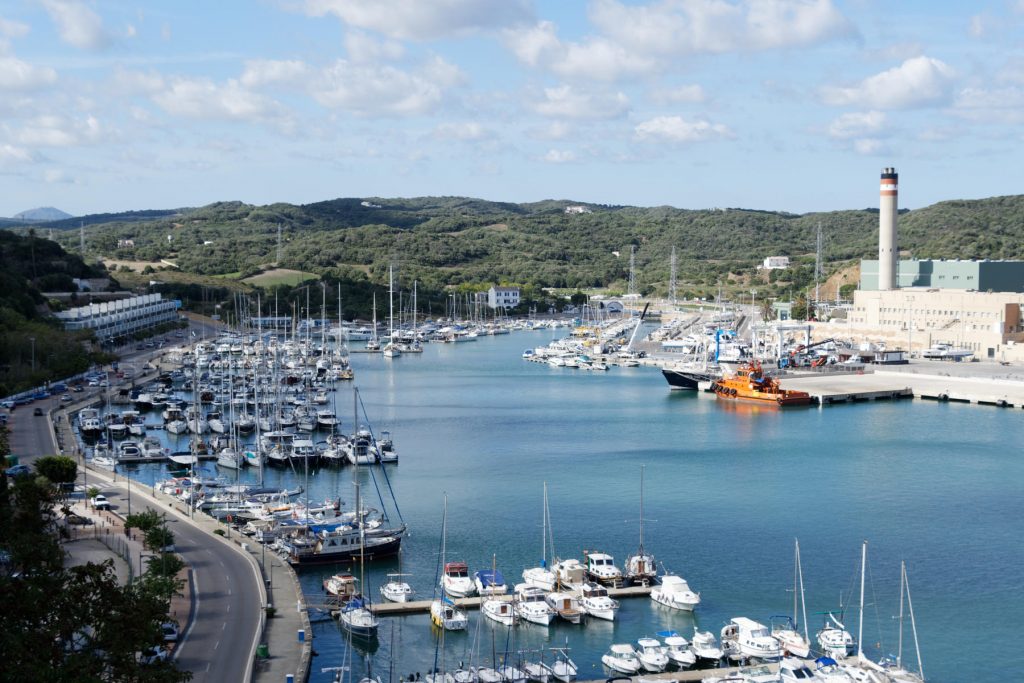 as well as getting a feeling for the many pleasant corners of the town.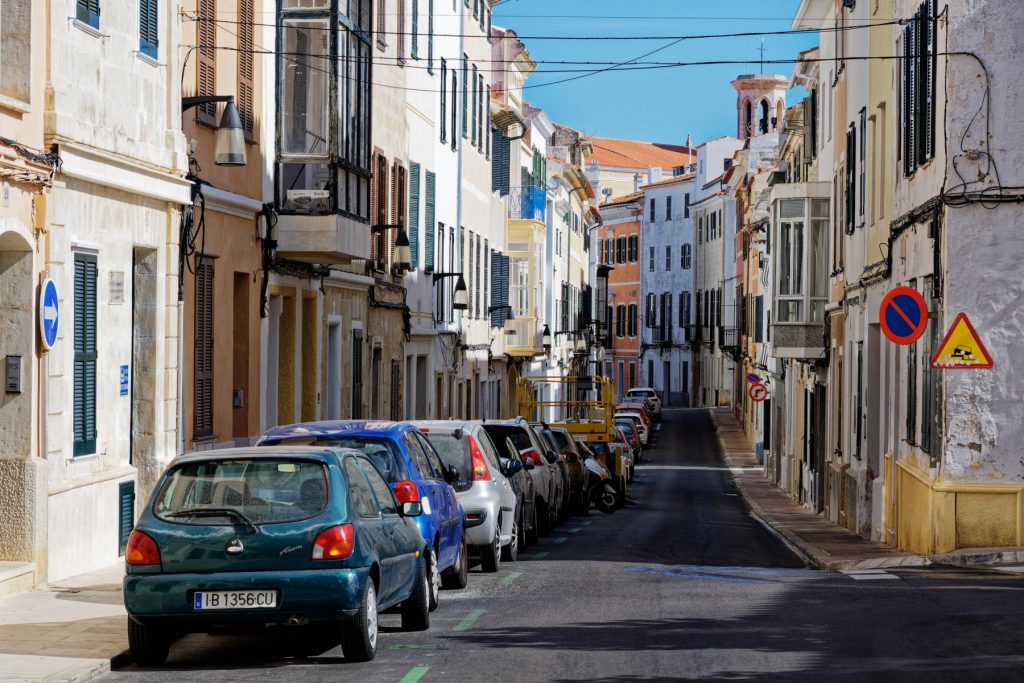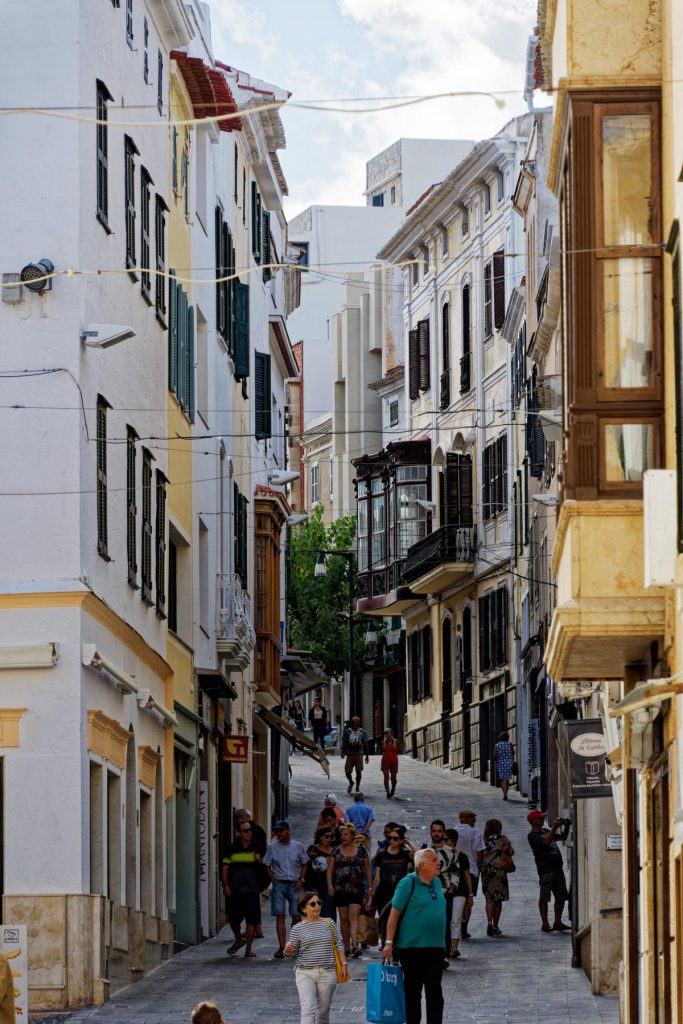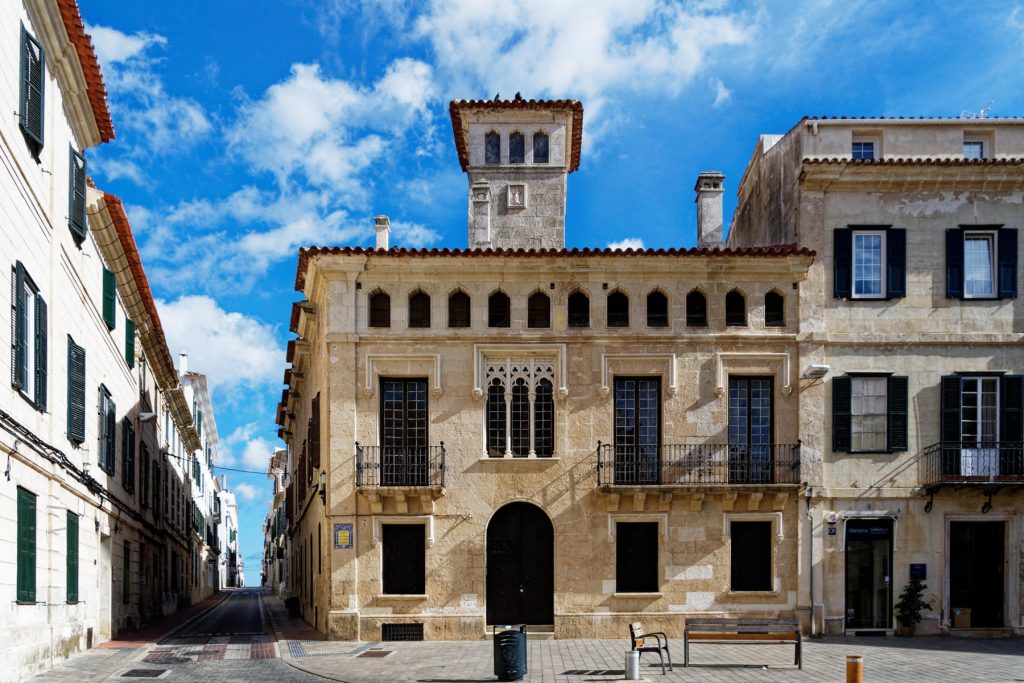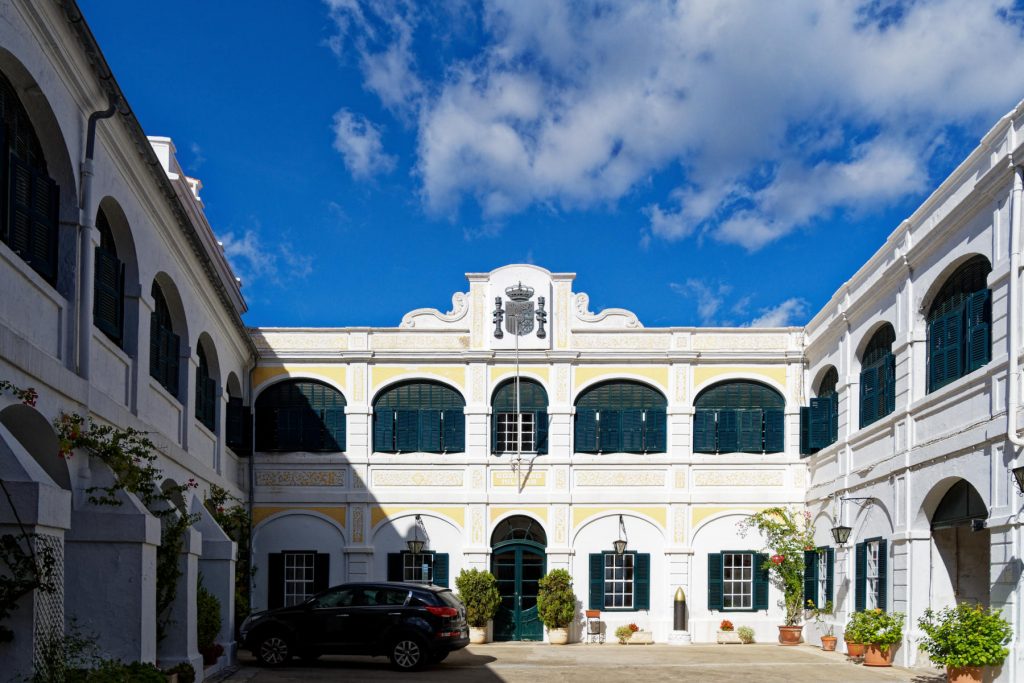 The penultimate thing we did was to pop into the main church, Santa Maria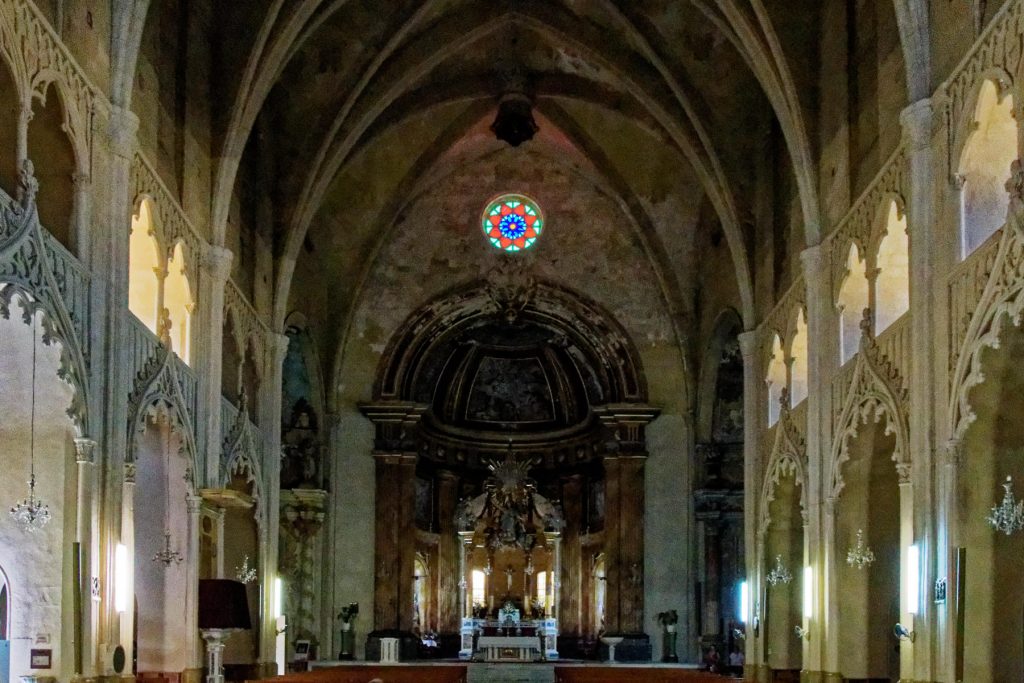 with its mighty organ (stop sniggering at the back!)
before heading back to the hotel via the ultimate thing, which was to find some gin and some tonic, which are fuelling my creative stream at this very moment of typing.
So, our final week of this holiday stretches before us, with many options of things to do (including norralot, of course; this is, after all, a holiday). We're thinking maybe of experimenting with catching the bus to Ciutadella tomorrow, as this reportedly has a delightful old town. Drop by tomorrow to see what we eventually did get up to, why don't you?