Saturday 5 October. Today's plan was to visit Ciutadella, the original capital of the island of Menorca and take a walk around its old town. As you might guess from its name, the old town was originally a citadel; today its walls have largely been demolished to make way for the wider roads demanded in modern times, but there are a couple of plces where the walls are still intact.
The route of our walk, incidentally, is described in an excellent book of walks and car tours that is published by Sunflower Books as part of their "Landscapes" series. We can recommend all of these books, and have before used them as a way of deciding where would be a good place to go on holiday. So, the route we took was a bit convoluted:
View this post on Instagram
And I took lots and lots of photos because it's a very charming old town district. I'll try to keep things short and show the best bits – the rest will appear in due course on my Flickr page, I expect.
Actually, the first thing we saw (beyond the bus station, as we took the bus over from Mahon) wasn't all that photogenic; it was a reminder that graffiti is a menace everywhere you go.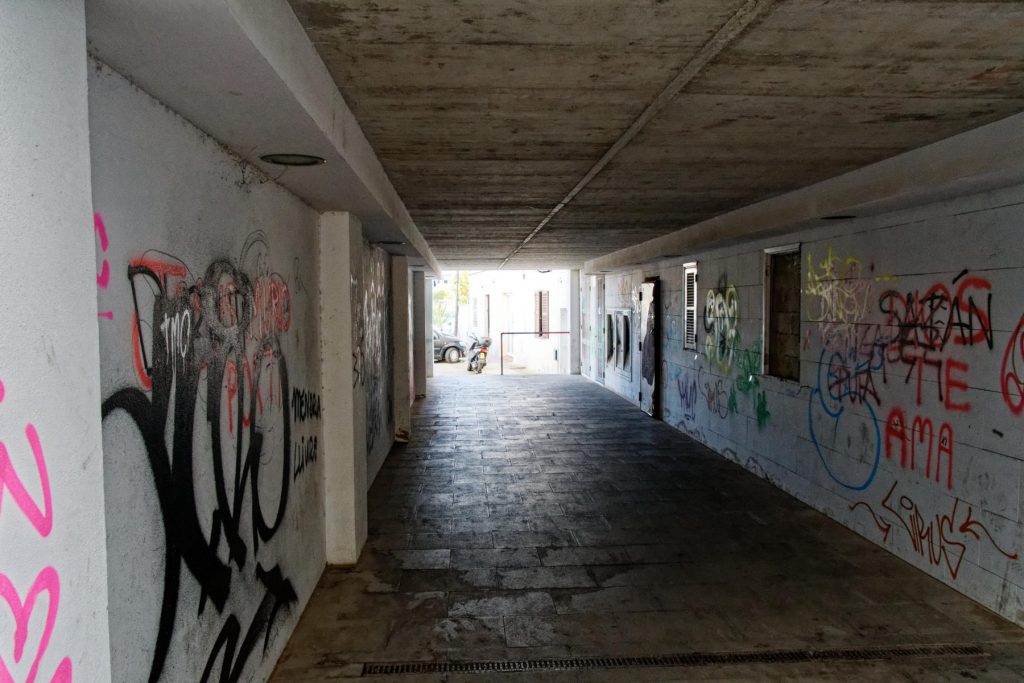 However, there were many other places where a more artistic approach had been taken.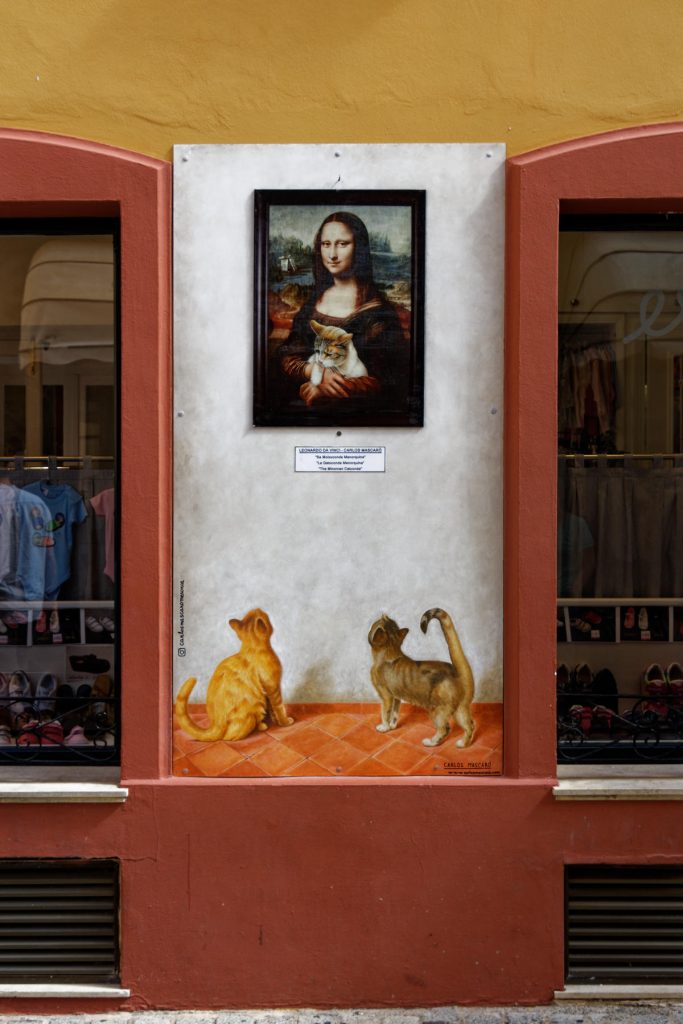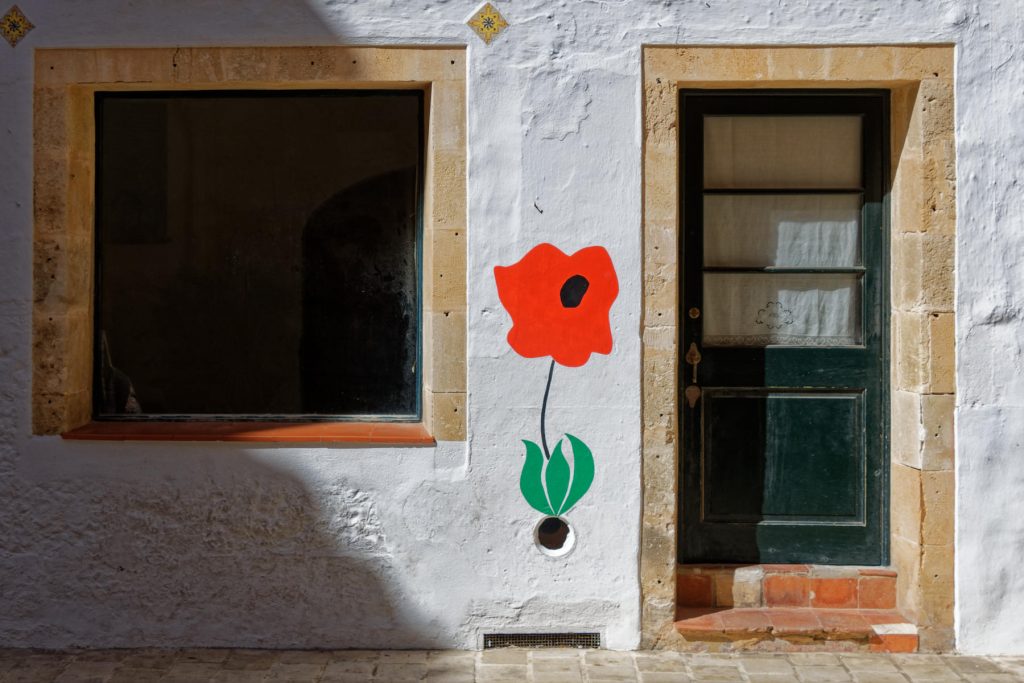 Almost every corner you turn presents you with a charming street
or a handsome square or courtyard.
Although sometimes a bit of creative composition is required. Here are some lovely buildings in the Born square….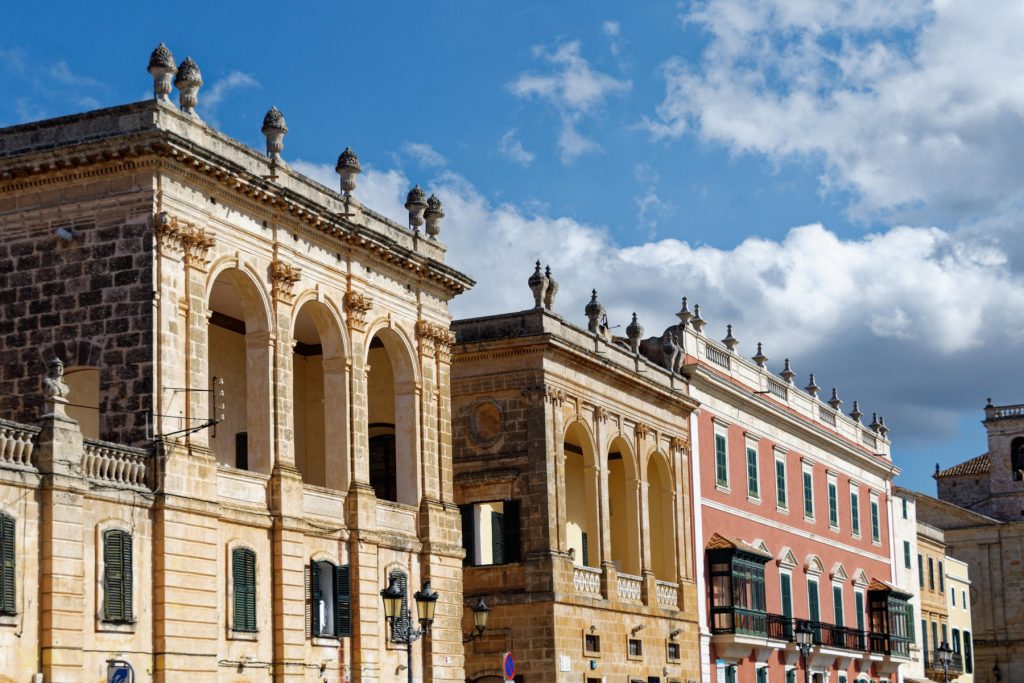 and here is the reality of what it looked like!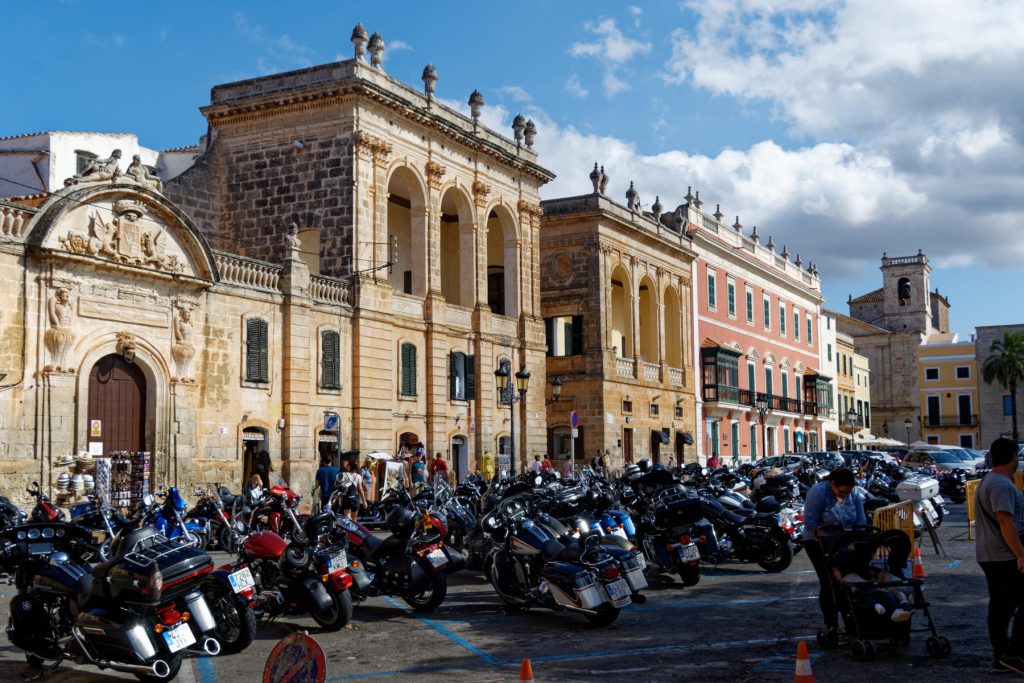 There are many fine churches and other religious buildings. The cathedral, for example, is quite impressive.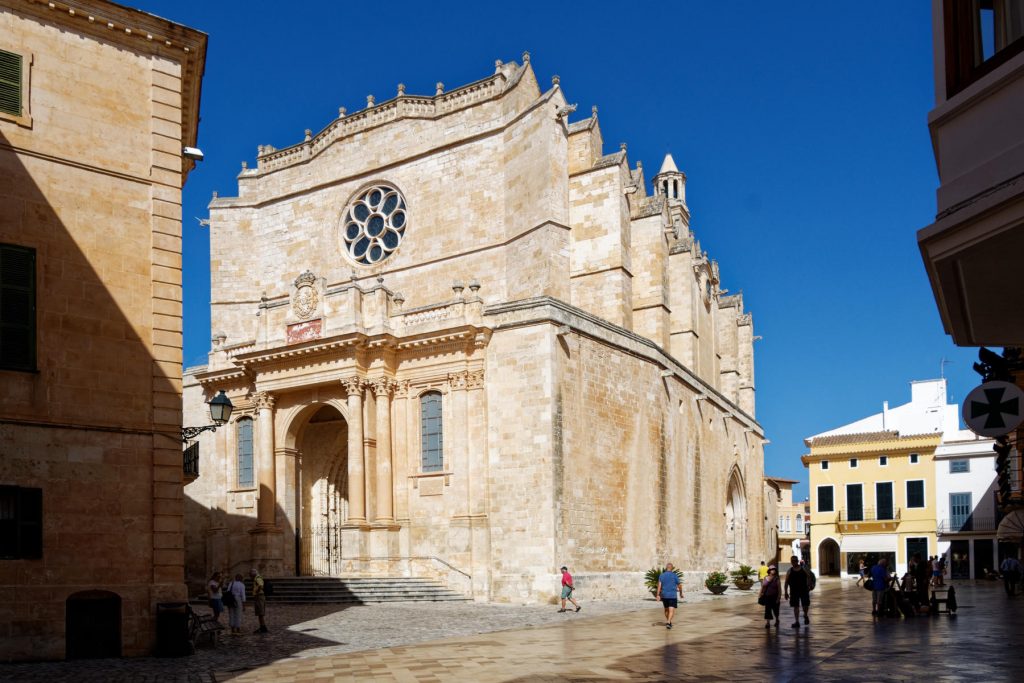 and is elaborate inside, with some lovely stained glass.
There are a couple of convents; for one of them, Sant Agusti, your ticket into the cathedral also pays for entry – a worthwhile visit. It has an attractive cloistered courtyard, which shows off its distinctive towers,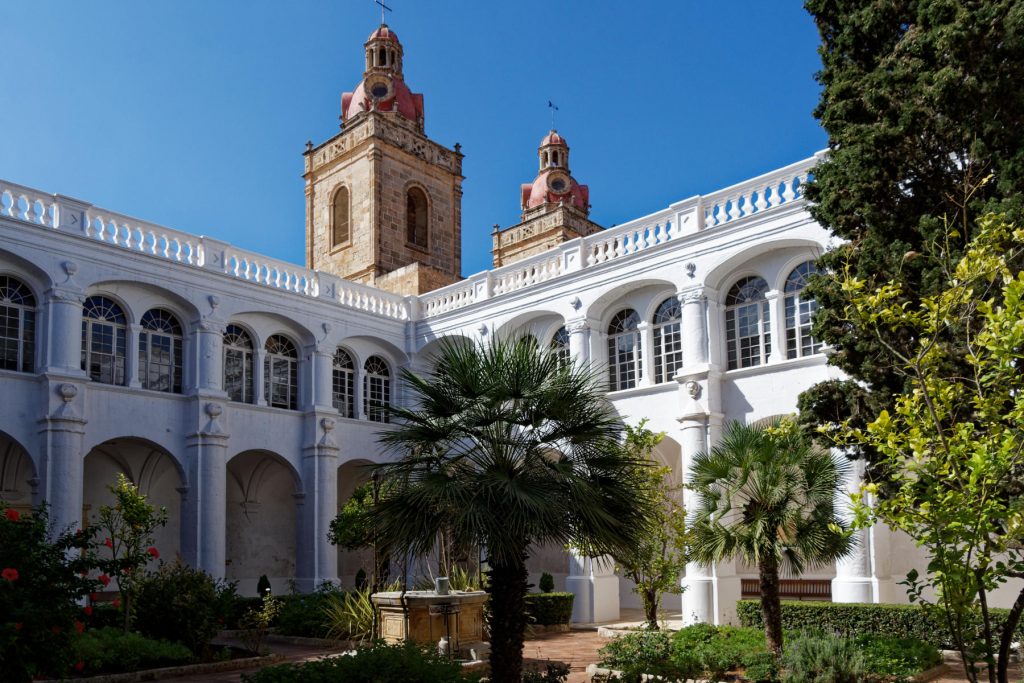 an impressive organ…I've told you before to stop sniggering…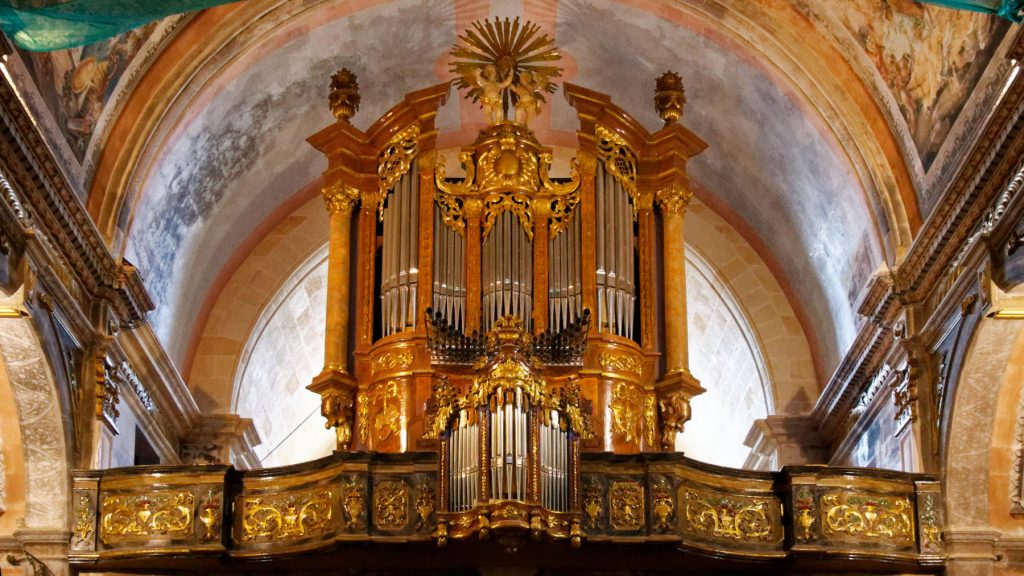 and some lovely trompe l'oeuil work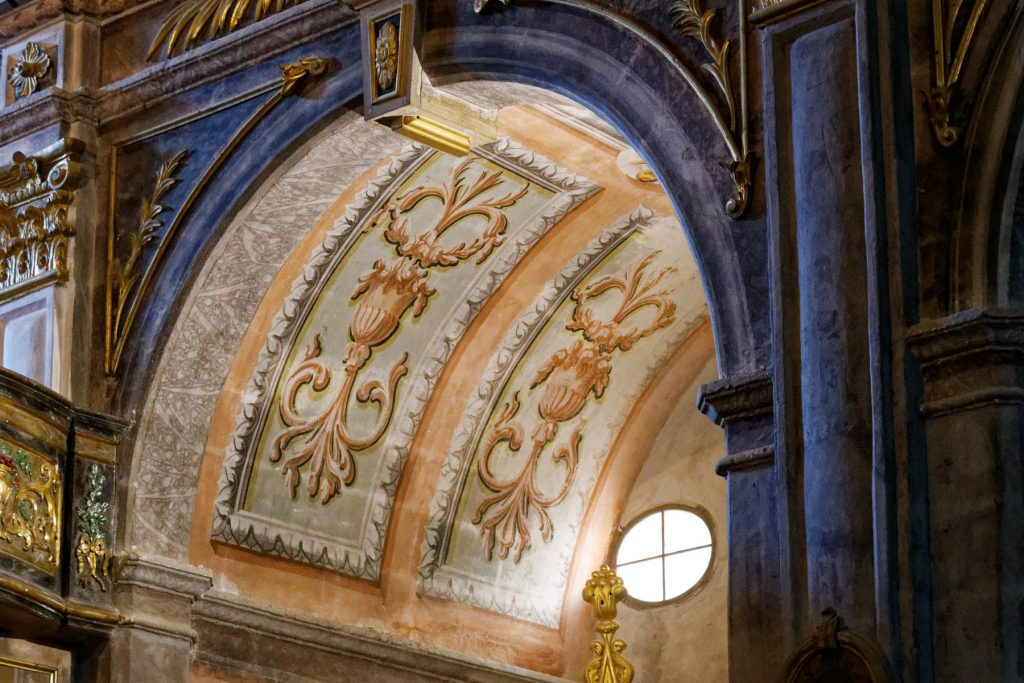 although it has to be said that the place is falling apart, sadly; in the photo of the organ, you can just see some green netting which appears to be in place across the expanse of the ceiling, presumably to stop bits of it falling on people (perhaps when the organ is throbbing?).
A windmill has been converted to what we're told is a popular bar,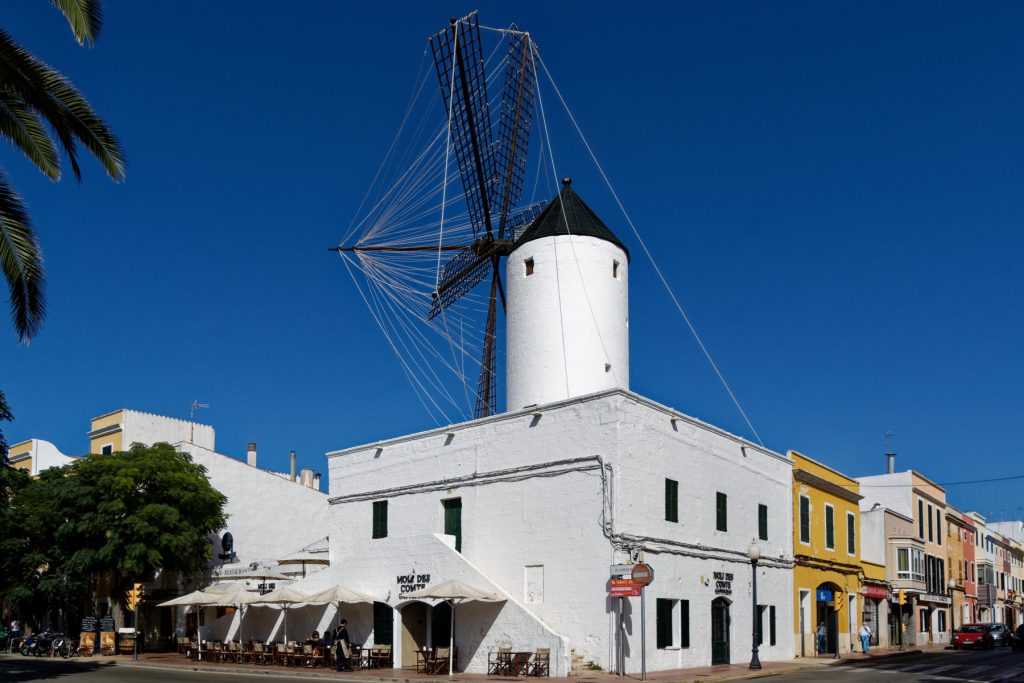 There's an attractive market (not open when we visited, and apparently suffering at the hands of modern supermarkets)
and balconies are very much a thing all over the old town.
and it has, of course, a port (that being where we arrived on the ferry, just yesterday), although the commercial bit is further out than this picture covers.
This was where we had our lunch break (at around 4pm!), at a splendid restaurant called S'Amarador, just by the water.
I suppose I should 'fess up to one piece of foolhardiness, when I tried to take a photo, right at the start of our wandering around. Here is the scene: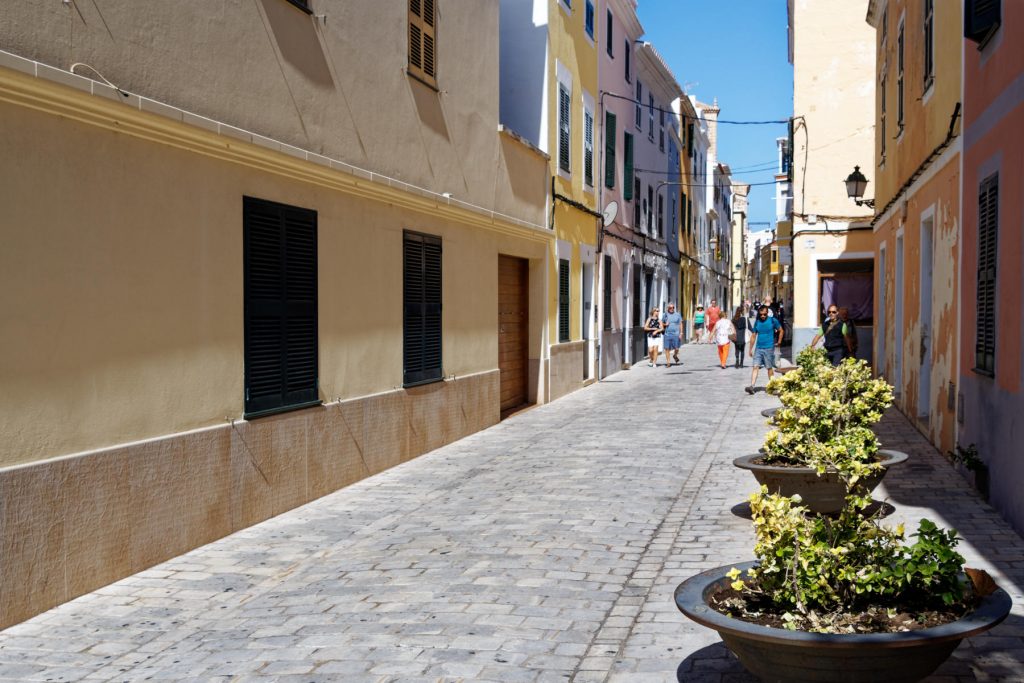 I thought that I would get a better vantage point if I stood on one of those very heavy-looking flower stands in the foreground, so I tried that. Sadly, I was heavier than it, so it tipped up, tipped over and landed on my toe. This hurt quite a lot, and so I basically had to limp around the rest of our walk and I hope to God that I haven't broken anything. I now have to go off and remove shoe and bloody sock and hope that the damage doesn't stop us from enjoying the rest of the week here. I'll report back on my pain and misery in subsequent posts….
One thing of note – as we walked back to our hotel from the bus station in Mahon, we passed a square where the trees were full of small birds chattering away as they argued about roosting places for the night. The sound was quite amazing…

Our agenda tomorrow is a little imponderable. We won't be hiking anywhere, but may take a stroll round Mahon, according to another suggested walk in the Landscapes book, if my foot will stand up to it. Otherwise, medicinal alcohol might have to be the regimen. Stay tuned to find out what happens, if you can bear the suspense.