Monday September 20 2021 –  Fuck, I'm tired!  Judging by the way I feel, yesterday's walk enervated me somewhat, and today's really finished the job.  We covered two stages of the Cami today, nos. 7 & 8, going from  Es Alocs to Cala Morell, a total official distance of 9.76 + 4.90km, which (I had to use my phone's calculator for this) is 14.66km.  Add in the 2.2km that we have to do before the official start, and this becomes 16.86km, or a smidge over 10 miles. Up and down (official ascent 350metres). In the lovely, bright sunshine.
You can, as usual, do the tl;dr thing and view the route and some photos on Relive. But this blog post will be much more interesting. No, really.
Actually, on paper this shouldn't have been too bad, but, as I say, I think the combination of yesterday's steepness and today's length has used up all of my surplus energy.  Anyway, here's the story of the day.
We were up relatively betimes, because we had to find a supermarket and some water to refill our bottles – Menorca's tap water is not, we are told, top quality, and so we are forced to sacrifice our principles and buy bottled water.  The Loar did a reasonable breakfast – good choice of fruit, poor choice of cereals, but we were able to make ourselves a Nice Cup Of Tea and construct Marmite on toast, so that was OK. I had a schoolboy snigger at one of the signs by the buffet which at first blush I read as "our ferrets".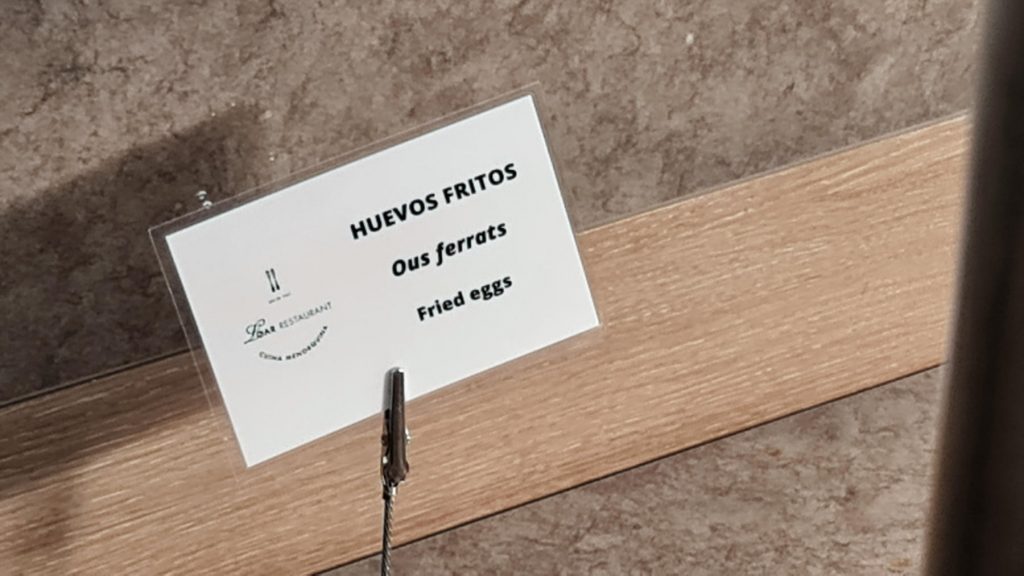 I also took the chance to pop up to the roof of the hotel for a photo of Ferreries, since the sun was in a more favourable position than yesterday.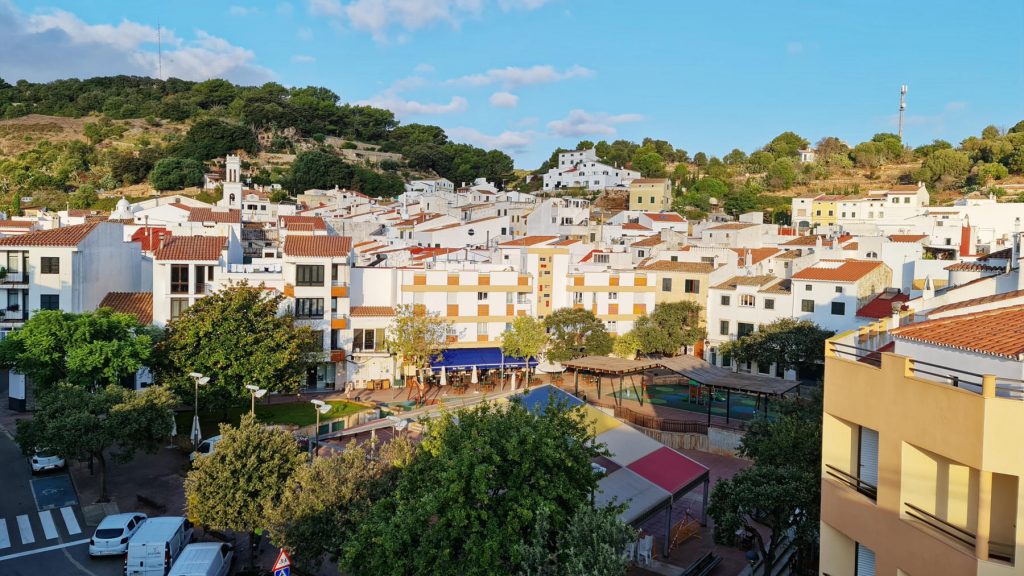 We found water and some more apples for snacking as needed, and David from the Cami360 picked us up promptly at 0900, along with a pair of German ladies who are clearly on the same overall schedule as us, and dropped us off as near to the Cami as he could – as I say, some 2.2km down a rather unrewarding forest track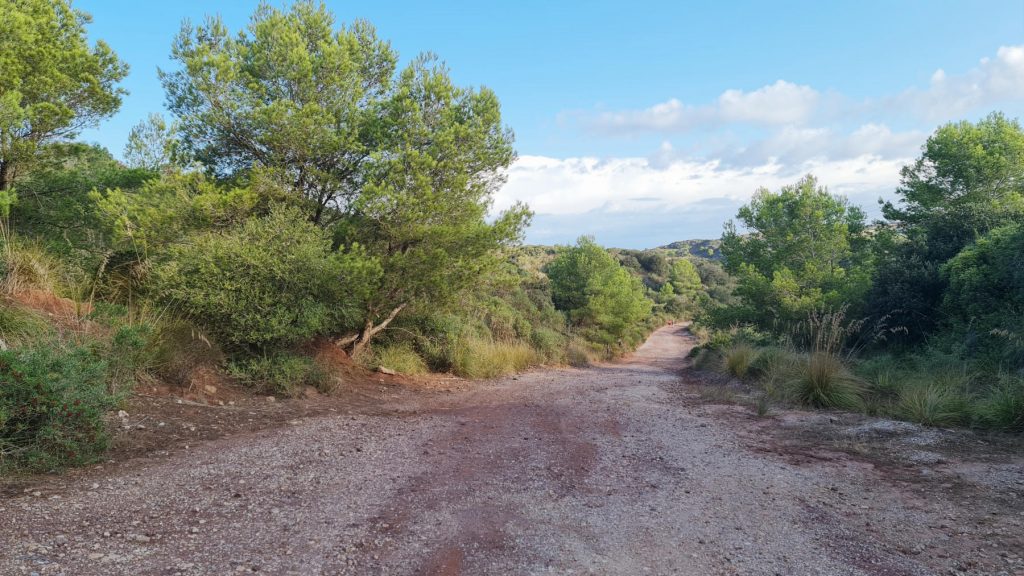 lay between us and the formal start. Which was uphill. Of course it was.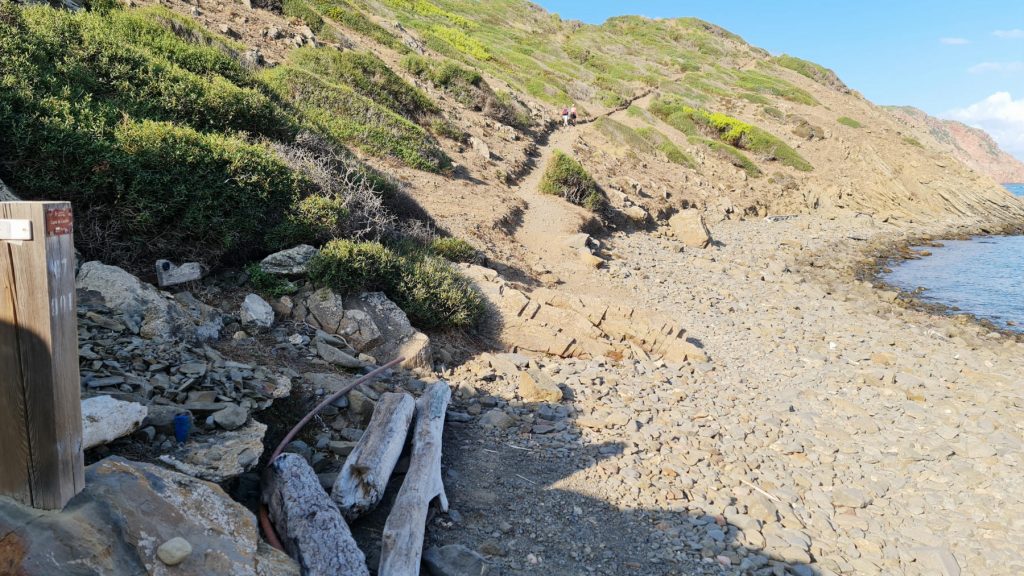 There was a mixture for a few kilometres of fairly sharp ascents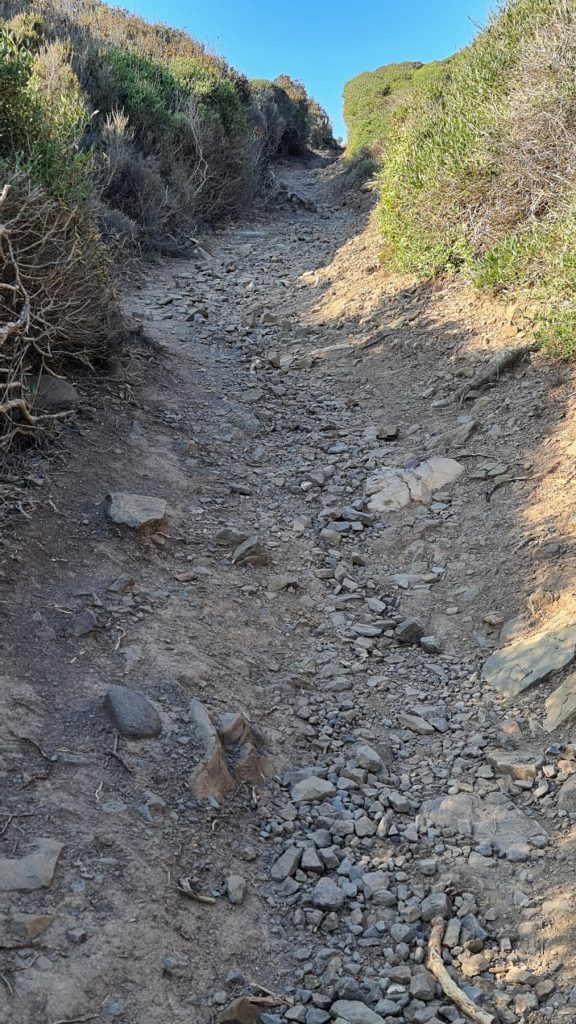 with decent views from the top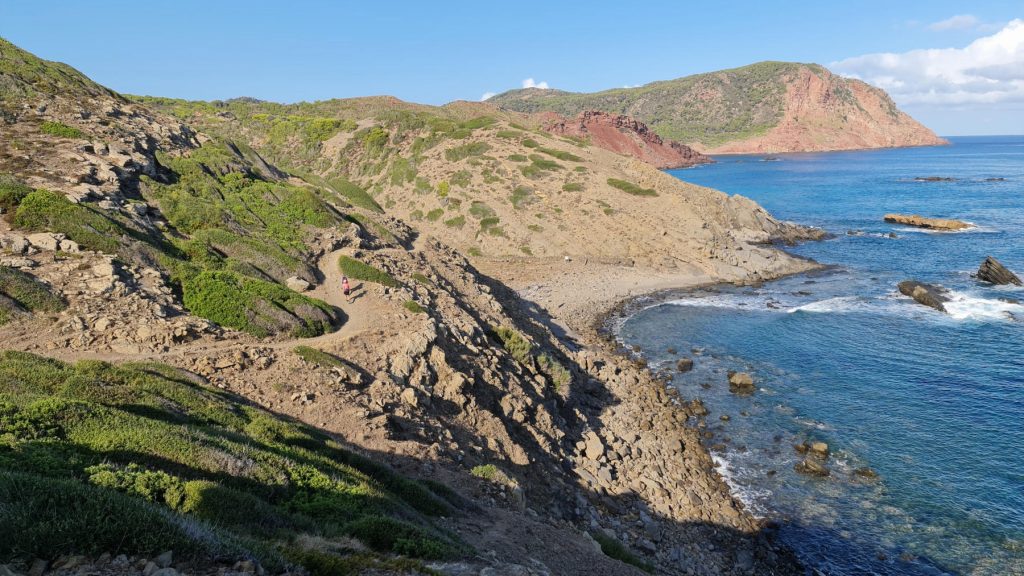 with some sections of the track showing signs of formal maintenance/improvement work.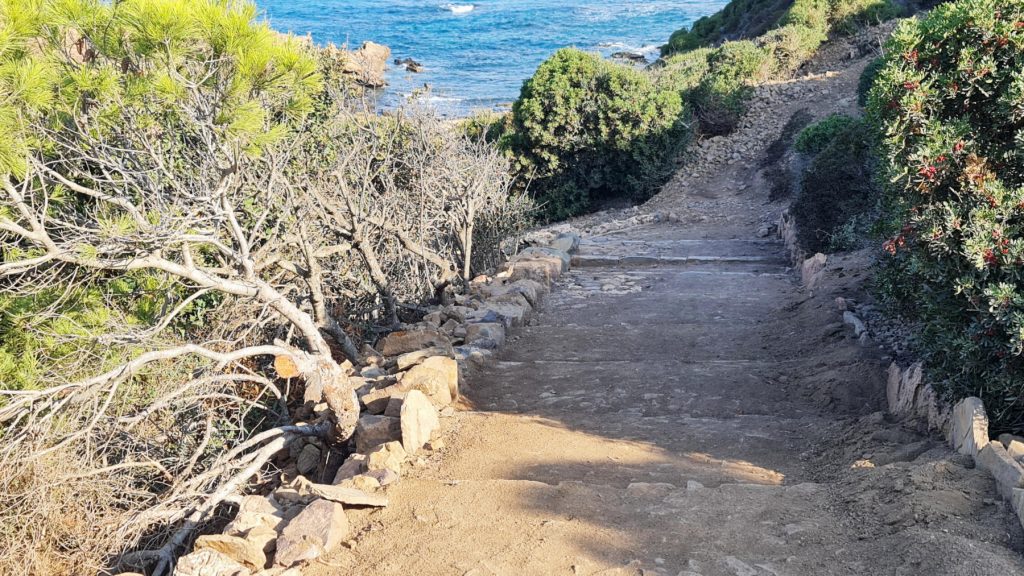 As we walked along, we heard an odd wailing sound, which turned out to be a young goat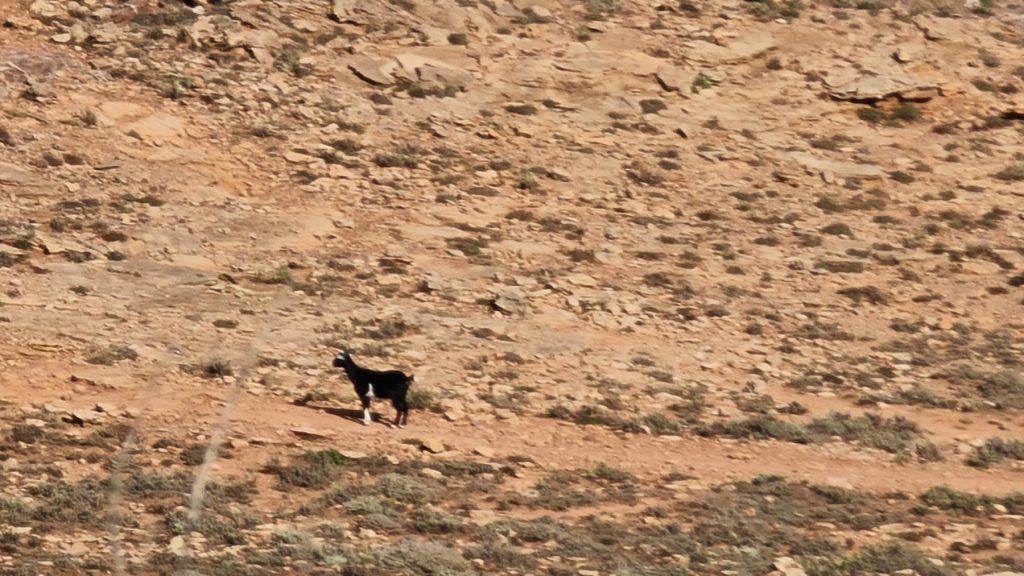 presumably yelling for his/her mother, whom we could see much further away and apparently paying no attention. Well, who wants a needy youngster, eh? Our track took us near this goatlet, who was pretty nifty at avoiding appearing in a photo.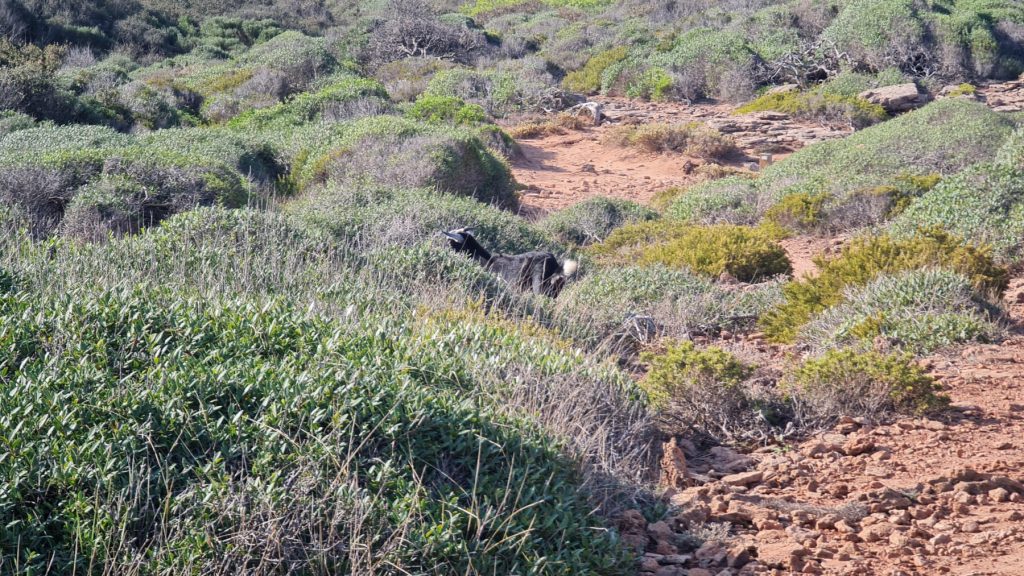 It turned out that I needn't have worried too much about getting goat photos, as there was a small herd gathered around the track, giving the opportunity for lots of photos for lots of people who were also coming down the track.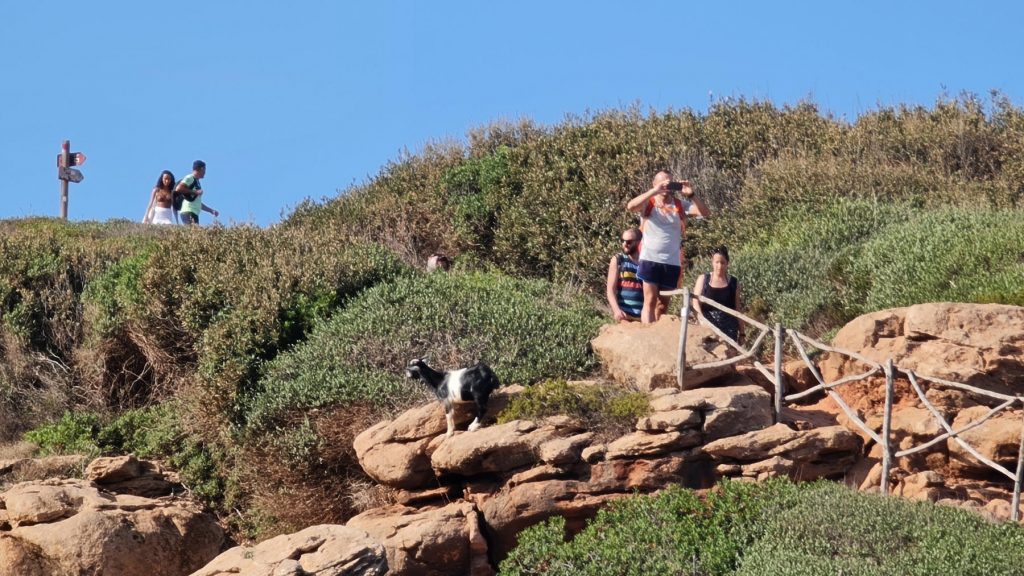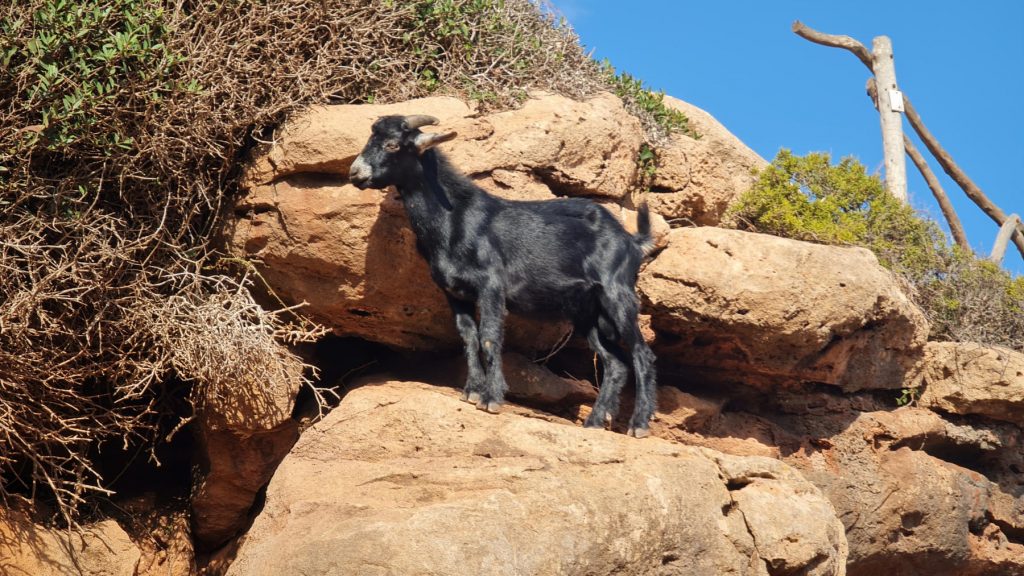 Jane heard some munching in the bushes….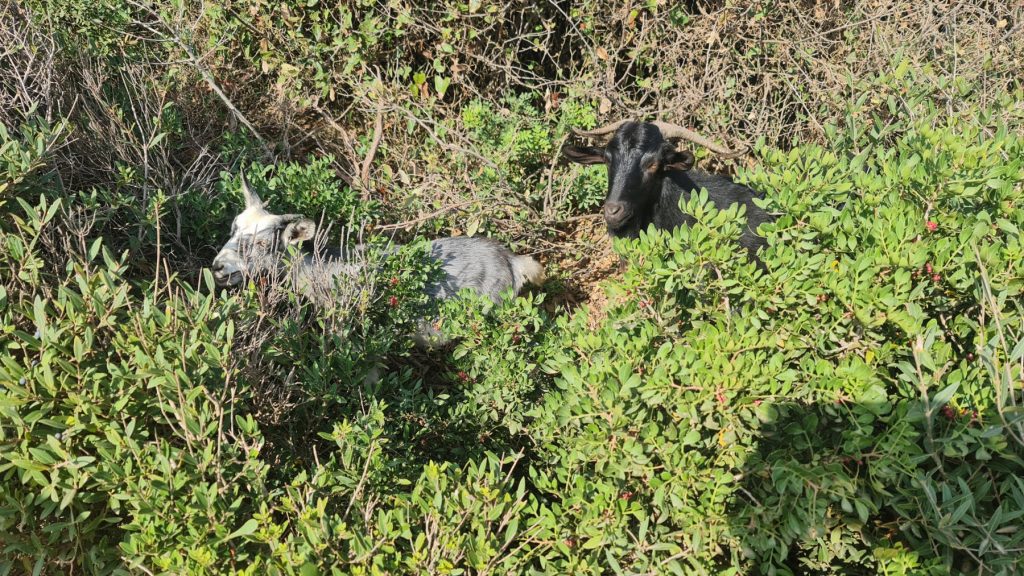 There were a lot of people coming down the track as we went up – we'd obviously hit rush hour of people heading to the Es Alocs beach. There were even cyclists and runners among them – definitely the most crowded we'd seen any art of the Cami so far.
We passed a track maintenance gang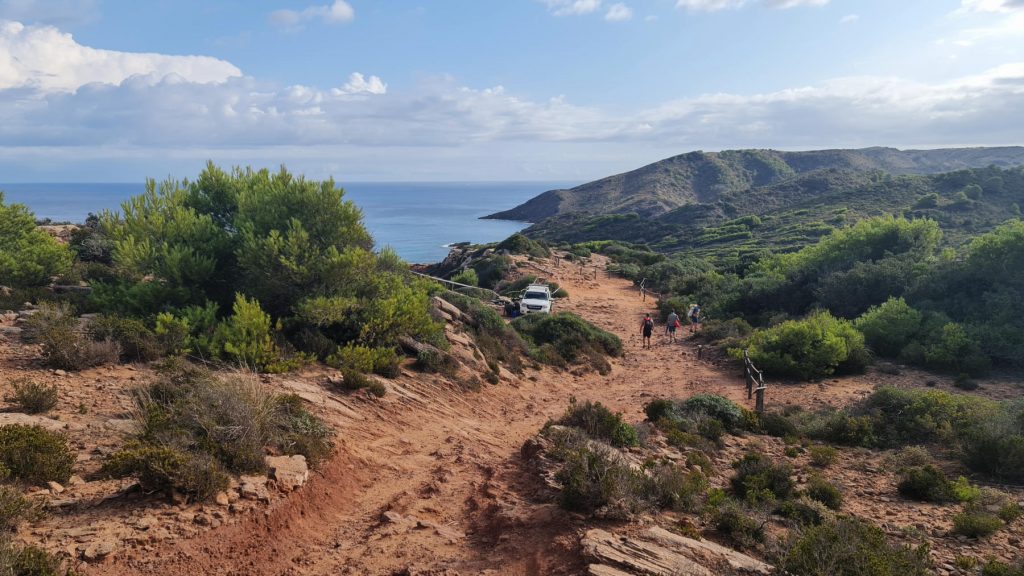 (gawd alone knows what the drive to that point was like) and it was clear that this section of the track had had lots of work done on it.
There were, as usual, abrupt changes of scenery as we went along.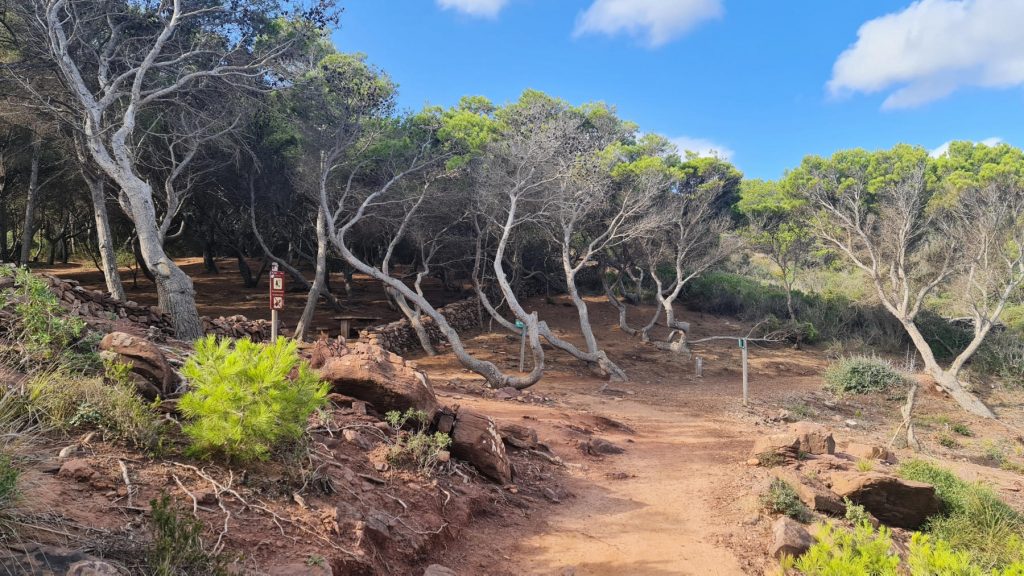 including a view of Muntanya Mala, Menorca's highest cliff (200m tall)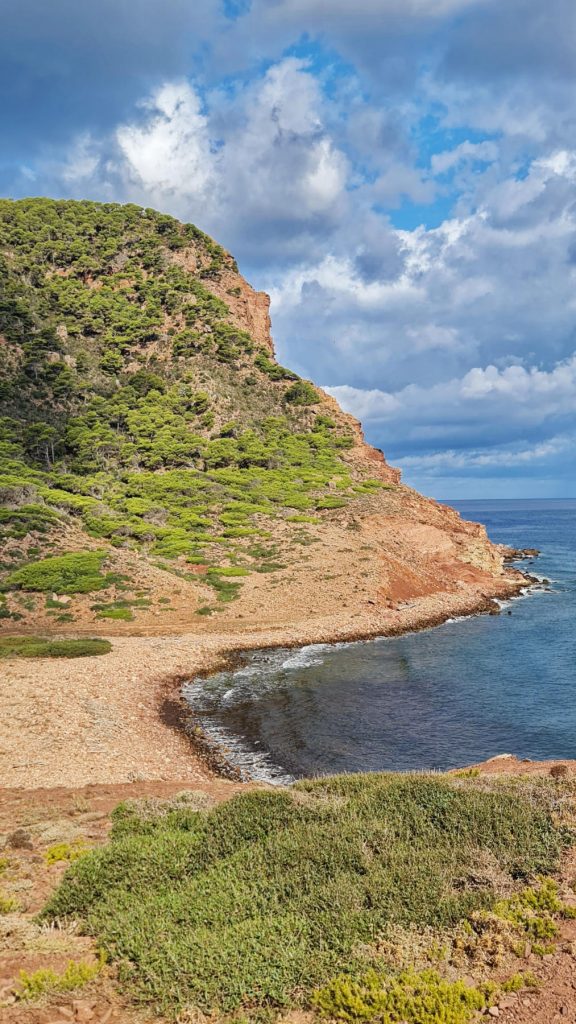 which I'm glad to say we didn't have to climb. Instead, the trail wandered for about 4.5km through forest
and farmland,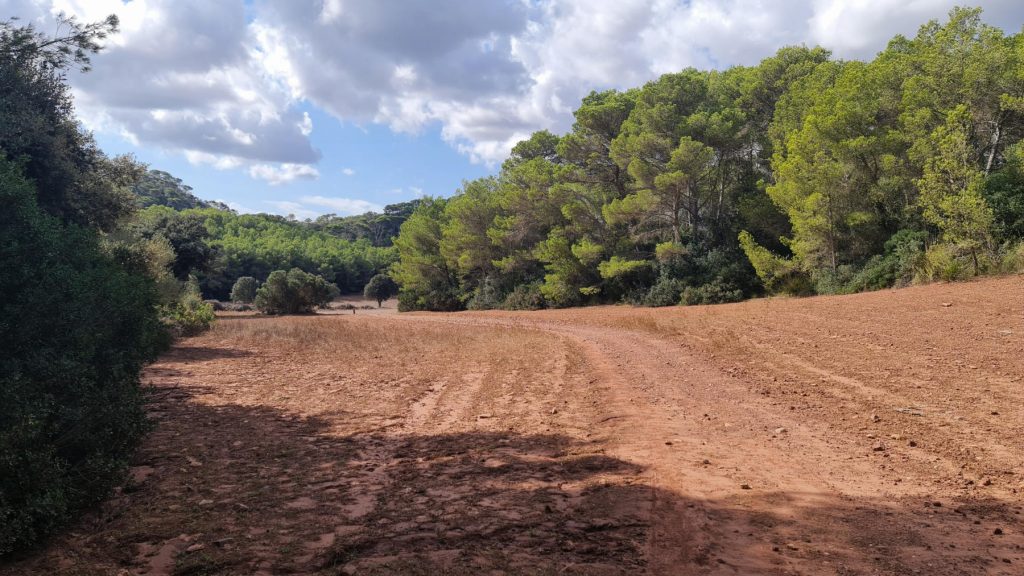 which was pleasant enough but which afforded very few interesting things to share with you – just a couple of cavalls
the odd imposing building (probably a farmhouse)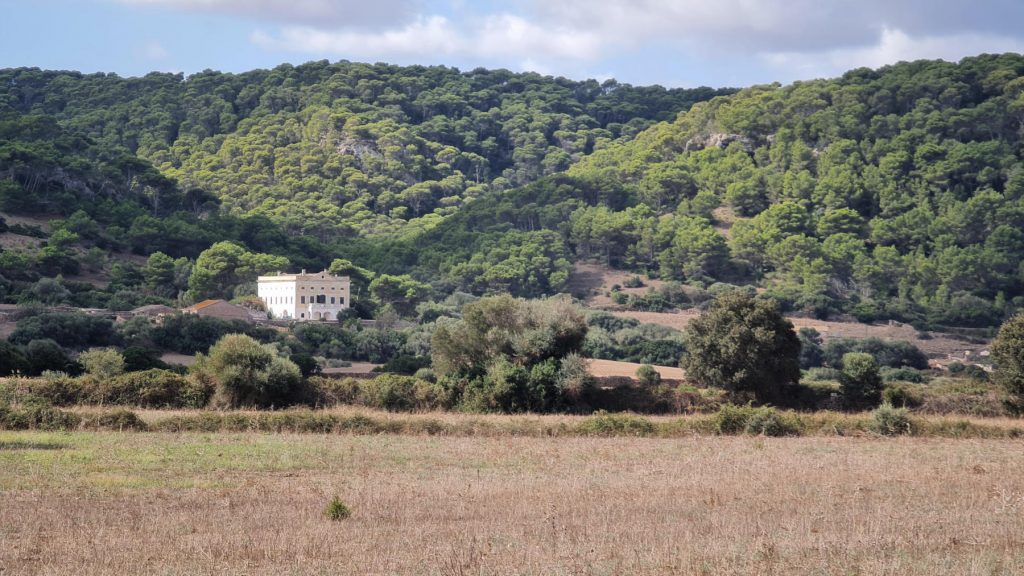 a construction which we're told is probably a grain or feed store for animals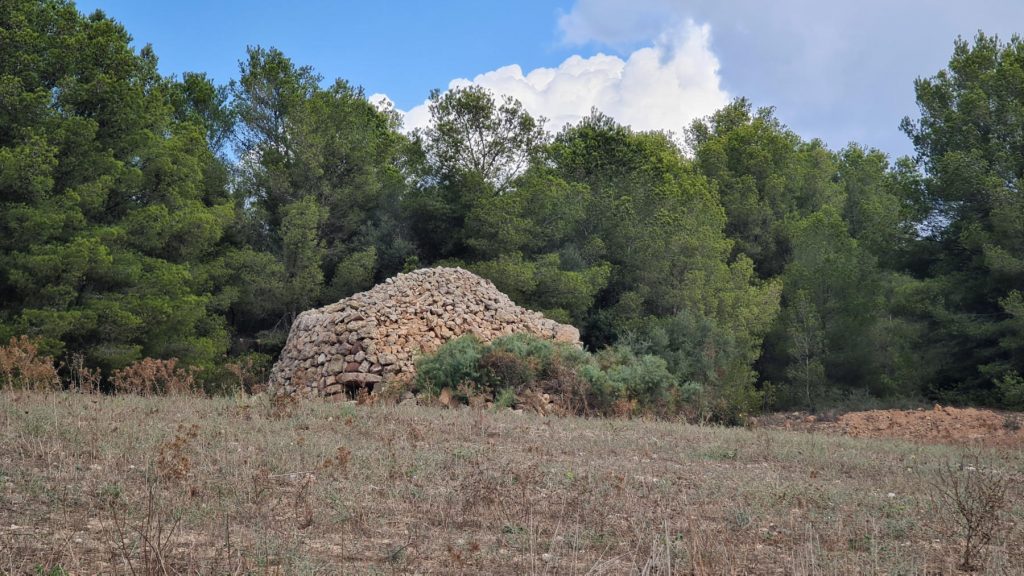 and some estivating snails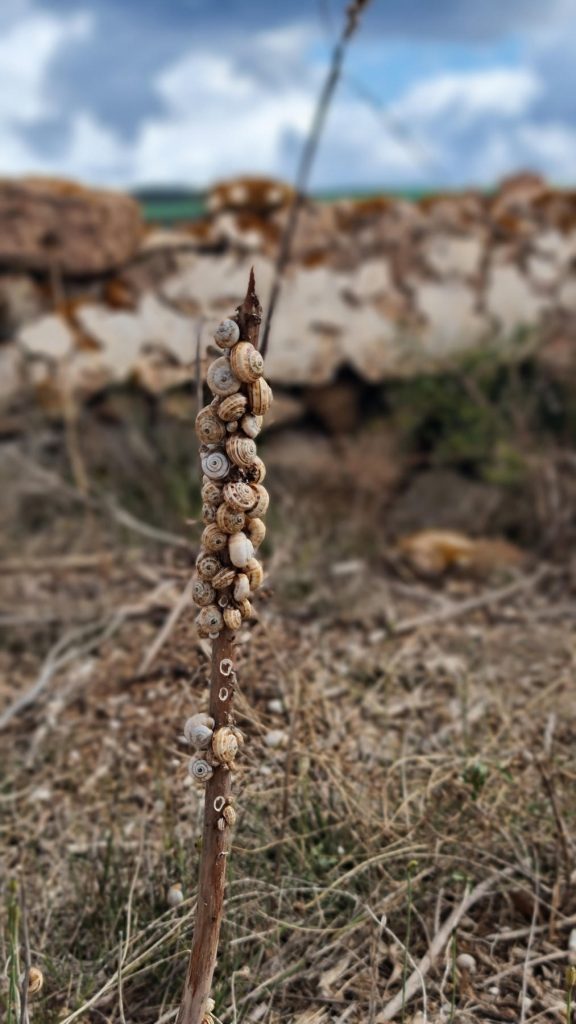 lots of estivating snails.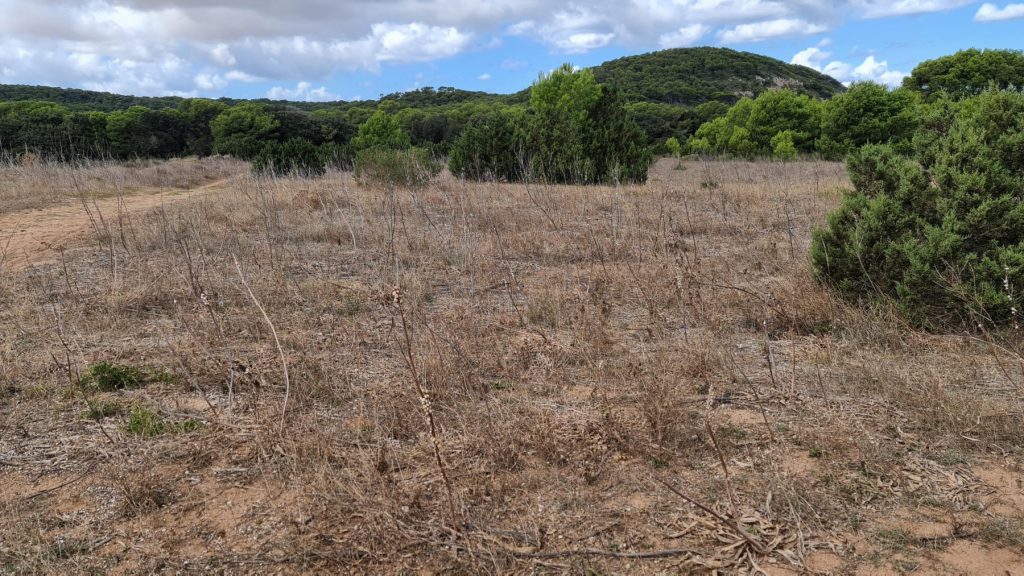 We overtook the pair of German ladies and also a group of Spanish people who appear to be walking the track on approximately the same schedule as us.  The Spanish group were quite jovial, especially one chap, who was being very voluble.  Still, I suppose if a group is large enough you're bound to get one tosser.  (Jane has just informed me that the group doesn't need to be very large… I dunno what she means…) We gradually left these behind as we reached the end of Stage 7, at a place called Algaiarens, which is a beach, and evidently a popular one, to judge from its car park.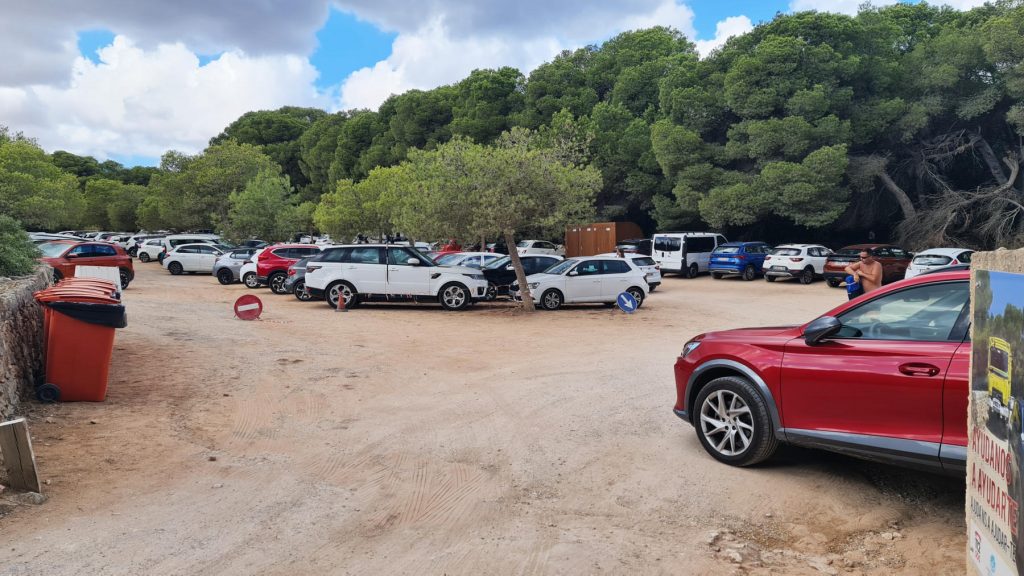 Sadly, it wasn't popular enough to warrant anything so civilised as a bar or ice cream stall, so we decided to crack on with Stage 8, to take us to our pick up point in Cala Morell.
The track took us past a cove called Cala de ses Fontanelles, which, we're told, is normally used as a small harbour, but not so much so today.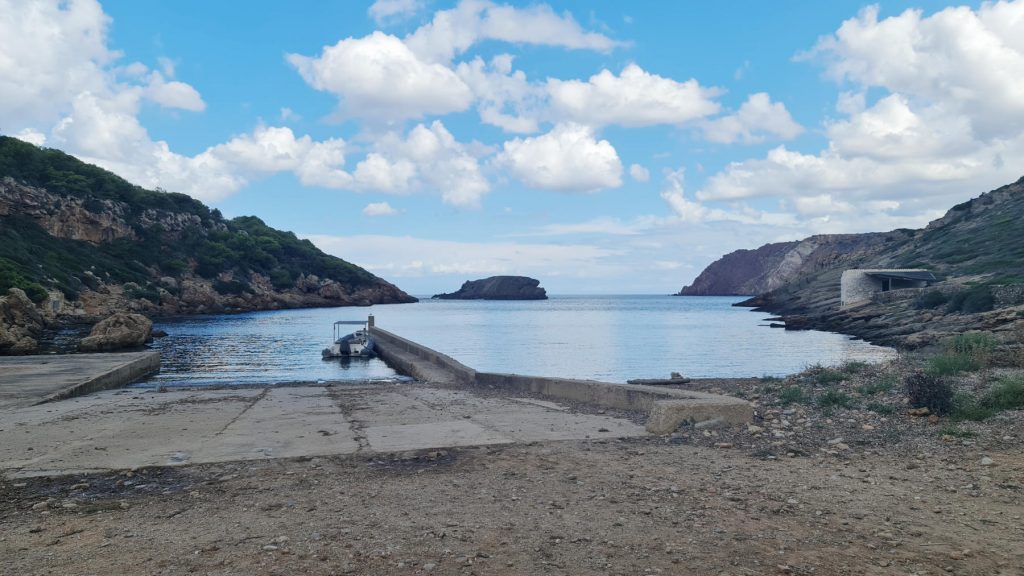 We passed the Vierge Fontanelles herself, at a nice little barbecue spot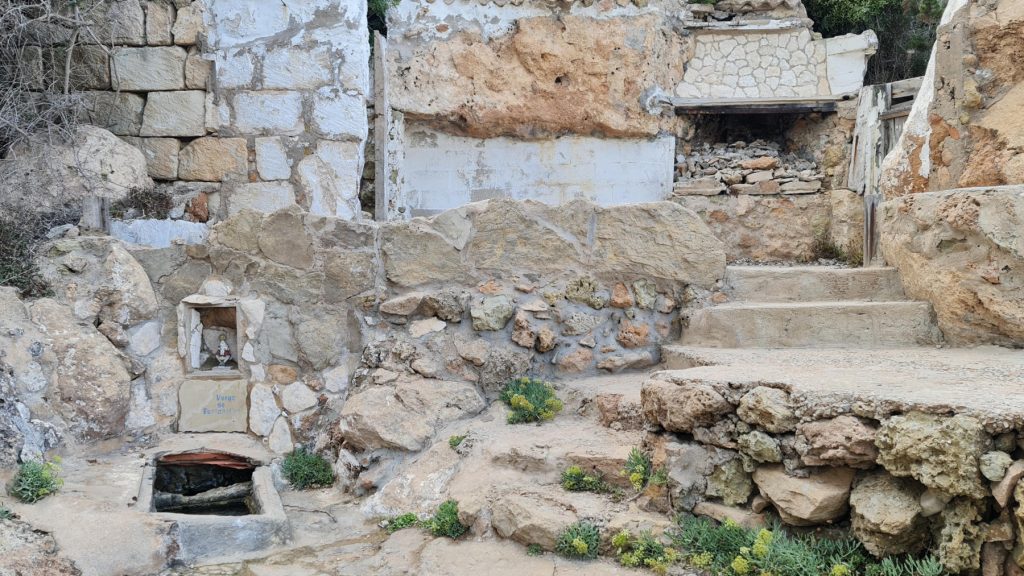 (there she is, bottom left), and started on the remaining track which led – oh, what a surprise – upwards.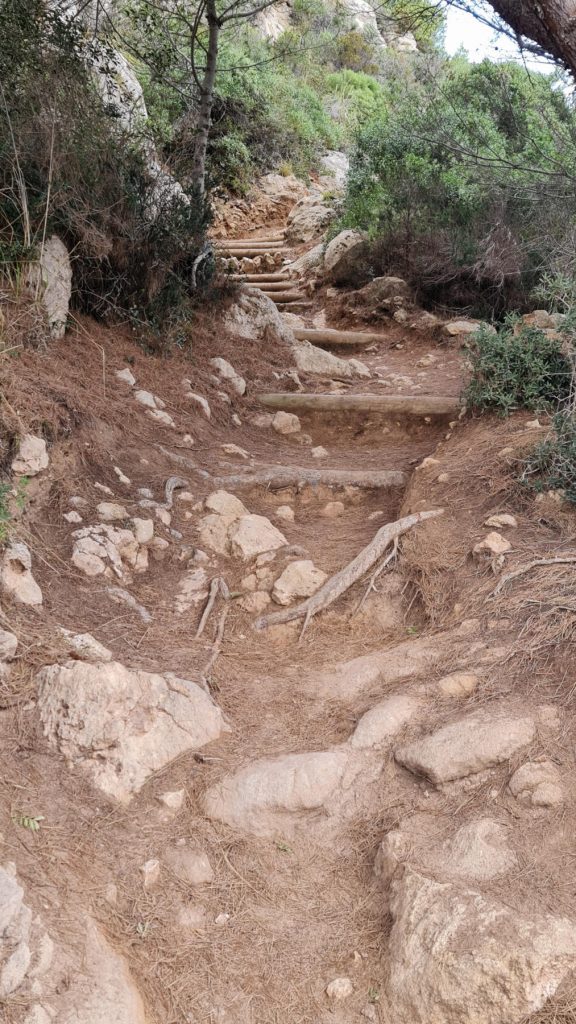 But at least we got a nice view of the clear blue water in the cove.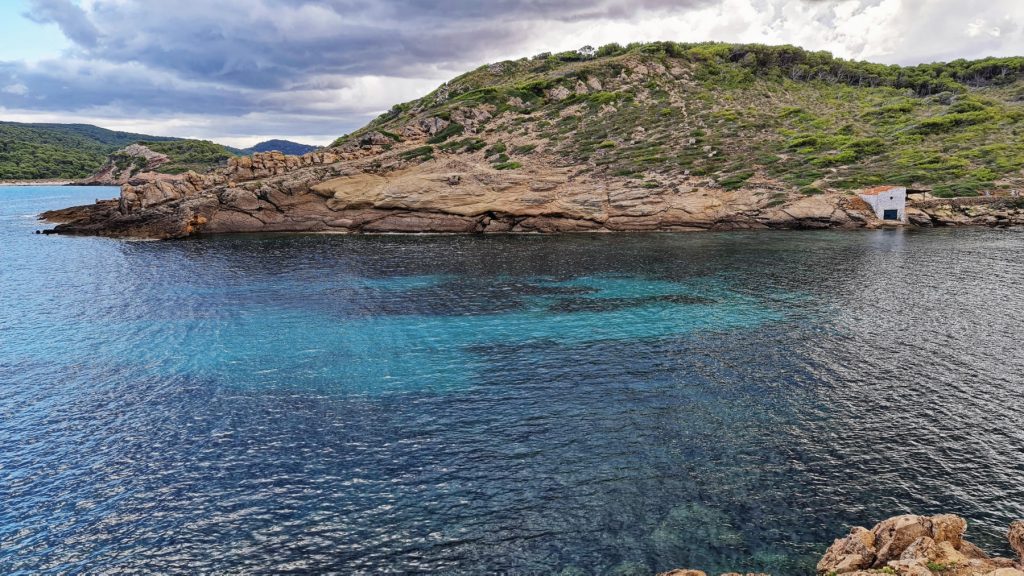 Once we cleared the cove, the track was a rather unrewarding and very stony path leading relentlessly upwards.  The tedium was relieved a little by a cyclist coming by.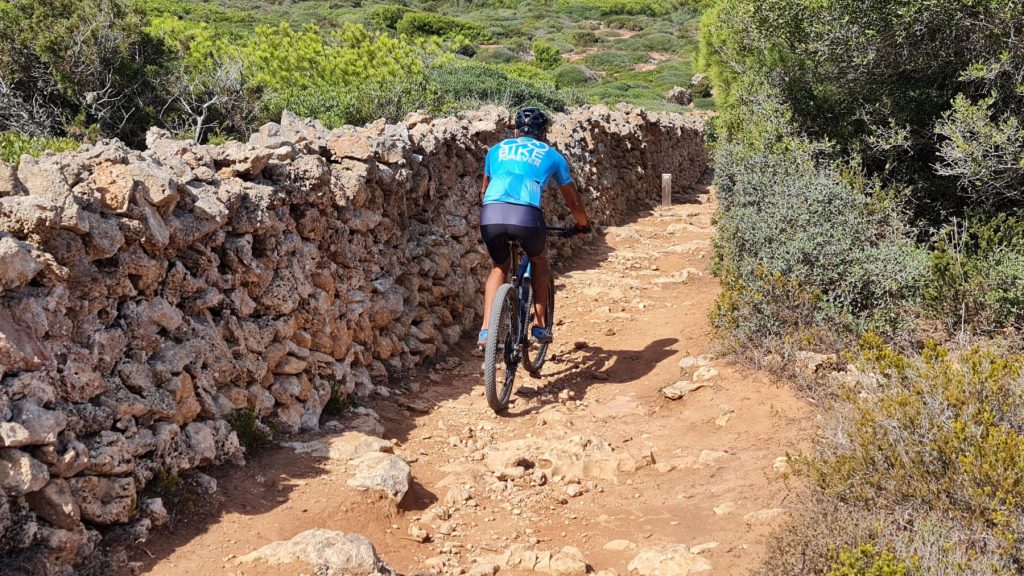 He had to get off and carry his bike up some of the rougher bits, but he cycled along most of this section of the path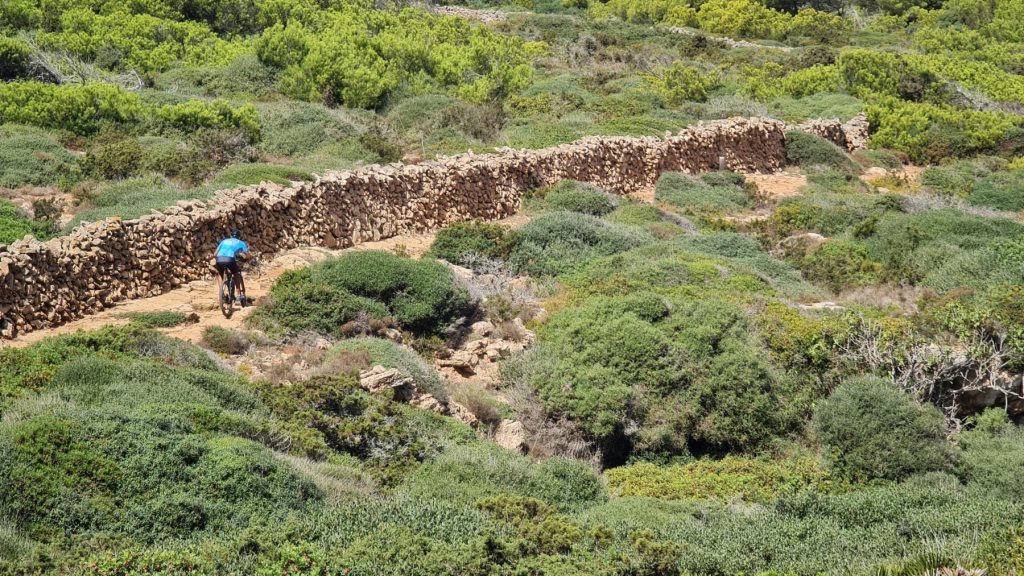 and this is the terrain he was alternately carrying his bike and cycling along.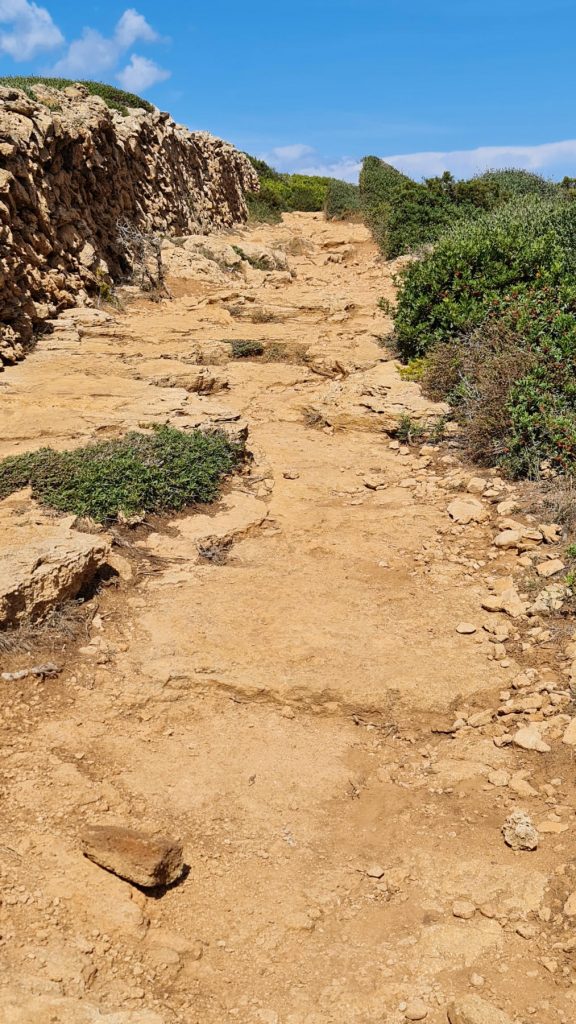 I have to ask the rhetorical question – WHY?  I for one can't see the fun in going cycling somewhere that you know you'll end up occasionally carrying your bike.  But it's obviously A Thing and it doesn't do anyone else any harm, so good luck to him and his ilk.
The path really was unrewarding to walk along, particularly since we were tiring by this stage, and I found I stumbled a lot as my brain couldn't make the correct connection between my eyes and my feet to avoid tripping over rocks.  Eventually, though, we saw Cala Morell in the distance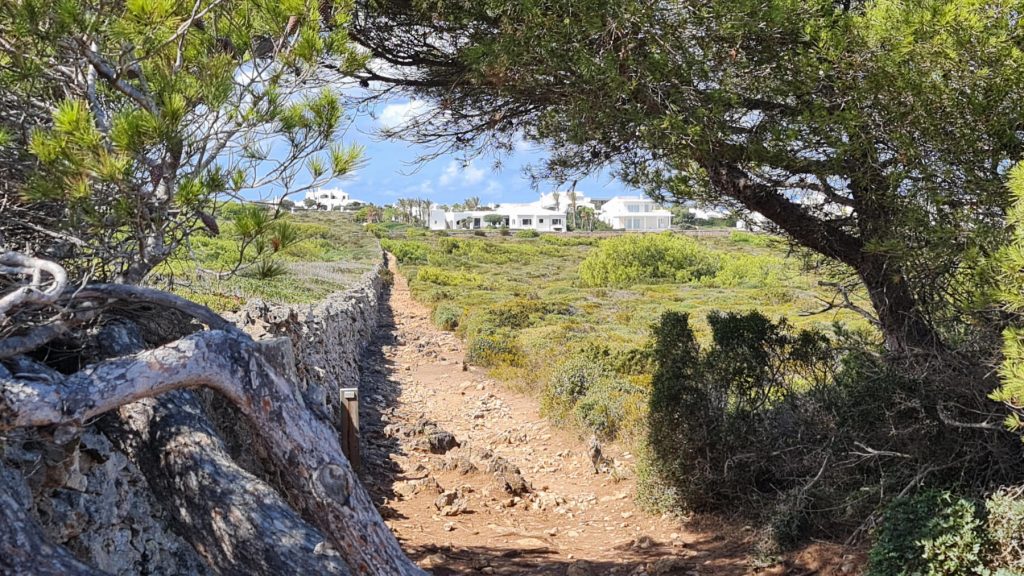 and were reasonably soon walking on lovely smooth tarmac down towards the centre of the town, past some handsome buildings,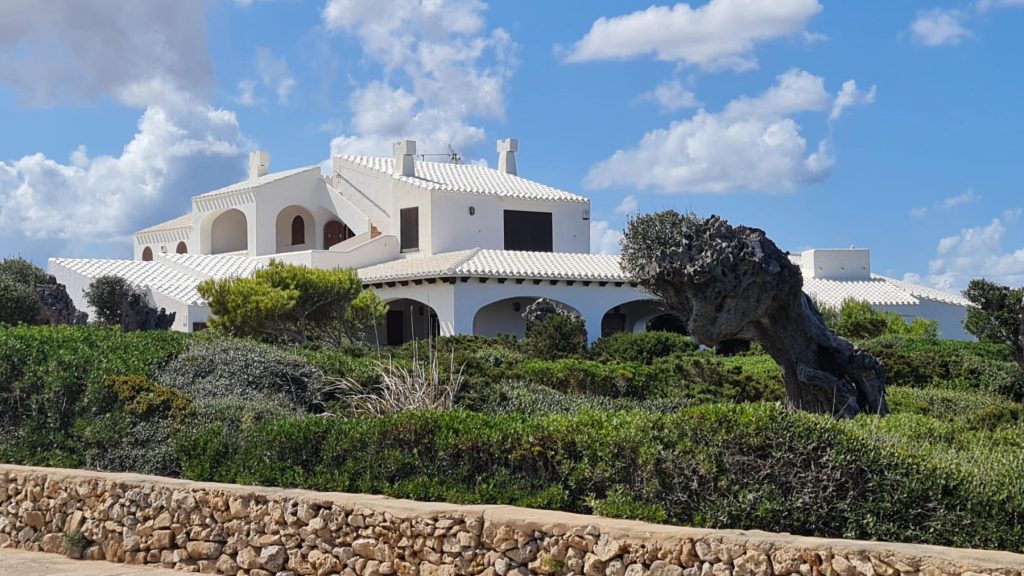 some unusual street lights, which looked rather like owls from front-on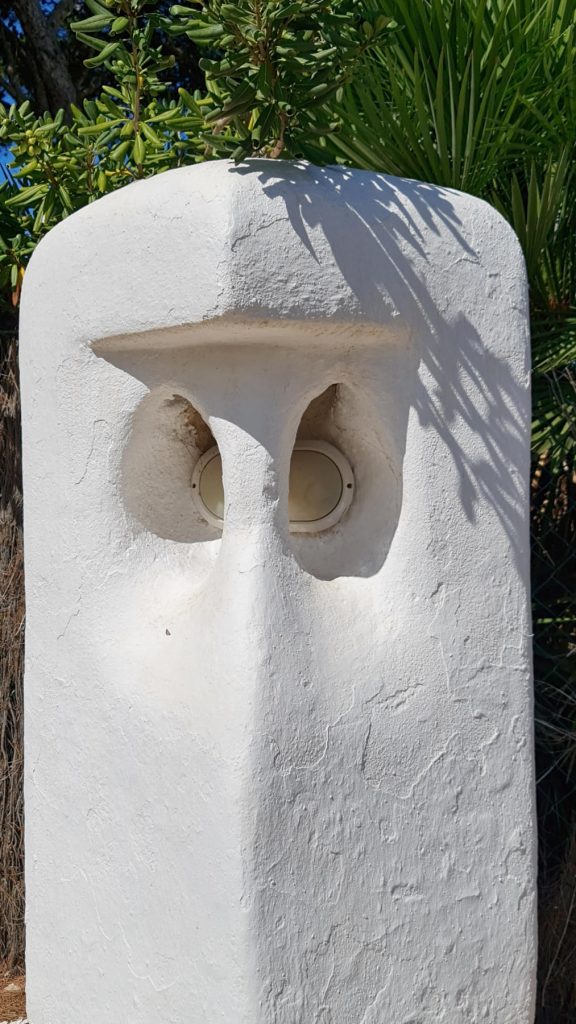 and a roundabout which hinted at the town's Talaolithic heritage.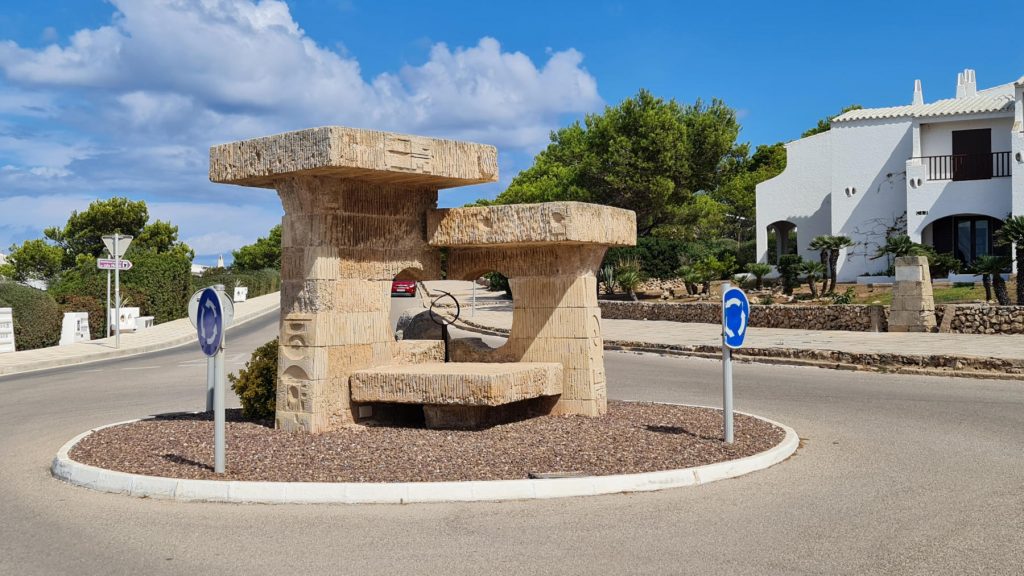 Cala Morell is a strange mixture, having a Neolithic history that goes back centuries (see below) but also a set of very modern buildings which have rendered it into a prime tourist destination.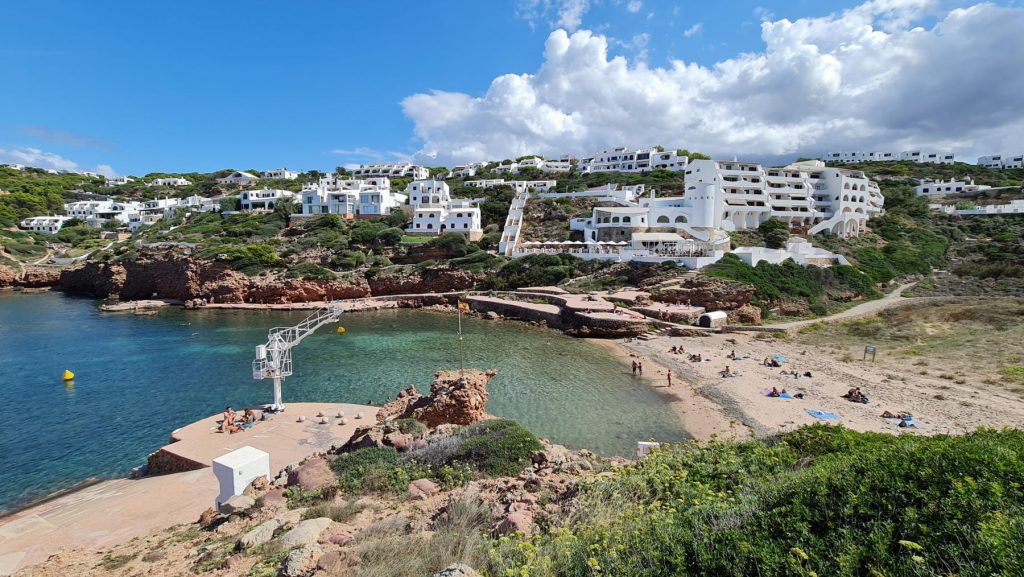 We walked to the end point of the stage, just so we could say we had done it, and then sought refreshment, which we were both sorely in need of.  A couple of drinks and some patatas bravas at a chiringuito called Baristiu (which, by the way, gave us the above view of the town) injected a little energy back into our tired frames, and so we went to take a look at an amazing example of the town's historic roots – the late Talaiotic period necropolis, which dates from 500-100 BC, but which was apparently still used for several centuries after the Roman conquest of the island.  We had a few minutes before our pickup and so here are some photos wot I took of the hypogea where people were buried and an overview of the scope of it.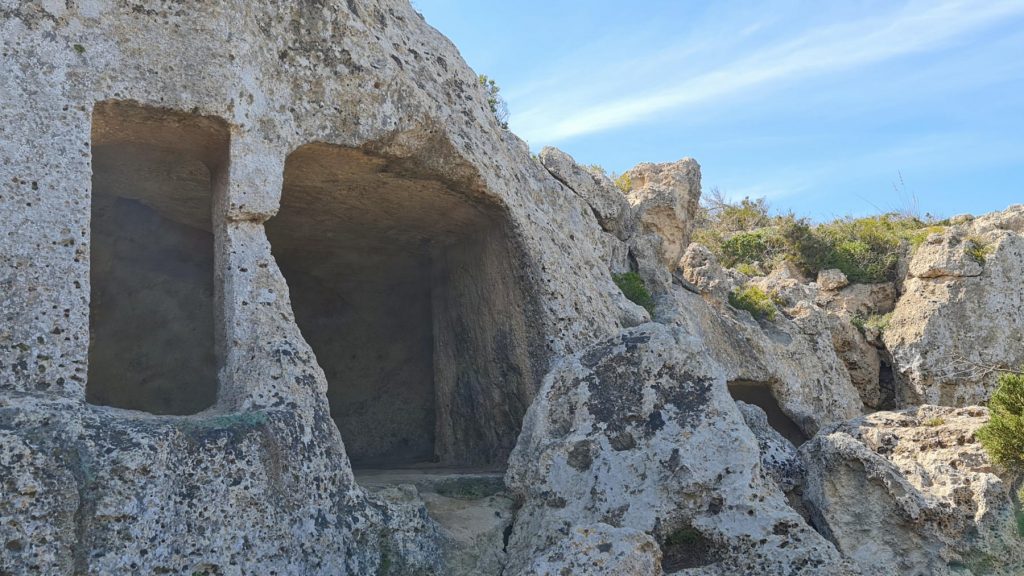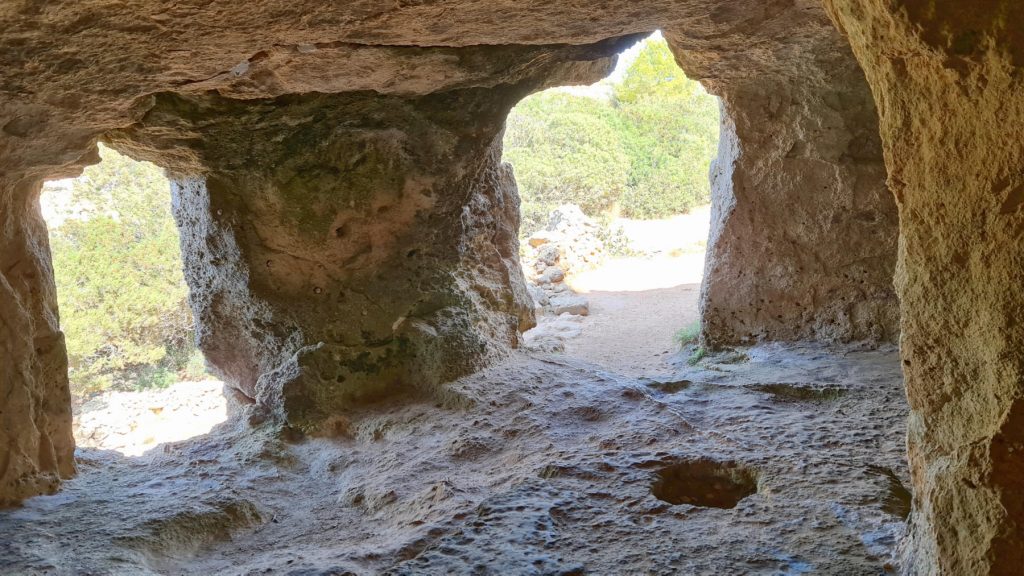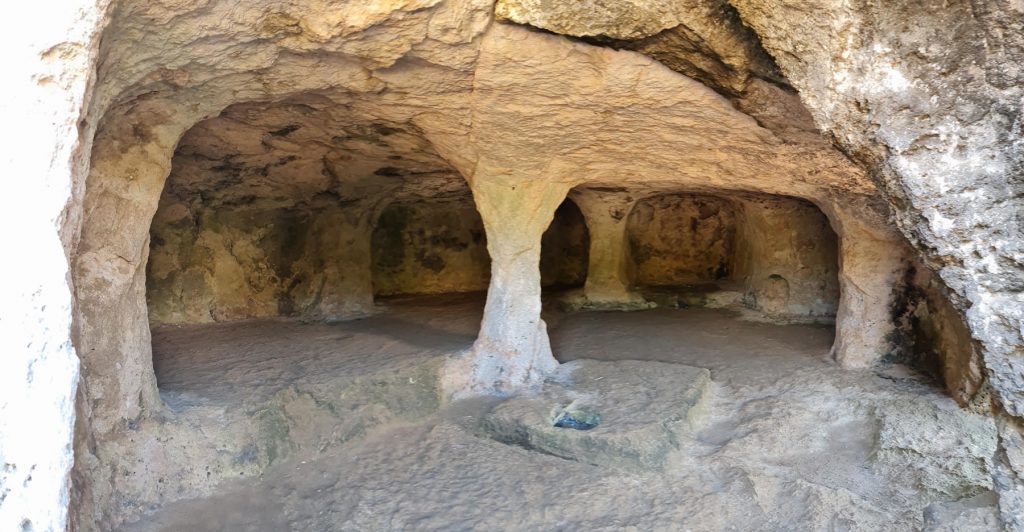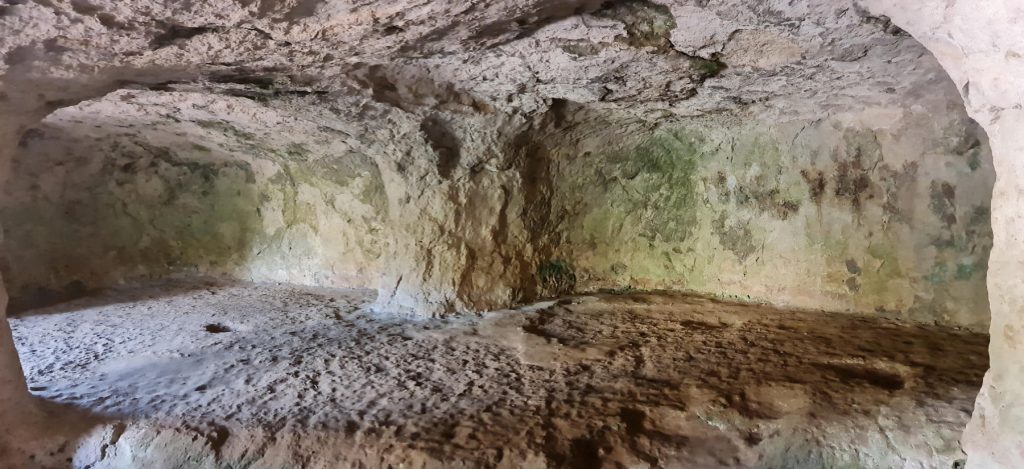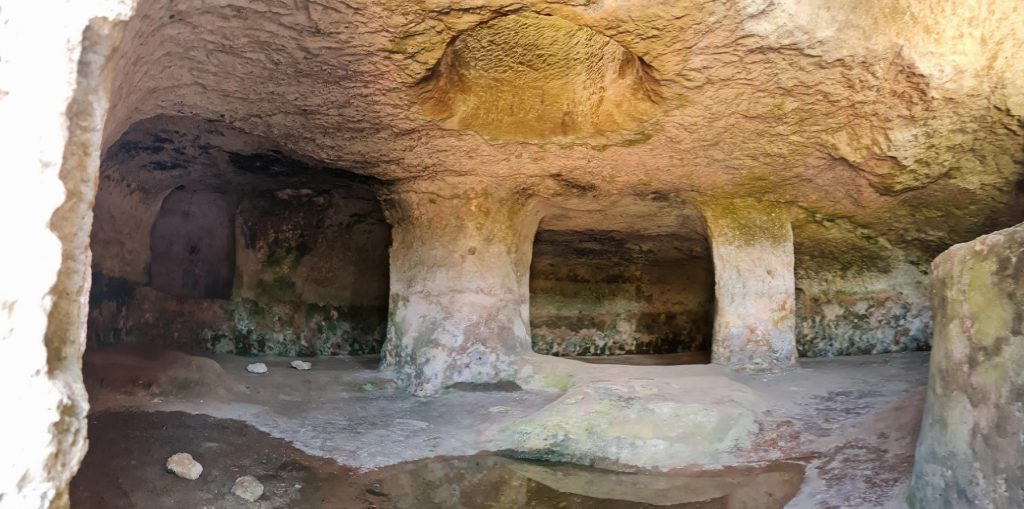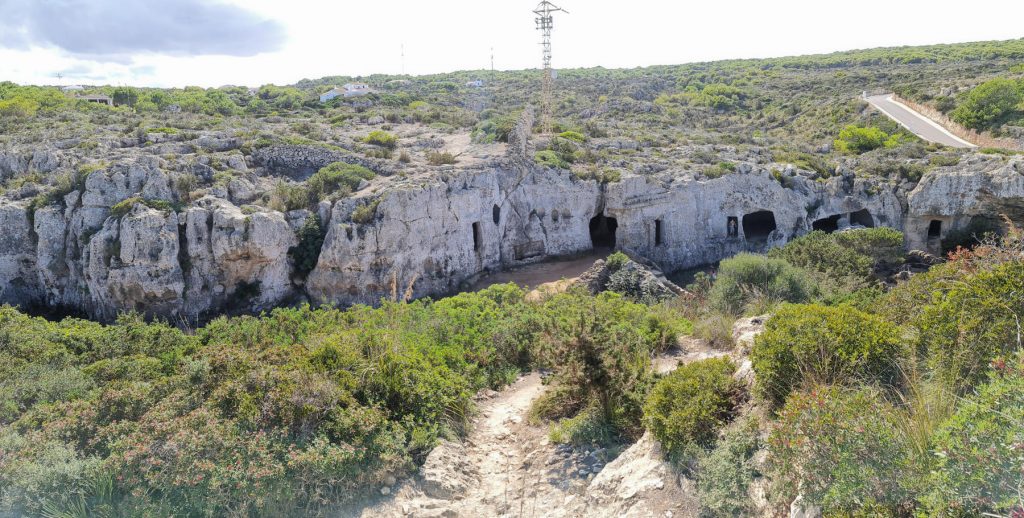 The Cami360 pickup point was, conveniently, just by the necropolis; we were picked up promptly and driven into Ciutadella, where our accommodation was at the Hotel Alfons III. This bills itself as a(nother) family hotel, but seems none the worse for that.  We had the usual Charlotte Hayward conversation on arrival, but otherwise were soon in a decent-sized room which should be a good base for the three days we are staying here – rather nice not to have to pack up and go after a single day.
So, here we are – properly showered, a little rested and not hungry enough to make us want to go out for dinner.  Ciutadella is a lovely city (we visited a couple of years ago) and not only should we have opportunities to reacquaint ourselves with it over the coming days, but also We Will Be Back for a few days of proper relaxation after we've finished walking the Cami. If we make it, that is. at the moment, I'm fairly comprehensively knackered, possibly even too tired to go to the hotel bar for a gin. That's how tired I am.
Here are some stats for the day (which is, of course, the Cami plus a few extra kilometres):
Distance walked in total – 11.57 miles
Total ascent 426 metres
Therefore we've travelled damn' near 60 miles in 6 days
and my Garmin tells me that I expended as many calories on the walk today as yesterday, and yesterday was acknowledged to be a tough day; so I feel my tiredness is to a certain extent justified.
Tomorrow (if we wake up, that is) we will do sections 9 and 10 of the Cami, and thus have walked around the top half of the island.  It will be a long day – 19km/12 miles, around the same distance as day 1 but allegedly easier, and with the possibility of a lunch stop en route.  So I hope we survive it with dignity. Why not come back tomorrow and find out?