Saturday 28 May 2022 – Rather surprisingly, the wedding didn't prevent us from sleeping reasonably well.  Come the dawn, there was time for a final cup of Twining's finest Earl Grey as we got up, and another with a brisk breakfast, blessedly (for me) possible as my ulcers were finally beginning to cede control of my mouth back to me.  We also got a reasonably close view of the starlings which are ubiquitous in Jordan and quite melodious.  These two were making the most of the breakfast buffet.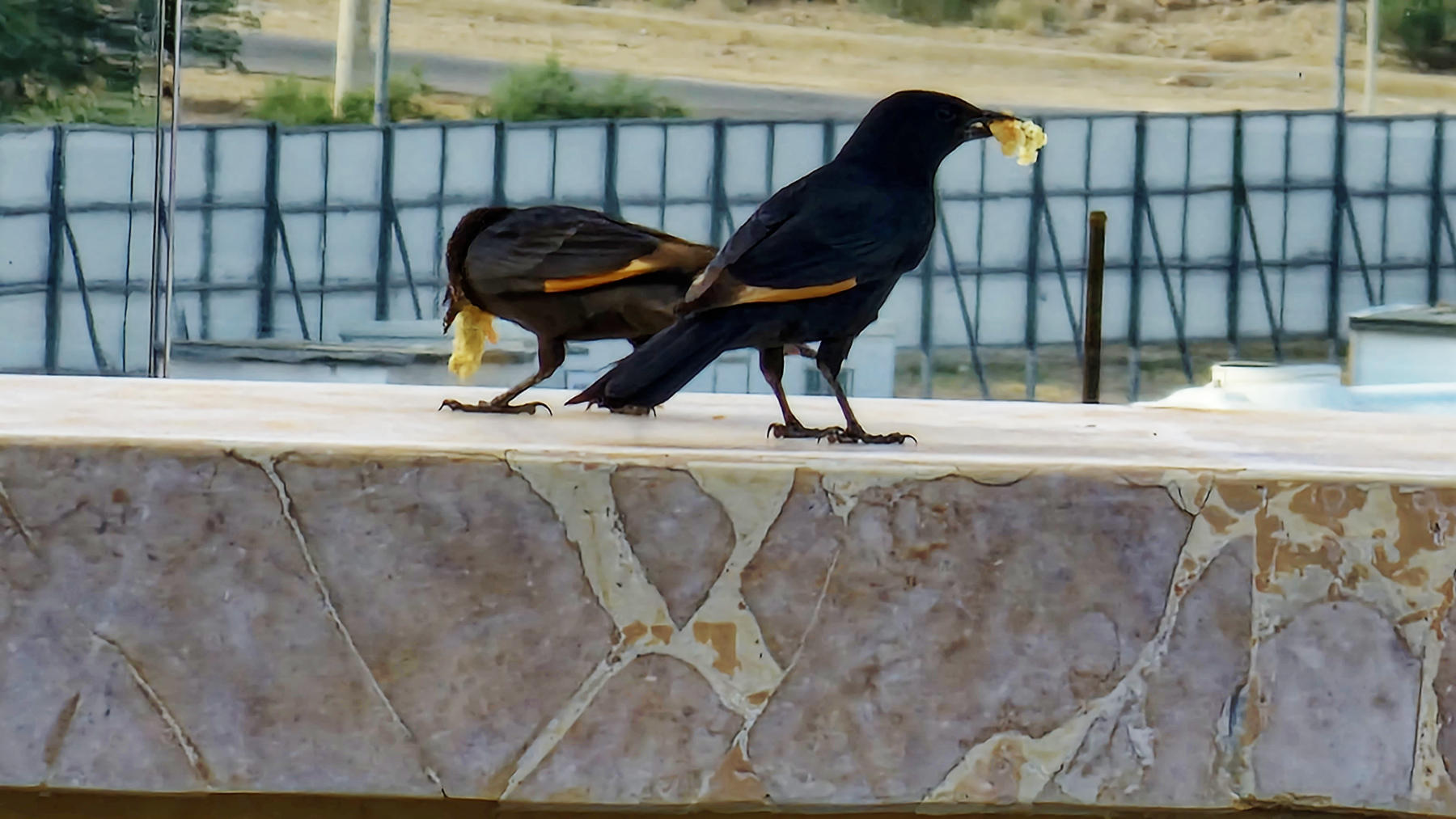 Saeed, prompt as ever, came to collect us to take us out of the Dead Sea area.  He gave us a parting present  of some olive oil soap (first experienced at Feynan – it's a good soap) and, bless him, some local variant of sage – the same herb that we believe had caused the ulcers that had bedevilled the last few days.  However, his instructions were to serve it as tea, rather than just stuff it in your mouth, which will probably give a better result.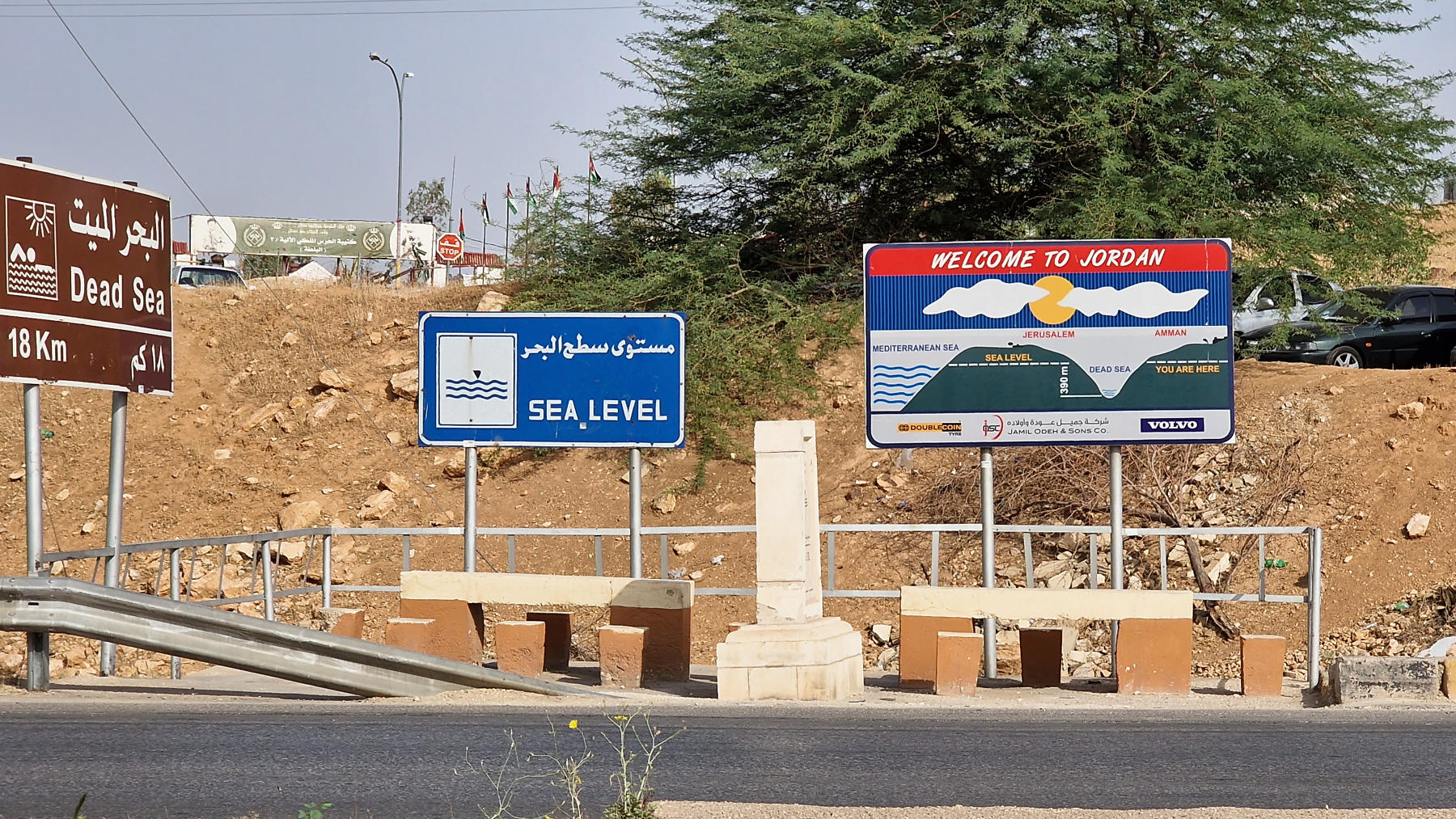 There followed a long, long climb to 600m above mean sea level (or 1km above Dead Sea level), past a ceaseless succession of big, big, heavy lorries, carrying mainly minerals from the Dead Sea area. The route goes through a very green area, fed by natural springs, and there were many cars stopped by the roadside as people took advantage of spring outlets of fresh, potable water, something that doesn't come out of the taps in Jordan.
And then we were at the airport, saying goodbye to Saeed and thanking him for the truly excellent job he had done of looking after us for a fortnight, before coming back into the care of Edward (he who greeted us a fortnight ago, you'll remember), which meant something of a canter trying to keep up with him as he took us to a fast-track side entrance and ushered us into the tender care of the Royal Jordanian airline Crown service.
The check-in process had much in common with the Virgin Upper Class check-in at Heathrow Terminal 3 in the Good Old Days when I occasionally managed to score this for business travel: a separate, private entrance;  its own dedicated passport control; and its own dedicated security scan. You'd have thought that the security johnnies would be familiar with ostrich eggs as a concept, given their prominent role among tourist purchases in Jordan, but Jane had a bit of a struggle explaining the one she'd bought; and they insisted on swiping both her egg and my camera for traces of explosive, but at least the chap nodded and said "good" as he handed me back my Nikon.  Nice that he approved.
(Parenthetical and post-factum note, here, penned later in the day with gin in hand. Prior to disappearing through the apparently wonderful, dedicated passport and security facilities, Edward had handed our bags over to two guys with a set of scales, checked us in with the desk and then told us to take those annoying long thin baggage tagging strips back to the two guys.  We (rather trustingly) did this and they assured us that they would handle the tagging and passing on the bags. When we got to Heathrow, being Crown Class got us off the plane nice and quickly, and the passport gates were working, so we were the first two at Belt 7 in the T3 baggage hall, arriving there by about 16.45. Some 10 minutes later, bags started appearing in desultory fashion on the carousel. These included a succession of boxes, which were picked up by various different people. Wonder what was going on?
View this post on Instagram
As time ticked by, more and more people came to the belt, waited a while, eventually picked up bags and left.  Eventually, there were fewer and fewer people standing by the belt, and still our bags hadn't come through.  An hour after the first bags had appeared, we'd just about given up hope and Jane had worked out where the "Lost Baggage" desk was – and then our bags finally appeared.  Specially labelled "PRIORITY" – and, as far as we could tell, the last ones off the plane. Harrumph! Cost us an extra tenner for the waiting taxi, as well as an unwanted surge of cortisol.
Anyway, where were we?  We were in the Jordan airport departure lounge…..)
We had to ask someone how to find the RJ Lounge, because the signposting at Queen Alia airport is less lavish than at other airports, but here we are and I need to update the blog, so an 0930 gin (we're still on holiday, OK?) to fuel the creative flow seems to be acceptable.  Yes, it is.
So, whilst waitin' for the Dreamliner that is comin' for to carry us home, we've looked over Jordan, and what have we seen?
A wonderfully heterogeneous culture, drawing on religious, historical and popular influences from the vast range of the different peoples who have come through, stayed to add to indigenous ways and maybe moved on.  Yes, it's basically an Arab country with Arab customs, but it's also very diverse in its attitudes towards other mores. Given that 20% of its GDP is through tourism, this is just as well, really.
(Hand in hand with the above, Jane found it a comfortable place to be as an un-veiled (Western) woman, which is not always the case in the Middle East, in our experience.)
An astonishing history, contributing hugely to the way the world as we know it today works.
A very welcoming people.  It seems that "Welcome" is the first word in English that Jordanians learn, they use it a lot and, by and large, seem to mean it.
Quite often, as a tourist, when you hear the word "Welcome" on the lips of someone in Jordan, it is followed, implicitly or explicitly, by a solicitation to talk, have tea, whatever – but basically to buy something. Although there are some very rich people in Jordan, there are also some very poor people; very rarely is an opportunity to earn a dollar or two spurned. There are two clear consequences: one is that contactless or card payments are taken in the most surprising places; the other is that people are grateful for tips.  If you're thinking of visiting and using services such as guide or driver, it's a very good idea to arm yourself with a selection of 1, 5 and 10-Dinar notes.
A highly opportunistic entrepreneurial attitude, combined with a ramshackle retail experience.  Wherever you go, there are people selling stuff – on the roadside (of a motorway, for heaven's sake!), up a mountain, in a desert, often out of the back of a a ramshackle, probably Toyota, pickup truck.  Saeed told us that he'd simply built up, over the years, a knowledge of which are the best places to go to buy cheese, or watermelons or mulukhiyah, or whatever.
A "long game" approach to property development.  Similar to what we've seen in Spain and Portugal, there's a developmental attitude to domestic and small business properties; this was something I'd meant to refer to earlier, but, well, didn't: wherever you go, there are businesses apparently trading out of unfinished buildings, with reinforced concrete rods sticking out of the top, and houses, some apparently lived in, in the same state.  The reason is that the family has built enough to go on with for now, and the next generation will come along and add the next storey. Or that they're still waiting for money to complete the works.
A ridiculous driving experience. My strongest advice to anyone considering renting a car whilst being unfamiliar with the "Insh'Allah" roadcraft of the locals, the apparently negligent approach to road surface maintenance and the "this looks as good a place as any" speed bump placement philosophy on the part of The Powers That Be is – don't. Just don't.
An expensive currency.  The Jordanian Dinar is currently worth more than a Pound Sterling and some of the prices charged might seem high relative to other places you've visited (particularly for booze and items that have to be imported). In your financial planning for a holiday visit, try not to compare the prices with, e.g. European norms, which will only cause you angst; be lavish in your estimates of cash needed and relax and enjoy the service.
A varied climate. If you hate the heat, avoid the peak summer months and the south of the country. If you hate the cold and wet, avoid the winter.
Overall, a great tourist experience – based, that is, on our limited statistical sample of one.   Our particular priority has been seeing as much of a country as makes sense in one trip, and the size of Jordan is perfect for visiting a wide range of places over two weeks. But you can find intense concentrations of specific activities – hiking, diving, camping, sunbathing – if that's your bag.  We've had a fantastic fortnight and would unhesitatingly recommend it as a place to visit.  Would we come back?  There's a good question. The answer is a probable "yes" – a bit earlier in the year, and with a more focussed plan – fly and flop to the Dead Sea; stay at Feynan – but better equipped, emotionally and packing-wise for the experience – and go hiking or experience more of the local culture; even (sigh!) go canyoning at Mujib or snorkelling in Aqaba. Whatever, as I bring this section of the blog to a close, we've had a blast and hope that you've enjoyed reading about it. Interested in Canada? Come back in August…..