Thursday September 16 2021 – Yesterday's walk combined two stages and was quite long; designed, presumably, to break our spirit so that we were less likely to be a nuisance over the fortnight. Today's, Stage 3, looked to be shorter and easier, running from Favàritx to Arenal; and we would end up at our overnight accommodation, so didn't need a pick-up at the far end and therefore had no particular constraints on our schedule. We had, however, rashly decided, when we met the Cami360 team on Tuesday, to start the day at 0730, since that would get us out walking before the heat of the day established itself.
(As yesterday, by the way, if you want the tl;dr of the day, you can watch it in about 2 minutes on Relive.)
So it was that the 0600 alarm woke us with something of a groan, particularly when we saw that the forecast was for a much cooler day than yesterday and one that featured rain. (In the end, though, an early start was a good idea – see later.) The breakfast, like other aspects of the hotel, was workmanlike rather than fancy, but at least we managed some decent tea (because it was ours) and marmite on toast (because the marmite was ours).
David from Cami360 turned up on a schedule that the Spanish would call prompt but which we wouldn't, quite; but given how torturous it is to navigate a big van through the tortuous narrow roads in Mahón, I guess we should cut him some slack. Anyhoo, just before 0800, in a drizzle that one hardly noticed, we were at the start – not quite at Favàritx, as the Cami360 team spared us a couple of kilometres of yomping along a boring road. So we actually got going on the track.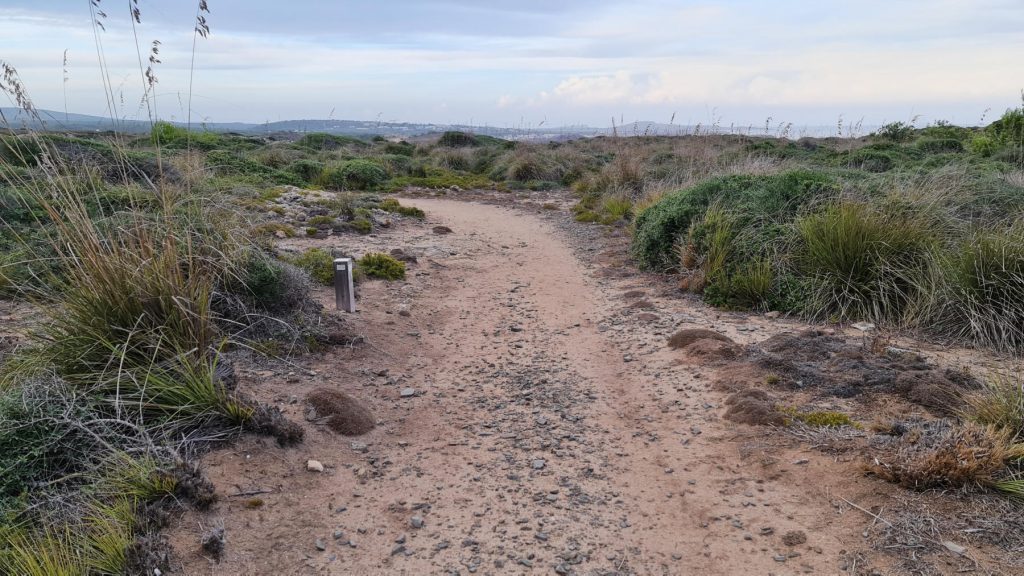 We passed a hedgehog plant, which is apparently a thing here in the Balearics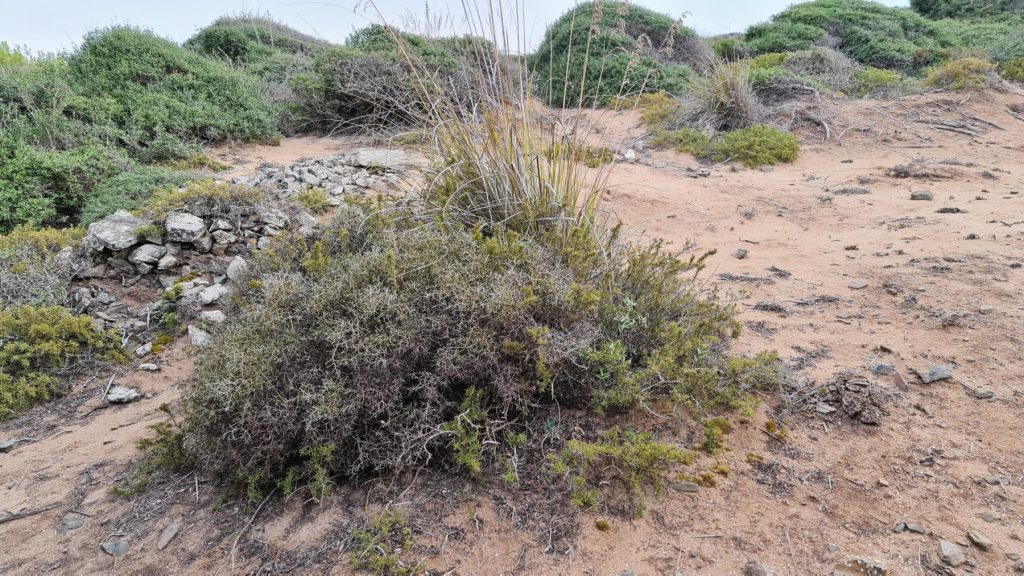 although it doesn't look like a hedgehog anything like as much as something we saw yesterday which is not, apparently, a hedgehog plant. Go figure.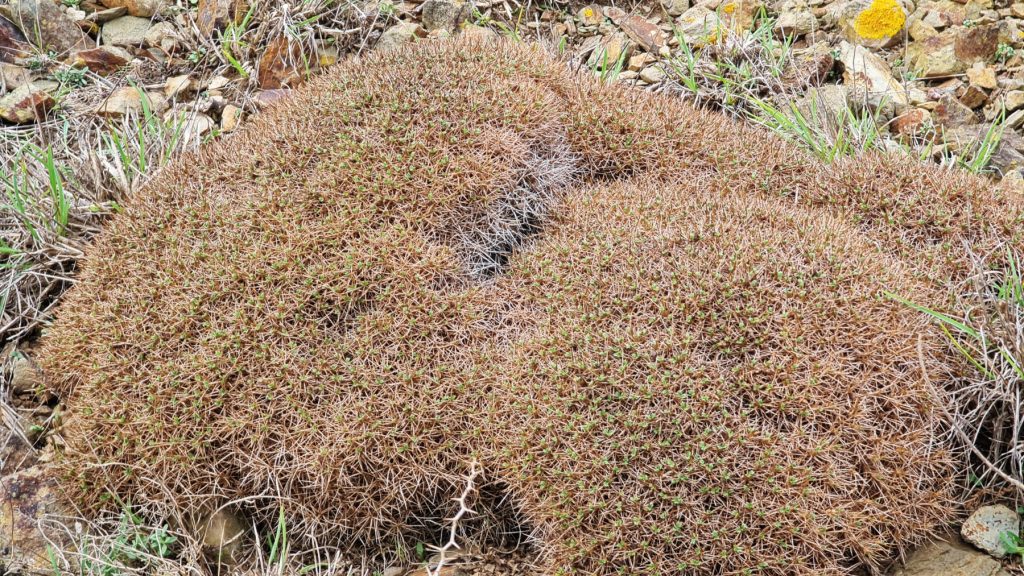 Generally the scenery was pretty wild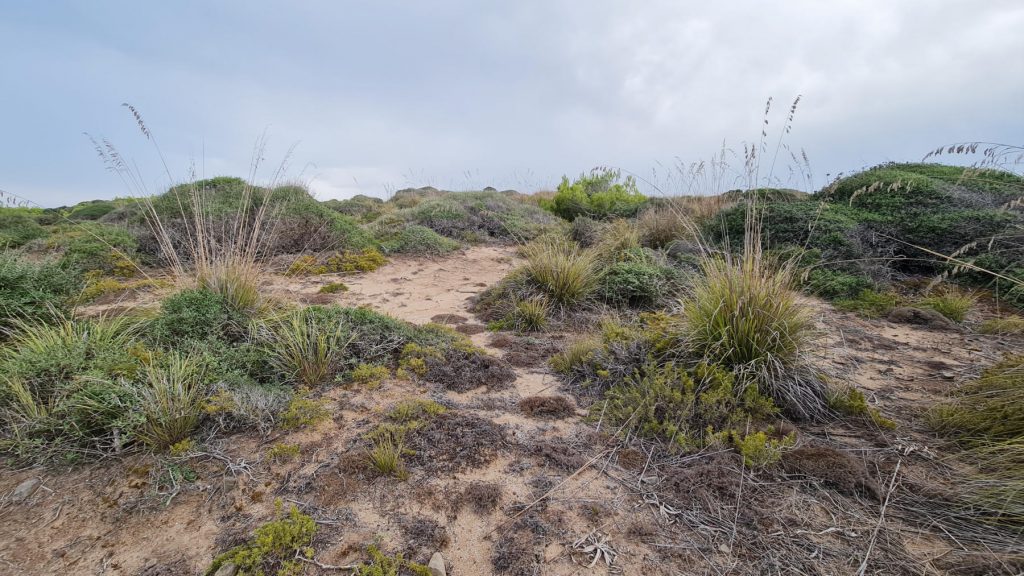 but, as yesterday, varied considerably during the day. We passed some old fortifications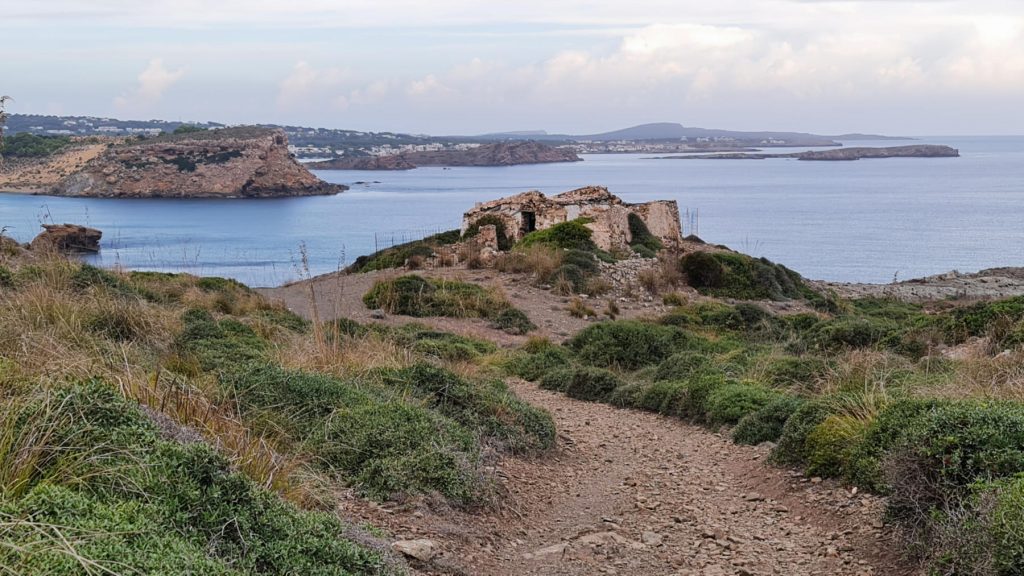 and the first part of the walk generally led us up and down from cove to cove over headlands.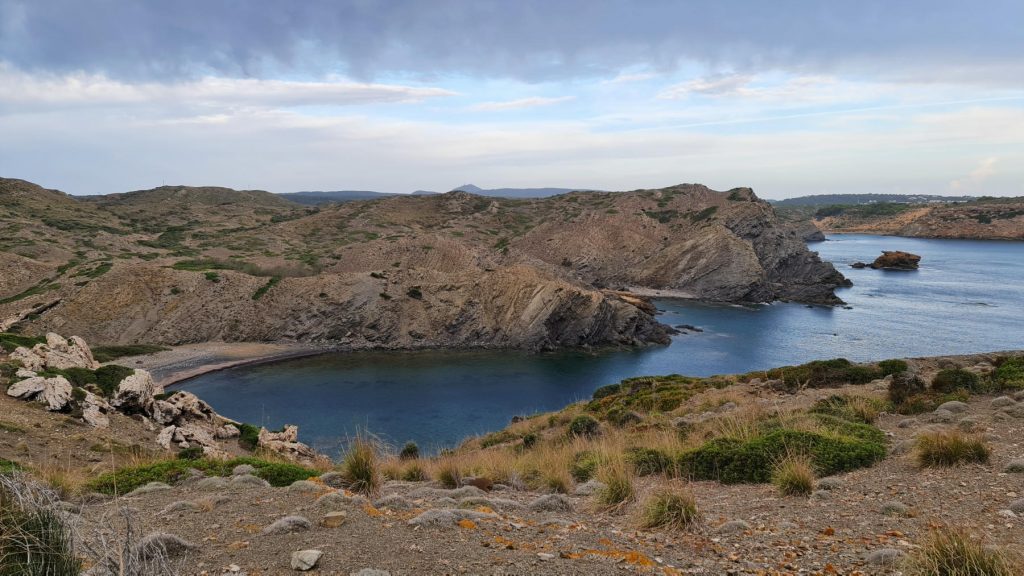 We saw more evidence than yesterday of the work that goes into maintaining the trail. I found this little vignette rather amusing.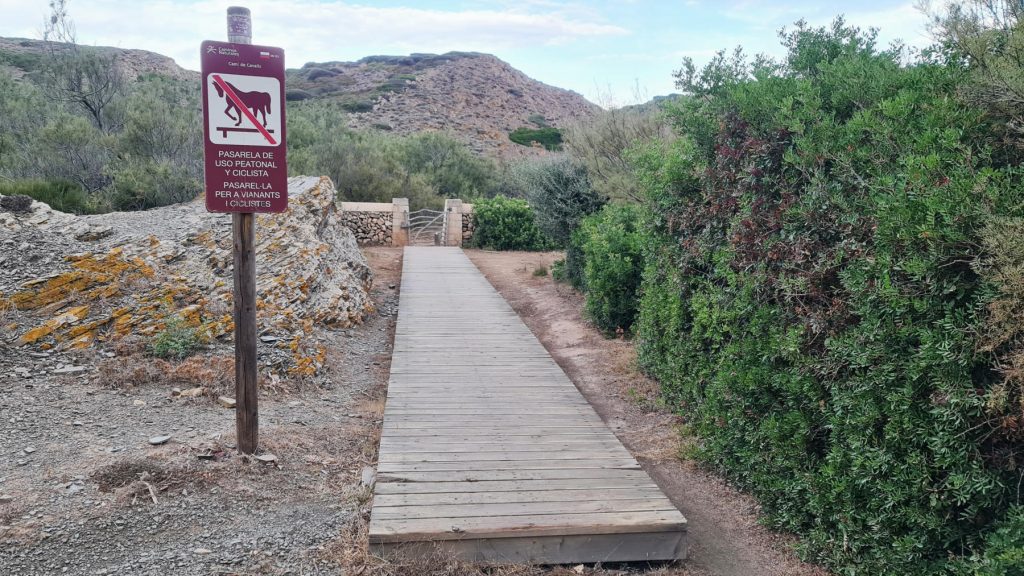 I mean, it makes sense, but just looks a little odd to have a horse prohibition on a horse trail. The other end of that duckboard was even more amusing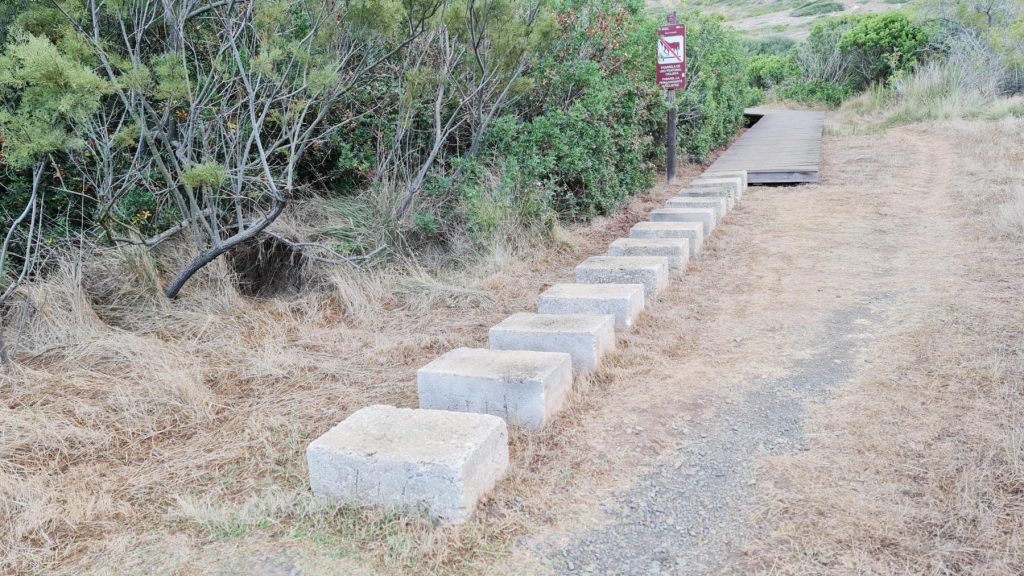 as I couldn't imagine getting a horse to walk on the blocks under any circumstances. These blocks were actually not uncommon today, and provided a way to cross dips which were dry, but I could imagine being difficult in wet conditions.
Other things we passed: a well;
a distant view of the substantial hill in the middle of the island, Monte Toro, Menorca's highest point;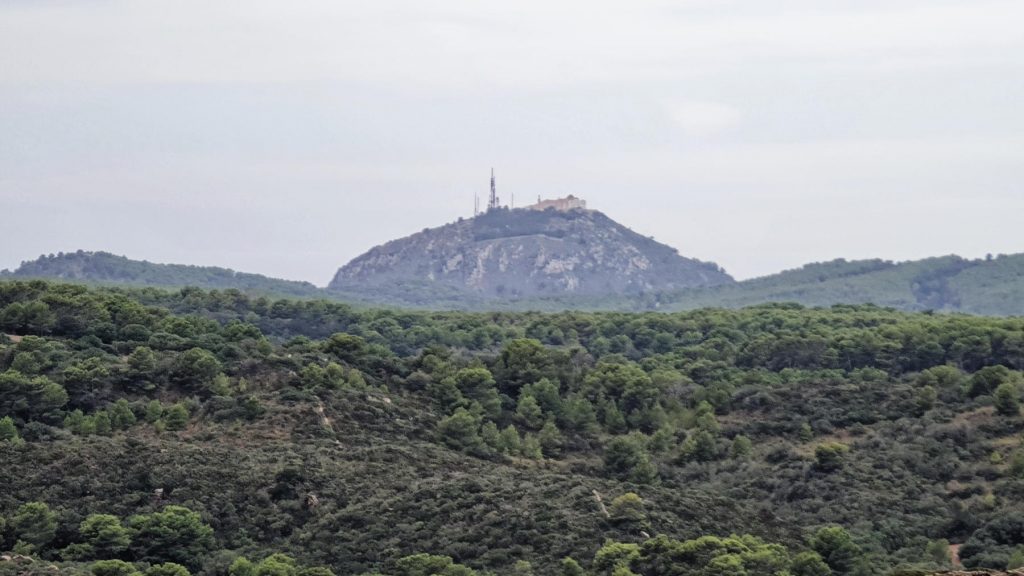 further evidence of track maintenance work;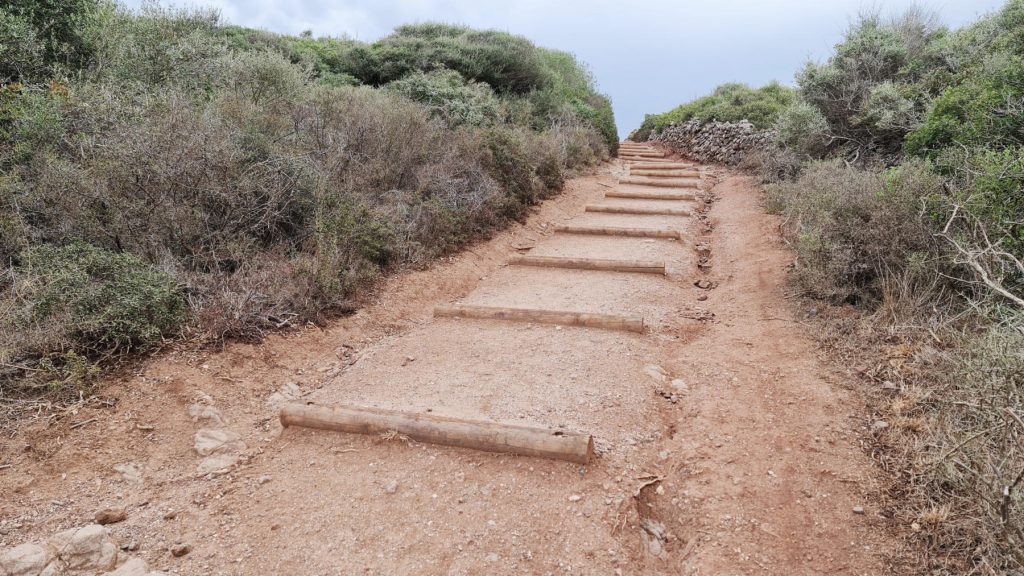 and some nice views, as the landscape changed quite dramatically to salt marshes.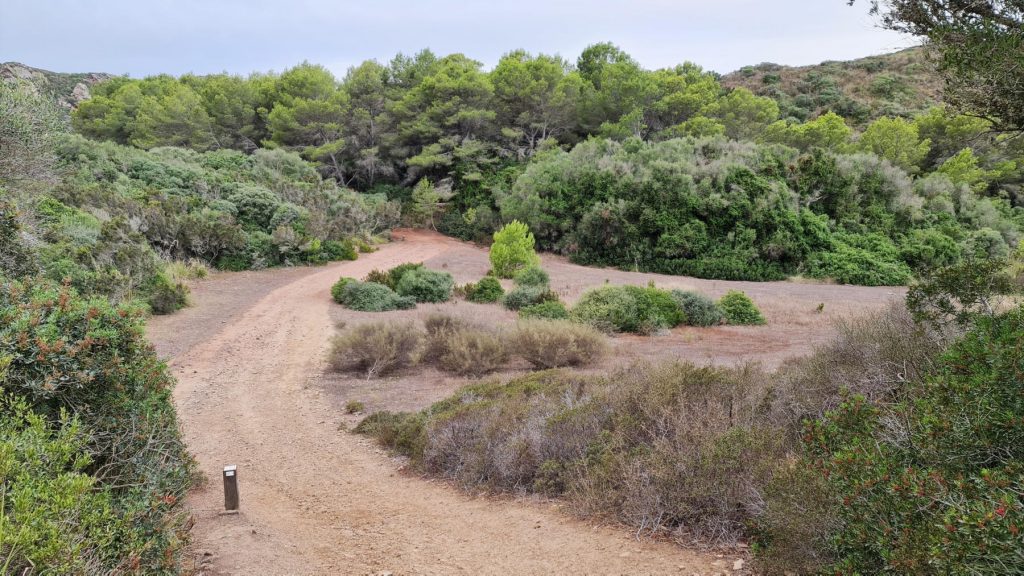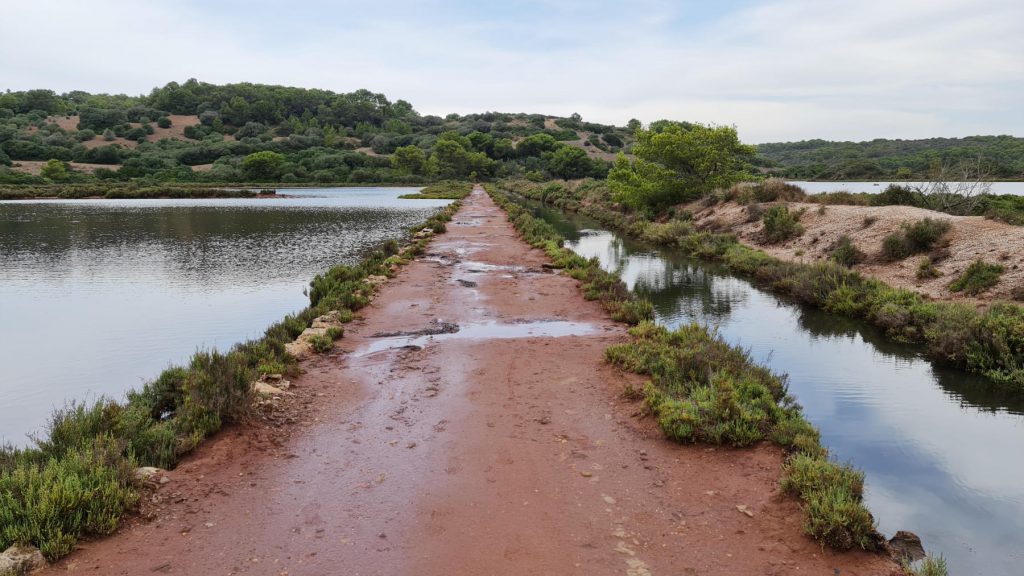 The rock here is very obviously sandstone, and in places has collapsed quite dramatically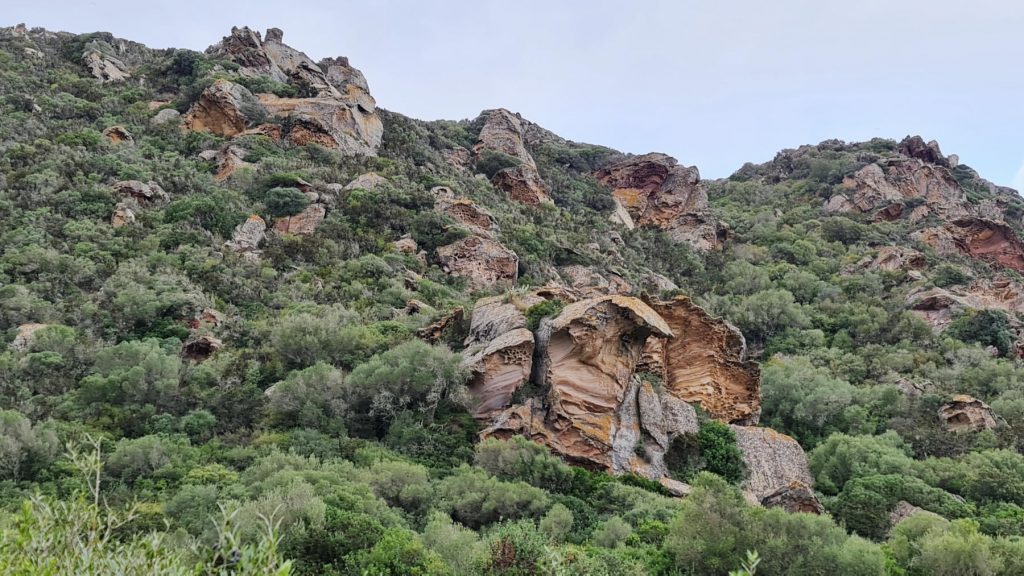 and been eroded into odd shapes that look as if they've been artificially extruded from some giant tube.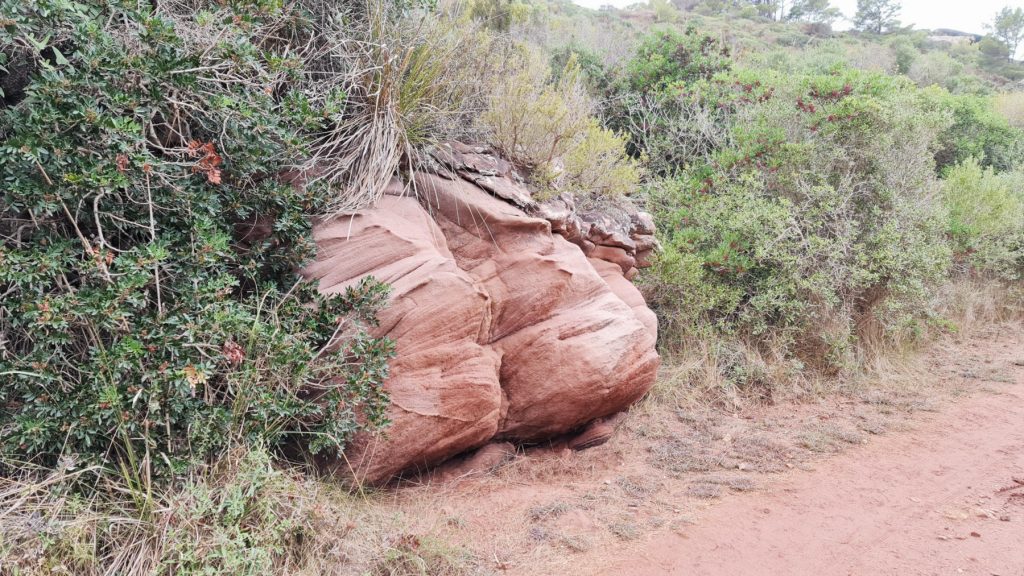 In places it was very clear that we were right beside a river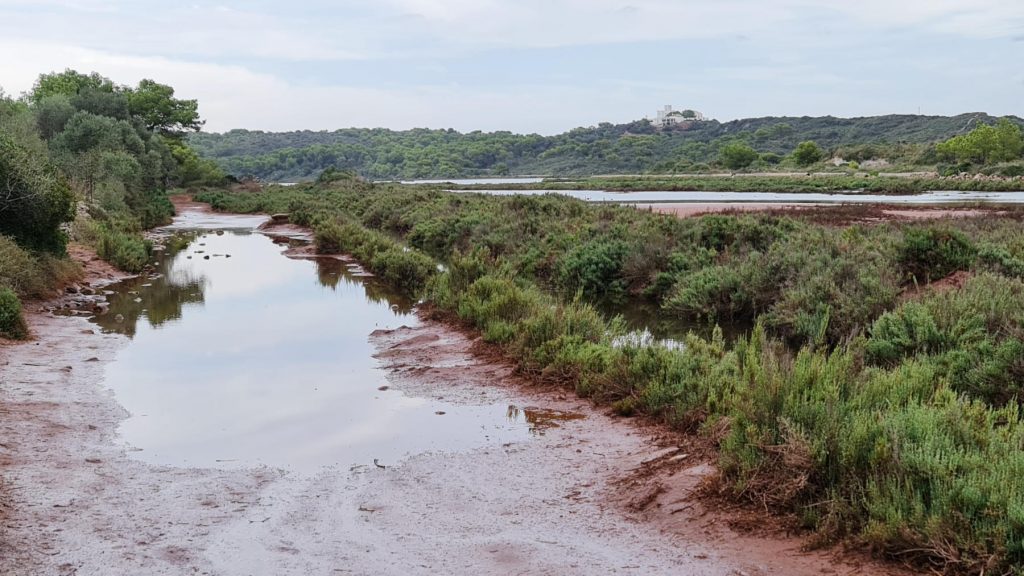 (we were glad to find a diversion round that!). The river debouched into an inlet and we climbed a little, which gave us a nice view over the scene.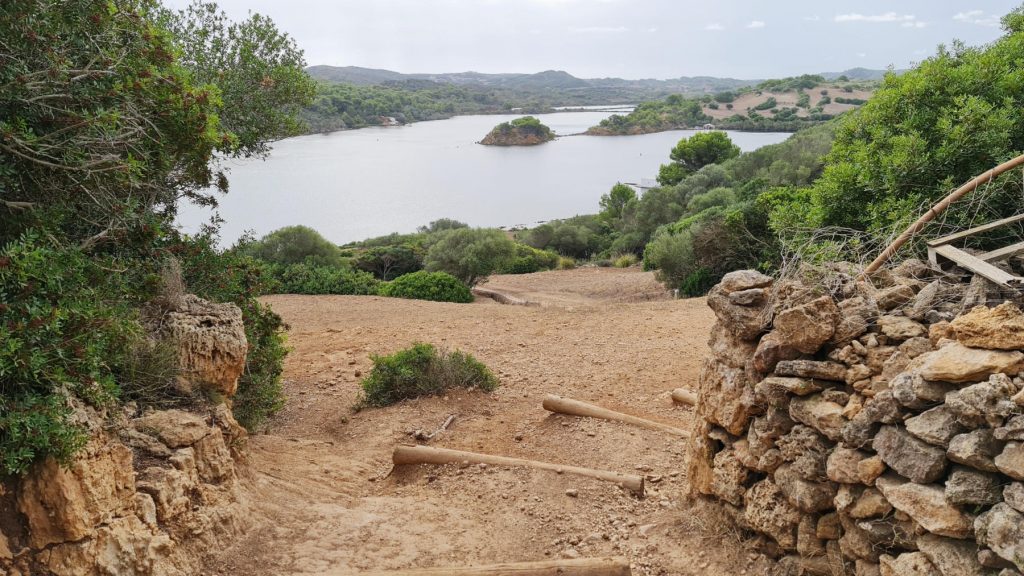 The sun even came out (we'd been lucky in that only a few drops of rain had fallen on us thus far).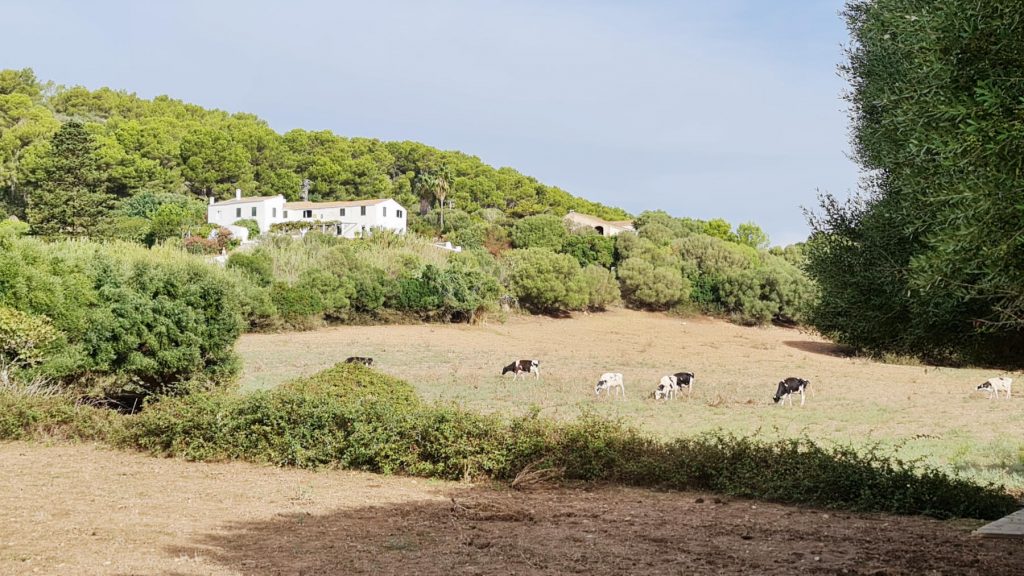 And we came across the first evidence of civilisation on today's section of the trail as we reached Addaia.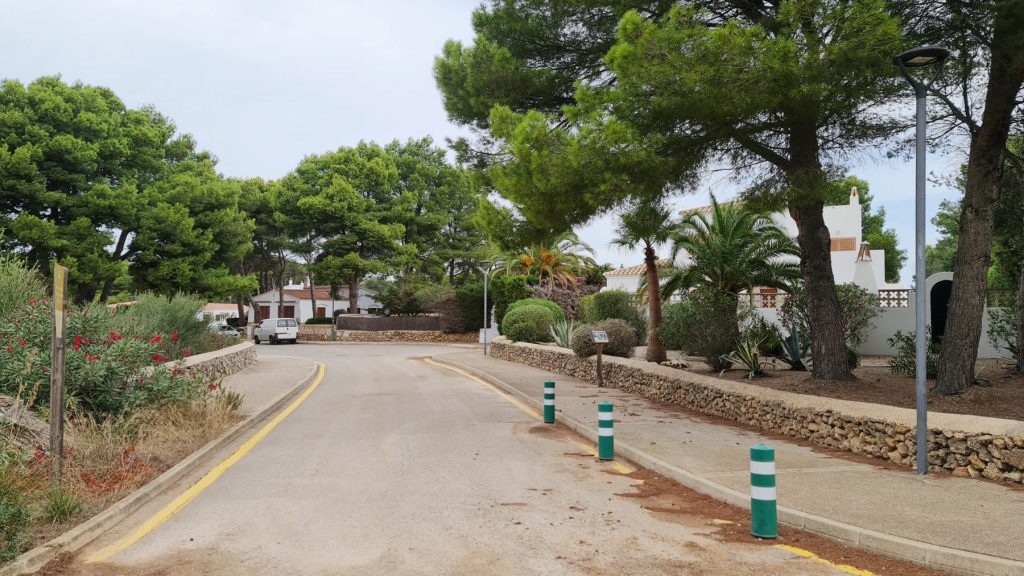 Our interactive map mentioned a cafe on our path, and we'd been quietly looking forward to a coffee and/or a beer, even though we weren't too far from our eventual destination. Sadly, it wasn't open. We think that's because we were too early – it was around 1045 at this point and 1100 seemed to be the popular opening time in those parts. Serves us right for starting too early, I guess.
So, perforce, we pressed on. The official Cami route from Addaia to Arenal is entirely on paved roads and is only about 3km. Our booklet suggested a "hiker's diversion" and the map showed a path that veered from the road towards the coast before rejoining the official Cami on the outskirts of Arenal. We decided to try this, and so ended up blundering about looking for a path in some very random scrub.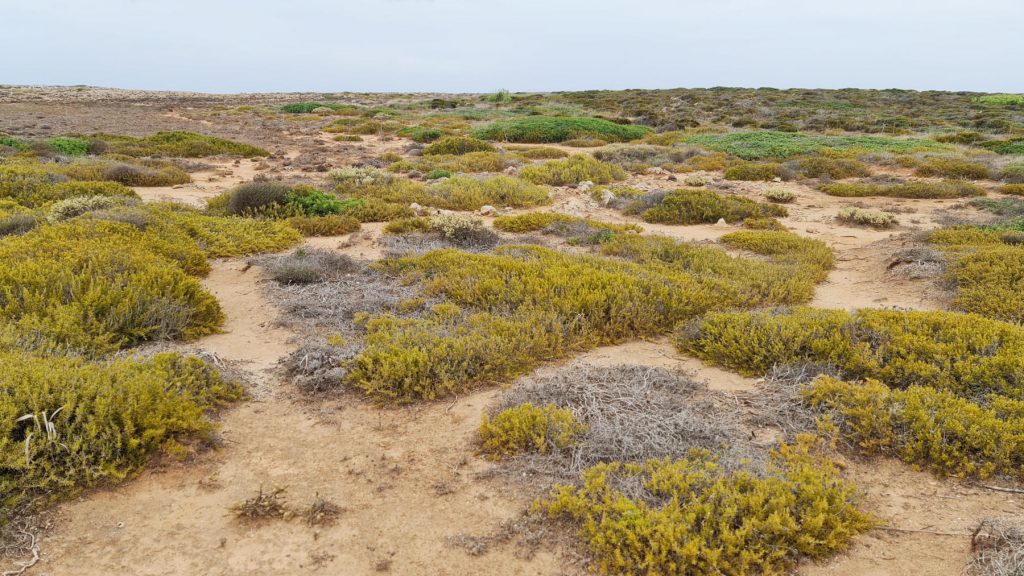 We did make it to the coast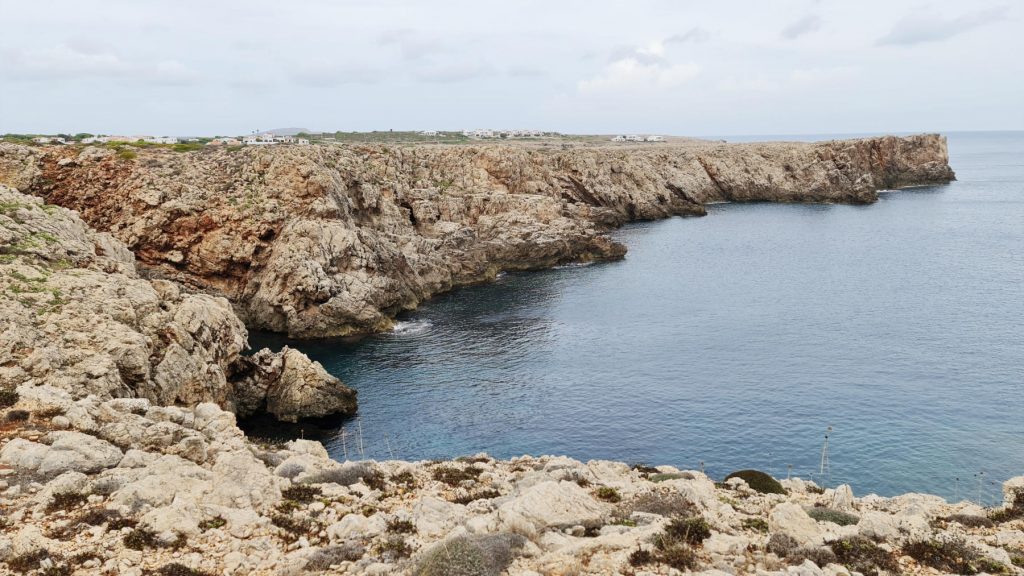 but the path that led us back towards Arenal suddenly vanished beside a wall, so we scrambled about in a very undignified fashion trying to find a way through the scrub, and, to our credit, managed to find a way through, though a machete would have been a handy tool to have at our disposal. And so we rejoined the main Cami and got to Arenal, which is a significant town with a significant beach and a significant tourist presence to match.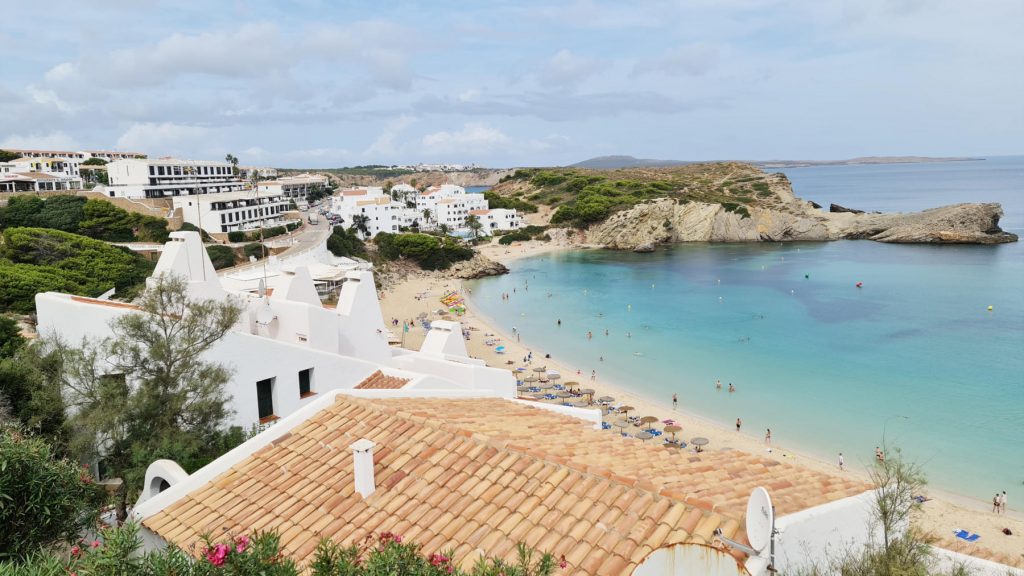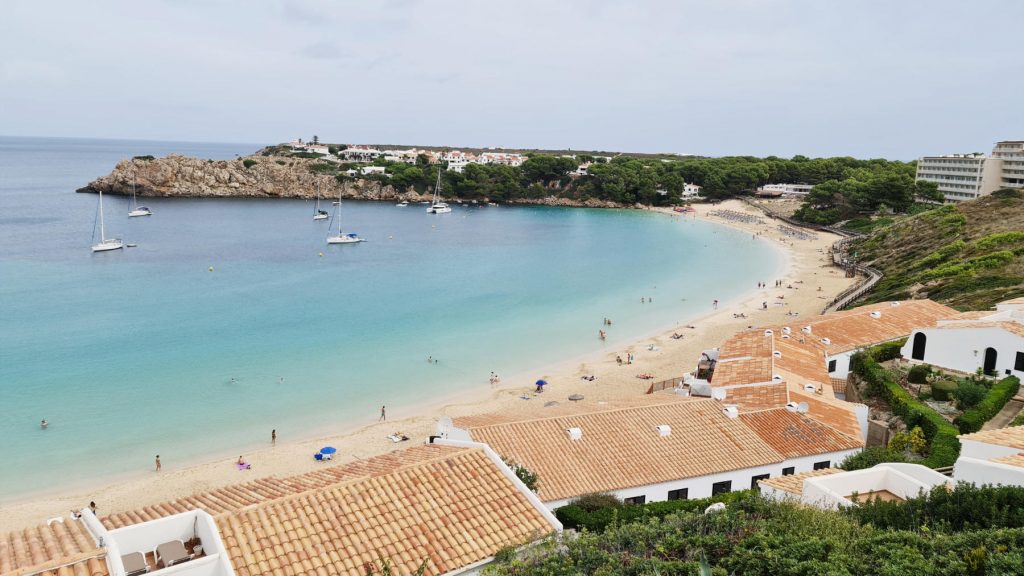 We passed our overnight accommodation, the White Sands Beach Club, on our way to the official end of today's stage. Having completed the stage, we took a sneak peek at the start of tomorrow's walk
before retracing our steps the short distance to the White Sands.
We had something of a frisson of apprehension when the nice Dutch lady on the reception of this frankly enormous resort disclaimed all knowledge of Jane, me or Fred Holidays. It turned out that there had been some confusion in bookings and Jane's name had been included with someone called Charlotte Hayward. Well, I hope that's the story, otherwise Jane and I Need To Have A Conversation About This. The frisson nearly went away when the names thing had been sorted out, but then returned as it transpired that check-in time was 4pm and it was barely one o'clock at this stage – another penalty accruing from an early start. But Hiske, the receptionist, was very helpful and sorted us out a room that was immediately available, much to our relief. And the room turned out to be a suite; I have no idea where it stands in hierarchy of luxury here, but it suited us very well, with lots of room for everything and – bliss! – a kettle. With some handy little milk containers in the fridge we were able to make a Nice Cup Of Tea, which was wonderful.
We were also able to shower and change, and eventually headed out in search of lunch and a supermarket, the latter necessary because our accommodation is room-only, so we have to forage for our own breakfast. As we stumbled about trying to read Google Maps in bright sunshine to locate the supermarket, Jane spotted a restaurant called the Good Bridge Cafe, which looked to have a terrace with a great view. It was also just by a supermarket, and I notice that it's rated #2 among restaurants in Arenal on Tripadvisor, so it was a nice piece of serendipity that took us there. After a good lunch and a couple of drinks we felt sufficiently restored to risk a trip to the supermarket, and thence back to our room for a siesta.
And that brings you up to date so far. We shall feast tonight on the ham and bread that we bought in the supermarket, and tomorrow on the bread and banana that we also bought, supplemented by copious supplies of Earl Grey tea with supermarket milk. We drain the cup of life to its dregs, we really do.
Before I go, here are the stats of the day:
Mileage covered – 9.62 (Garmin), 8.6 (OutdoorActive)
Vertical ascent 187m (Garmin – I don't trust OutdoorActive on this)
Tomorrow's part of the trail is going, if the booklet is to be believed, to be a little easier than today's; and once again the trail ends at our planned accommodation; so the day will be our oyster. Thank you for reading this far; and do come back tomorrow to see how we got on?
* I thought this was quite a witty title until it got an Old-Fashioned Look from the distaff side. I explained that it is a pun on an early Pink Floyd song, "Arnold Lane". It didn't seem to go down that well, so I thought an explanation here might help. On the other hand, having to explain a joke rather ruins it. However pathetic, it's the best I can do.