Tuesday 1st October. Today was largely taken up by a walk.  It had several things to recommend it – stops for beer and lunch, lovely sunshine, fantastic views – and one main pitfall, which was that it featured rather a lot of uphill work, which is not my favourite pastime.  Still, if you want the views, you have to get up high, and at least the rosy glow of smugness replaces the grim miasma of sweatiness once the walk is over.
The main object of the exercise was to reach a popular mountain restaurant called "Es Verger".  My brother visited it on his recent trip to Mallorca,  and rhapsodised about the house speciality – shoulder of lamb, or Paletilla de Cordero, as the locals have it.  One can drive there, but as Chris's blog post emphasises, it's not the world's most pleasant drive.  Our hotel booklet describes a circular walk which would get us to it via a mountaintop castle and hermitage, so we decided that this should be our entertainment for the day.  We'd had a slight warning that we shouldn't leave it too late to get to Es Verger, as they might run out of the lamb.  So we sprang out of bed betimes, breakfasted really early – 9am – and were on the road before 10am.
The walk, it turns out, is quite up and down.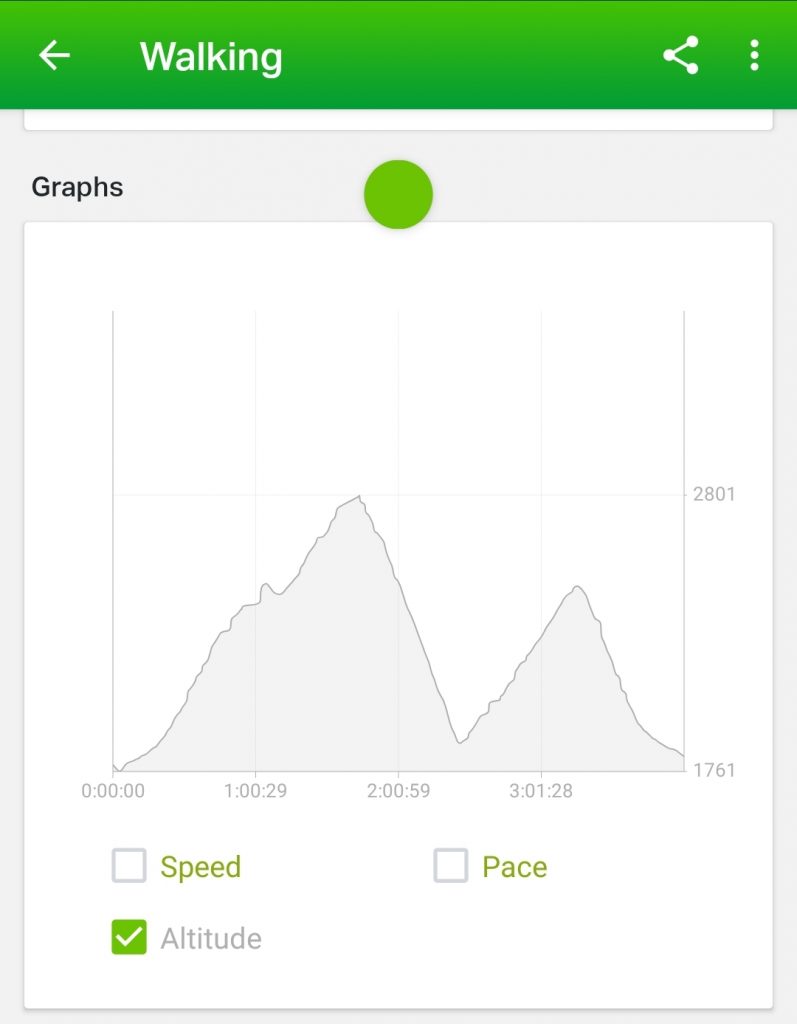 The route is part of an official track, GR-221, which covers a lot of the island's lumpy bits, and so is reasonably well-maintained and well enough marked that we didn't get lost and only needed Google Maps to verify, rather than guide, our route.
One starts by walking through a grove of ancient olives – "olivos centenarios", some of which are wonderfully gnarled and which looked lovely in the morning sunshine.
Then the going got rather steeper.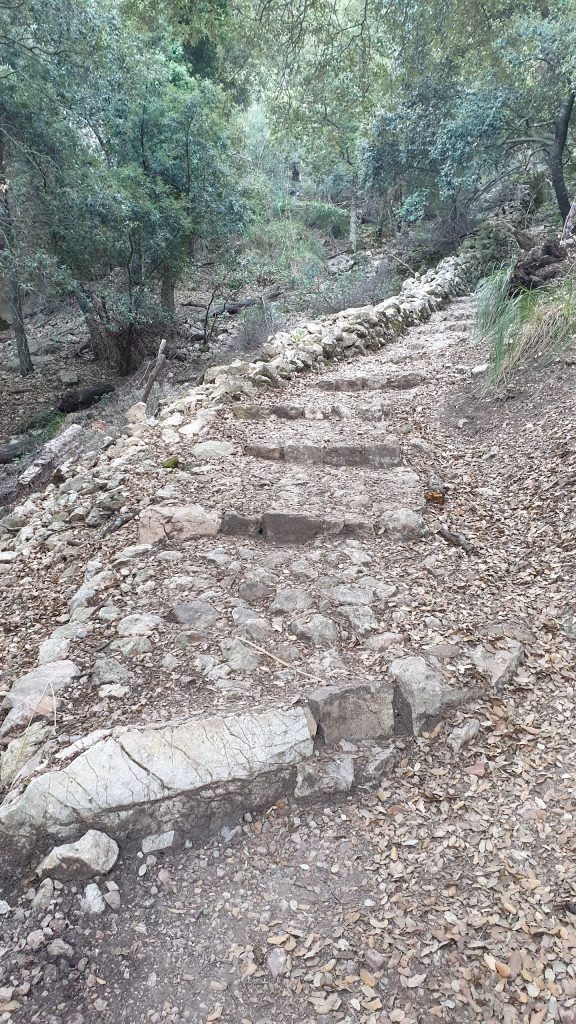 and, it has to be said, pretty much stayed that way for the next hour or so, as we reached first a platform where cars could get to and then approached our first major landmark, the ruins of the Castell d'Alaro, seen here at the top of the picture.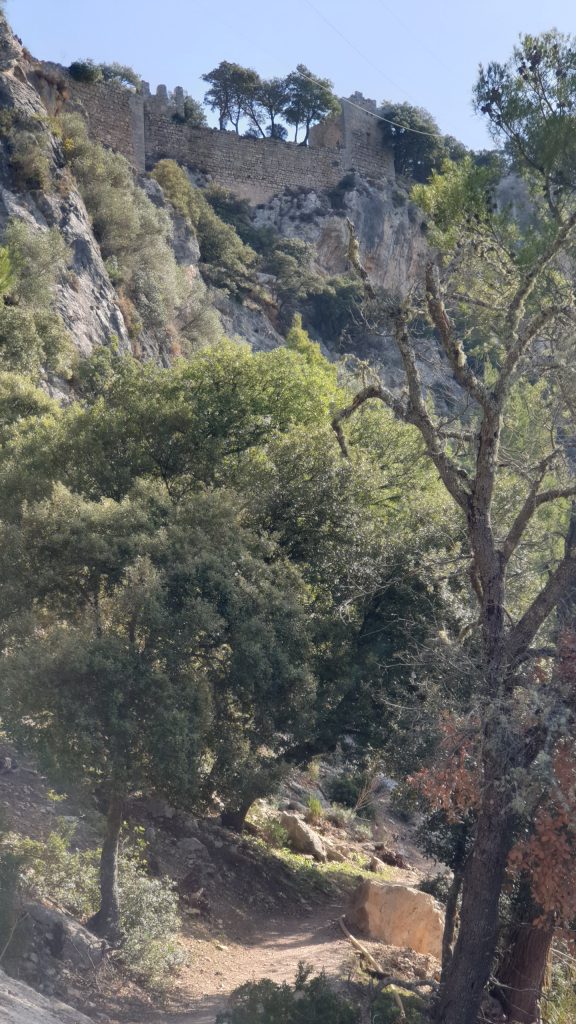 We took a rest at the castle, and I got out the drone which I'd been carting up this benighted hill, alongside much other heavy photo gear, and whizzed it out for some footage of the castle.
The next landmark is – sigh – even higher; the Oratorio de la Mare de Déu del Refugio – a hermitage and hostel right at the top of the hill. So we trudged up (well, I did – Jane was somewhat more sprightly) to take a look at the view.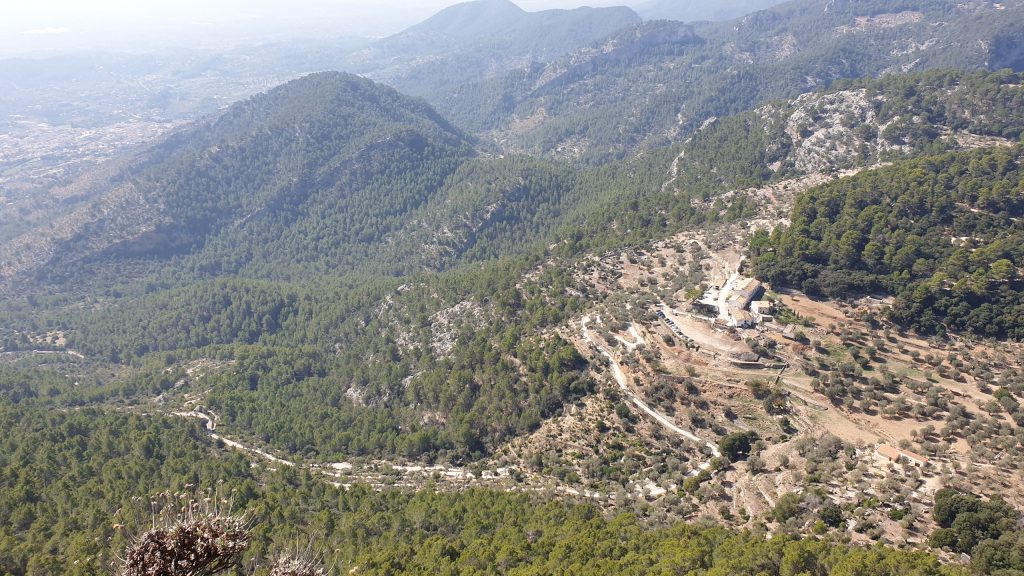 Pretty spectacular, you must agree – and giving us our first view of Es Verger, the buildings to the right of the picture.  Even better, the place had a bar which served beer. Well, and coffee, but it was beer that I needed by this point.  There was a small chapel there, too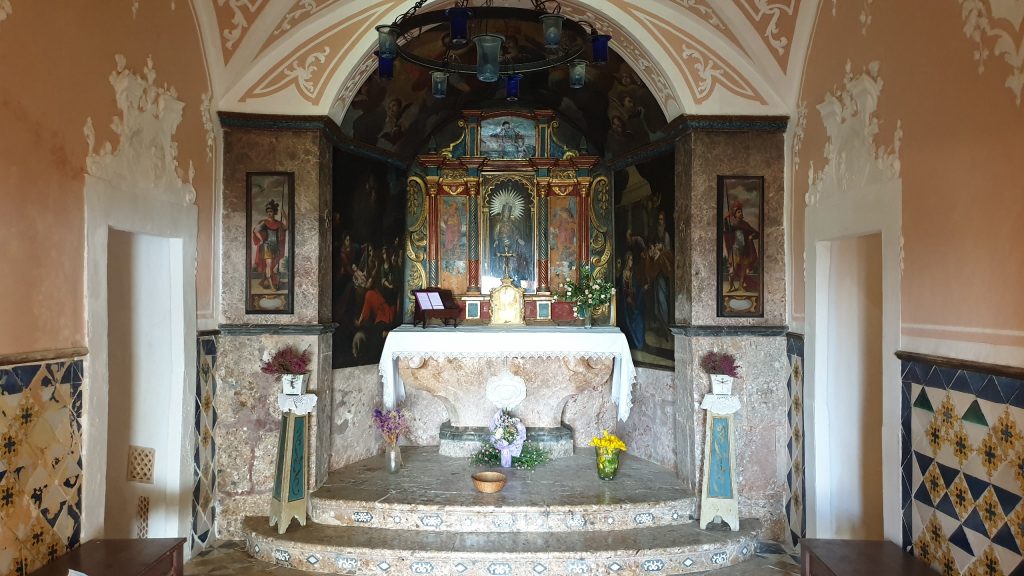 After a while it became clear that we would have to start down towards our lunch before the siren call of another beer became too powerful, so we stumbled down on the path; as you can see from the graph earlier, one goes down almost as much as one came up.  Rather disconcertingly, the GR-221 path puts you on the road below Es Verger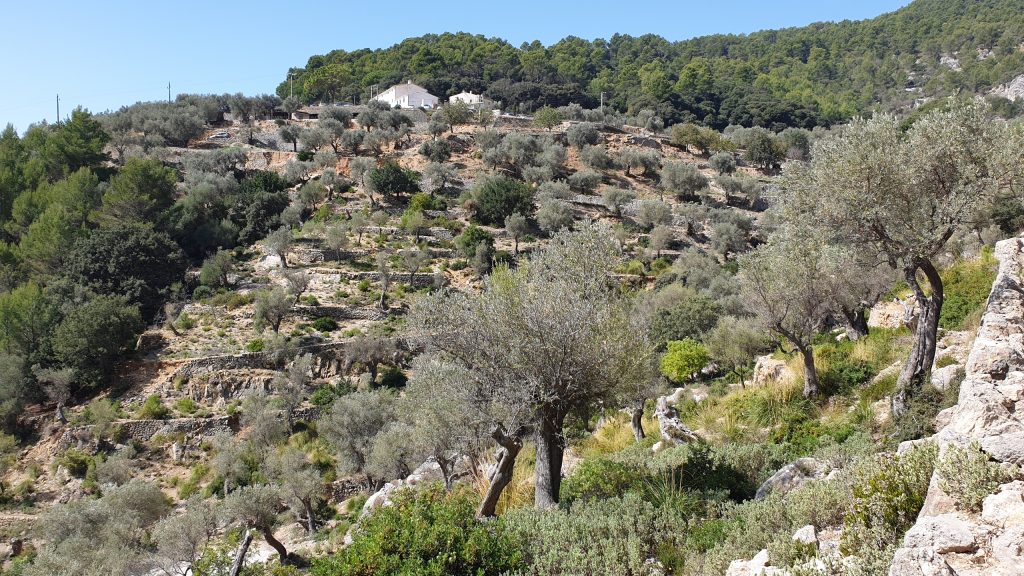 which means you have to toil back uphill to it (cue much internalised swearing from me).
Es Verger was pretty popular today (as, probably, every day)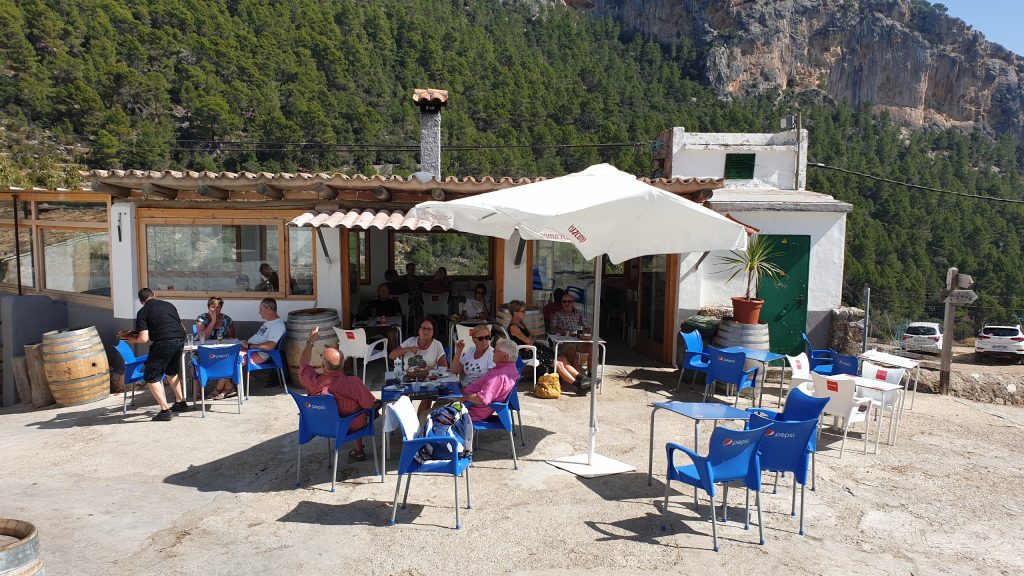 and so we selected an inside table (our timing was, for once, good – the place filled up quickly after I took this photo)
and ordered beer and lamb.  The lamb very nearly appeared before the beer, they were so quick off the mark.  We were sat on a communal table, and were the only Brits on that table.  To Jane's left was a French couple d'un certain âge, and Jane got talking to them, since she has excellent French.  There were a couple of other couples sitting at the table also, one definitely German but we never discovered what nationality the final couple were.
So, after the lamb (which was excellent), the beer (which was a lifesaver) and a coffee (which was very good), we started on our route back.  Again referring to the graph earlier, you'll see that it's quite a long haul up to get to the platform mentioned earlier, after which you rejoin the original route in reverse.  So up we trudged, seeing en route, some lovely views, it has to be said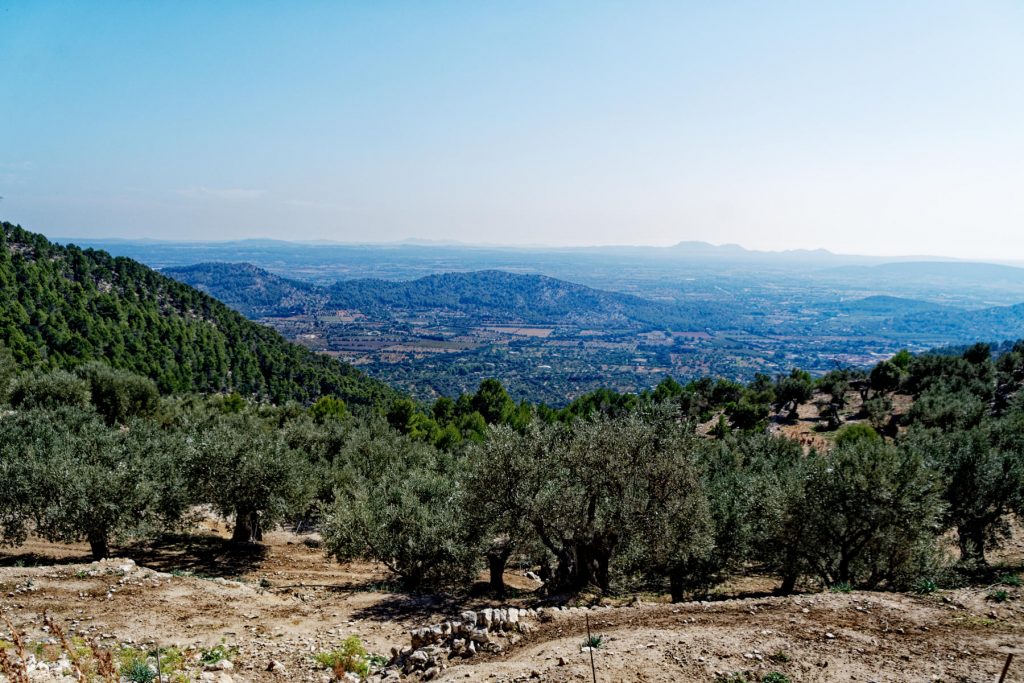 including understanding how far we'd come down from hermitage and castle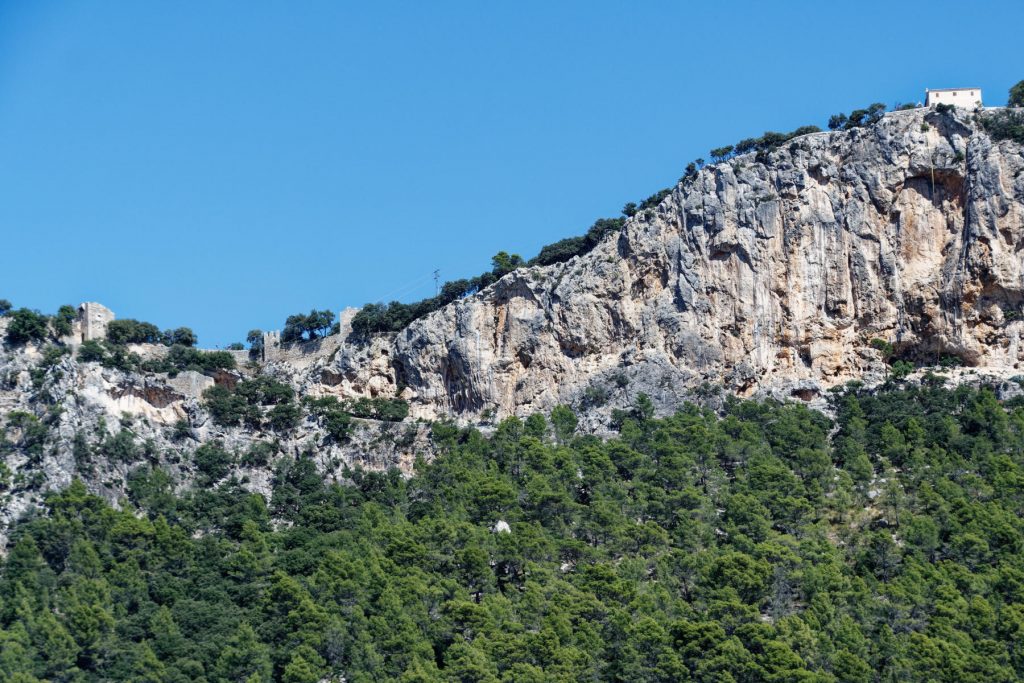 After what seemed like only an eternity, we were back at the platform and could start down on the final leg of our walk, in some lovely afternoon sunlight.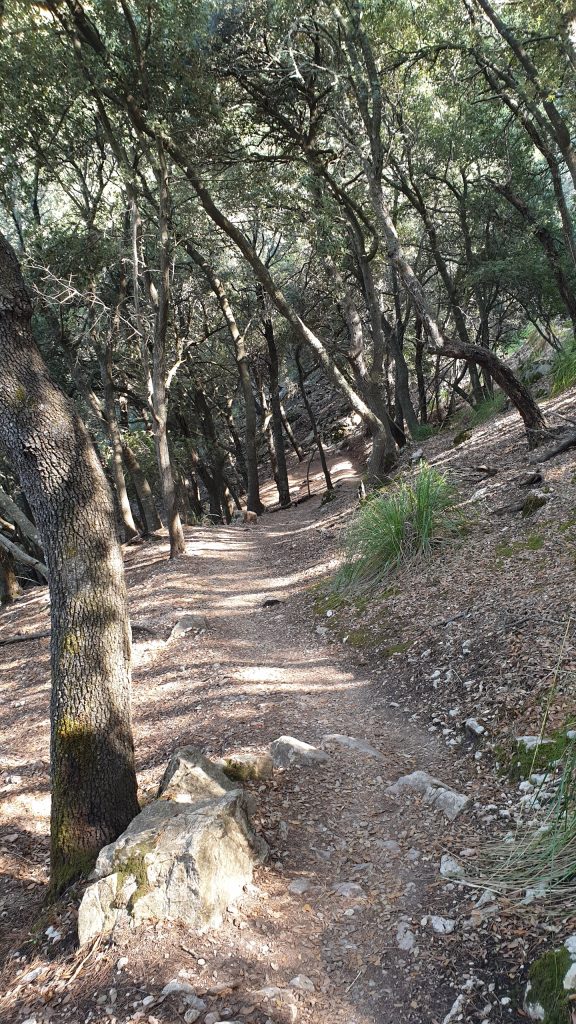 We arrived back at the hotel after almost exactly four hours' walking spread over some five-and-a-half hours, and I have to say that the shower was a very welcome thing indeed.  Almost as welcome as the gin I shall now treat myself to as well-earned refreshment.
It was a lovely walk, much the better for being over.  Tomorrow has the threat of some rain, so it's not clear what we shall do with it, except that it ain't going to involve any major uphill work on foot.  Maybe we'll visit Palma, or maybe we'll just be slothful.  Tune in tomorrow to see how things worked out, eh?