Enough with the composer puns, already! There's been a whole Liszt! I've decided you can't Handel any more.
Monday 30 September. Valldemossa's claim to fame is that it started the tourist trend for Mallorca with the arrival of the famous composer Fryderyk  Chopin and his lover (the probably gender-fluid) George Sand.  Valldemossa makes much of this, with a Chopin museum, and a Chopin head sculpture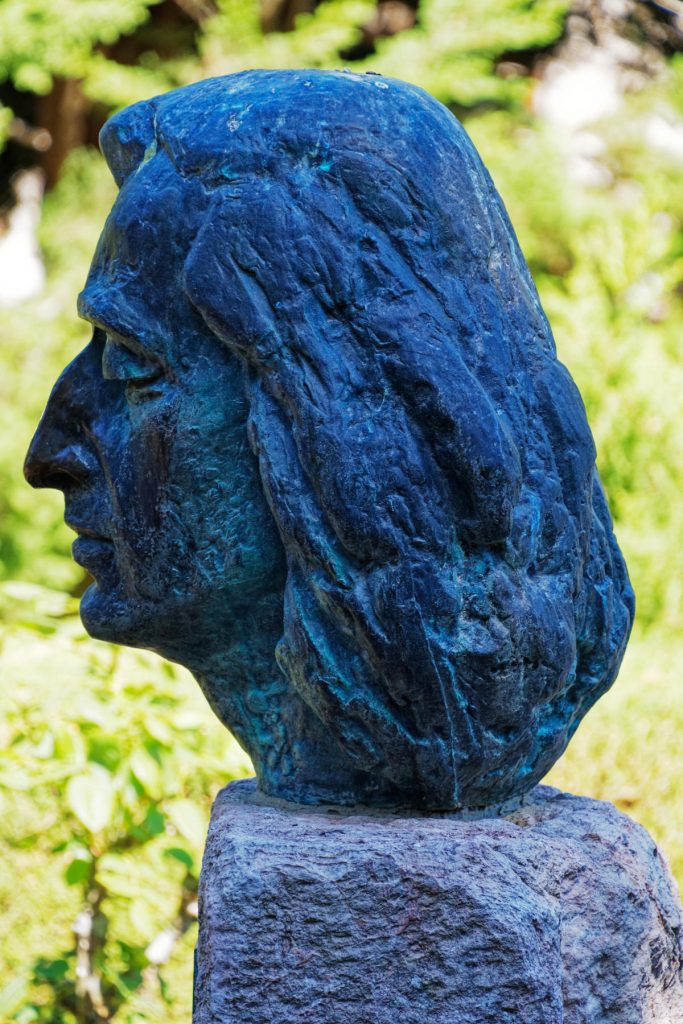 but we read that actually the villagers shunned the couple and the weather was appalling, thus rendering pointless the reason for his visit (recovering from TB). But apparently he wrote some of his finest music whilst here, and there's no going Bach on that.
Anyhoo.  We drove to Valldemossa, thus having to go over the twisty bit around our way, which we managed without actually crashing. When we arrived, it was around 1pm, and – surprise! – parking was tricky. (One of the benefits of going with a coach party is that you don't have to walk half a mile to get to the tourist action, I suppose.)  However, we found a spot and walked in to the town, whose outskirts were rather touristy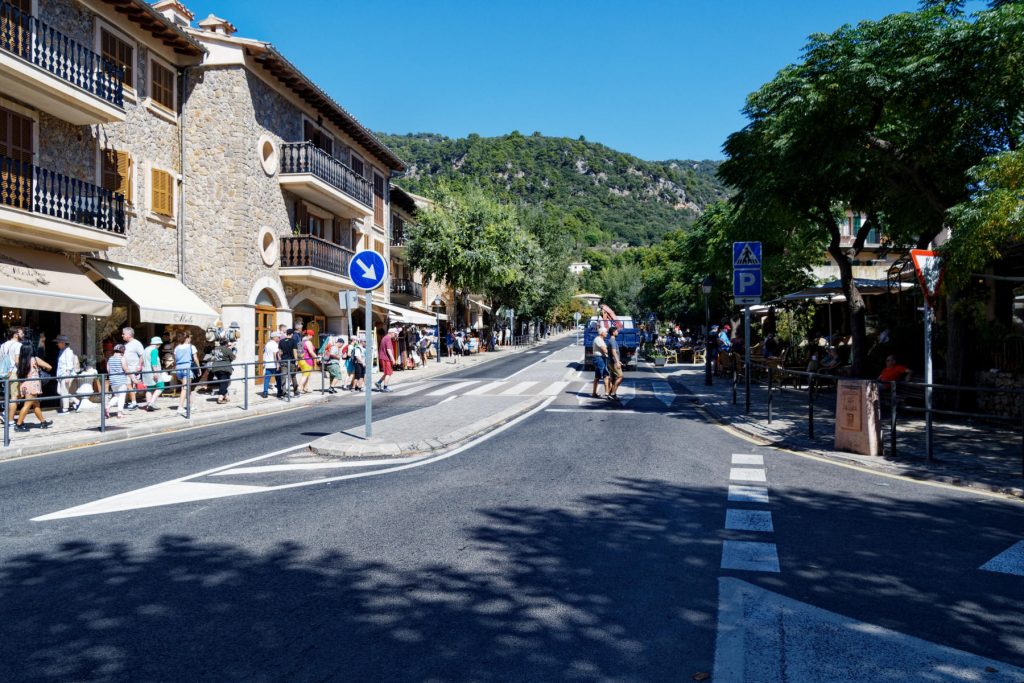 and whose streets, when we arrived, were rather crowded (again, I think our habit of having a late breakfast and then going to some attraction or other means we arrive at the same time as everyone else).  But the place calmed down a bit and is actually a very charming town.  I have lots of photos, obvs, but here are a few: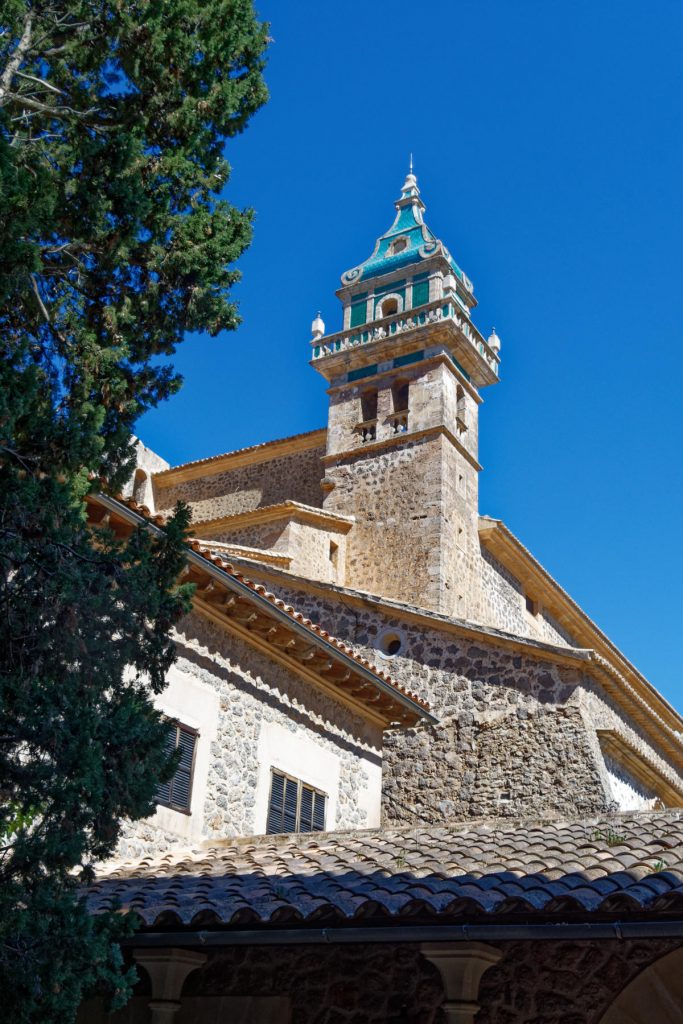 The roof of the Cartoixa – Carthusian Monastery – in whose gardens the Chopin head stands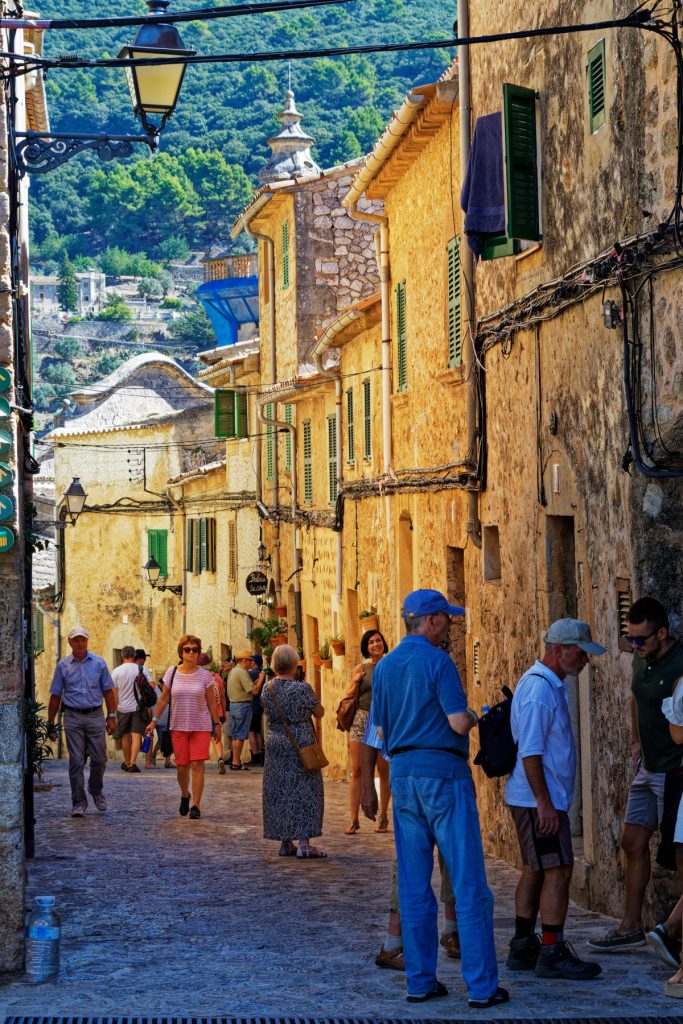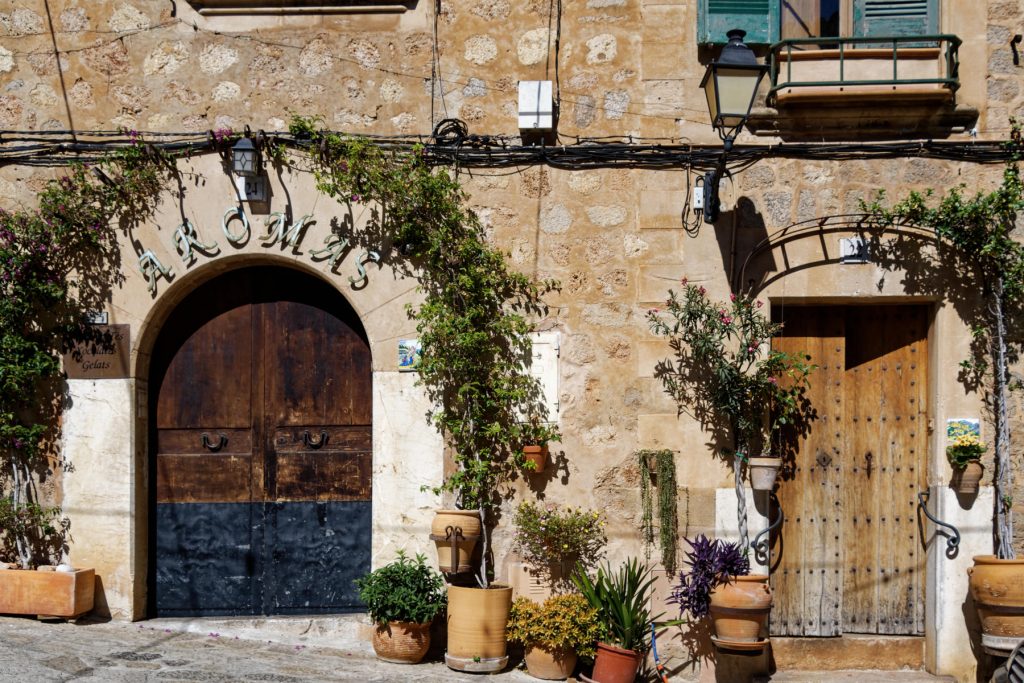 Street photos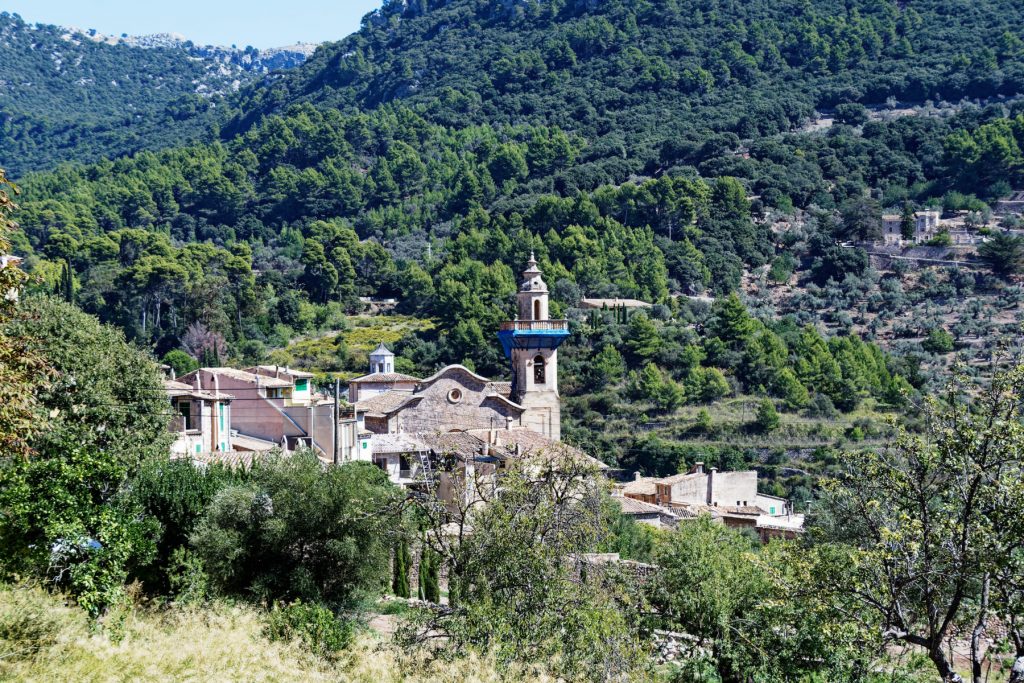 St Bartholomew's Church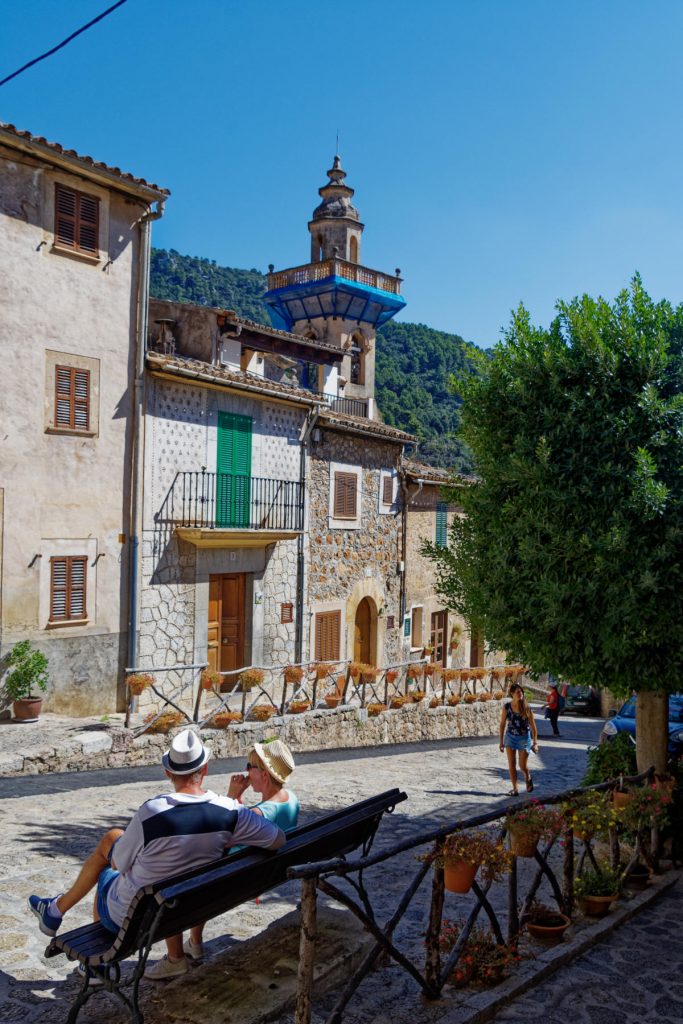 The church is very much connected with Santa Catalina Thomàs, whose presence can be felt through tiles by almost every doorway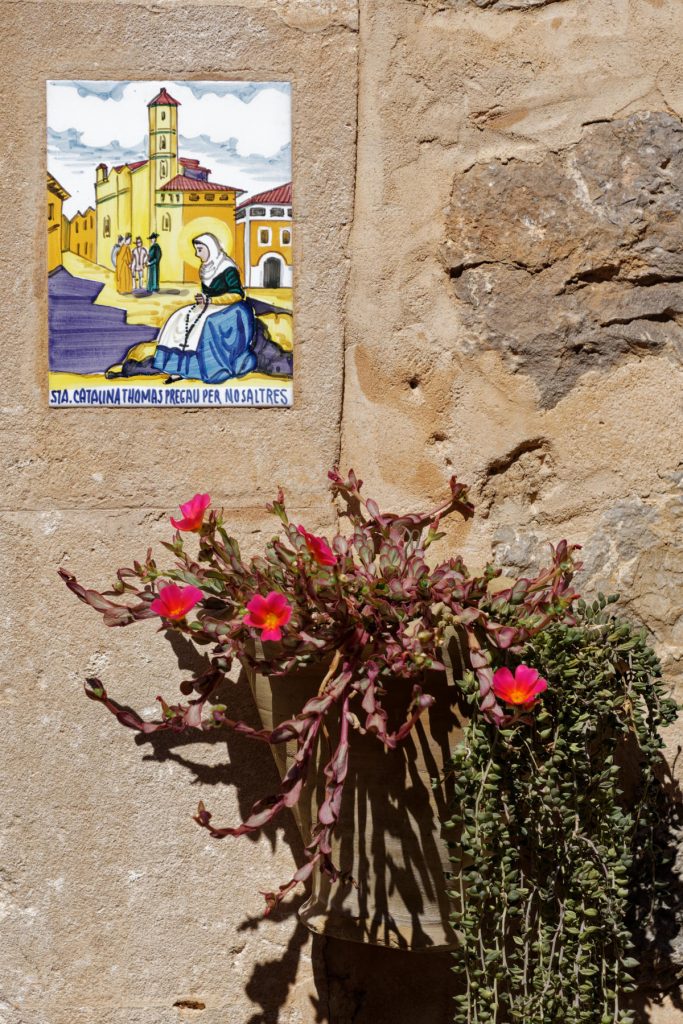 and this presents something of a puzzle for Jane and me.  We visited Mallorca together some while ago, back in the mists of time; and we must have been to Valldemossa because we had, at home, exactly the tile above which we'd bought in Mallorca.  But neither of us can remember actually visiting Valldemossa, in the face of overwhelming evidence that we must have.
It was getting towards lunchtime (3pm by our Mallorca-adjusted body clocks) when we thought we should move on, so we decided that the reportedly picturesque village of Deià should be our next stop, based on the recommendation of a friend.  Mind you, it's the same friend who recommended Cap Tormentor….but we headed off in that direction anyway.
En route, Google Maps pointed out that there was a mirador on offer to the left.  So we screeched to a halt as we found the sign for it and walked down (and I do mean down) to it.  It turns out I could have driven down…
The place, the Miramar Monastery, turned out to be rather a charming find, and delightfully uncrowded – we were practically the only visitors. There was one idiot taking selfies with a mini-tripod for her phone, but she soon buggered off out of my shots). Dating from 1276, it is, allegedly, the oldest house on Mallorca.  It's not grand, but we felt it was worth the stop, despite it being between us and lunch.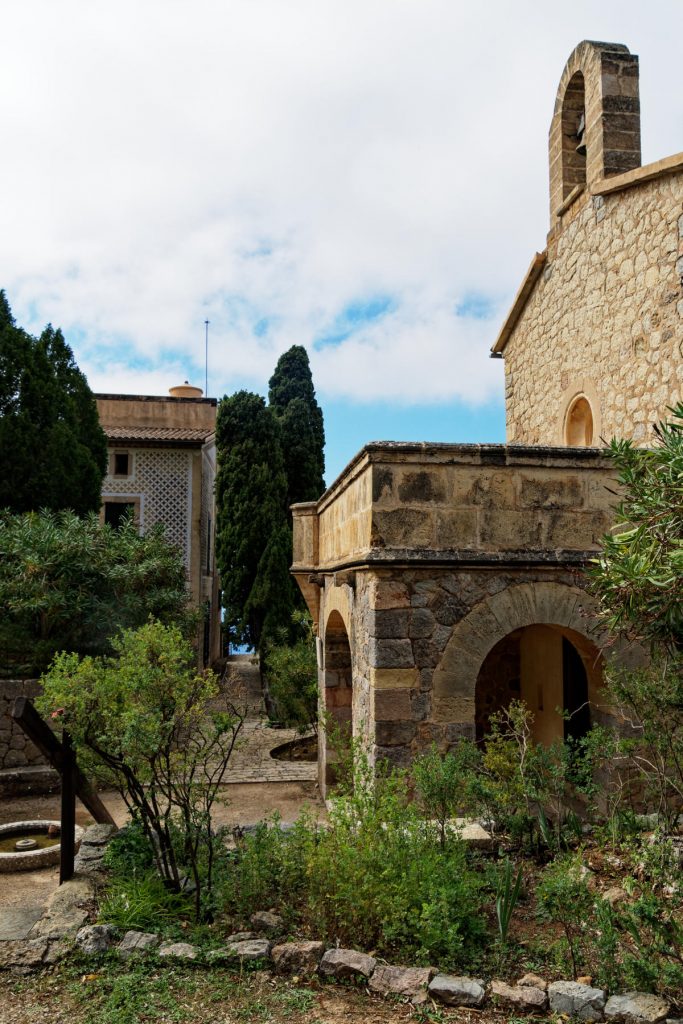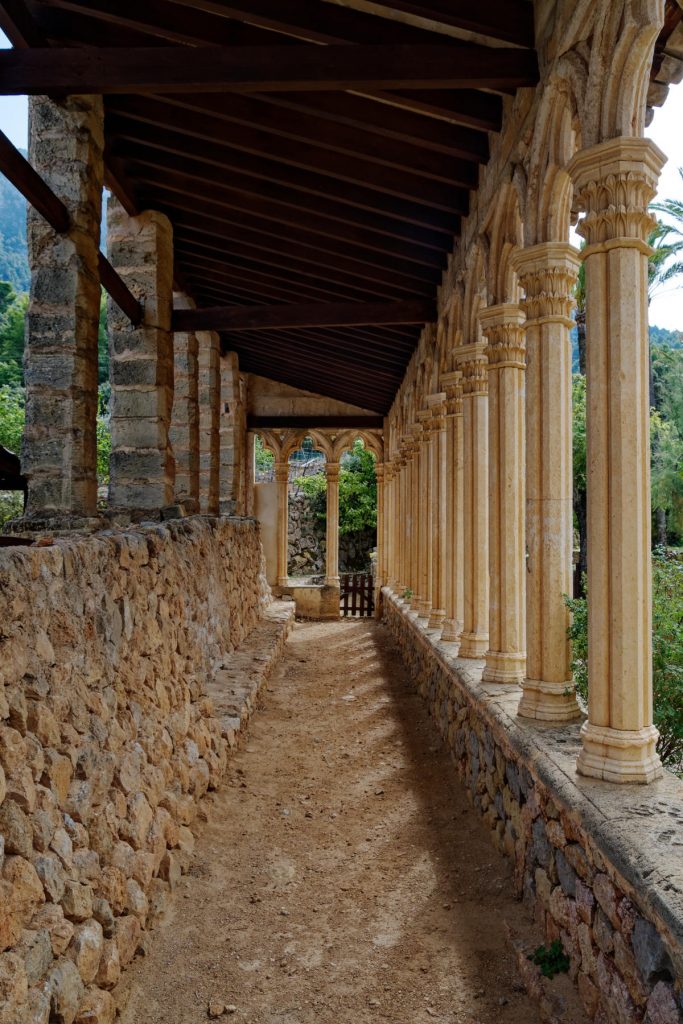 It has an olive mill, similar in operation to the one that once saw action at our hotel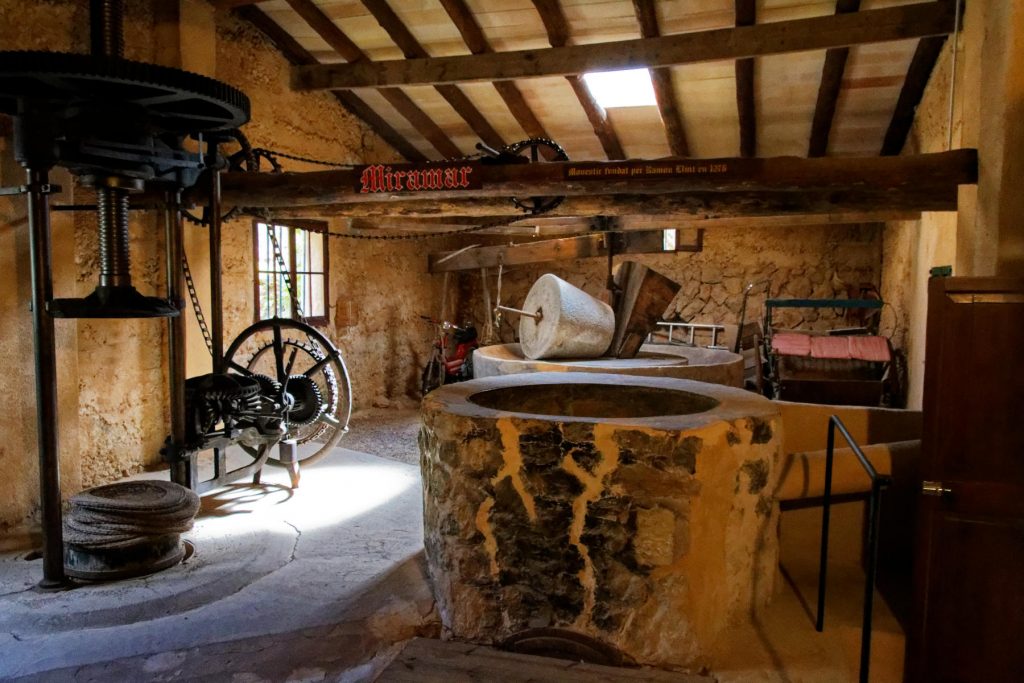 and many other points of interest around the house, as well as a decent view out the back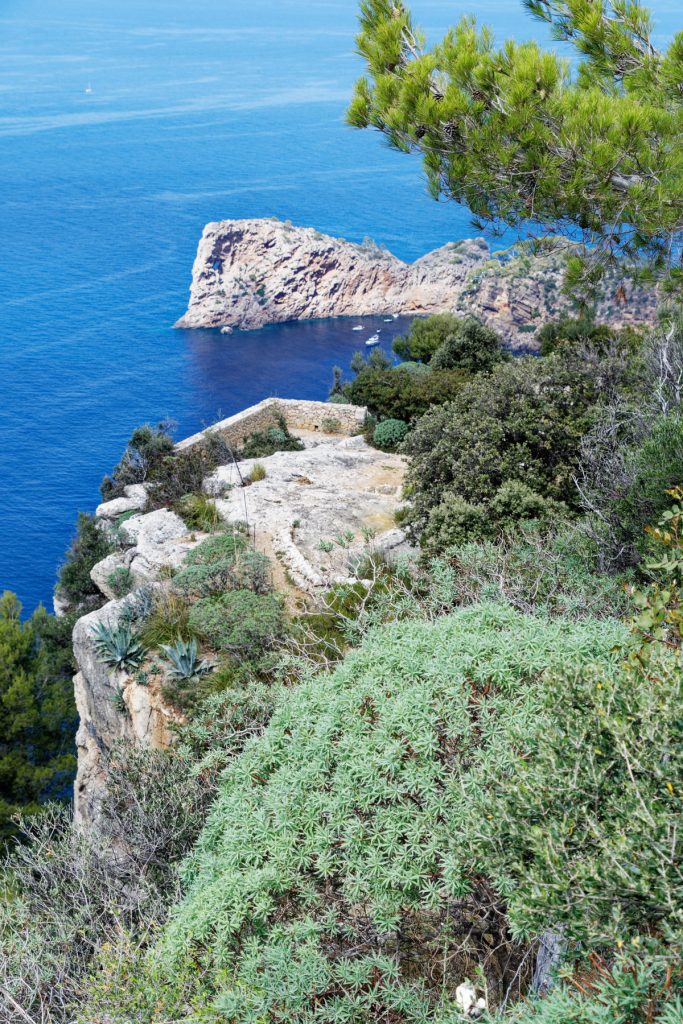 and some very ancient olive trees, which are still being harvested.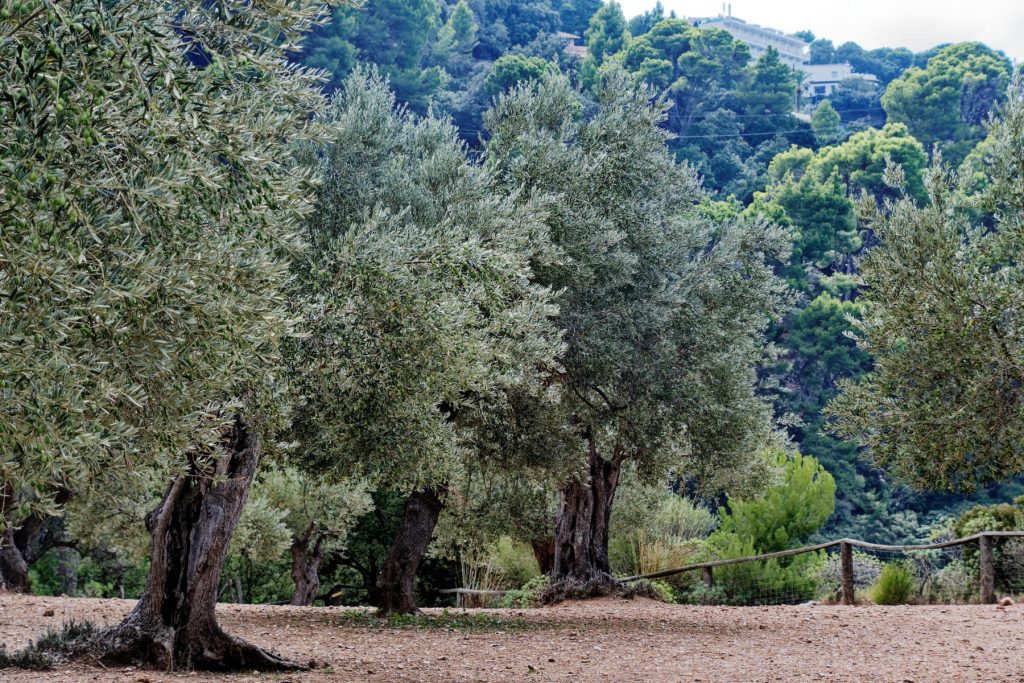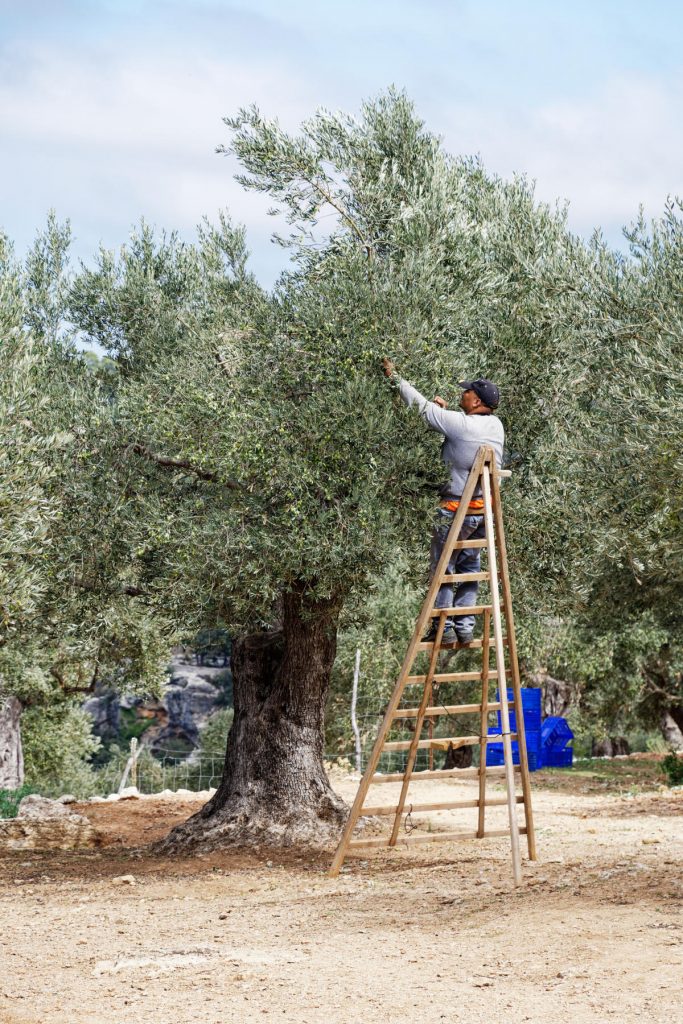 We carried on to Deià, and it was immediately apparent as we approached that it was (a) very picturesque and (b) crowded, which meant that (c) parking was going to be a challenge (we're both beginning to think that Mallorca thirty years ago was a much nicer place for tourists).  Remarkably, we found a place in an official car park and even had a coin to pay for the parking (after several minutes trying to figure out the user interface of the parking machine).
Deià is indeed a delightful place.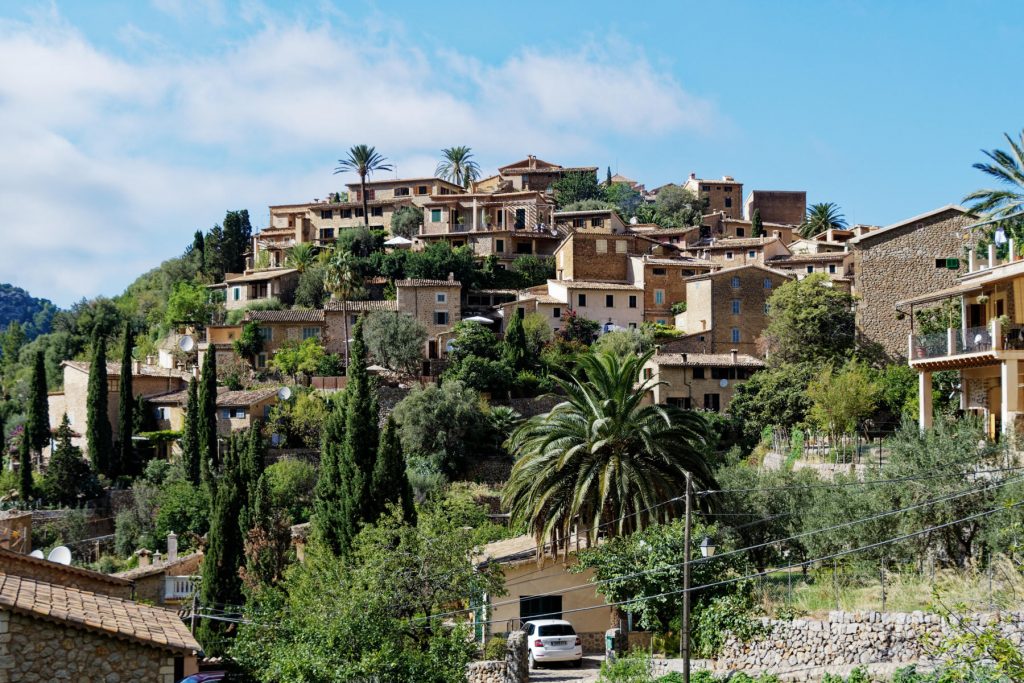 Assuming I haven't already done so, I could bore you to death with the photos I took, but there are a couple of things that stood out: unique bent wood gates;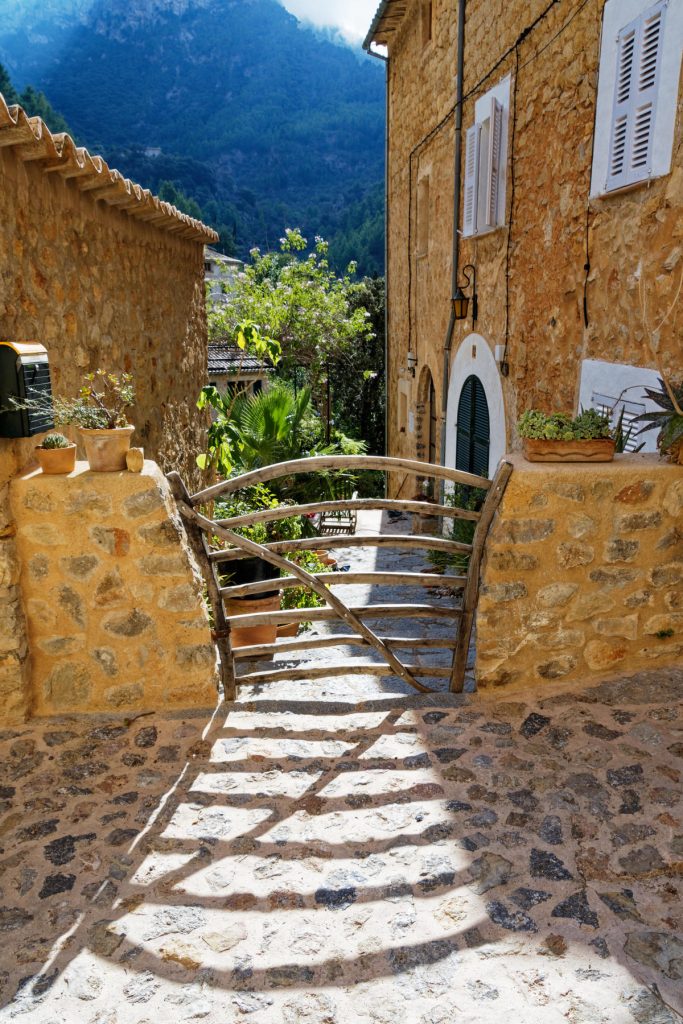 a lovely stream through the lower reaches of the village;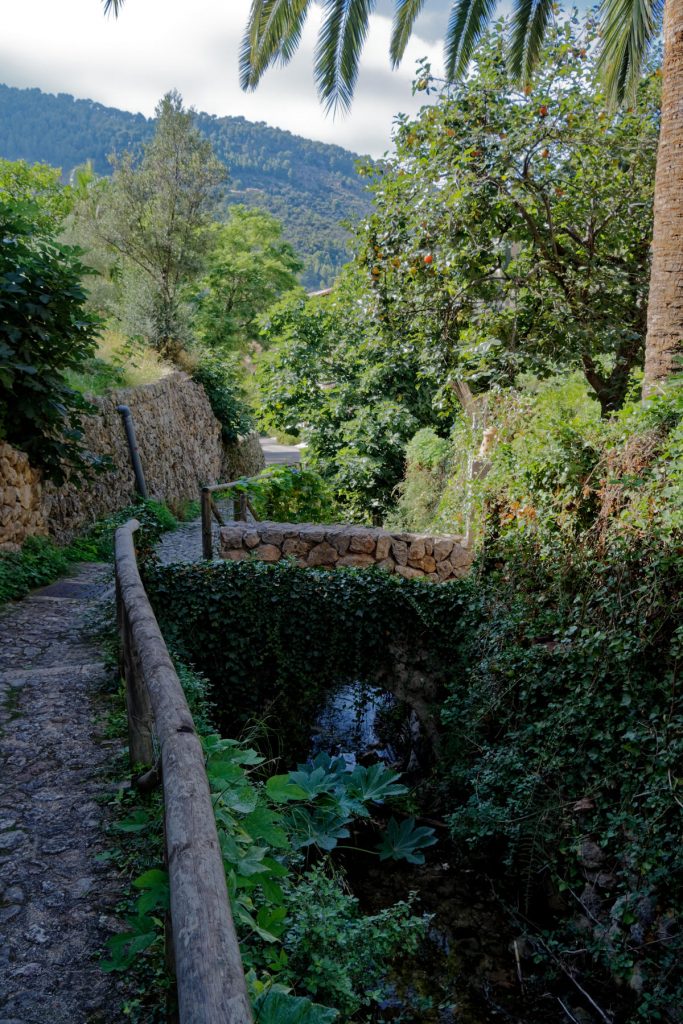 and some wonderful corners like this set of steps back up to the main village.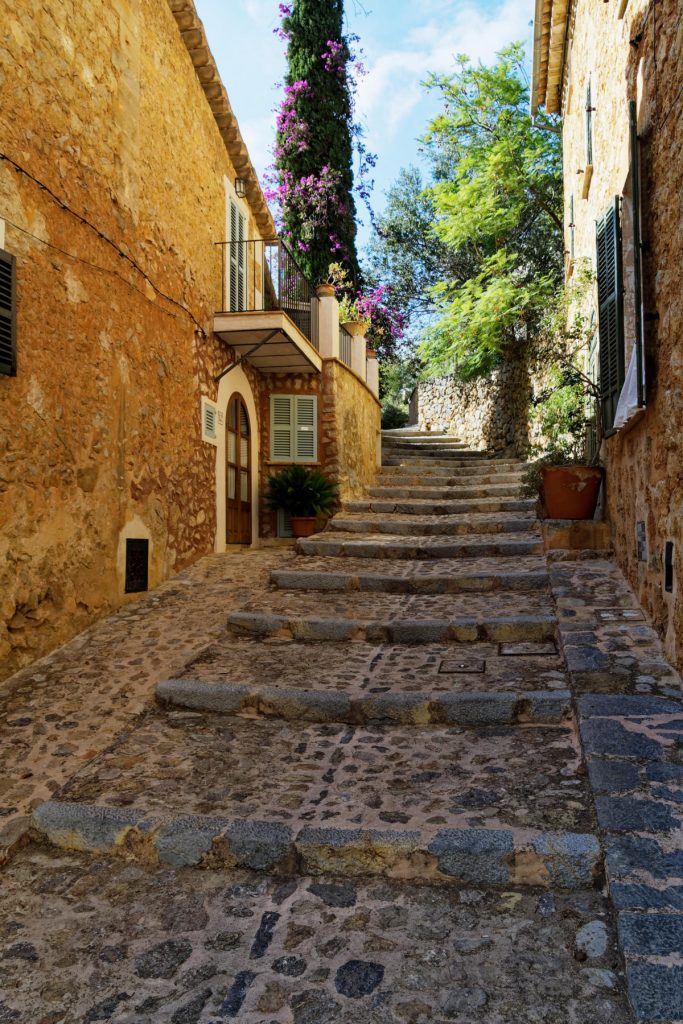 By this stage, our relentless tourism had had us out from about 11am until after 5pm without a break, so a beer stop became an imperative before we headed off to our final planned destination, Port de Sóller (well, we would have spent some time in the town proper, but time was pressing and our lunch plans had by now turned to dinner plans).
Back in the mists of time, on our previous visit to Mallorca, we had visited the port (taking the rather idiosyncratic train to Sóller and then the equally idiosyncratic tram to the port), and we both had the idea that we could find a small, cosy restaurant for a meal.  How memory misleads!  It's clear that Port de Sóller is a big seaside destination, rather along the lines of Port de Pollença, only it has a tram line.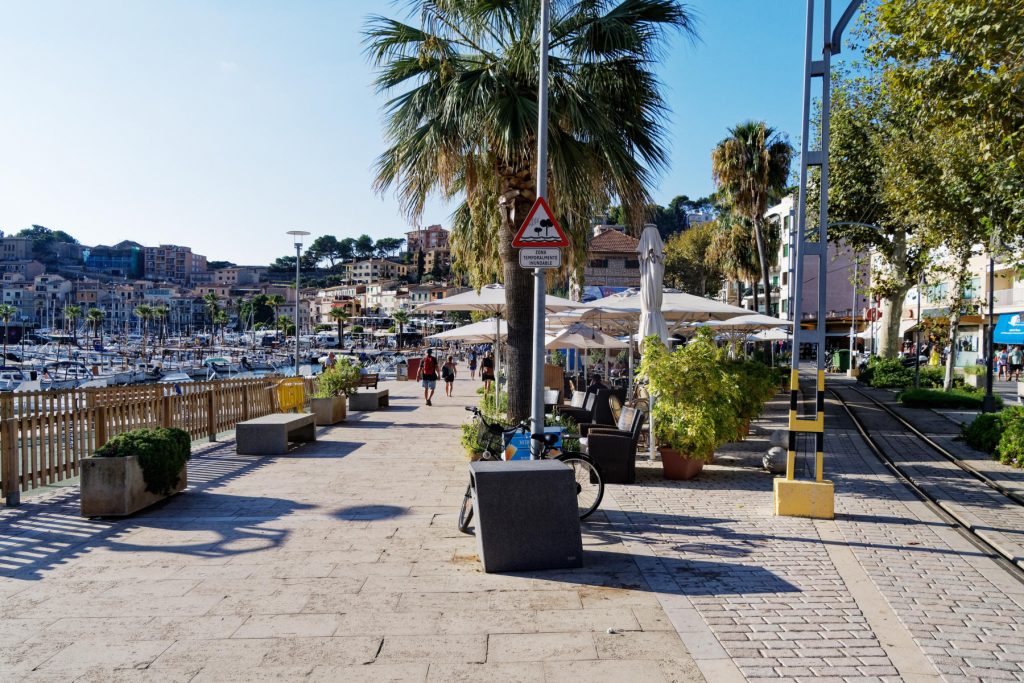 We found the seafront having done the usual blundering about to find a car park, and had to toss a coin as to whether we turned left or right to find a meal, as the choice appeared to be quite catholic.
Jane's instinct, to find restaurants slightly above the actual seafront, turned out to be spot on, and we ended up at a place called Vint – one of several restaurants crowding a street rising from the front.  The meal was very good – not cheap, but high quality; fresh fish and, remarkably, some vegetables.
Replete and happy after what was by this time a good dinner, we headed back to the hotel.  The route took us through the rising main street of Bunyola, the scene (have I mentioned this before?) of an epically unusual Christmas Eve lunch some thirty-plus years ago, so I thought it might be interesting to see if I could identify the place where we'd had such an unusual mealtime.  Needless to say, I couldn't – the town has grown and changed hugely since  the early 1980s and my powers of memory have faded in equal measure – but there was the faintest recollection of the rising high street leading to the very basic strip-light-and-formica place of that holiday.
By this stage it had got dark for the last part of the journey – the twisty roads back through Orient to the hotel, but we made it without actual incident and with the memories of a pleasant day to consign to these electronic pages. It was a long day, and so this has been a long read for you, poor thing.
Thank you for making it this far; and please come back tomorrow for a description of our further adventures.  Currently we plan to walk up to a restaurant in the hills which serves an epic lamb meal, according to my brother's description,  and local reputation backs that up.  See you then?