Wednesday Feb 27. So this was it – our goodbye to the camps that the Hud Hud Travels team had so splendidly set up and run just for us – sad in a way, but holding out the tingling anticipation, at the end of the day, of:
getting online
unlimited running hot water
unlimited electricity
I may not be as jaundiced about camping as I was earlier in the week, but still my heart leapt at the prospect of all of the above.
However, there was packing to be done and breakfast to be had before we said our goodbyes and headed off for the day's adventures. These largely centred around a drive over the Hajar mountains, widely touted as the most scenic drive in these 'ere parts. Touted correctly, too, in my opinion. The road itself is a bit of a bone shaker
(and should not under any circumstances be undertaken in anything but a robust 4×4 – see later) but offers some really spectacular scenery.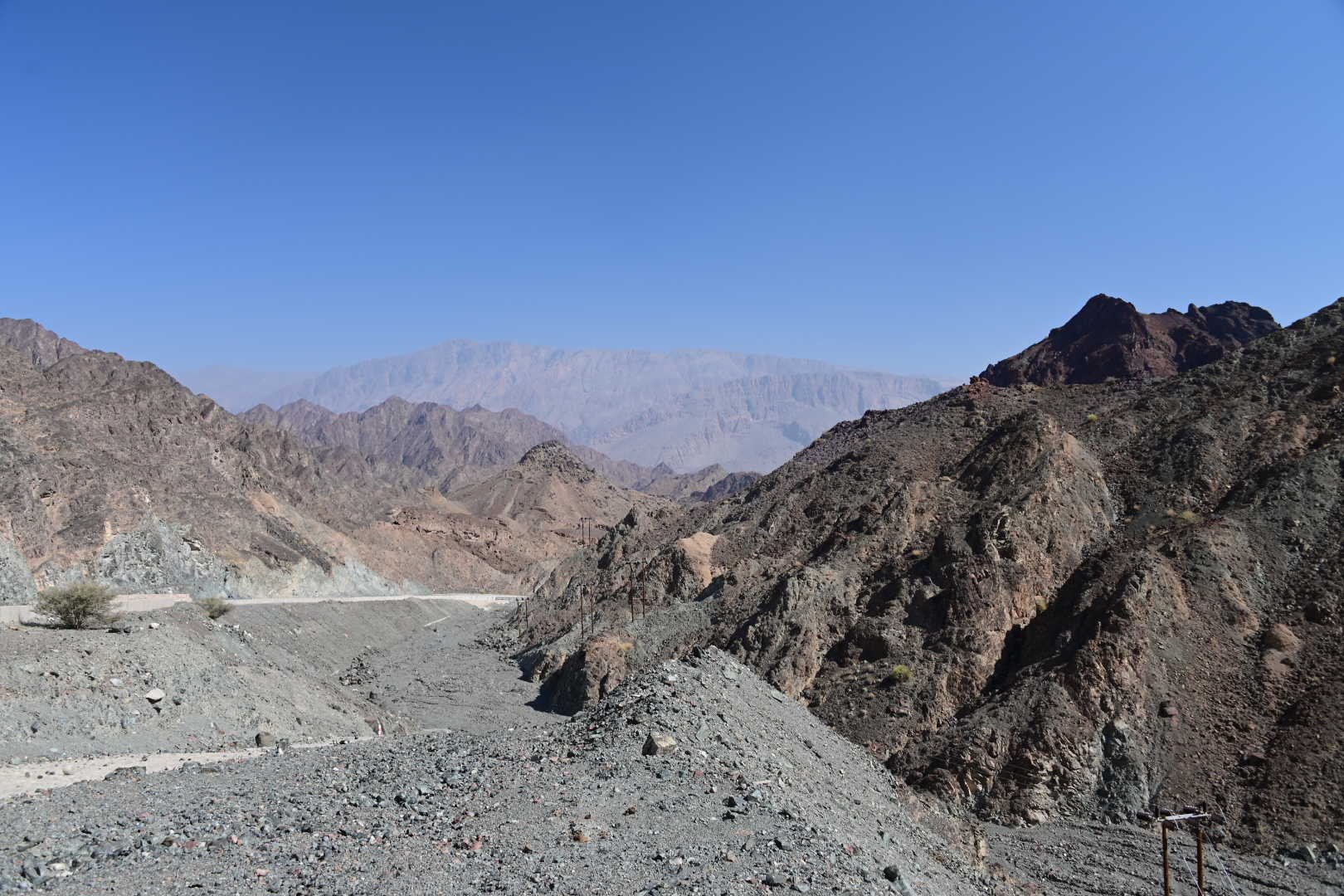 You'll notice in the last of these that there's a village nestling among the savage scenery. This, and others, are inhabited by people who have lived in the Hajar mountains for generations. For them, life is simple, spelt t-o-u-g-h, but it's one they know and when the government, in an enlightened attempt to make life better for them, builds an entire village for them
the uptake is quite low, according to Rashid. However, the younger generation are more prepared to move and so eventually social housing projects such as this may well be fully populated, and the problems of delivering water, electricity and life's other essentials to the remote areas of the Hajar mountains may well diminish.
At the high point of the drive is the Salma plateau. If you want my opinion, it's a bit up-and-down to be credibly called a plateau
but I suppose everything's relative. Anyhoo, the most interesting feature of the plateau are the "beehive tombs", some 28 of which can be found here, with many more in other locations such as Al-Ayn and Al Khtum.
Above are two of the well-preserved ones, but many have decayed. The workmanship on them is quite remarkable.
Jane crawled inside one to see what it was like inside.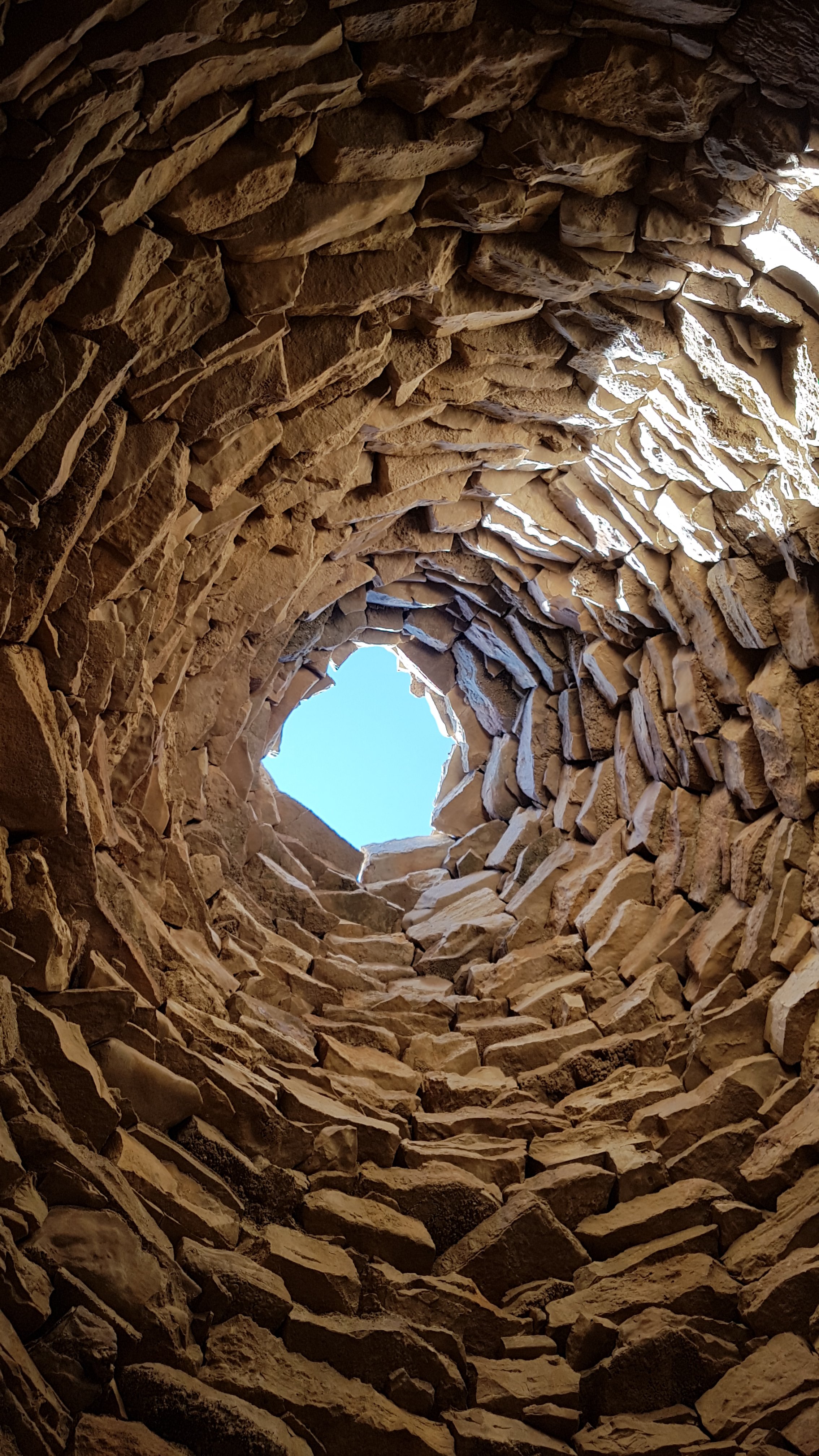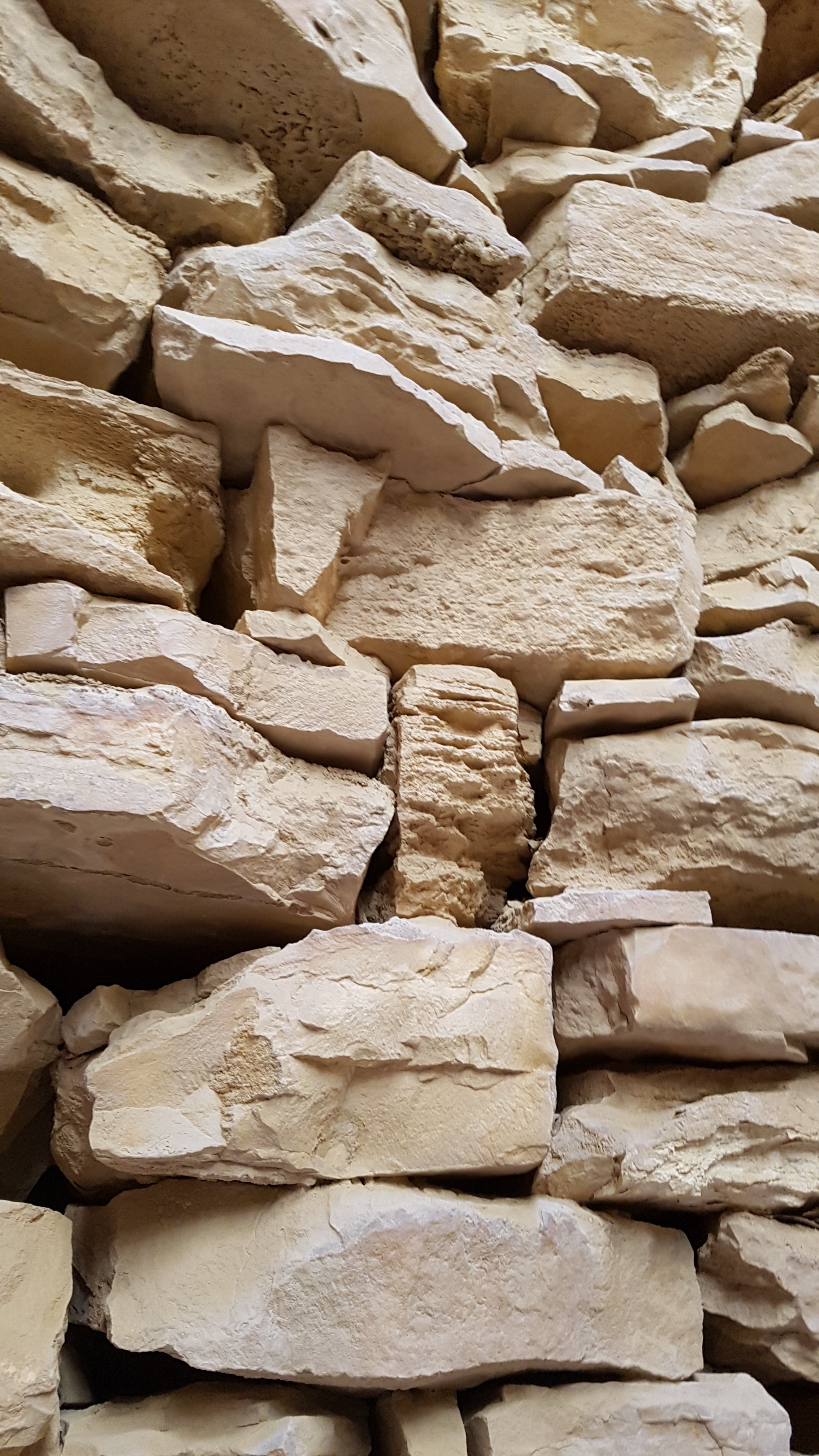 As you continue the drive, you can look back and see the ones which have survived over the centuries.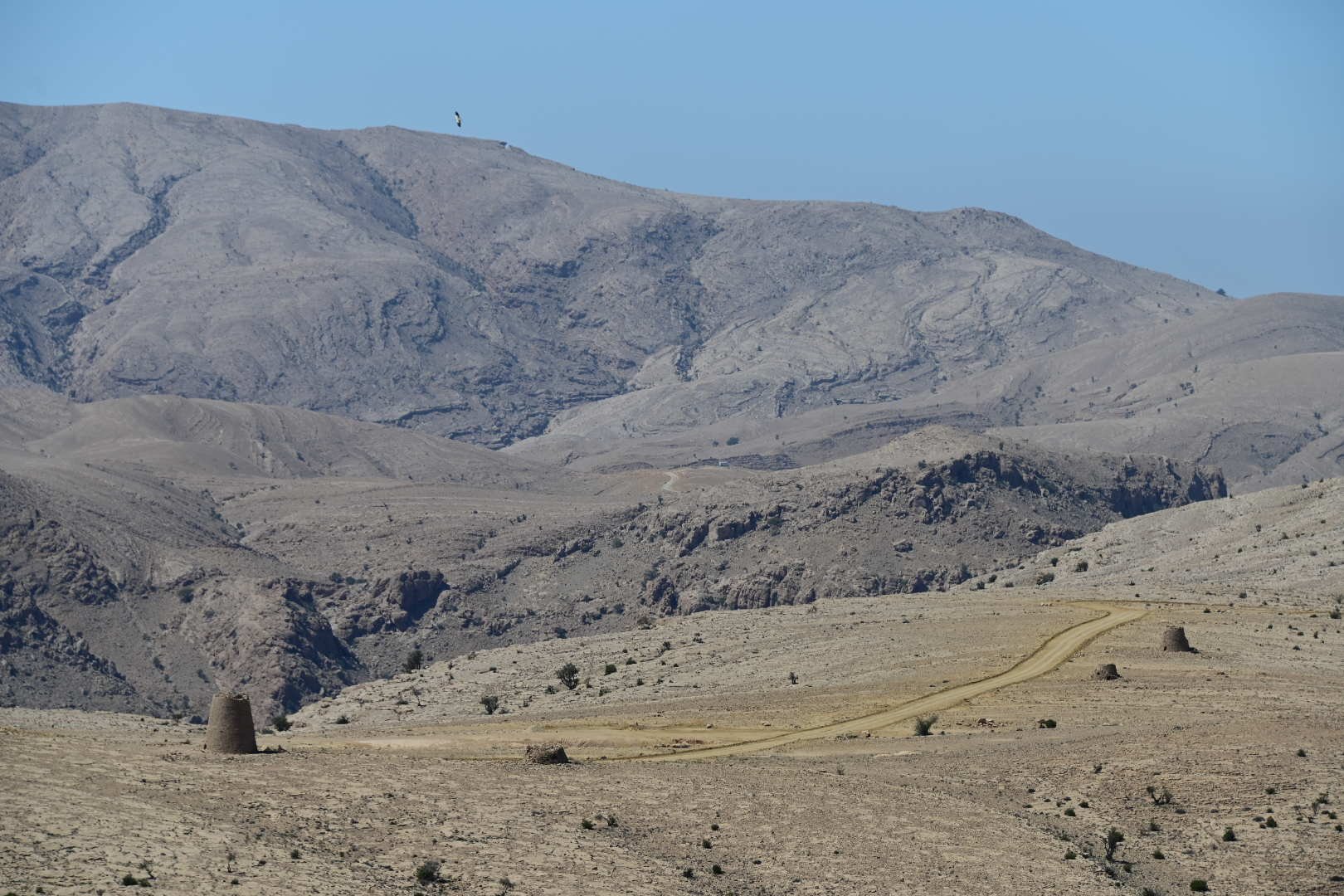 On we drove, enjoying the spectacular mountain scenery.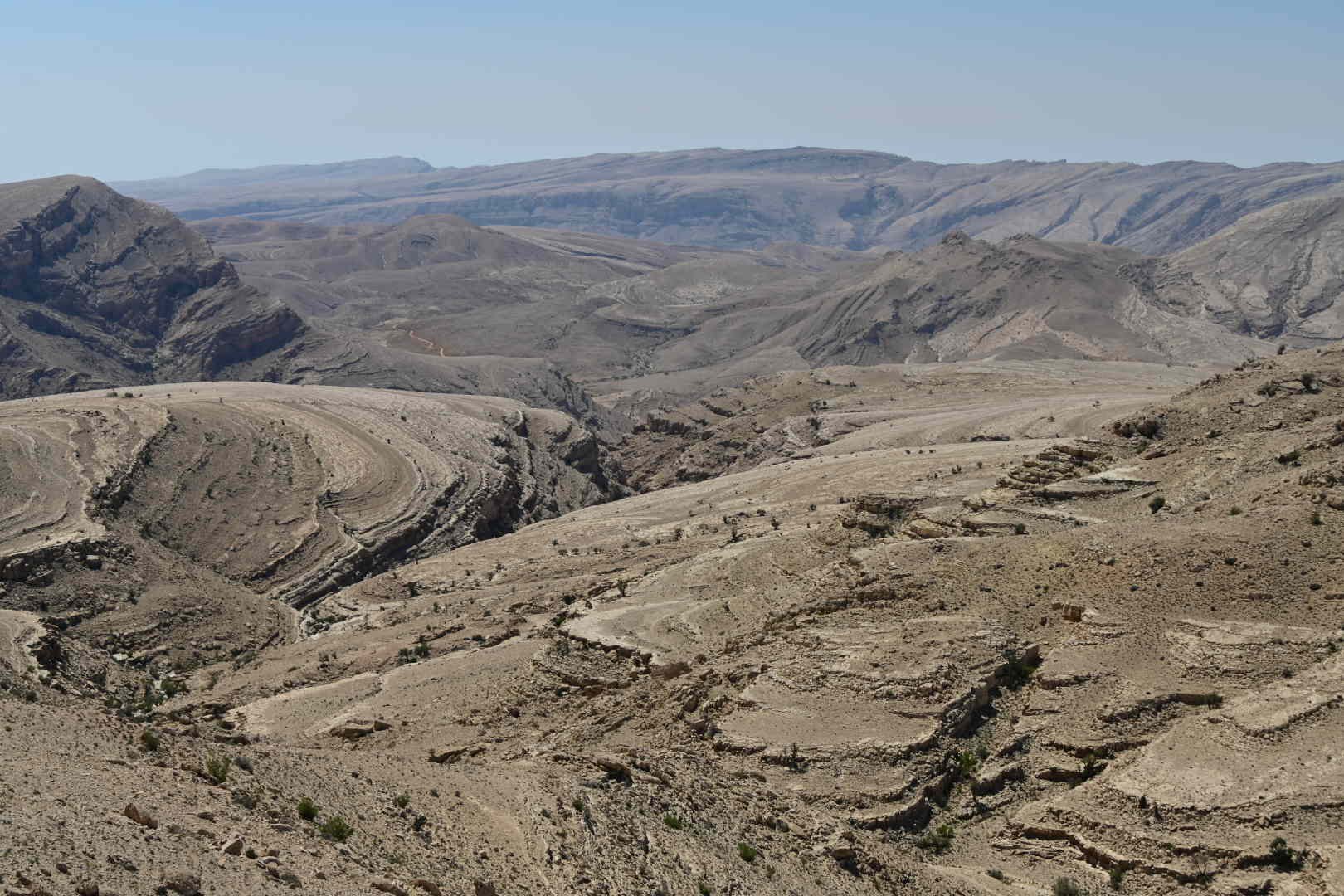 until we came to a village nestled in the middle of all this rockery!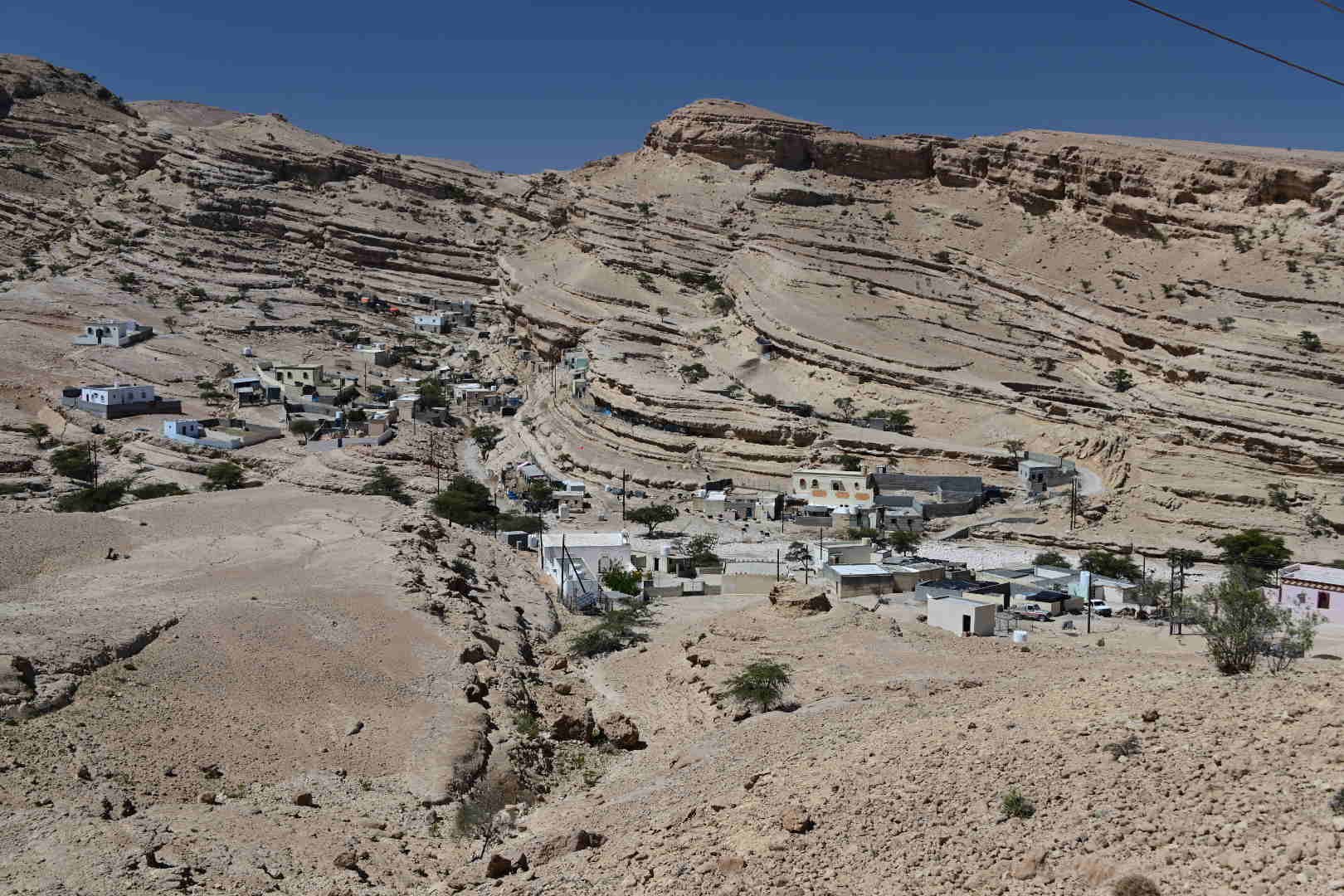 The question naturally occurred to me – why the actual do people set up a habitation in such remote parts? Rashid's answer was simple – they found water, and had developed skills in locating sources of water which enabled them to perpetuate this life, tough as it is. This village is called Qorun (I think) and, indeed, is centred around a well.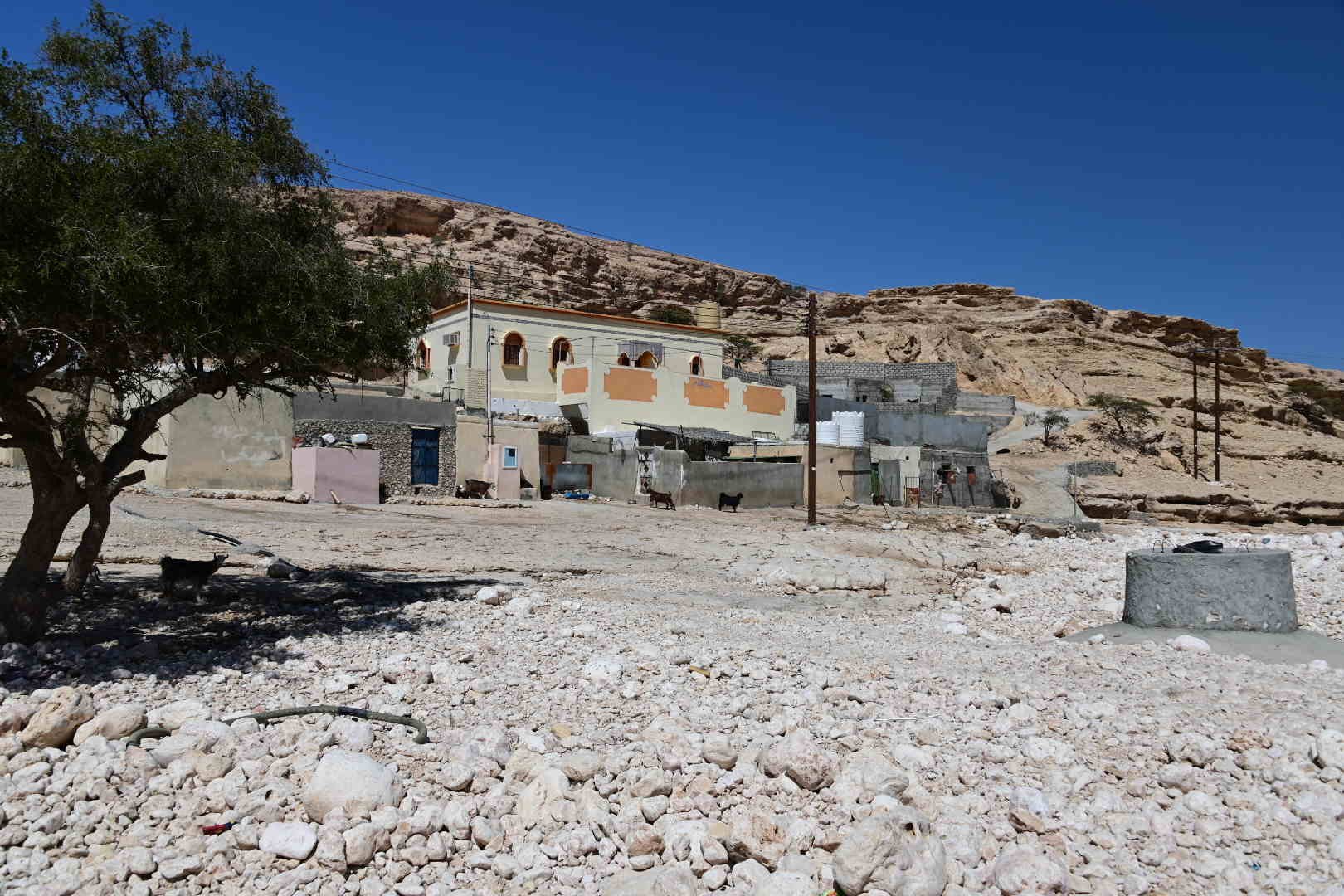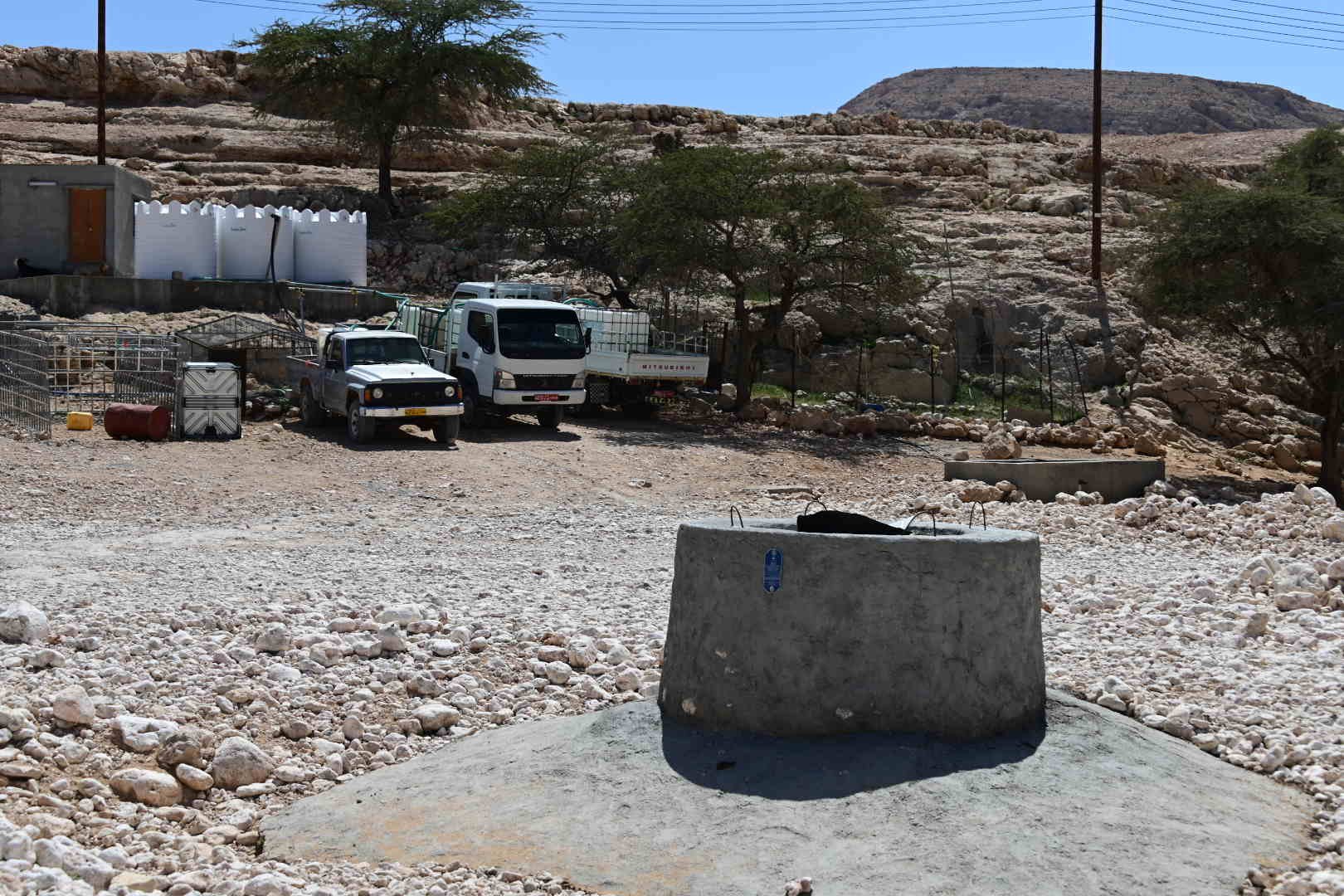 Above you can see the tanks to which well water is pumped before being loaded on to the water trucks for distribution to the remote parts of the village and other mountain sites, too.
A diversion was provided by a baby donkey, who wondered if we might have some food.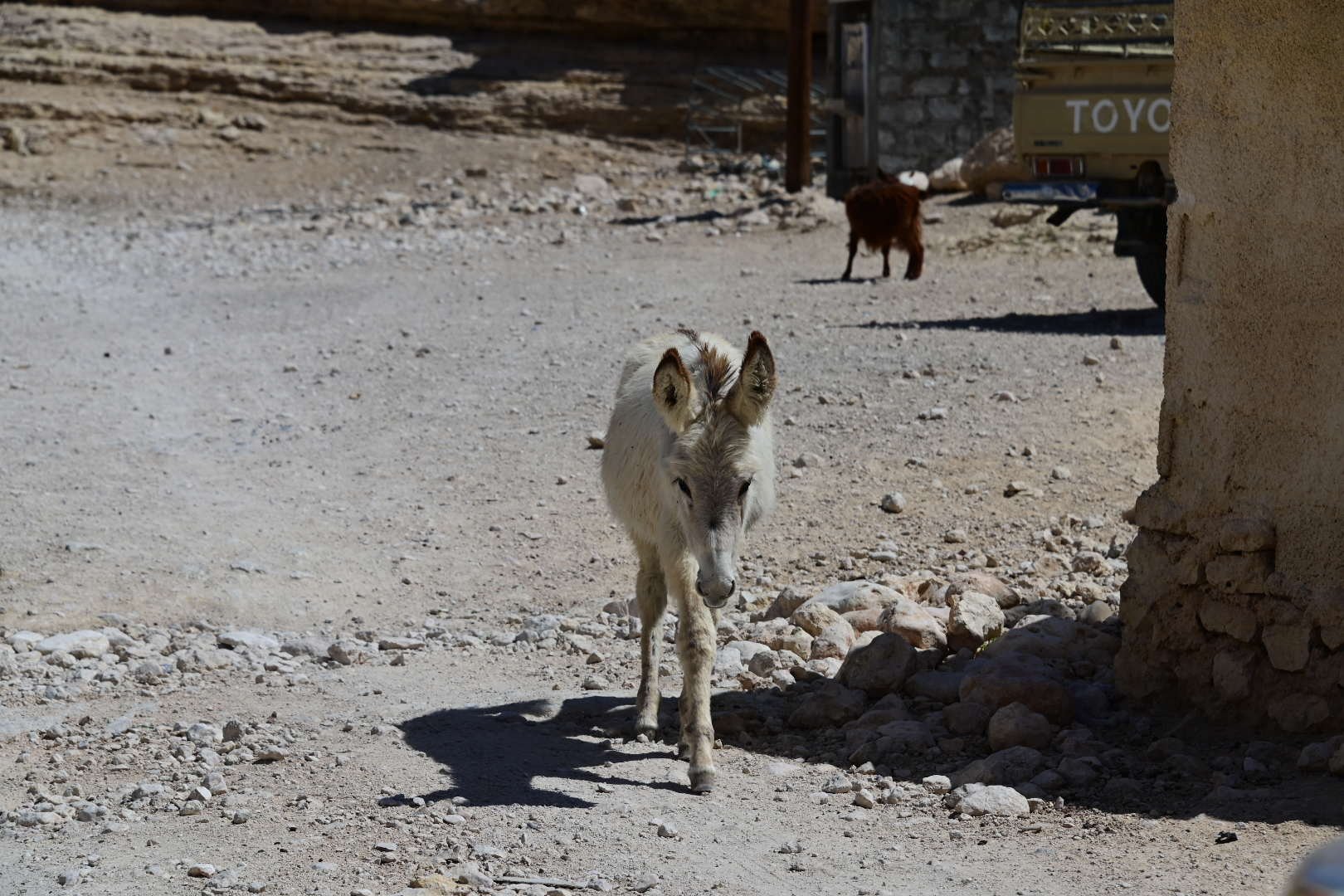 There are wild donkeys in the mountains, but also some which are owned by villagers, along with goats and sheep. If you look in detail at the layout of the village, you can see where the animals are kept.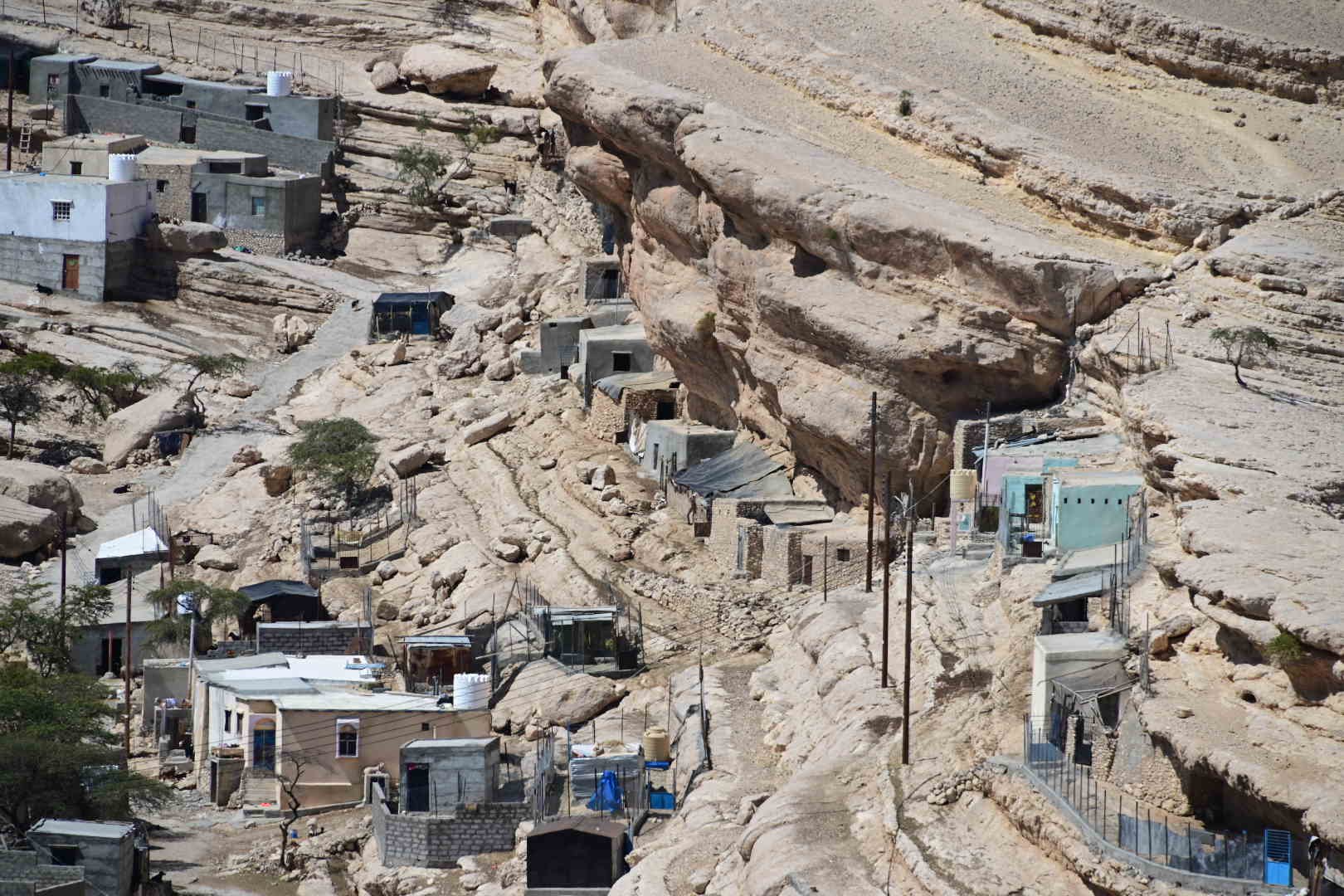 Theirs are the shelters extending out from caves and hollows higher up the rocks to centre and right of the picture above – but those used to be the actual domiciles of the villagers themselves in times gone by!
After a while we reached the top and crossed over to the point where we could see the coast, and we stopped for lunch in front of yet another stunning view.
(The faint line across the middle is actually the horizon, with the ocean meeting the sky.)
Rashid spent some time explaining elements of the view to us, whilst around us there was a certain amount of wildlife activity. We were inspected by goats
donkeys
and, delightfully, Egyptian vultures.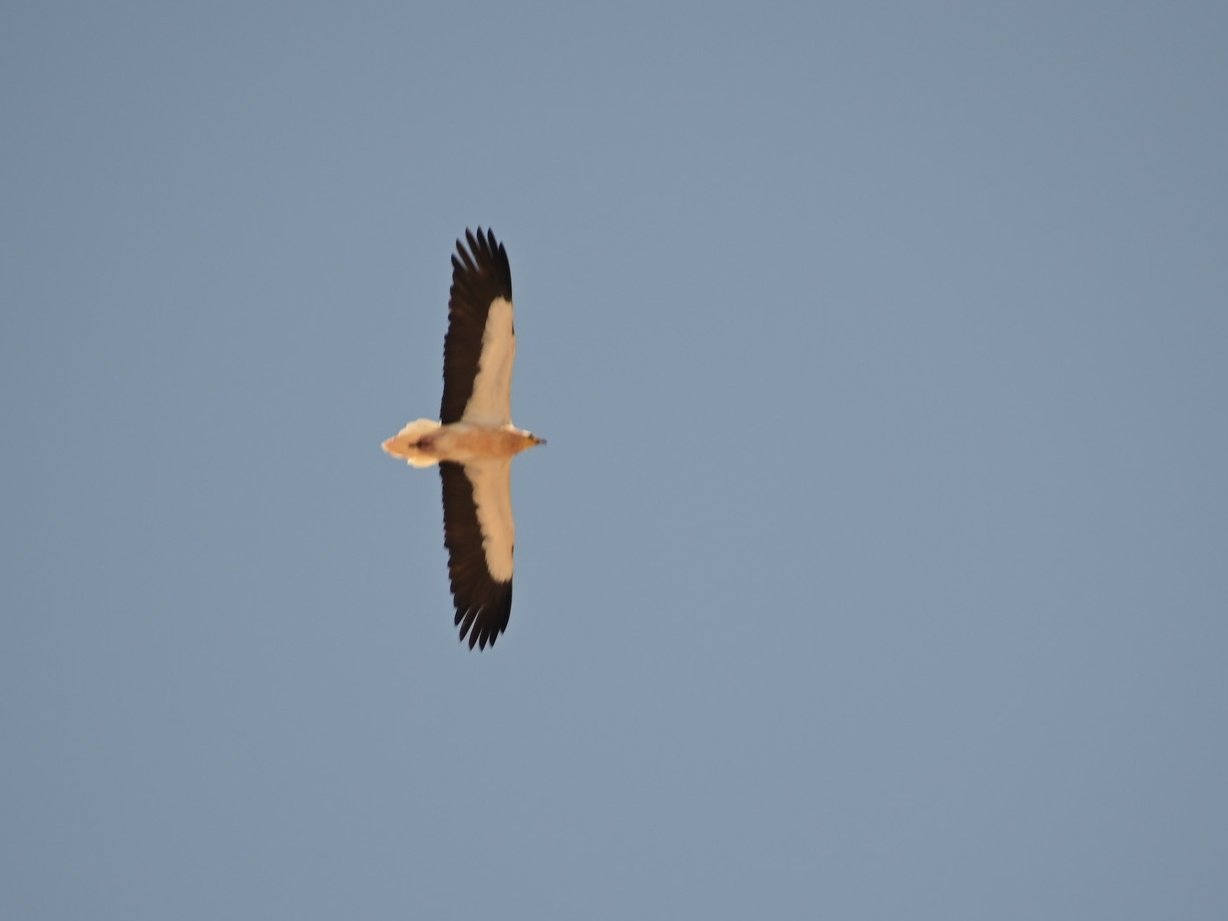 (we think we spotted a Turkey vulture as well, but are not entirely sure. It's amazing that Oman has to import its wildlife from other middle eastern countries, don't you think?)
Lunch over, we made the descent to the coastal plain. This is where a 4×4 – and an experienced driver like Rashid – becomes essential, as the road is incredibly steep in places – difficult to convey photographically, but here's my best shots.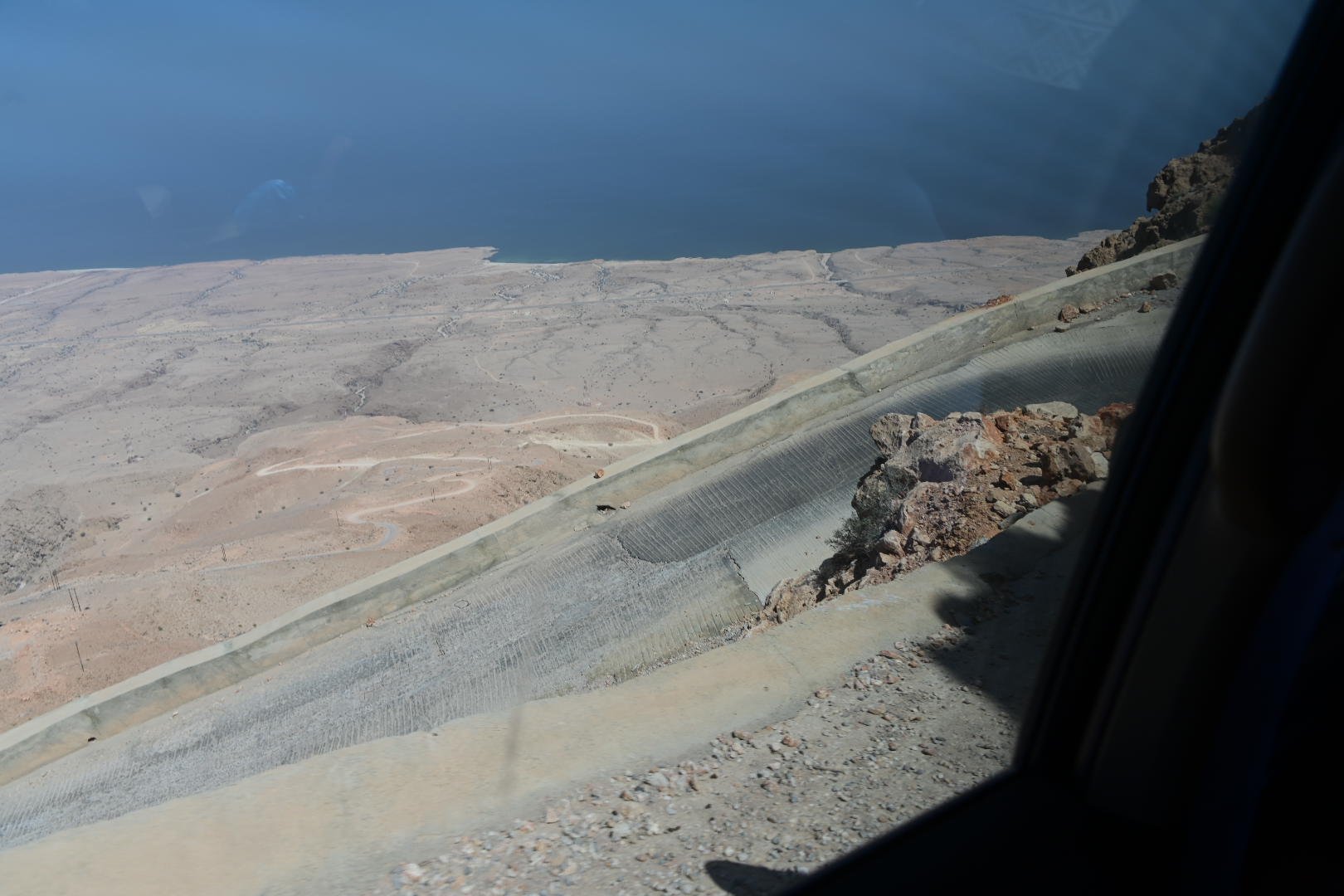 We saw a few more features on the way down: a face in the rocks;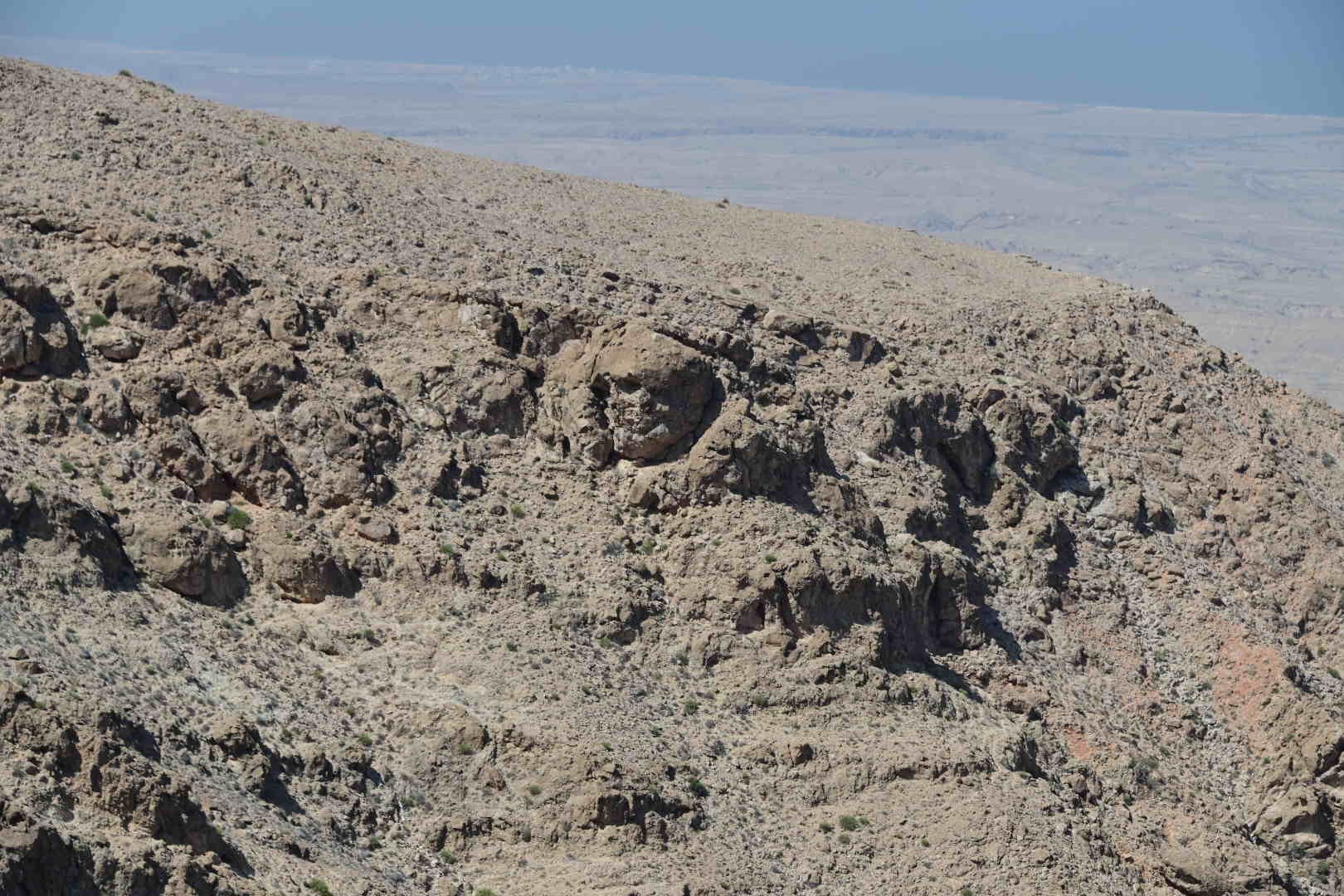 the caves where mountain people used to live;
and another government housing project intended to encourage these folk to live in better accommodation which so far languishes mainly empty, since the people refuse to move.
We finally made it down to the coastal plain and spent a few minutes cruising the (lovely, smooth, tarmac) coastal road near a town called Fins looking for gazelles, since this is the coastal end of a reserve called Ras al Shajar. We saw a few, but they're quite shy, so I have many photos of their back ends as they ran away.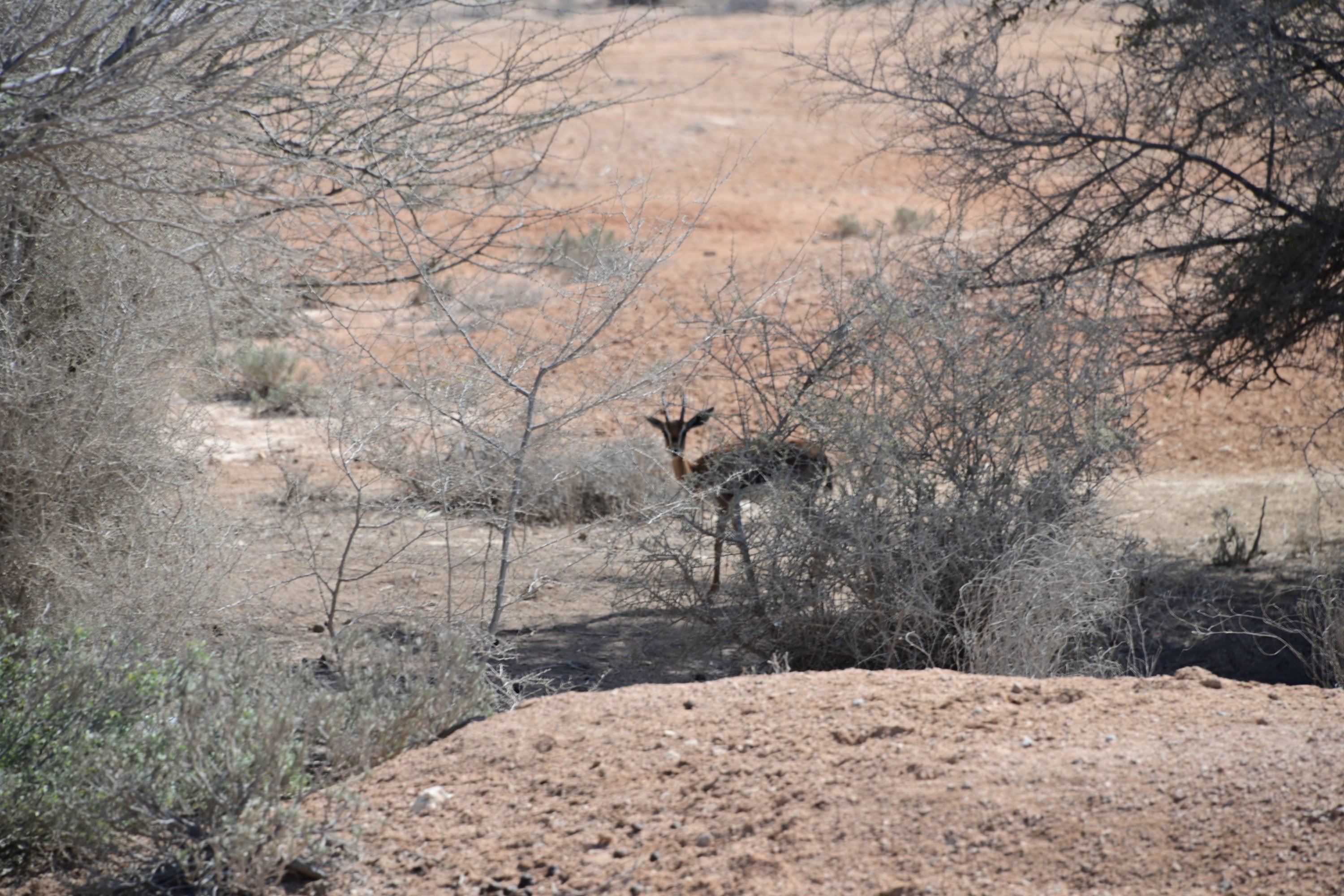 Then Rashid took us to see something that is, on the face of it, a bit strange – a Frankincense tree. It was rather marvellous to see something in real life that I had previously only come across as a biblical reference. So here it is – the only Frankincense tree in northern Oman:
There are, Rashid told us, many in southern Oman, around Salalah, but this is the only one in north Oman. I'm not sure I can understand why people haven't taken cutings from it to make other trees (because you can see where cuttings have been taken), but there we are. Rashid also told us about male and female Frankincense. Looking closely at the tree, this is a patch of female
and this of male
They are subtly dfferent in the scent they produce, apparently, but I'm only a bloke so I don't really understand these things. The tree was in flower, so here's your chance to see Frankincense flowers.
Our next tourist stop-off (because by this stage I'd begun to feel that we were ticking the boxes – gazelles, tick, Frankincense tree, tick) was Hawiyat Najm, or the Sink-hole park. There's maybe nothing unusual in yer average sink hole, but this one is slightly unusual in that it's fed by both fresh water, from the mountains, and salt water, from the sea. Anyway, there are steps down into it and you can go swim in it if you like – after you've paid to get in, of course. Like Wadi Bani Khaled, this is very much a tourist spot, but it's quite striking.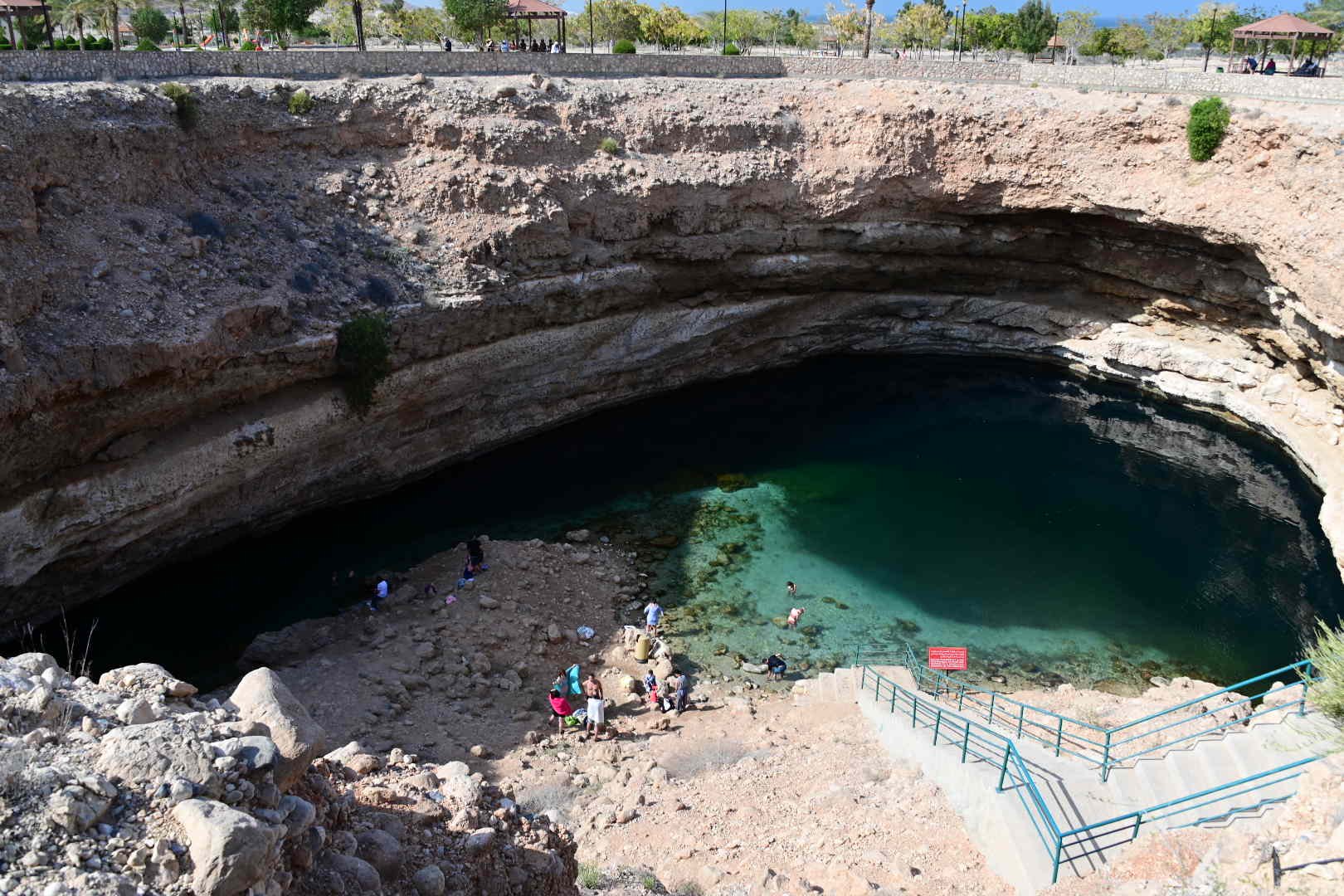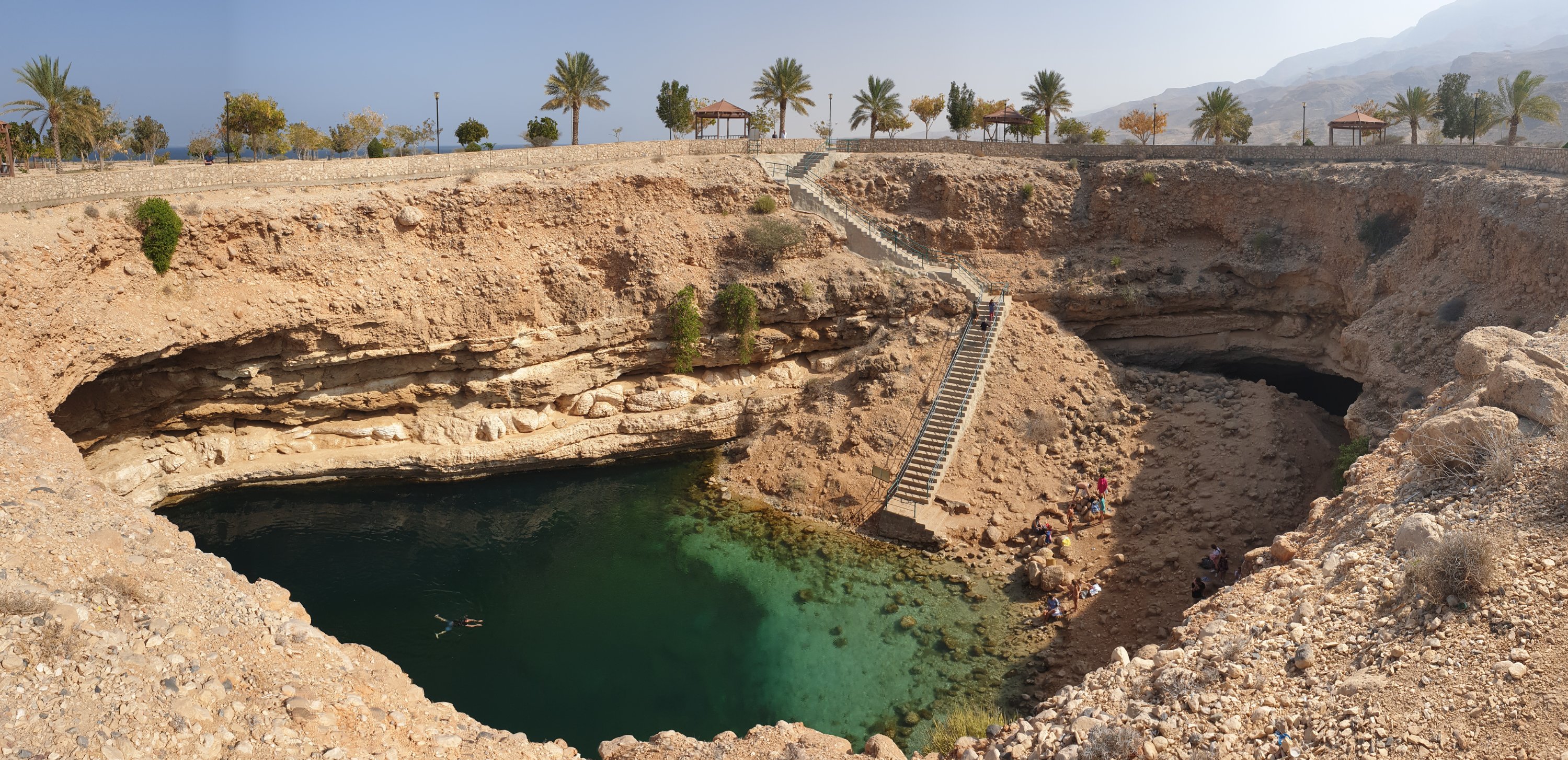 So there we were – all the boxes ticked and it was finally time to go to the hotel which would be our home for the next four nights – the Chedi, in Muscat. This is a seriously posh joint and I'm entirely pleased to report that we were upgraded to one of their Executive Suites, and so have separate bedroom, bathroom, terrace and lounge, which is where I sit and type, for these blogs don't write themselves, you know. Jane has pointed out that all this luxury seems a bit fake after the gritty reality of life in the mountains or desert. I kind of understand what she's trying to say, but I'll grab that unlimited electricity and hot running internet with both hands and be grateful.
Tomorrow, we get to tour the highlights of Muscat, so tune in to the next installment to find out how that went. 'Bye for now!