Saturday September 18 2021 –  I was expecting an easy day today – not too far, not too high – and the early light seemed to augur favourably.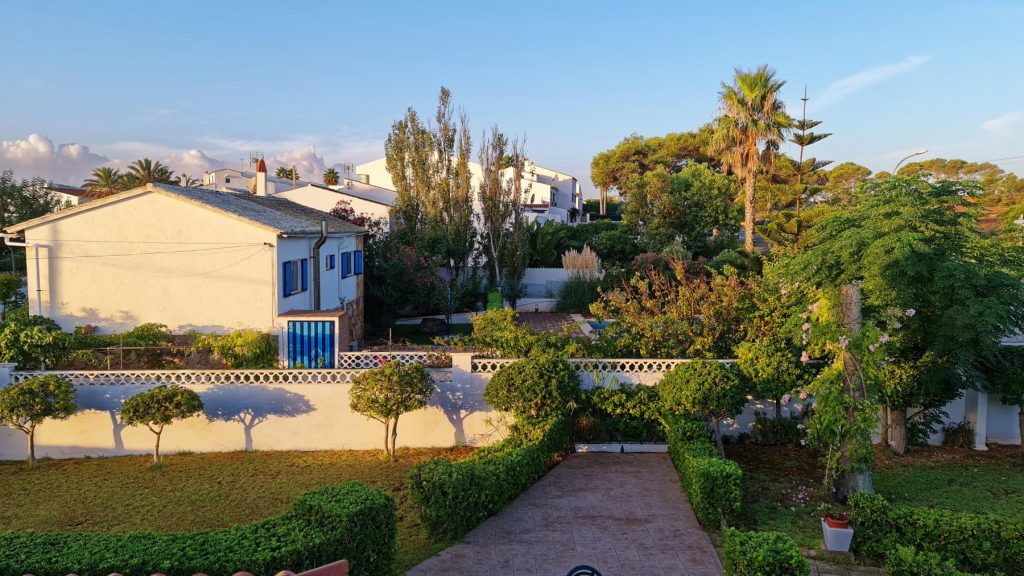 The weather forecast was a bit uncertain.  The UK Met Office promised sunshine, the Spanish equivalent suggested that rain was in the offing; but in any case the temperature was due to be a bit lower than some of the roasting of our first couple of days.
We had the Breakfast of Kings, or, rather, perhaps that of minor despots of unimportant fiefdoms. But Marmite figured, as did toast and Earl Grey tea, and some Proper Yogurt for Jane; and since we were due to stay in this hostal for a second night tonight, we didn't even have the hassle of packing before we were able to set out at, as usual, 9am.  A minor difference from yesterday – we have a target destination and time: Binimel-là and 1300, giving us four hours to cover some seven miles, which should give us time for a beer at the far end before the Cami360 folk arrive to whisk us back here.
As usual, if you have only a couple of minutes to spare, instead of reading my deathless prose, you can see a summary of the walk on Relive.
So it was that we started again just back down the road to where we left off yesterday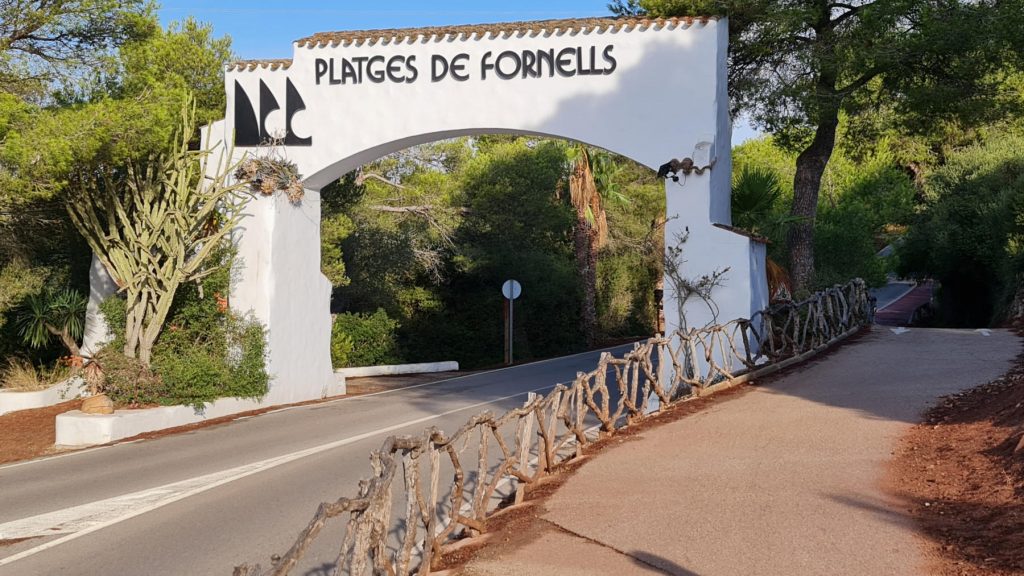 along a paved cycle/pedestrian track.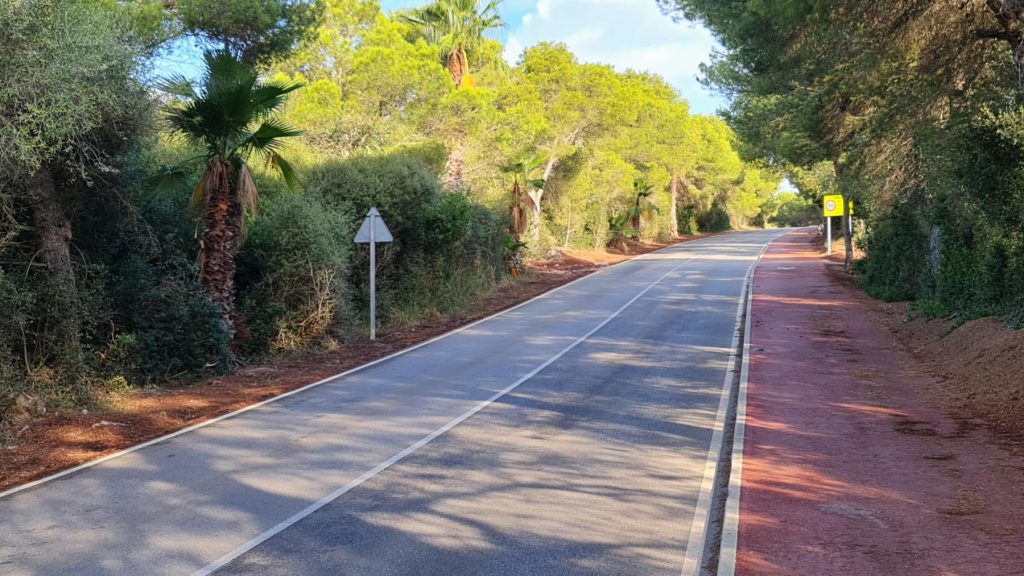 We got a different viewpoint of the Mystery Building,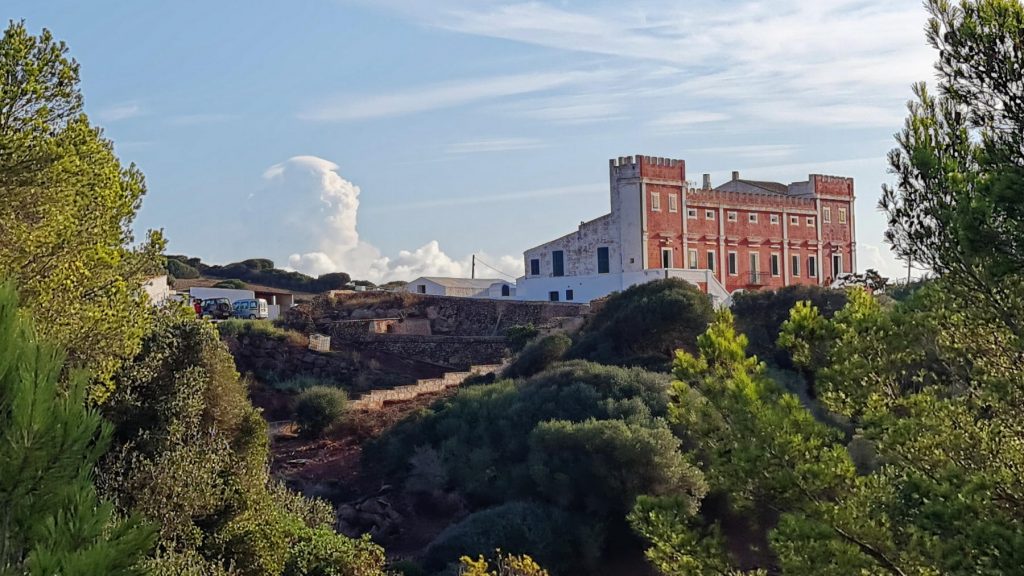 showing the farm buildings behind it, which gives credence to there being a farm shop there. We also passed some somewhat exotic trees…  Dragon trees maybe…?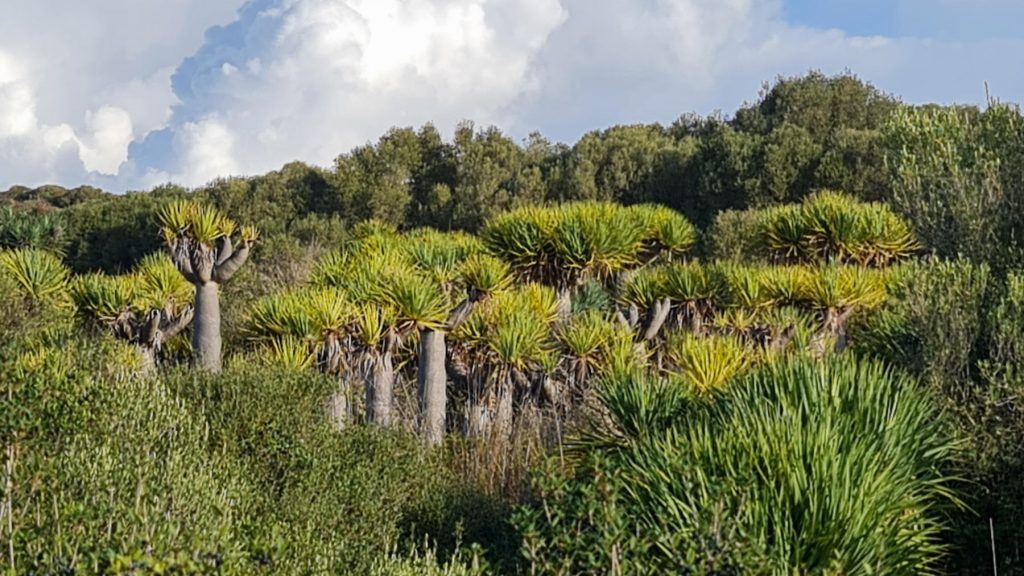 Just down the road is the town of Platges de Fornells, which is another of the many tourist outposts on the island.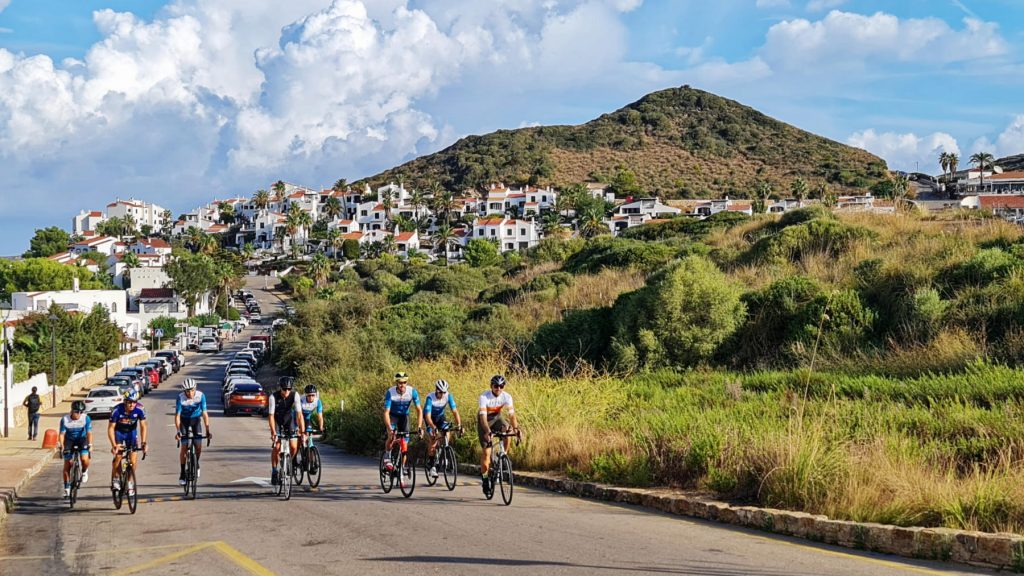 In the foreground you can see some keen bean two-wheelers, who were either Saturday cyclists or who were practising for a half-triathlon to be held tomorrow (see later).  Eventually, we turned off the road towards the town's beach and passed a group of German tourists, who were having some aspects of the Cami explained to them.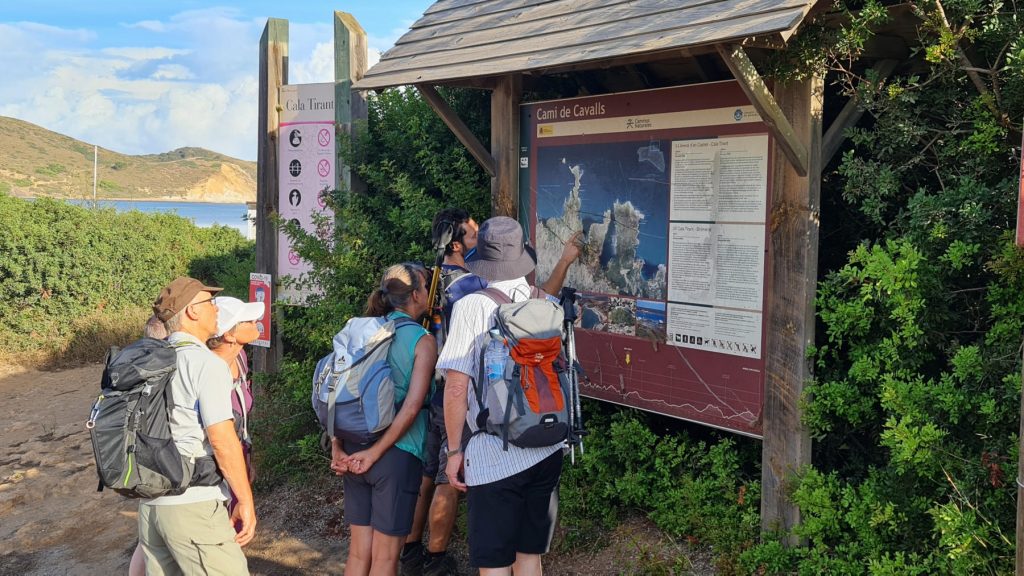 It was a slightly surreal experience to hear German spoken in a Spanish accent, the first time I've particularly noticed this.
There was a walkway up to the beach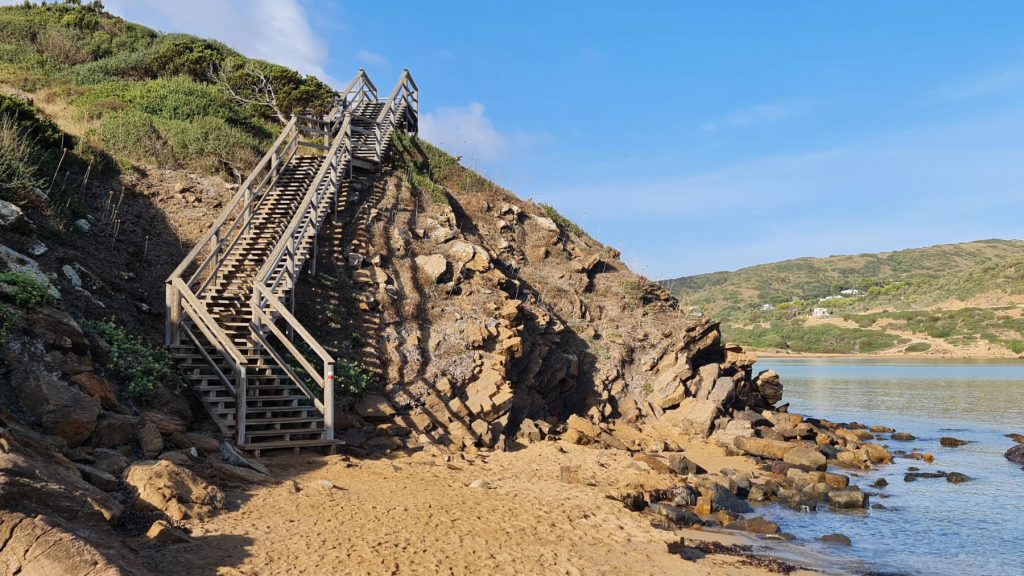 which appears to be a fine example of its kind (I say this as definitely a non-expert, though)
and then a walkway down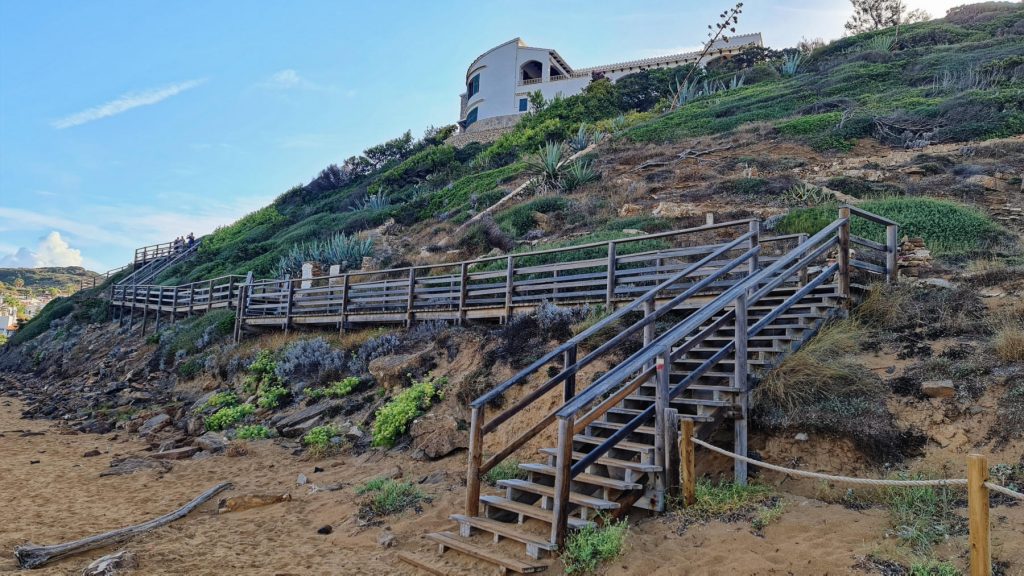 so that one can stumble awkwardly across the sand to the point where the path leaves the beach again. You get a nice view back over Platges de Fornells (indeed the view is of very little else for quite a while)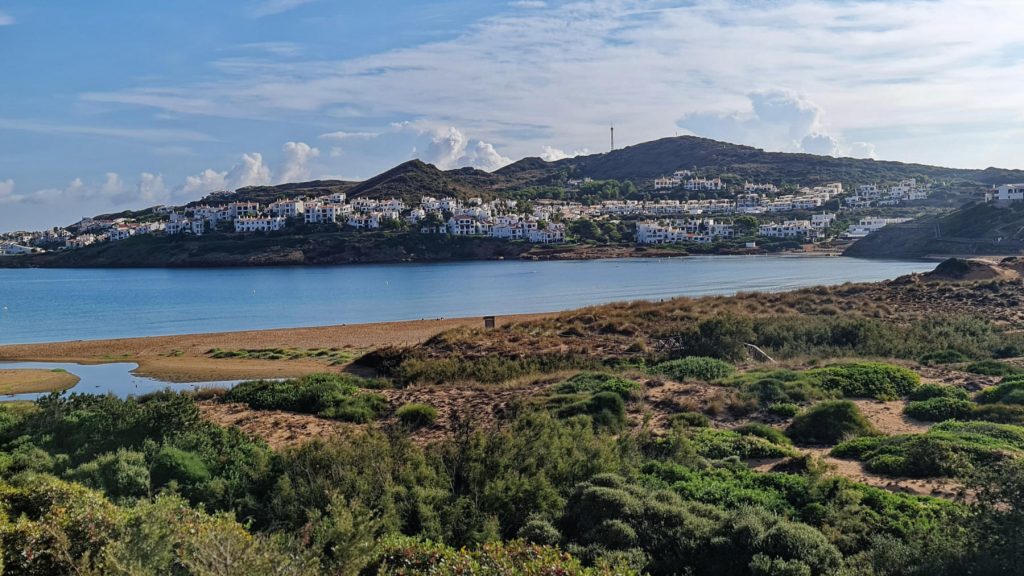 and the path is a wide track at this point.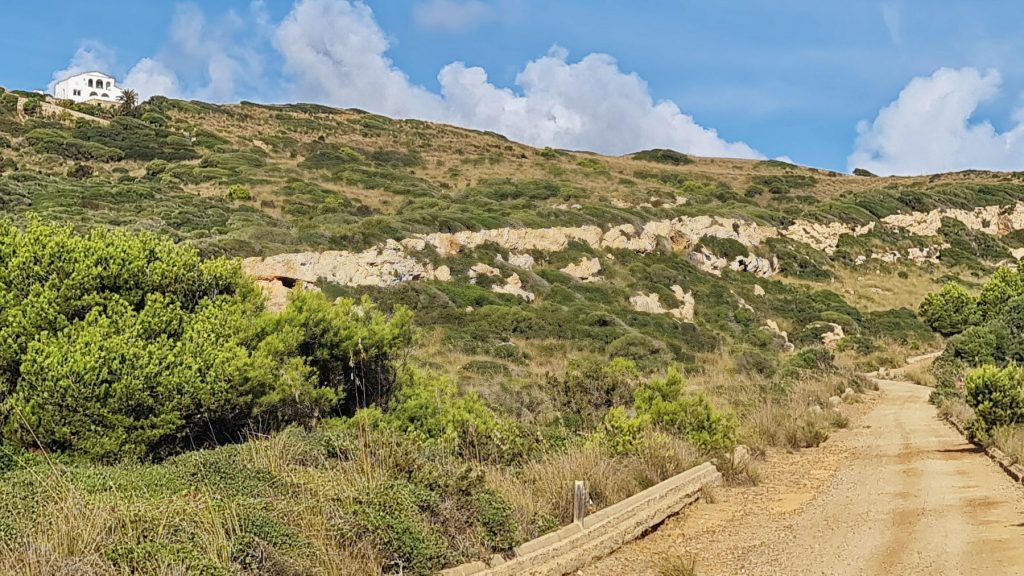 However, it soon gets much steeper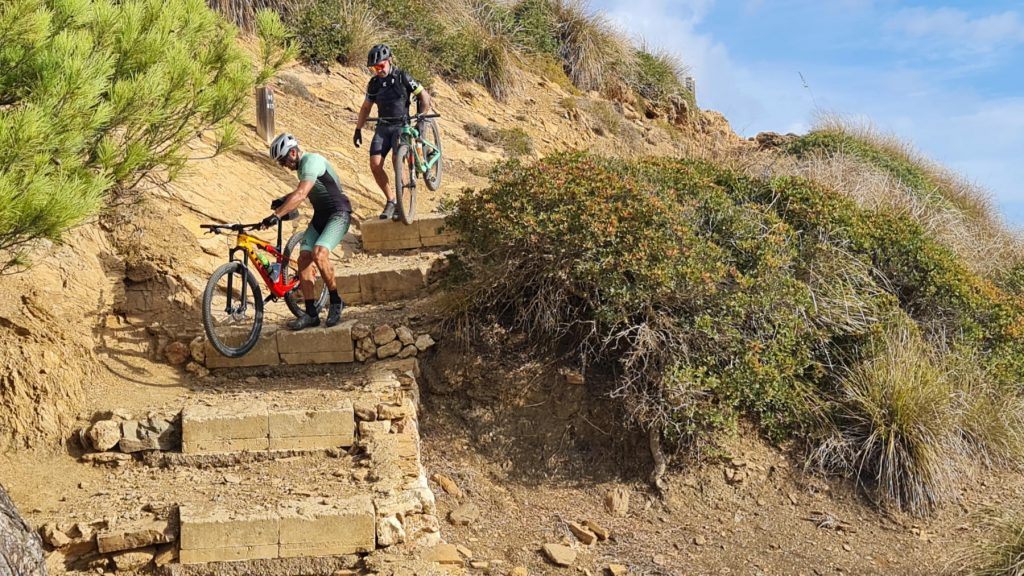 (an e-bike won't help you here, mate!)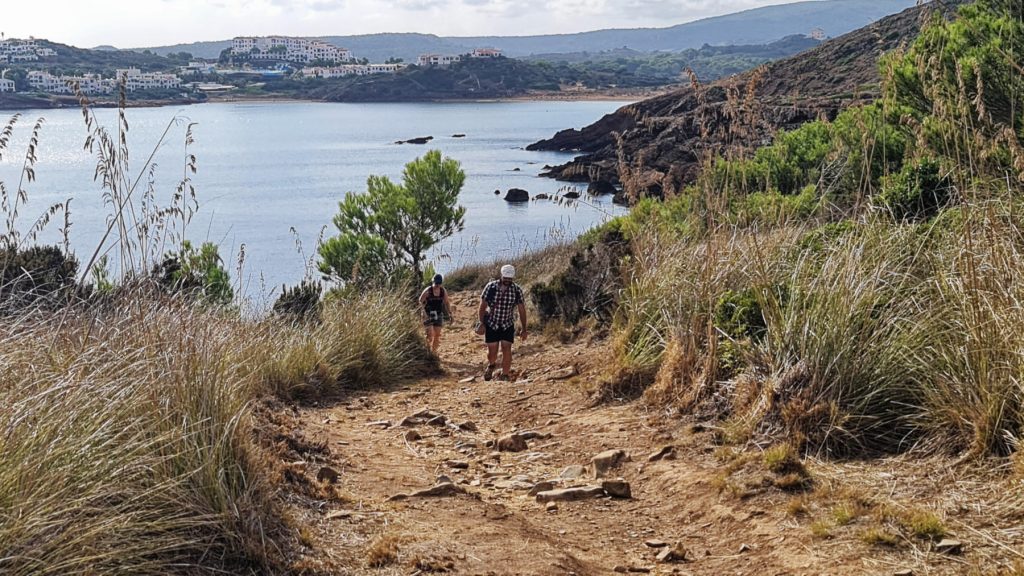 as it leads past a view of a lighthouse at a point called Cavalleria
(a detour from the track is on offer – 2.7km up a road to see a lighthouse and 2.7 back again – we declined the opportunity)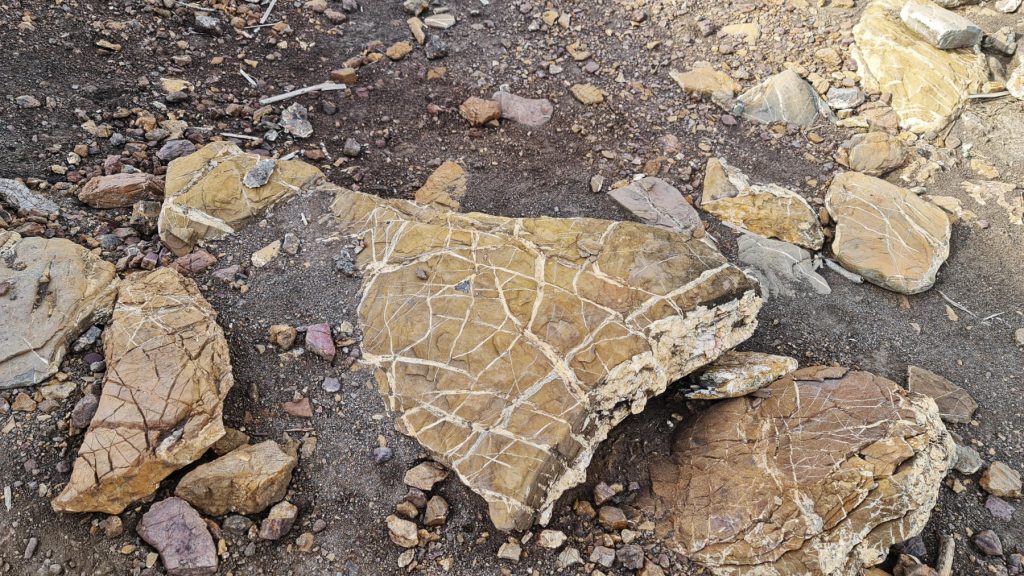 and some interestingly-striated rocks on the ground. These have rather obviously fallen from above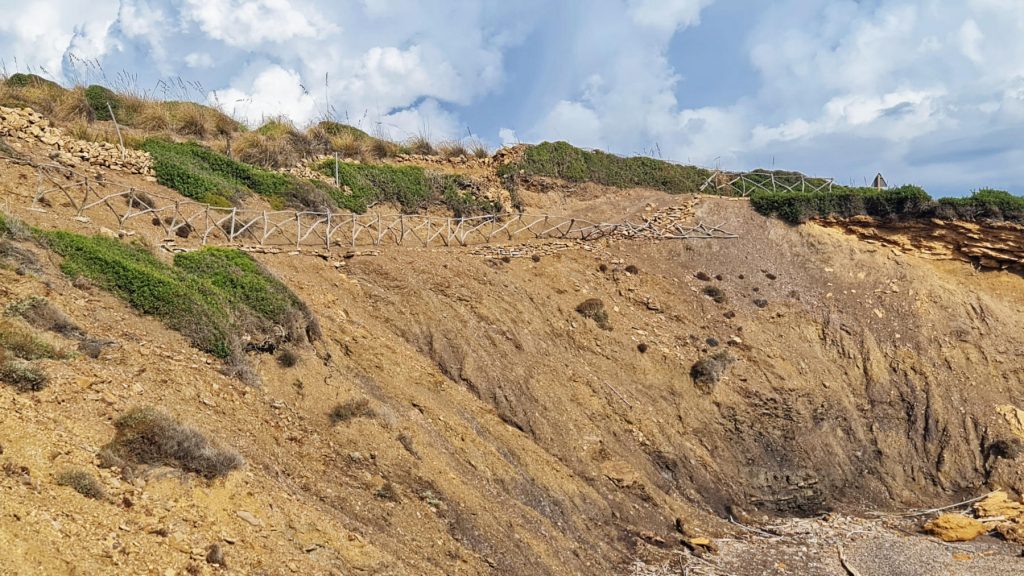 taking bits of fence with them, and there are warning signs about the danger.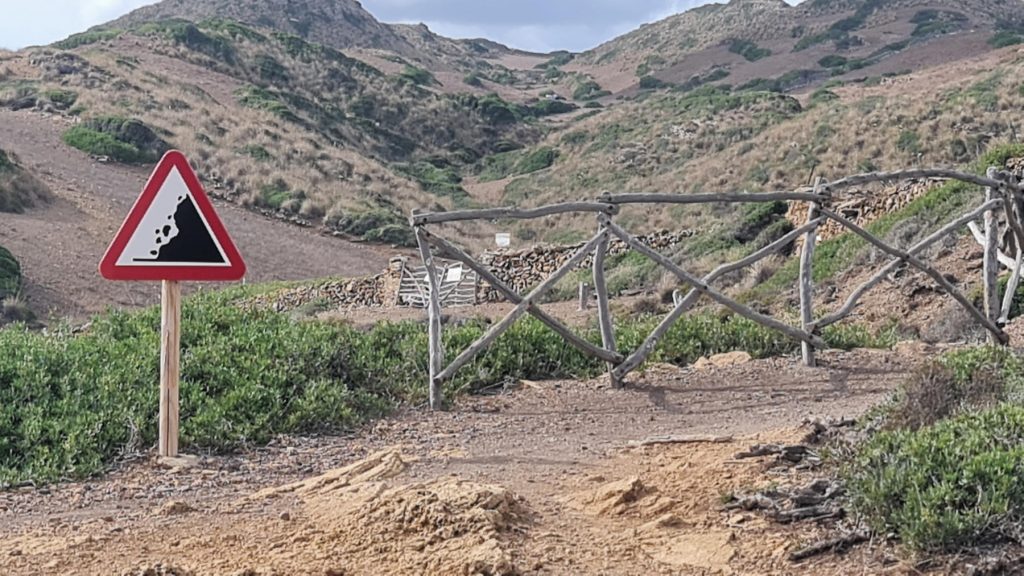 To misquote Michael Flanders, "there's not much you can do about it – keep your hat on", I suppose.
The trail ends at a road, where you can turn right to waste minutes of your life walking along  road in baking hot sun to see a lighthouse, or you can turn left, past a nice view, overseen by a watchtower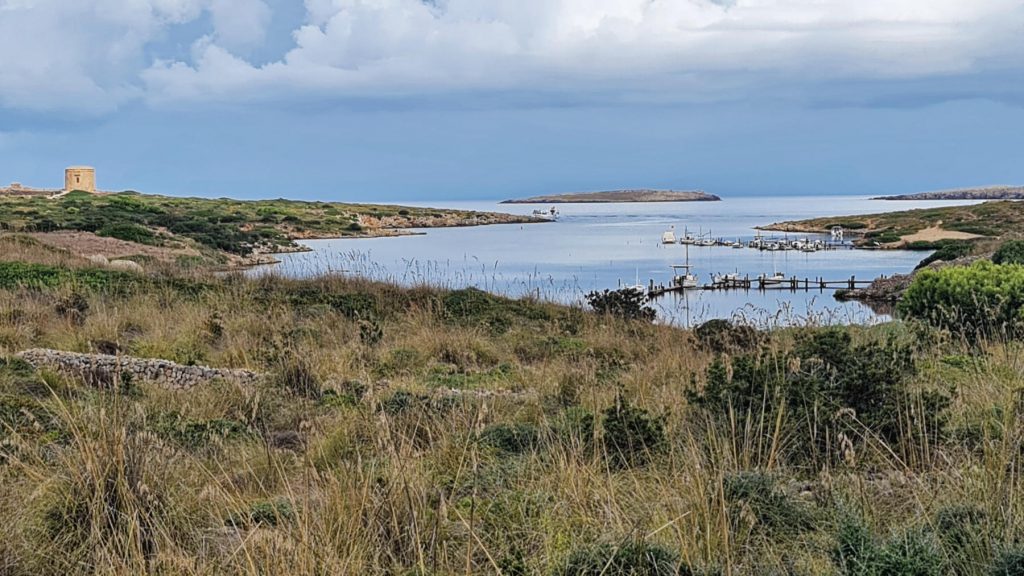 to get to a beach at Cavalleria, which (it being a Saturday) was very popular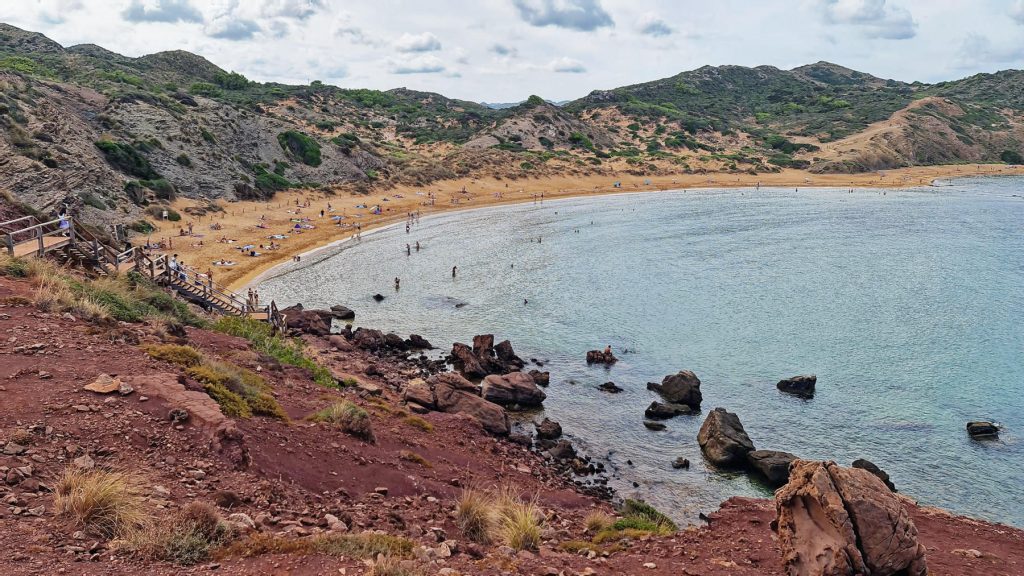 but also featured a kiosk which provided us both with welcome ice-creams as we paused for a moment.
There was a touch of irony here, in fact double irony.  We are at this point on the Cami de Cavalls – the horses' trail – and at a beach called Cavalleria (obvious horse reference in the name) and yet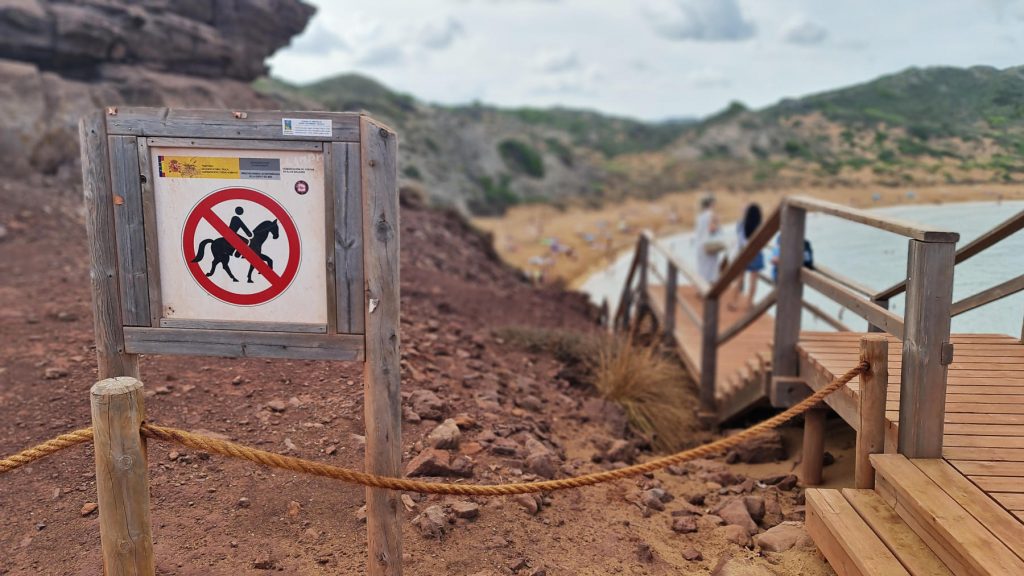 horses are not permitted here.  Frankly, I'm not sure I'd want to try to get a horse up or down the steps, but I permitted myself a chuckle at this point.
There is a nice view of the rocky coastline along the last couple of miles of the trail to our pick-up point,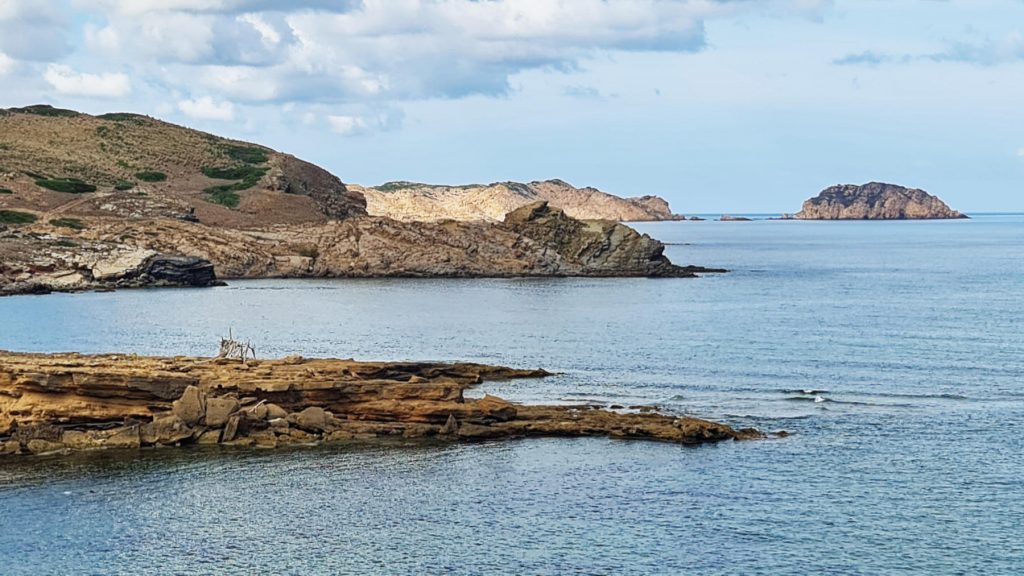 and some beaches where topless sunbathing is not unusual, as is nude bathing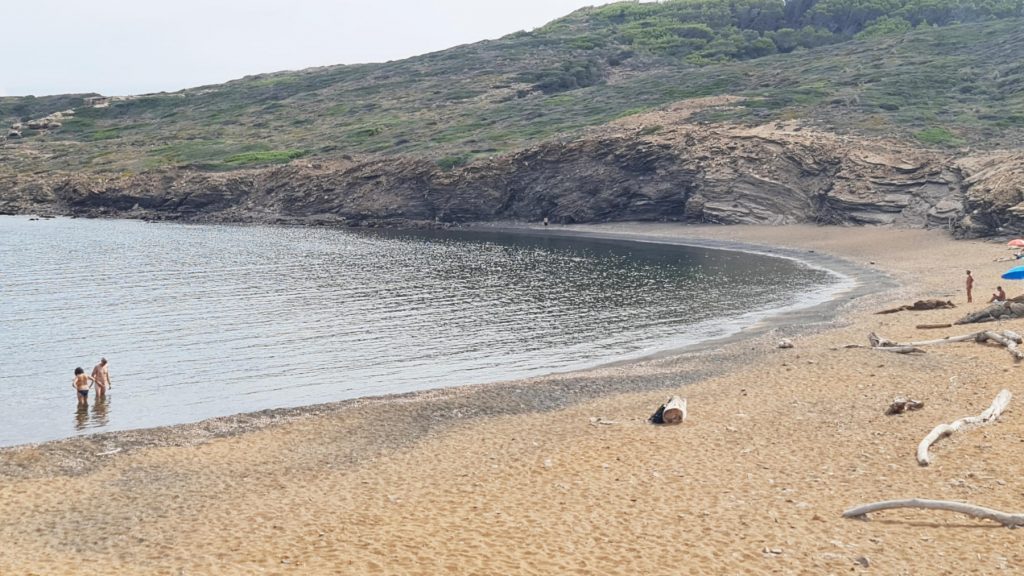 which would probably suit anyone interested in seeing free willy. We moved swiftly on towards the end point of the trail, which involved, yes, going up another hill and round a headland
and through some rather bare countryside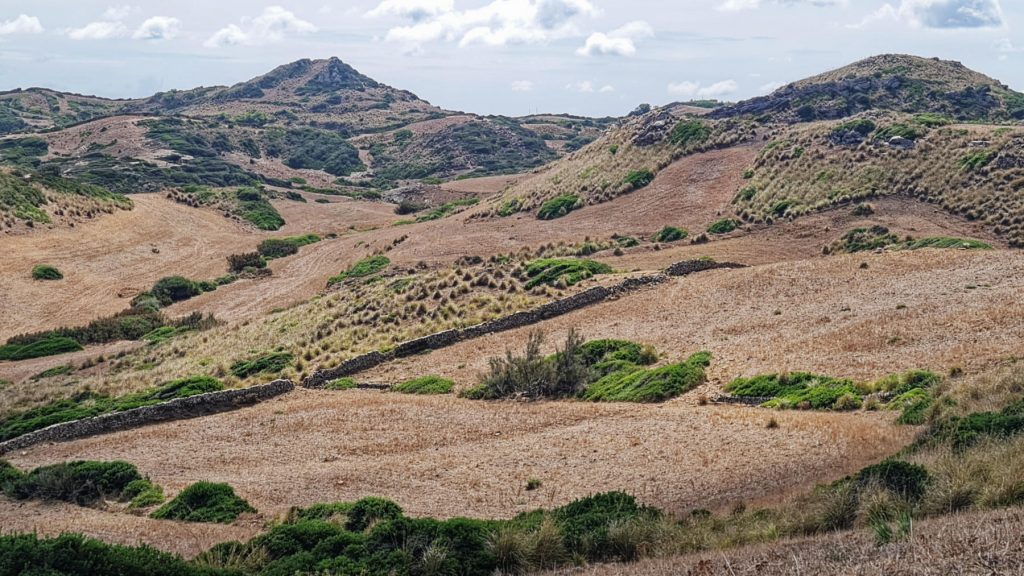 before giving us a glimpse of our eventual end point – the restaurant at Binimel-là, where we could treat ourselves to a beer whilst awaiting pickup from the Cami360 folk.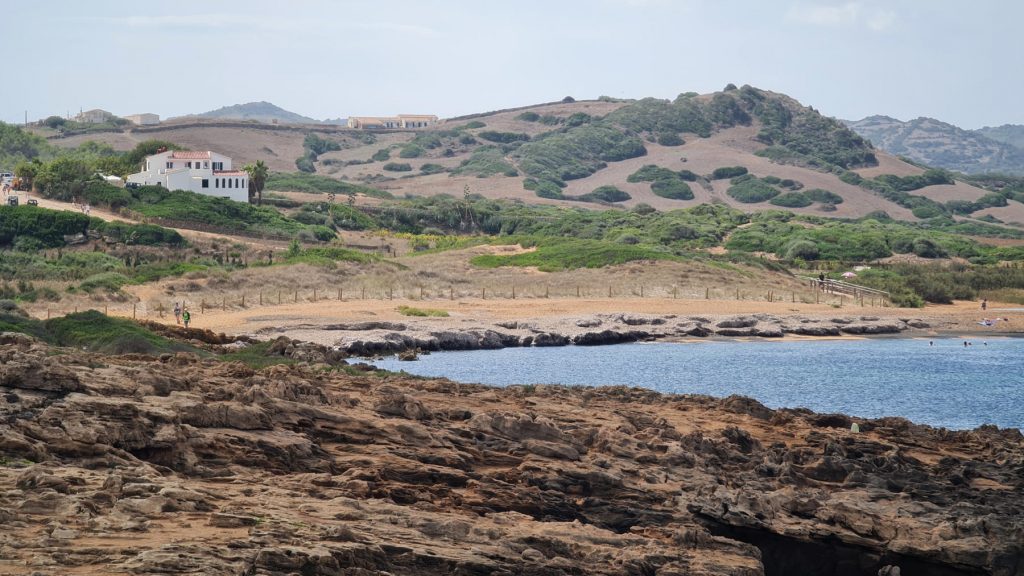 I had been expecting the day's walking to be similarly light to yesterday's, and it definitely wasn't.  It was a bit longer (8.35 miles as opposed to 6.8), but involved somewhat more climb (255 metres as opposed to 140) and some much steeper scrambles.  This is probably a good thing, because tomorrow's walk is tougher still: shorter than today's but with twice as much vertical ascent and even steeper sections, according to our trail booklet.  It also has no restaurants or anything along its length, so if you come back to the blog tomorrow, you can have a good laugh at our discomfiture as faithfully reported by your correspondent.
Anyway, today's 8.35 miles means we have now covered a smidge over 40 miles in the four days we've been on the trail. Just so you know.
The restaurant at Binimel-là looks an imposing place, and it has great service and beer so delicious that I felt the need for two large ones; but it has no wifi and there's no mobile signal.  So when our Cami360 pickup didn't materialise at one o'clock, we were in a bit of quandary.  In the end, a lass with a van turned up at 1.30, which is almost on time by the standards of these here parts, and took us back to our hostal – along, it has to be said, a very lengthy and bumpy access track before reaching normal roads.  It seems odd to me that the beach at Binimel-là is so very popular and yet so inconvenient to get to – an unusual case of a popular tourist destination with practically no local exploitation.  Thank heaven for the restaurant and its beer pump, then.
After the necessary shower and siesta back at base, we set out into Fornells with the intention of having a Hairy Crab lunch.  Fortunately, there was a table spare and we had a lovely meal in cool comfort whilst being able to see the harbour and watch the people in the sunshine – a very nice interlude. Once we'd finished, Jane we decided to pop along into the village proper to have a look at the preparations going on for a half-triathlon due to happen tomorrow. It looks like there are over 500 participants, so it's quite a big deal, and explains, possibly, the large number of cyclists we've seen on the roads hereabouts.  They'd set up a long corridor where the cyclists could pick up their numbers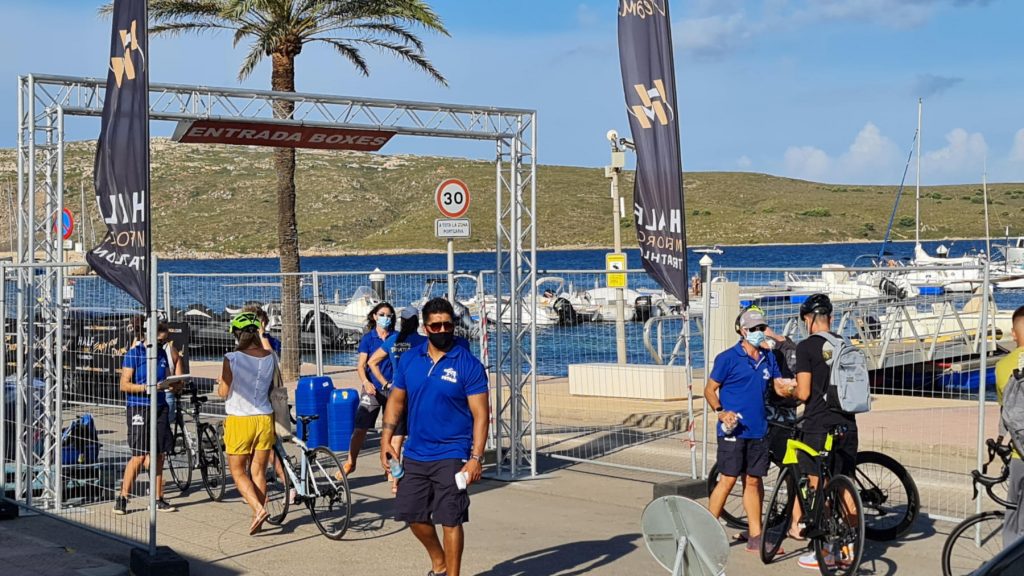 store their bikes with the front wheels in washing-up bowls (WHY?)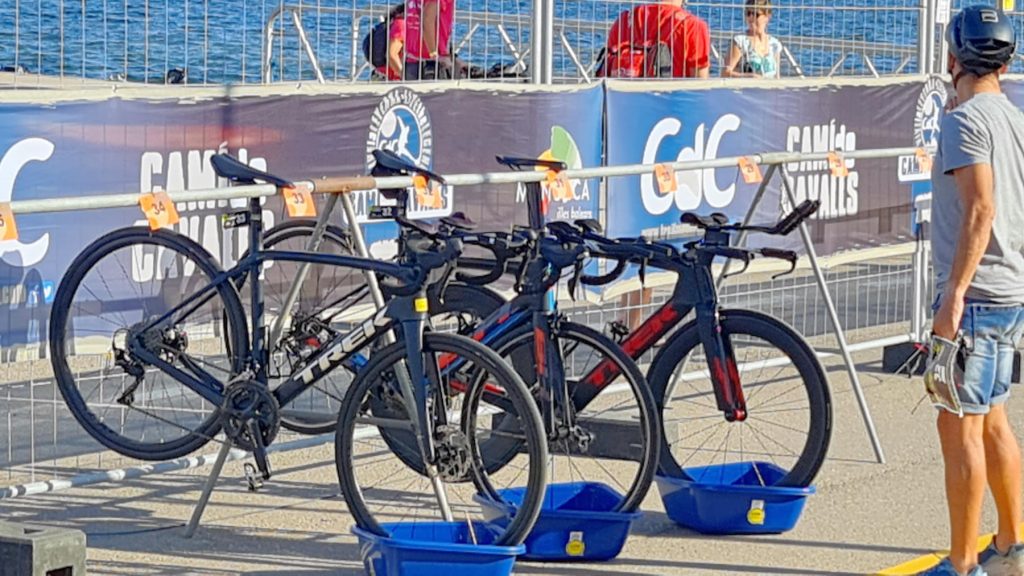 and get their bikes sorted out.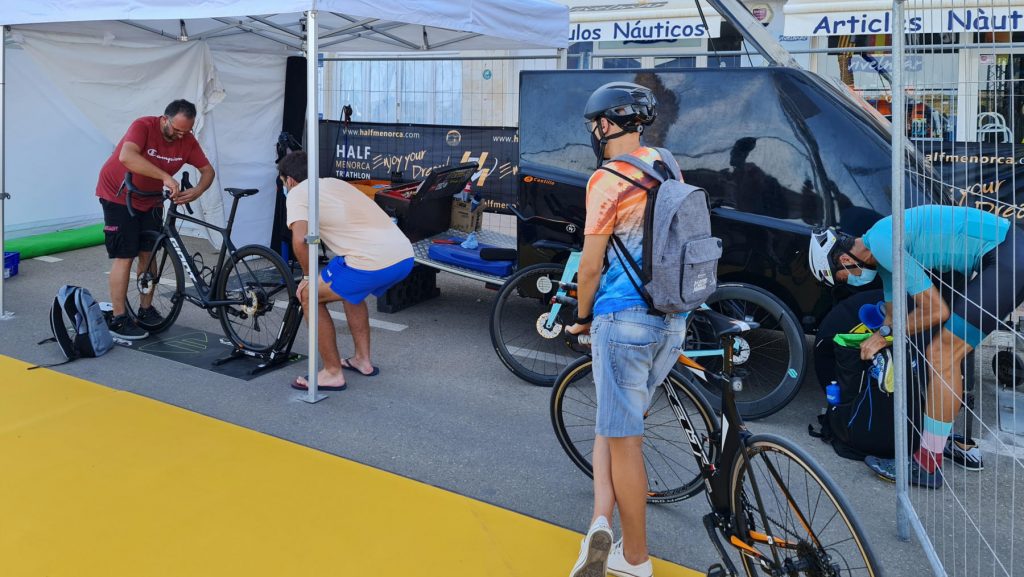 One chap doesn't even appear to have unwrapped his new bike yet; I do hope he's happy with it when he leaps on it tomorrow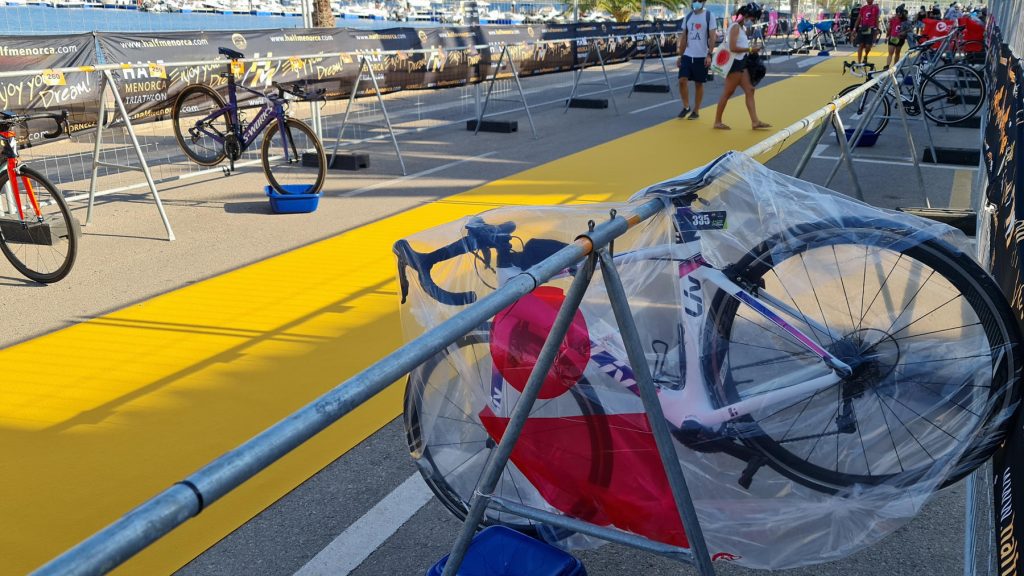 and another was so in love with his that he was sharing a hotel room with it in our hostal.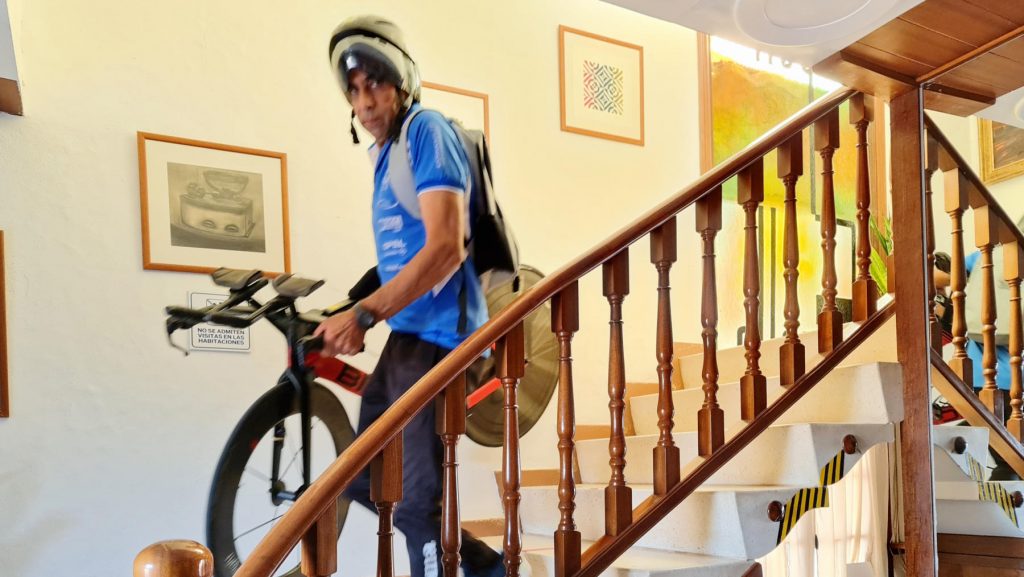 Anyway, all the best to the participants tomorrow, even if they have comprehensively buggered up our original plans for the day. Several roads are closed at inconvenient times (bloody cyclists!) and so although our pick up is at the usual 9am, we'll probably spend a lot of time waiting for them to open roads so we can bump our way back to Binimel-là in order to restart.  The Cami360 folk have done their best to work out a new schedule and we hope it'll work out well. As I say, it's looking to be a very tough day tomorrow, so you can come back for a giggle at our suffering if you stay tuned to the blog.  See you then!