Tuesday  14th September 2021 – We have a day to ourselves before starting the walking thing. For such an uneventful day, this is rather a long post, but I hope you enjoy reading some of it.  The day enabled us to achieve several things:
1. Hotel breakfasts in a pandemic world
We went downstairs to the hotel's breakfast room, which was deserted except for one chap, sitting at a table. It was encouraging to note that he had breakfasty sort of things in front of him, because there was no other clue that we were in with a chance of sustenance – many tables and chairs, no evidence of food or drink. It eventually struck us that Covid precautions meant that laying out a buffet breakfast was, of course, Not The Done Thing These Days.
Trusting that something ought to happen, we sat down and sure enough a lady came from the kitchen with basically a breakfast menu for us to select our food. The service was obliging and the tea was Earl Grey (very important!) but the breakfast itself was rather sparse – a very small bowl of cereal, two small slices of toast for me; some fruit (very good, apparently) and small pots of granola and yoghurt for Jane. This serves us right for only asking for one portion of things, so tomorrow will be very different and may well result in the staff asking us if we're having a laugh wanting that number of servings of toast; we shall see.  However, alongside the Earl Grey we could be sure that there was some corner of a foreign restaurant that was forever England: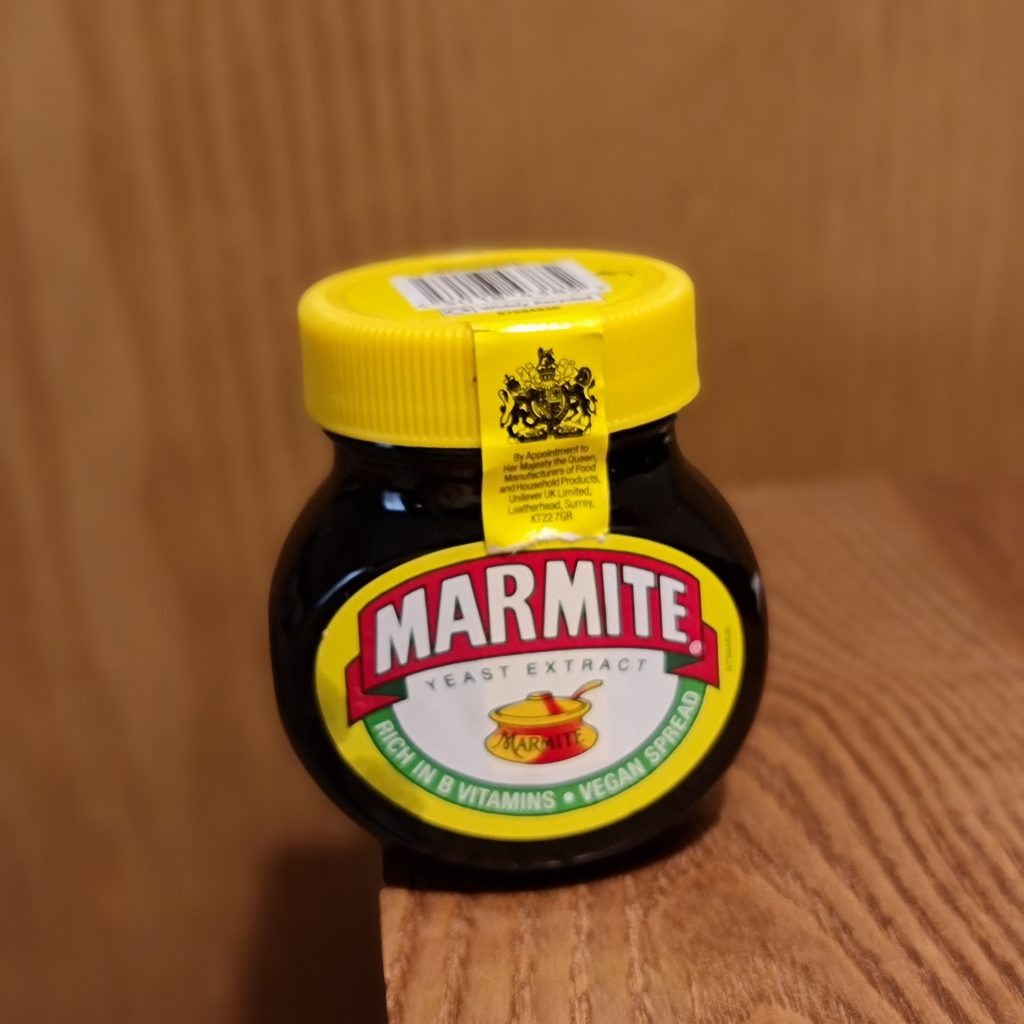 I remembered to pack the Marmite!
2. Shopping
This small but perfectly formed breakfast consumed, we headed out to buy supplies.  The original idea was to get ourselves some gin (the local, Xoriguer, gin is is much to our taste), but we decided against this as the likelihood of finding ice when we needed it was going to be slight. From our previous visit, we knew there was a supermarket situated, non-intuitively, underneath the convent.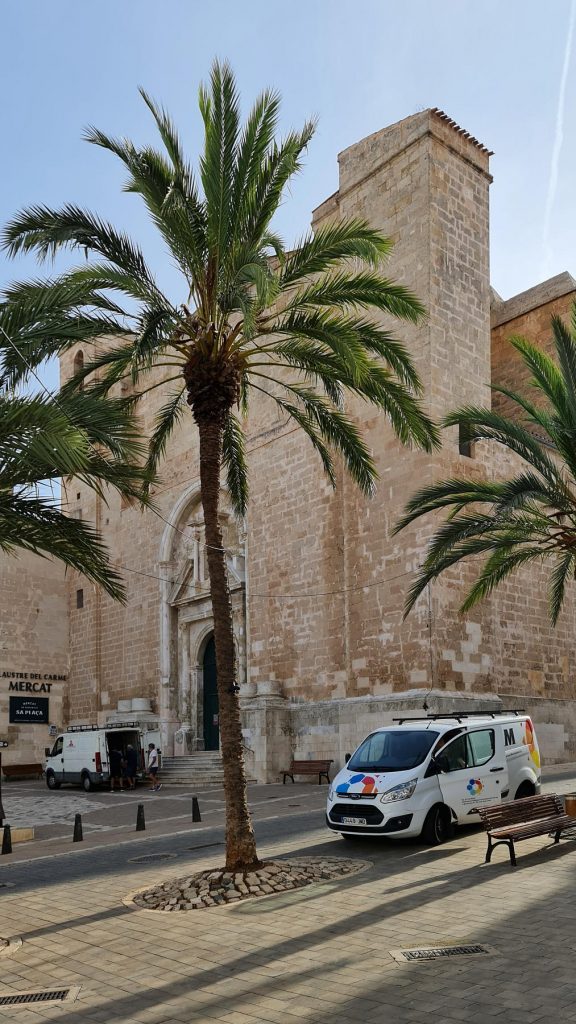 So we confined ourselves to buying some apples, for sustenance on our walking, and sunscreen.
The convent has some lovely cloisters, now home to market shops.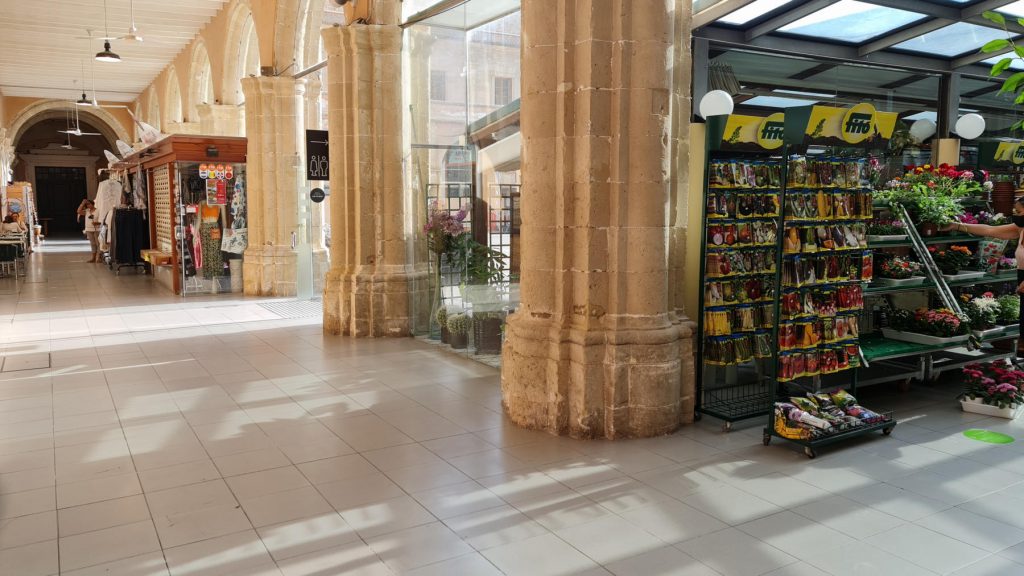 and outside it is a convenient square where one can take coffee.  So we did.
3. Understanding how to navigate our way round the island
It seemed a good idea at this point to understand some of the details of navigating the Cami – finding the "start" (it's a loop, so this is a notional notion) and working out at least the first few yards so we didn't look like utter tourists tomorrow morning.  It turned out that where we were taking coffee was exactly at the start, by a statue of three nags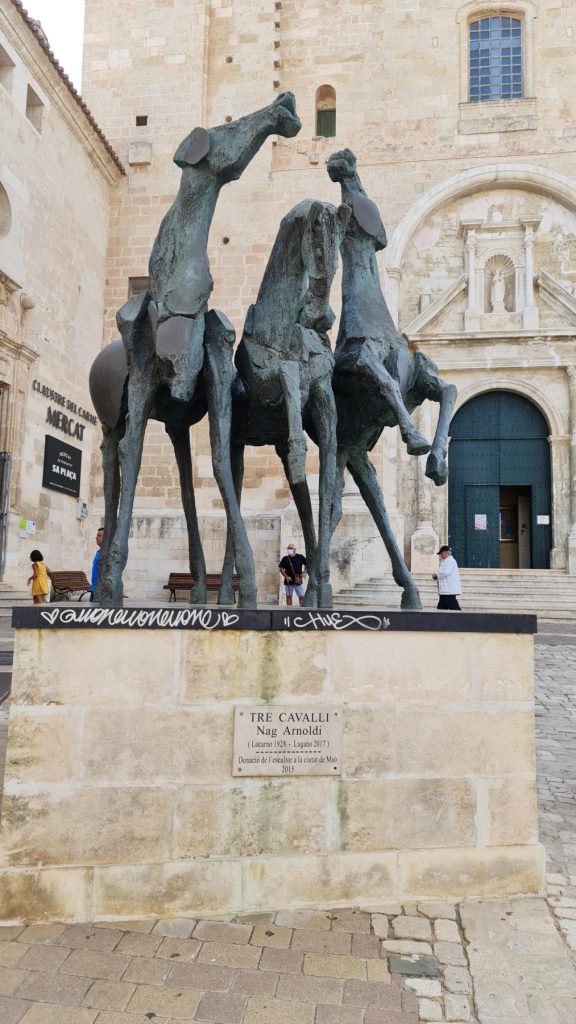 (appropriate, I guess, for a route called the "horse trail"). Then, based on our meeting with the Cami360 folk the previous evening, we looked for the next waymark, and eventually spotted it on a signpost.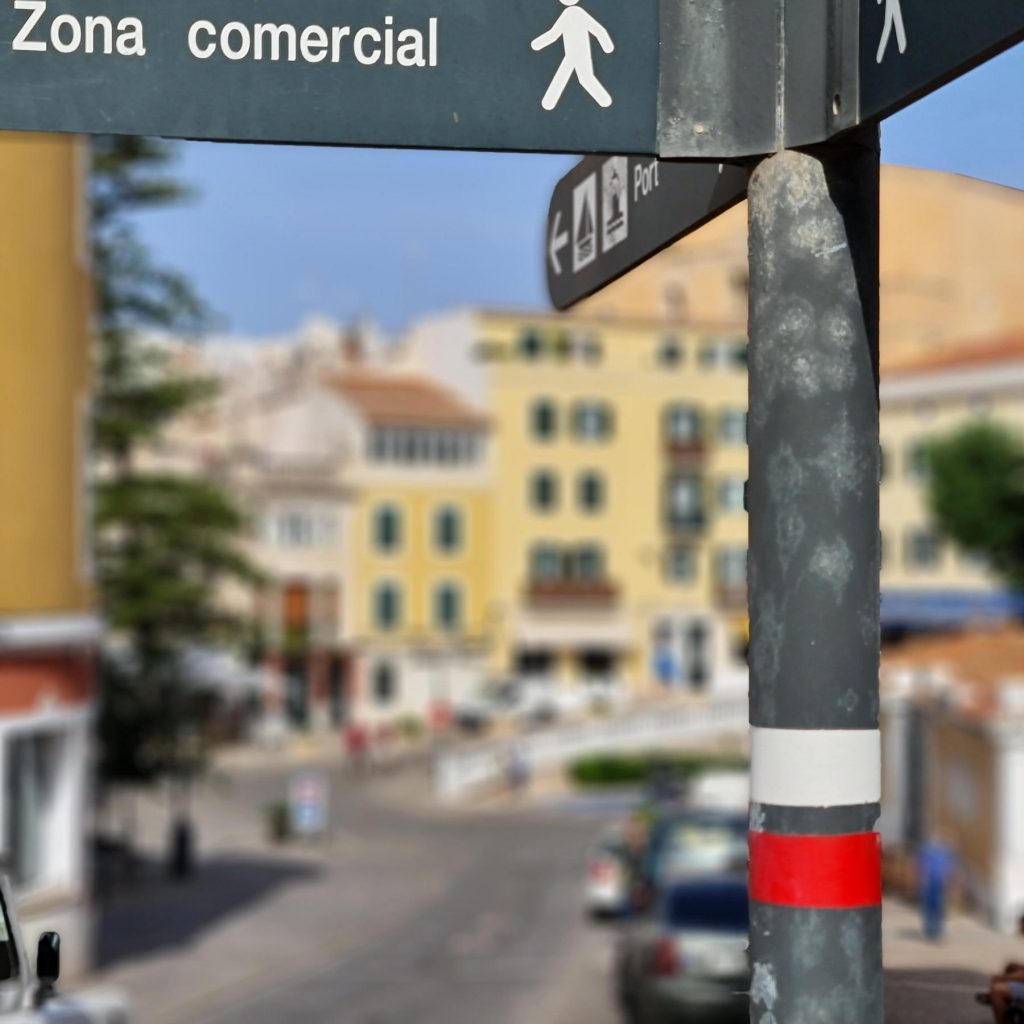 While reassuring, this wasn't, in and of itself, a lot of use: the two bands set like that tells one that the trail lies straight ahead (as opposed to right or left), but since the bands were entire rings round the post, this didn't help a lot in directing us further.  However, eagle-eyed Jane spotted another marker which gave us a clue as to how to start; and it became clear that there were plenty of markers to help along the way.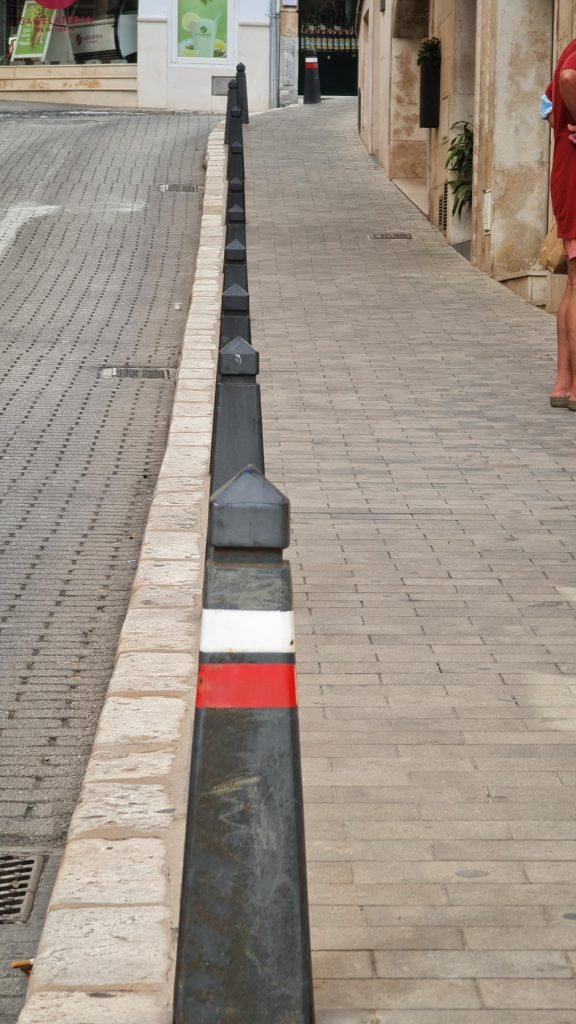 So now we feel more confident about navigating in the town; and there are waymarks of differing sorts around the rest of the island; very reassuring. Almost as reassuring, in fact, as the interactive map we found which shows us not only the trail itself, but also useful nearby points, e,g, cafes.
3. Strolling the town and finding lunch
After dropping off the shopping at the hotel, we eventually set out for a stroll to find lunch, and, en route, to re-acquaint ourselves with Mahón, which is very photogenic.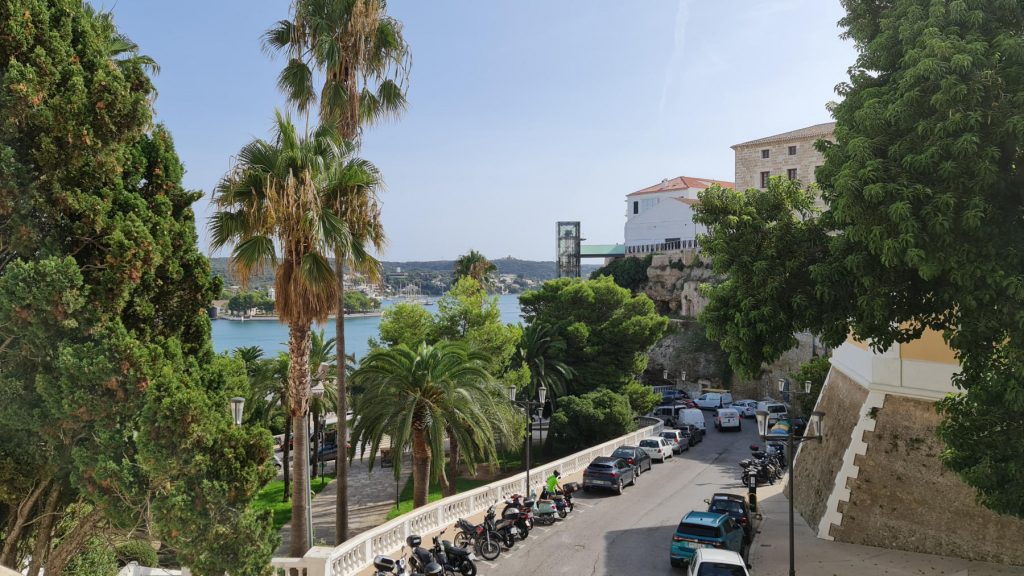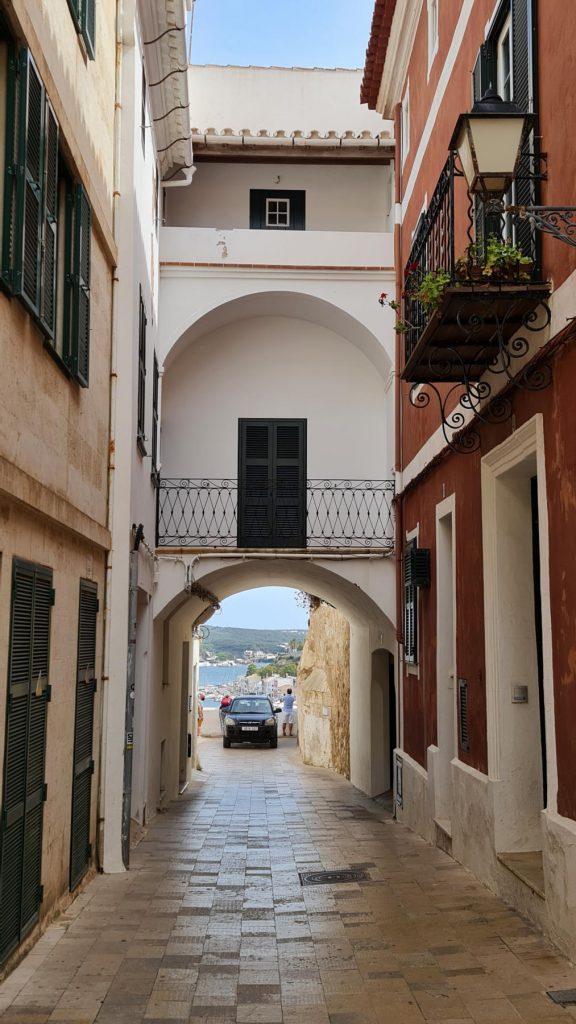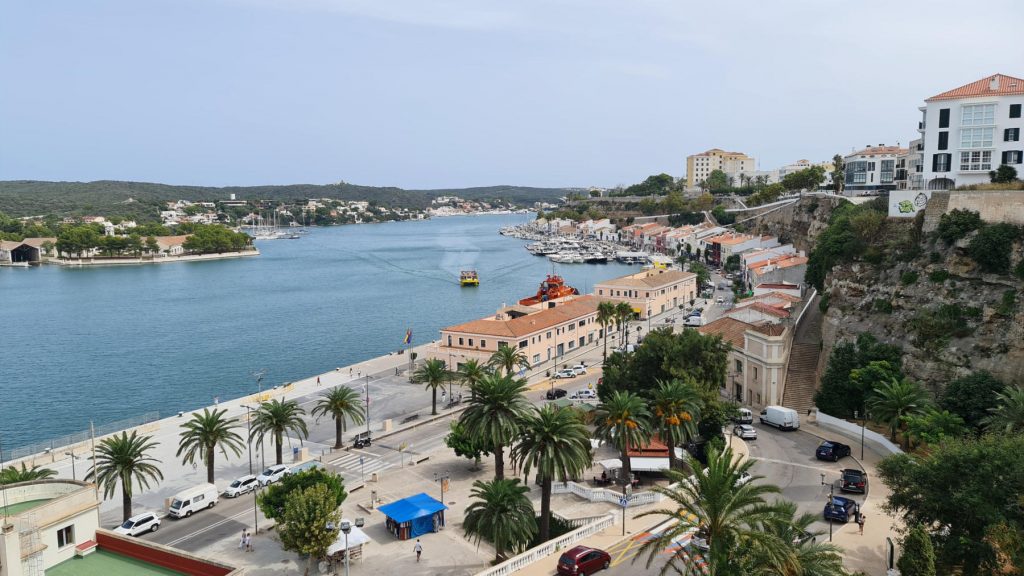 and provides the odd occasional charming vignette, such as this relaxed approach to WFH.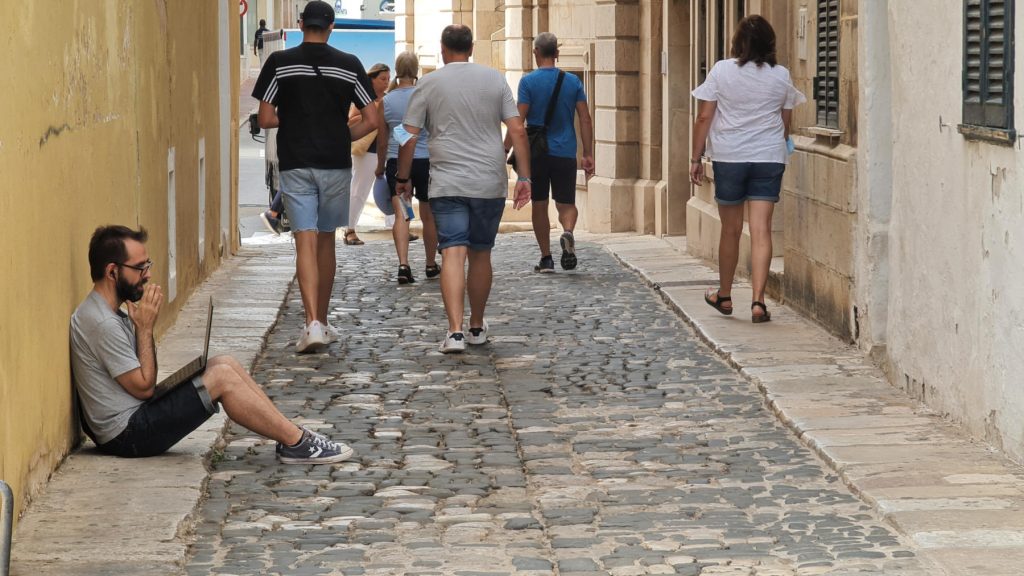 We passed the fish market, which was open and displaying a variety of fish that would bewilder many English restaurant chefs.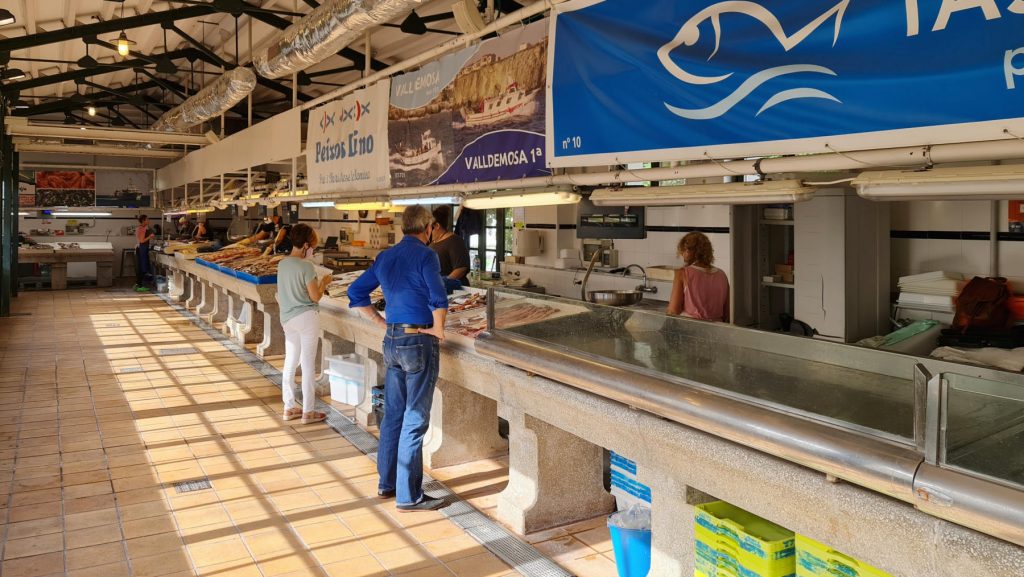 We decided to head out once again along the harbour, as there was a restaurant there, Latitude 40 (warning – Facebook page only), that we remembered fondly from our previous visit.  En route there we passed the local version of the Little Mermaid, called Sirena Mô.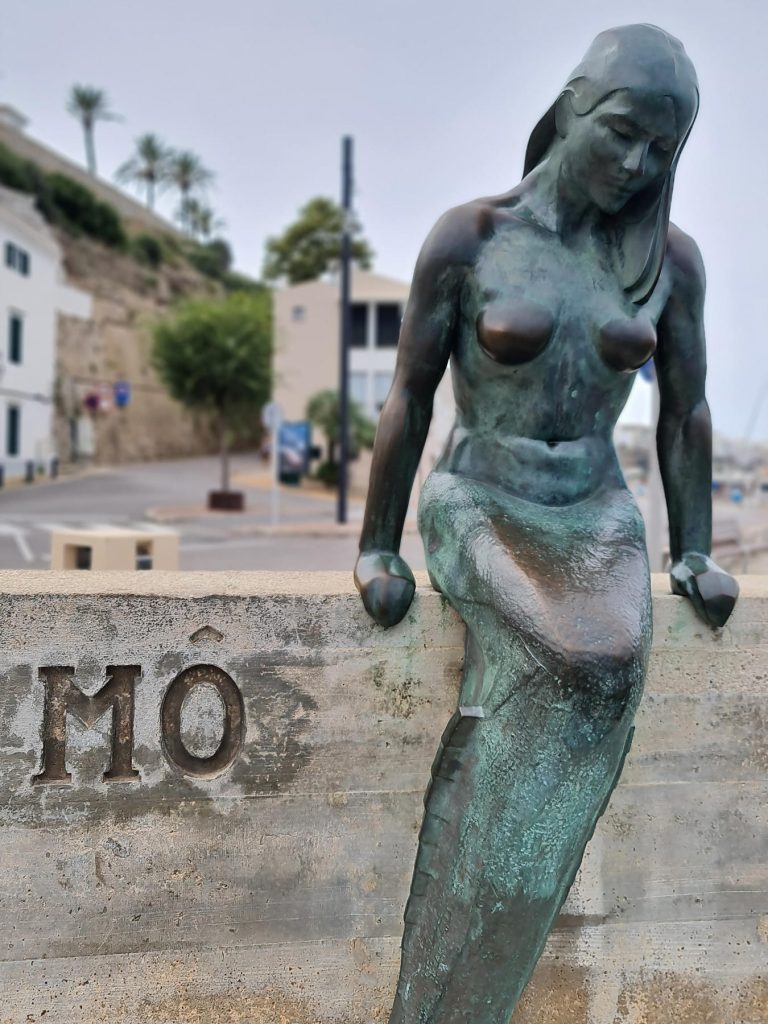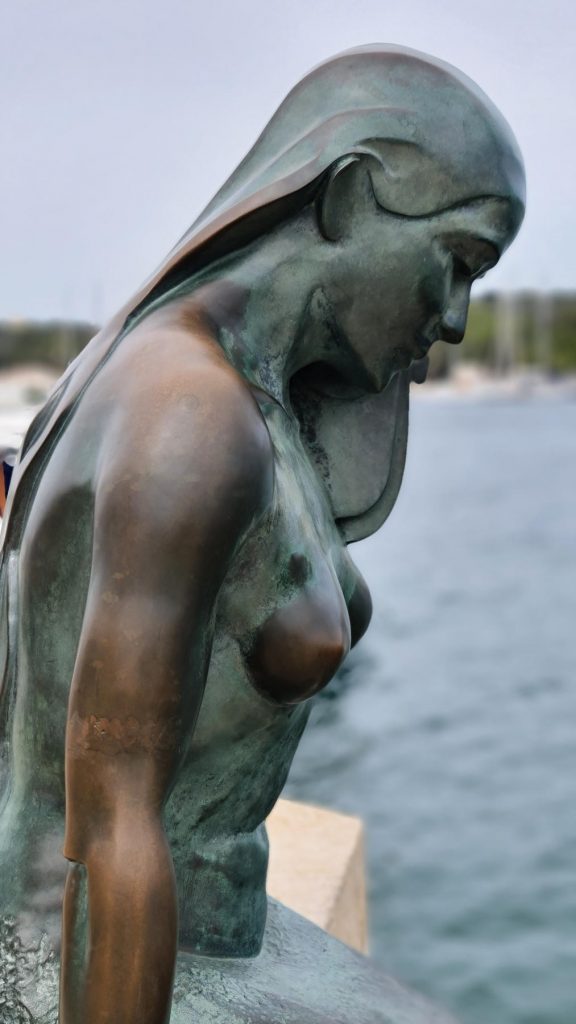 You can read her story here.
The lunch was a delight. Jane had tuna steak with wasabi and white chocolate sauce which was wonderful (I was unadventurous and had a steak on the basis that this might be less easy to get hold of in the more remote parts of the island).
After such a thorough lunch experience, further walking was needed to settle things down, so we carried on out of the town beside the harbour.
A little further on, there's an interesting staircase which provides a major dilemma for photographers, because it's almost – almost – dead symmetrical.  So, do you capture the symmetry of the stairs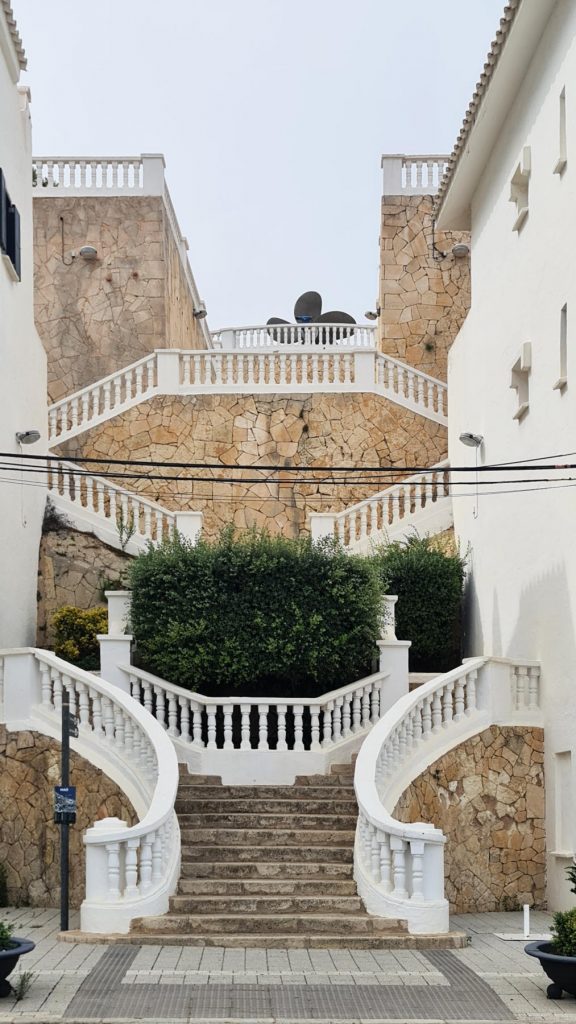 but have the annoyingly off-centre screw at the top (no schoolboy giggling at the back!)? Or do you centre the screw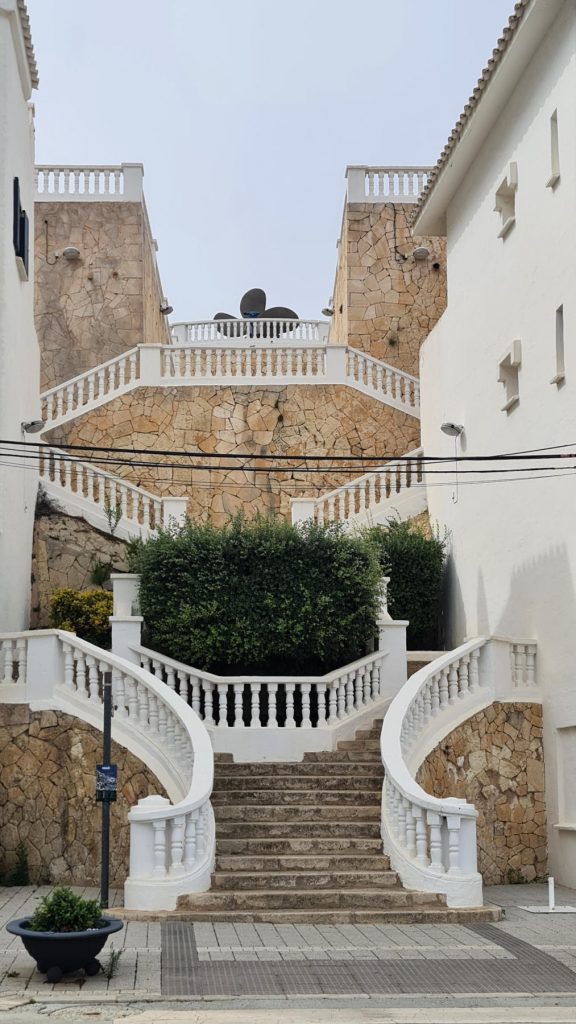 which screws up the rest of the symmetry?  Oh, how I suffer for my art!
We carried on along the harbourside to the point where we could rejoin the Cami de Cavalls route as it ends, back in the town.  This took us down my favourite street in Mahón, Camina Es Castell (so named from the village it leads to/from).
I love the trees that run down the middle – this makes the road completely unique in my experience and I think it's wonderful. One can also note that the locals have the same relaxed attitude to supplies of mains electricity that so marked out many places we visited in South America.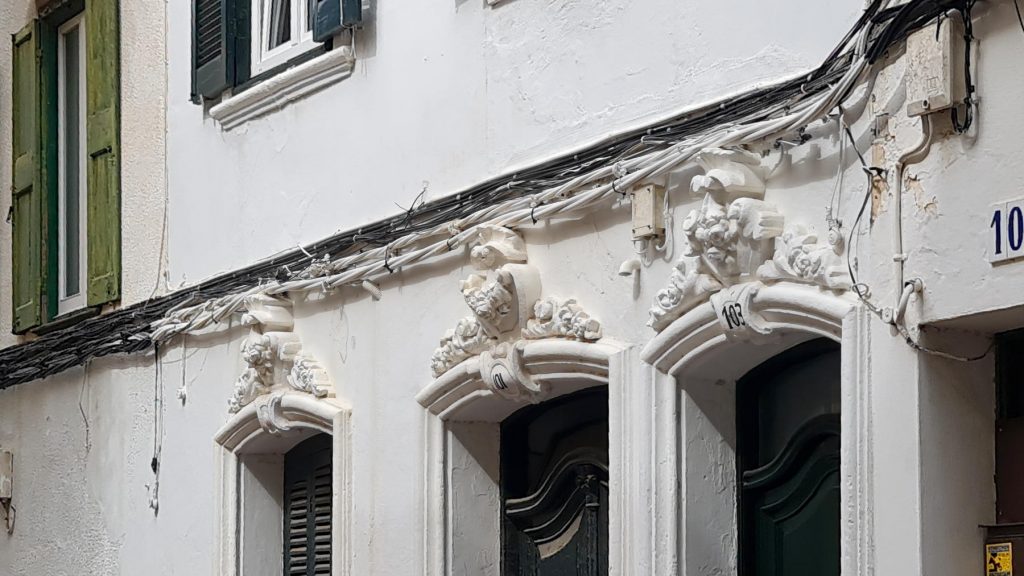 Nice architectural flourish, dodgy wiring!
And so we came back to the square where we started the day's perambulations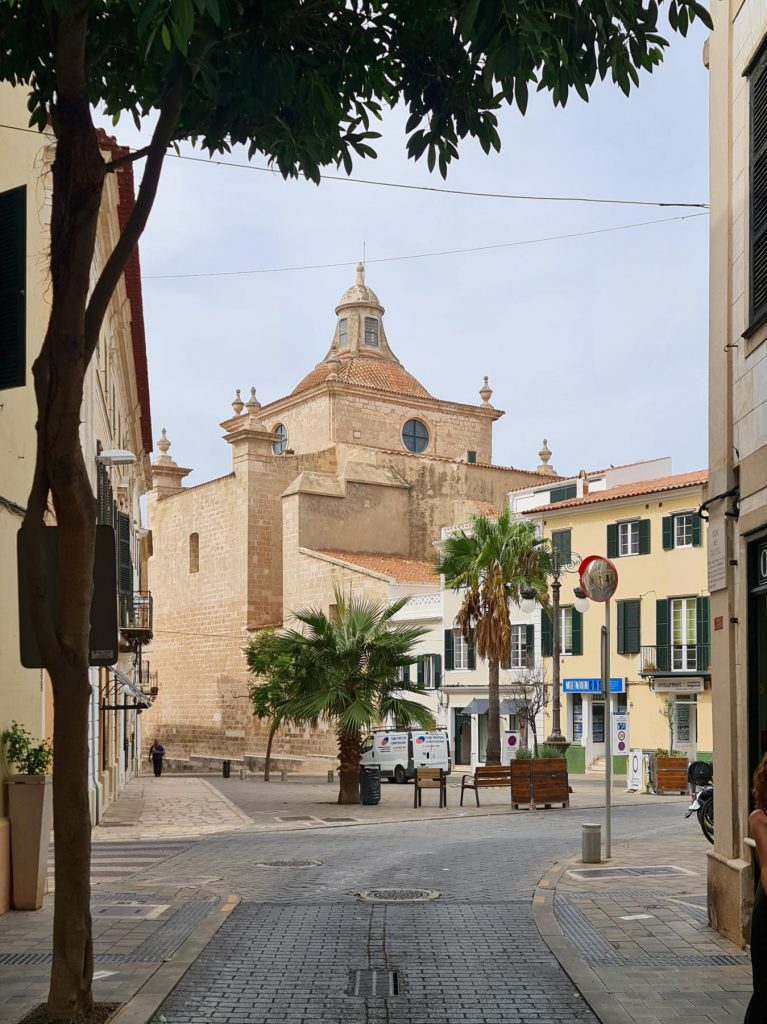 and thence to our hotel, the Sant Roc.  It takes its name from the street it's on, which, in turn, takes its name from the city gate at the top.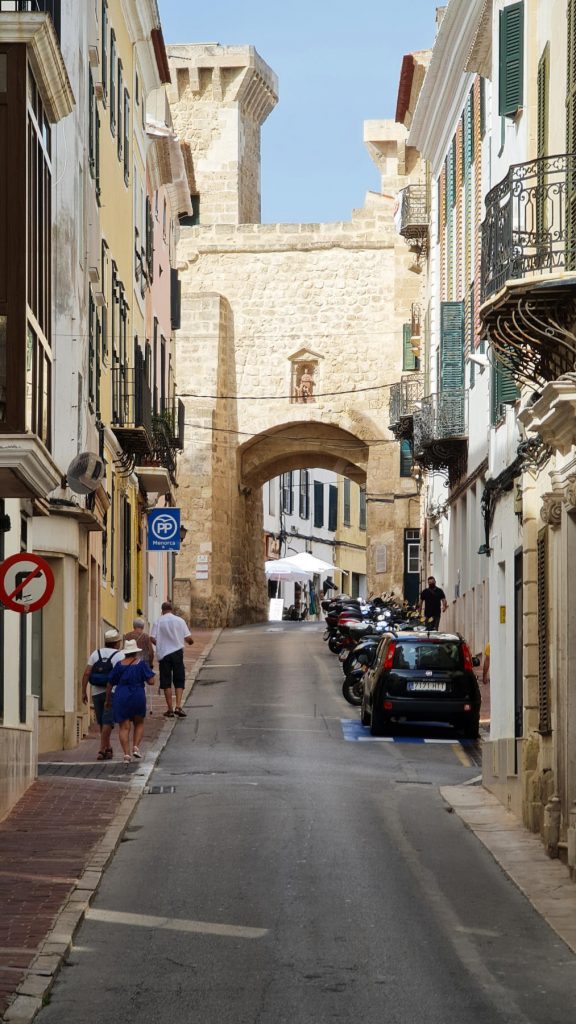 and very much has hexagonal close packing as a design motif.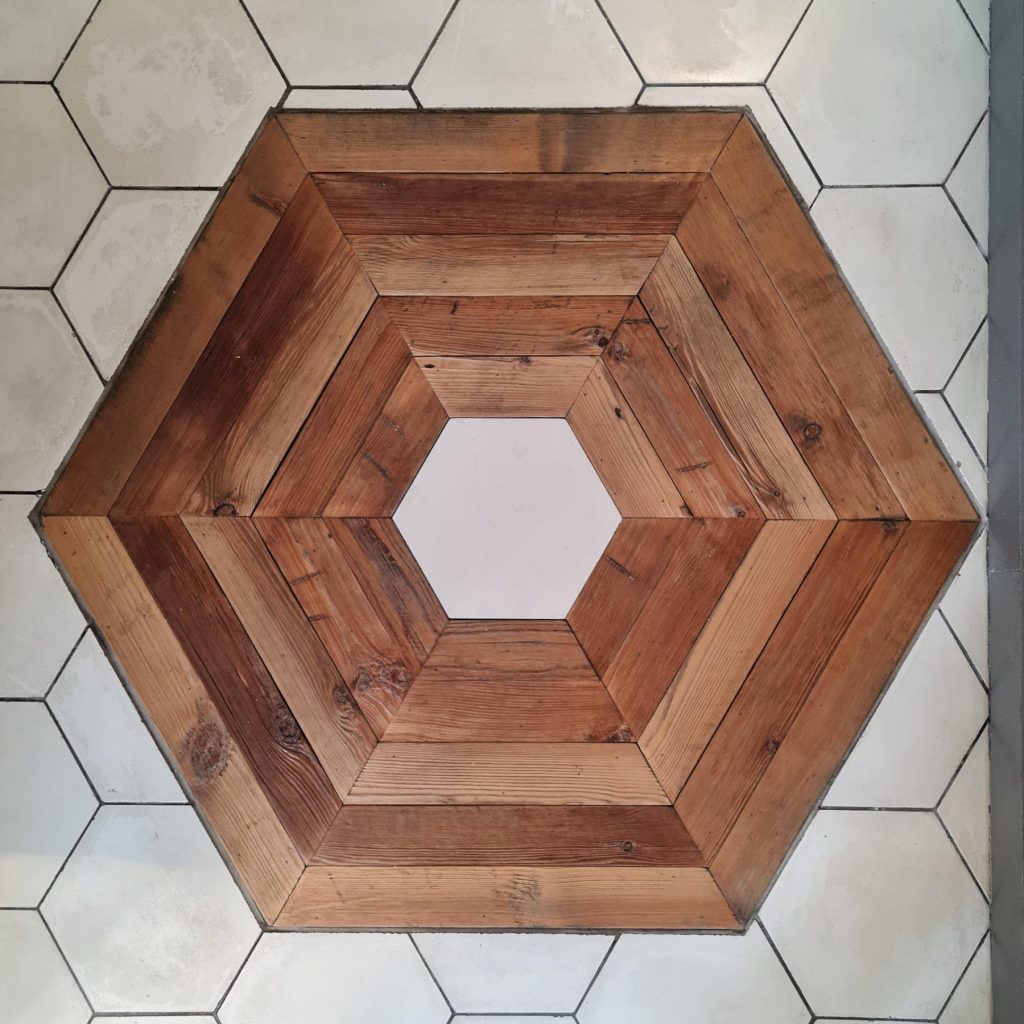 as well as a stunning 17th-century clock in its reception area.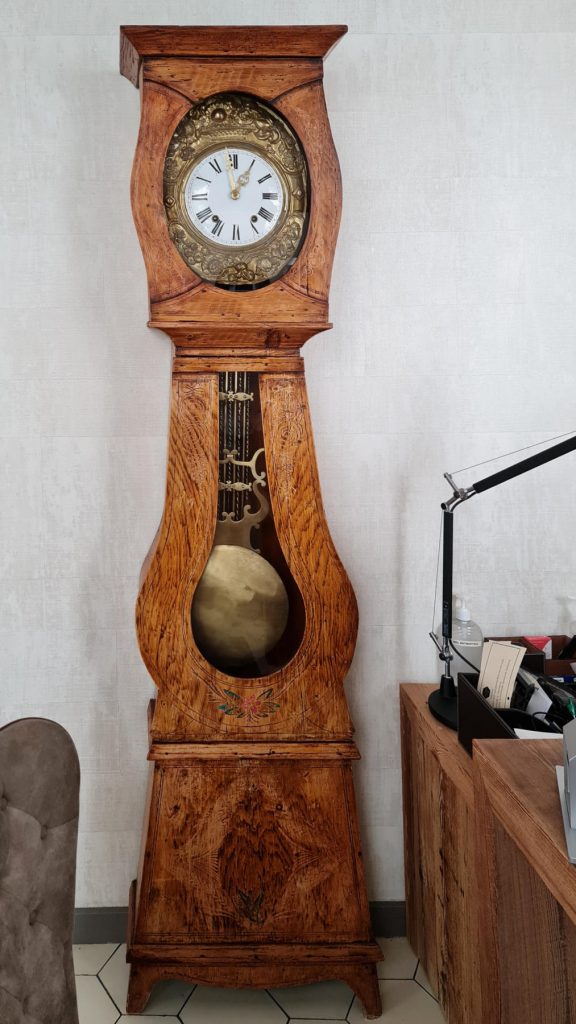 4. Understanding the importance of The Season
When we visited two years ago, we came at the beginning of October, and it became clear to us that The Season ended in September.  The bus service from Mahón to the rest of the island was drastically reduced from its summer levels; some restaurants were closed; and the evenings, whilst lovely and warm, were quiet.  This time, whilst walking around, the evening atmosphere was utterly different.
Early evening sustenance was in the form of tostada con sobrasada, a Balearic speciality; spicy sausage meat, honey and cheese on toast (the "Talaolithic Sandwich" from last night!). This and beer in the cathedral square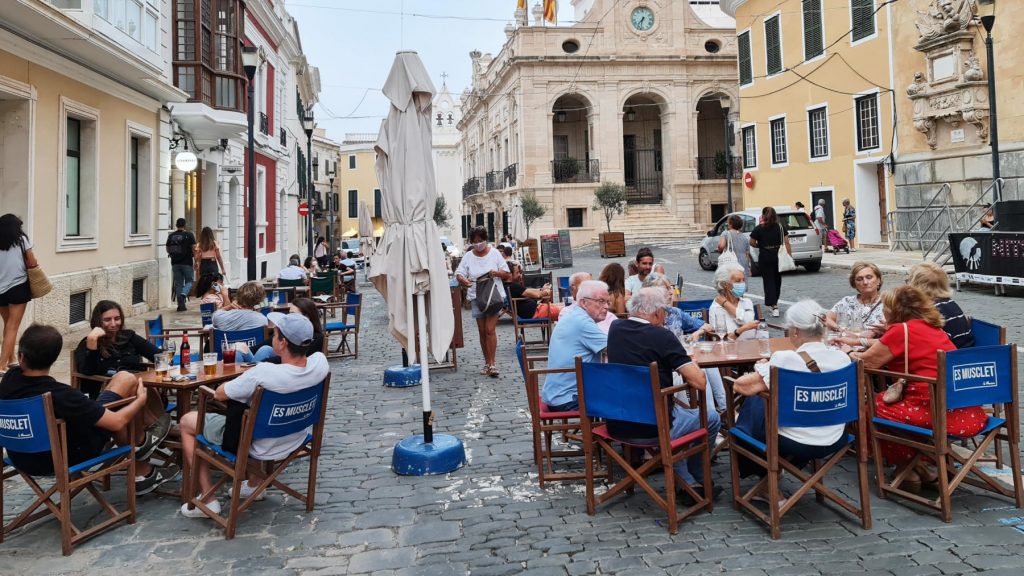 was followed by a walk through the Tre Cavallis square, where a Mercat de Nit was in full swing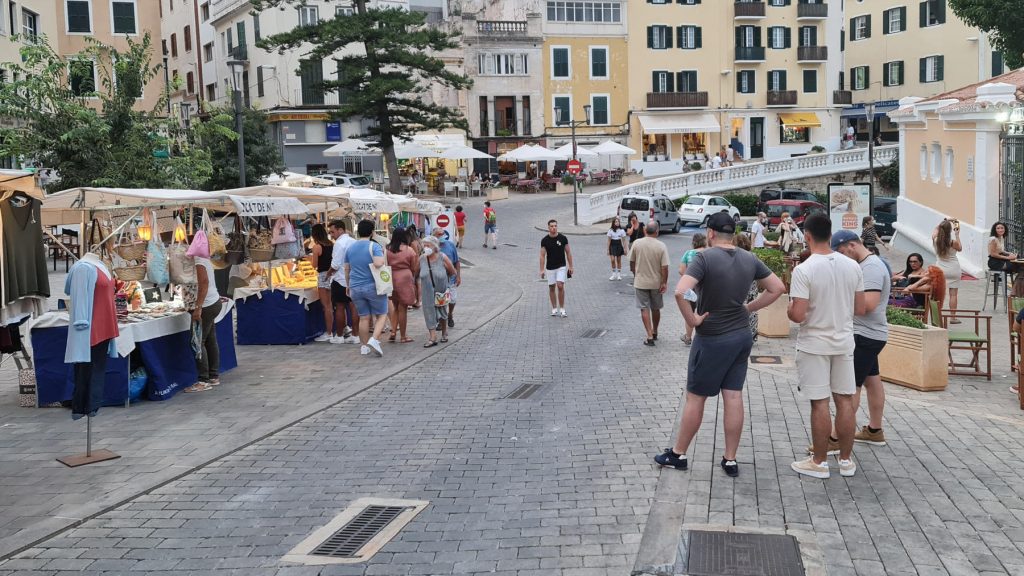 to a terrace overlooking the harbour, which was also very popular, for a G&T.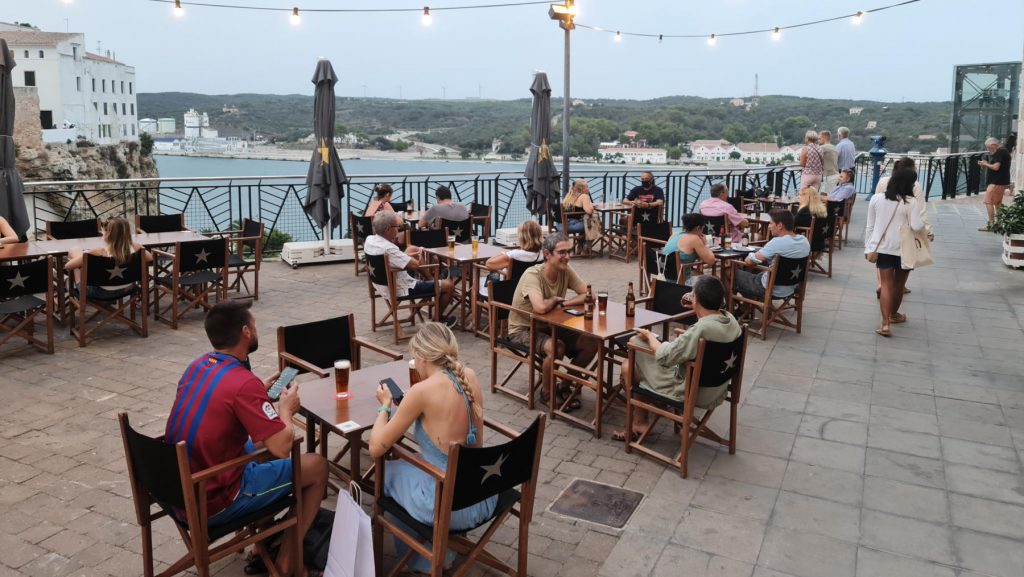 As the evening darkened, the buzz grew.  Like all of these areas, the terrace remained popular,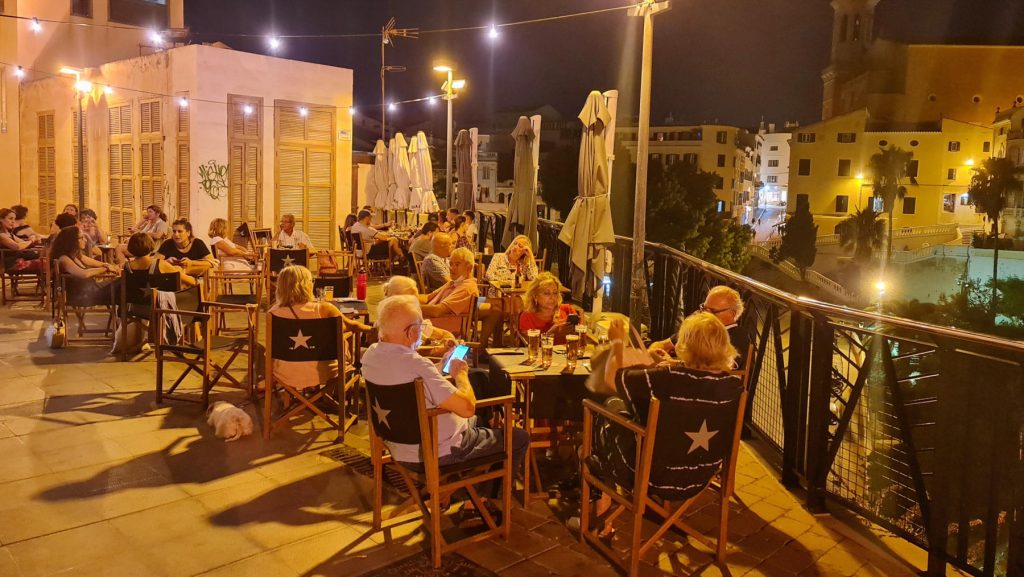 the fish market was a happening place,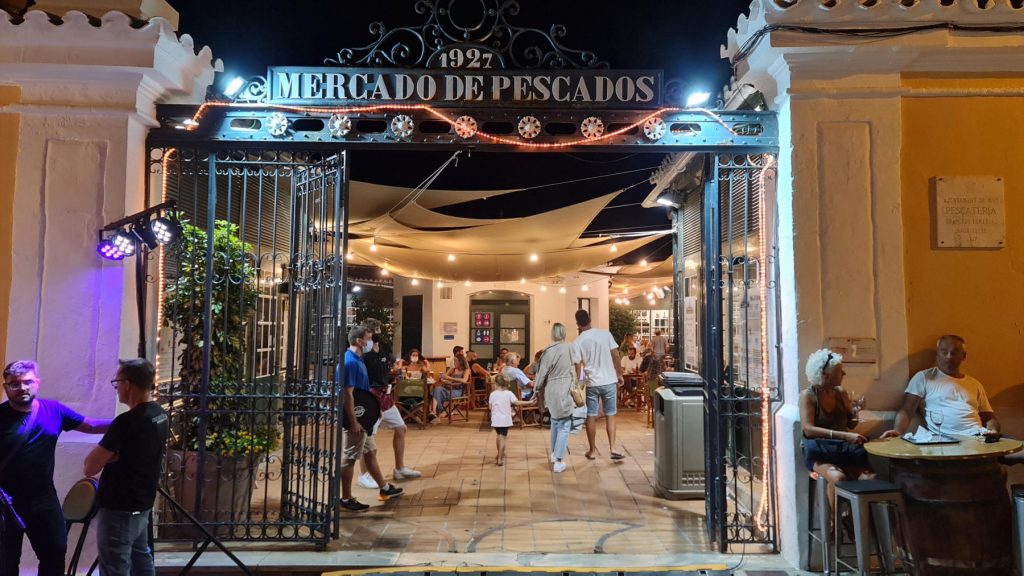 and the buzz on cathedral square gave a delightful evening atmosphere.
View this post on Instagram

It's delightful to see that despite the pandemic the town is popular and busy.  It will be interesting to see how this translates to the rest of the island as we start our walk tomorrow.  Keep coming back for updates, and join us on our journey as we walk the Cami de Cavalls.