Galapagos 7 (Saturday) – Gad it's hot! Must be the heat.
7th April 2018
For various reasons involving the untimely departure of one family on board (in order to get back to Blighty for the start of school term!), our first activity of the day, a walk around an islet called South Plaza, didn't start until 0930. The consequence was that we ended up walking around a small fragment of volcanic rock in the blistering heat, which ended up being a little too much for everyone, but especially me; by the end of our time on the island, I was more interested in finding a small patch of shade than doing any photography. That said, it had some interesting features, the main one being land iguanas, which we hadn't seen thus far in the Galapagos. The first thing we saw, though, was a plethora of Swallow-Tailed Gulls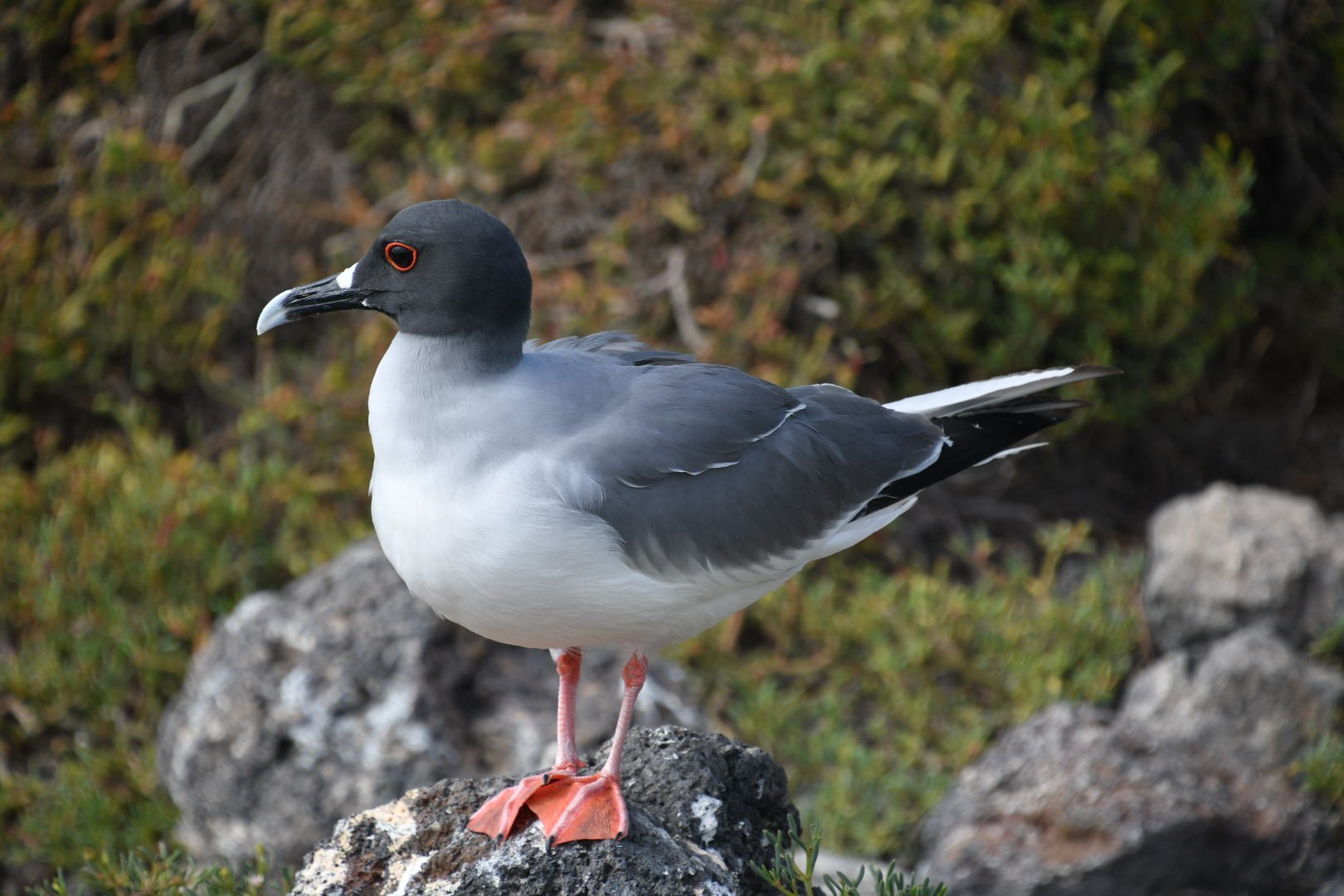 including a chick, which was being fed by its mother.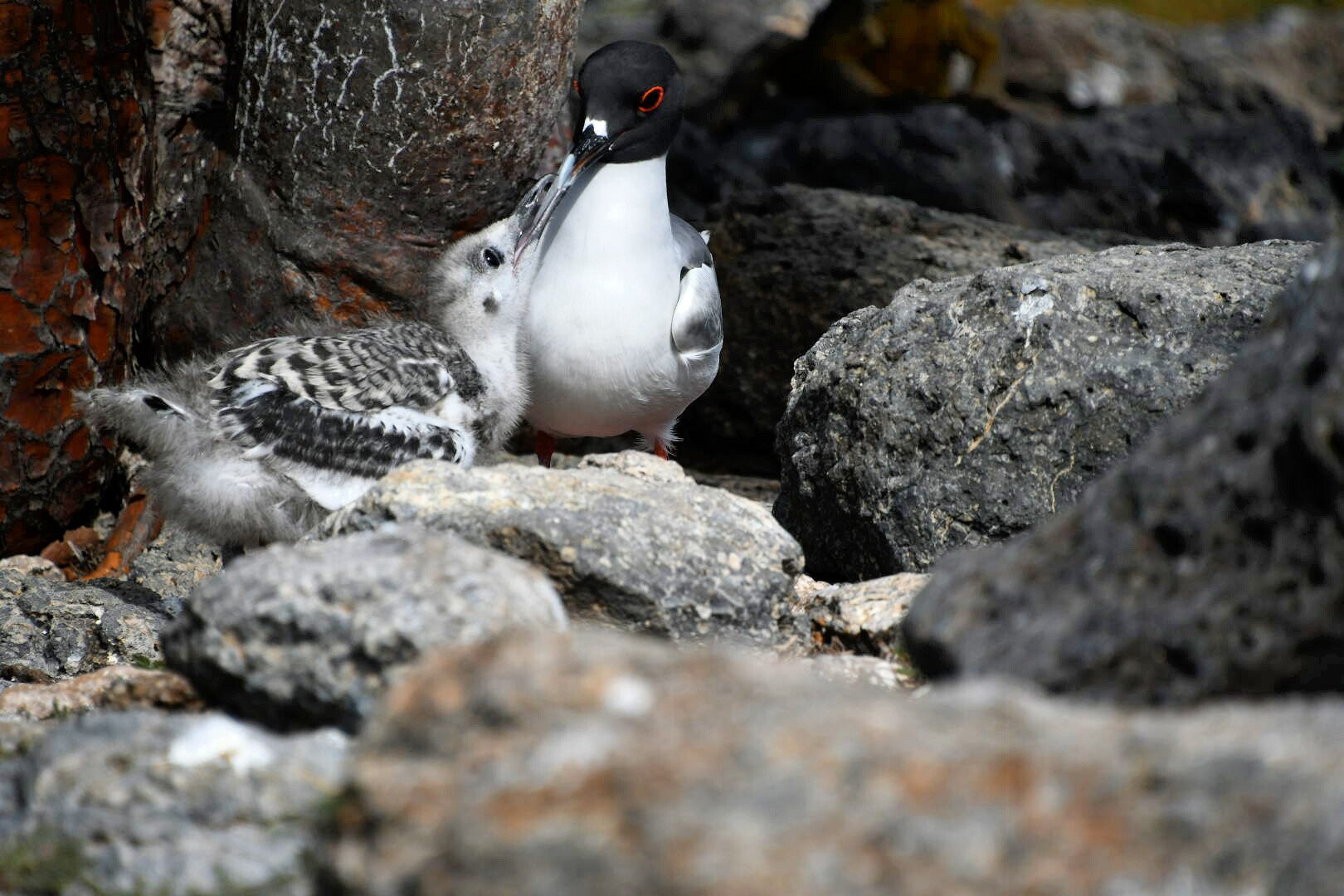 These gulls are unusual in that they feed at night – the red ring round their eyes indicates that they can see infra red light, which aids their hunt for food.
Then we realised that there were quite a lot of (surprisingly well camouflaged) land iguanas around.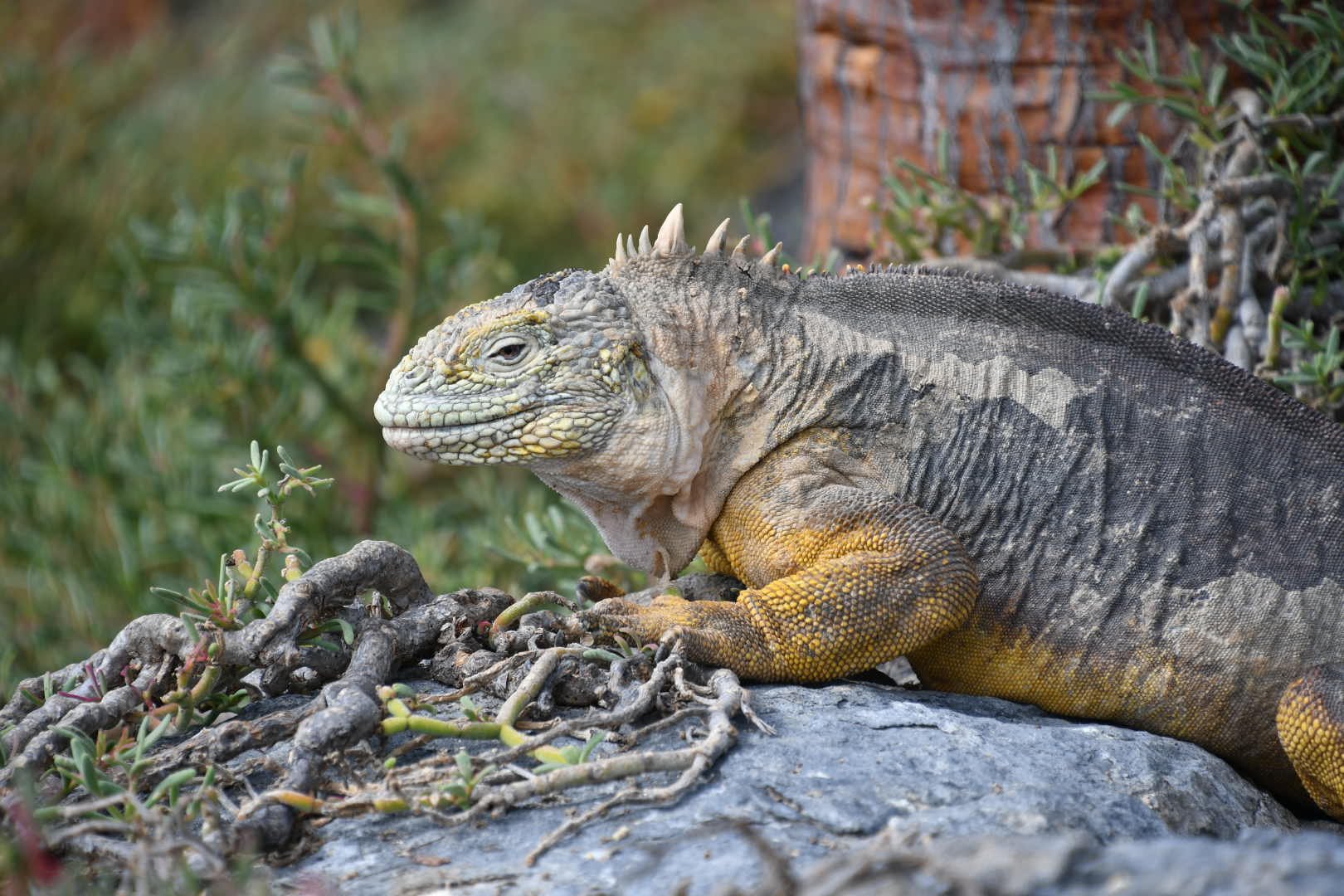 These have many different characteristics that mark them out from the marine iguanas which make the Galapagos famous, not least of which is the mouth. The land iguanas were described by our naturalist/guide Natasha as having a "Mona Lisa smile". It's a bit of a stretch, but I guess I can see what she means.
There were also some ancient cactus trees, which made for an interesting landscape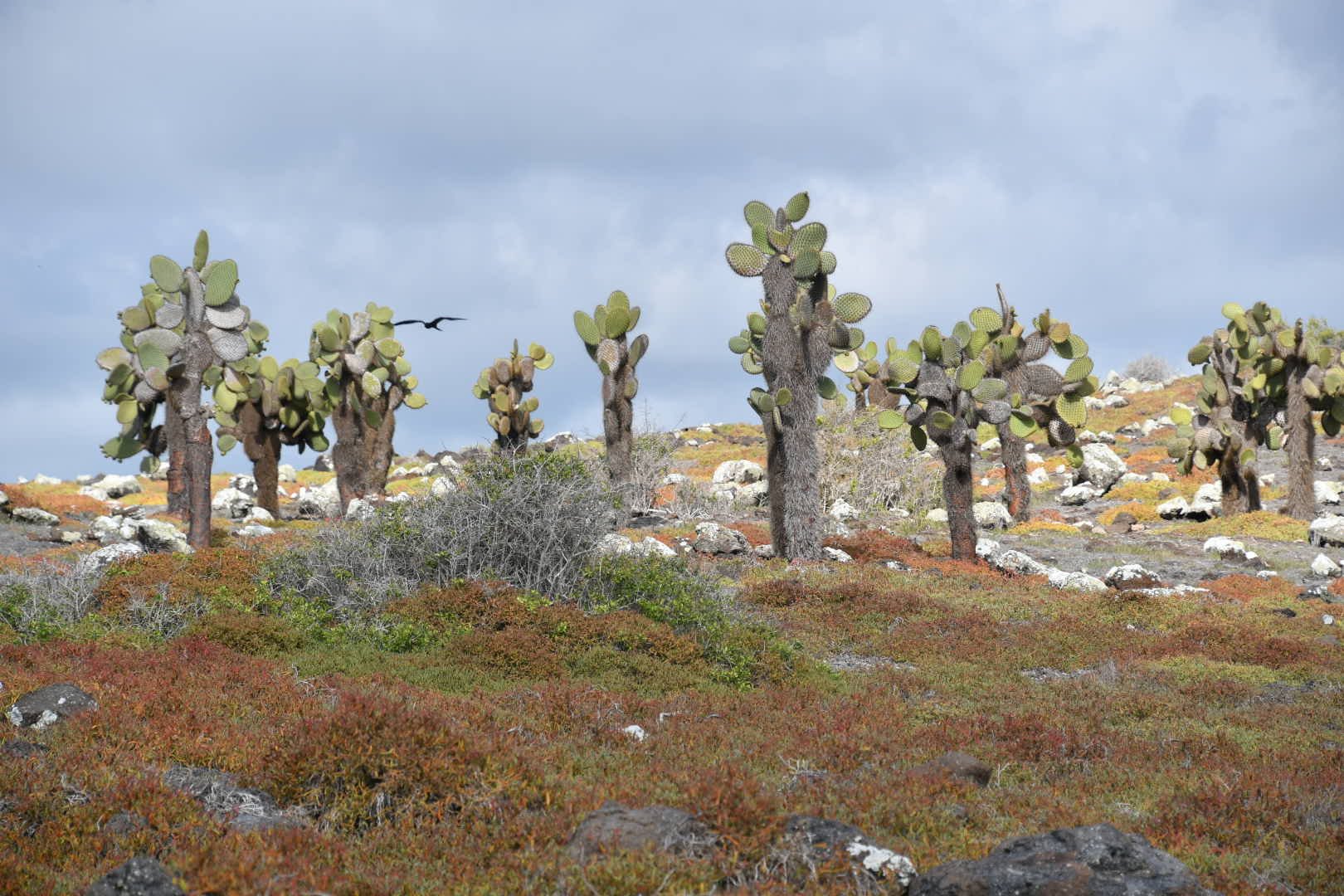 and also harboured Cactus Finches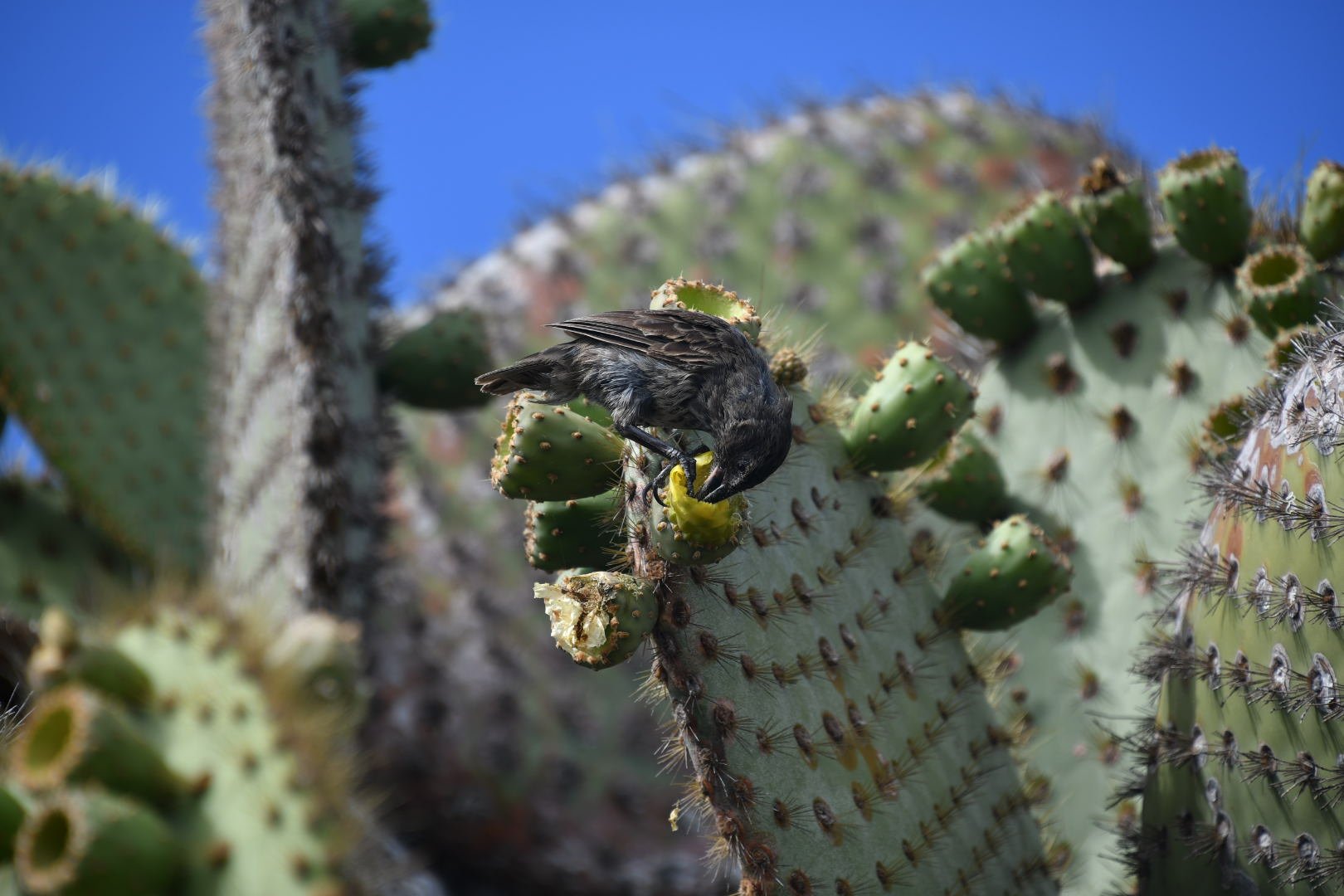 which feed on the flowers when they can find them. In fact, we even saw a finch's nest among the spiny bits.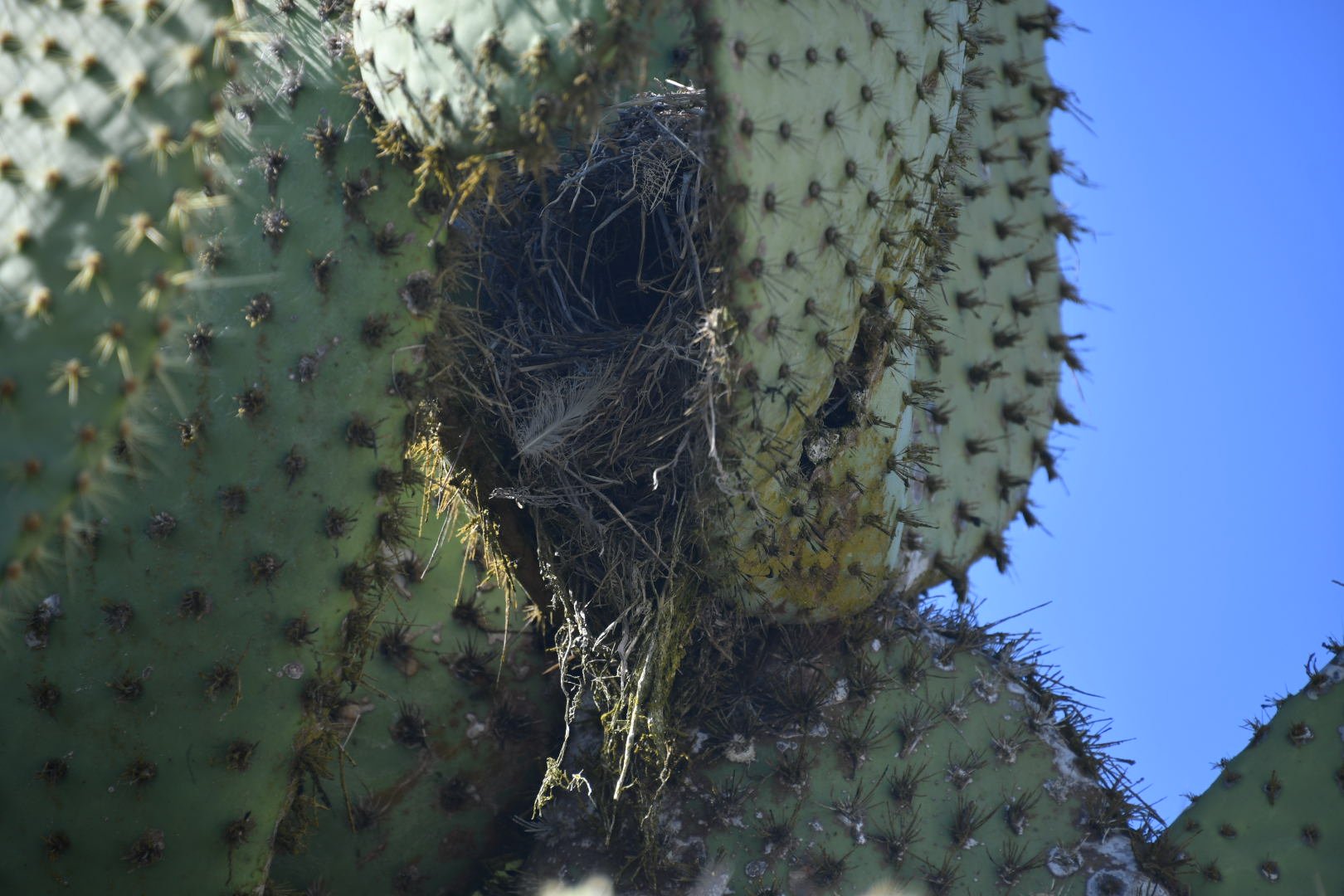 and also the bud of a new cactus growth.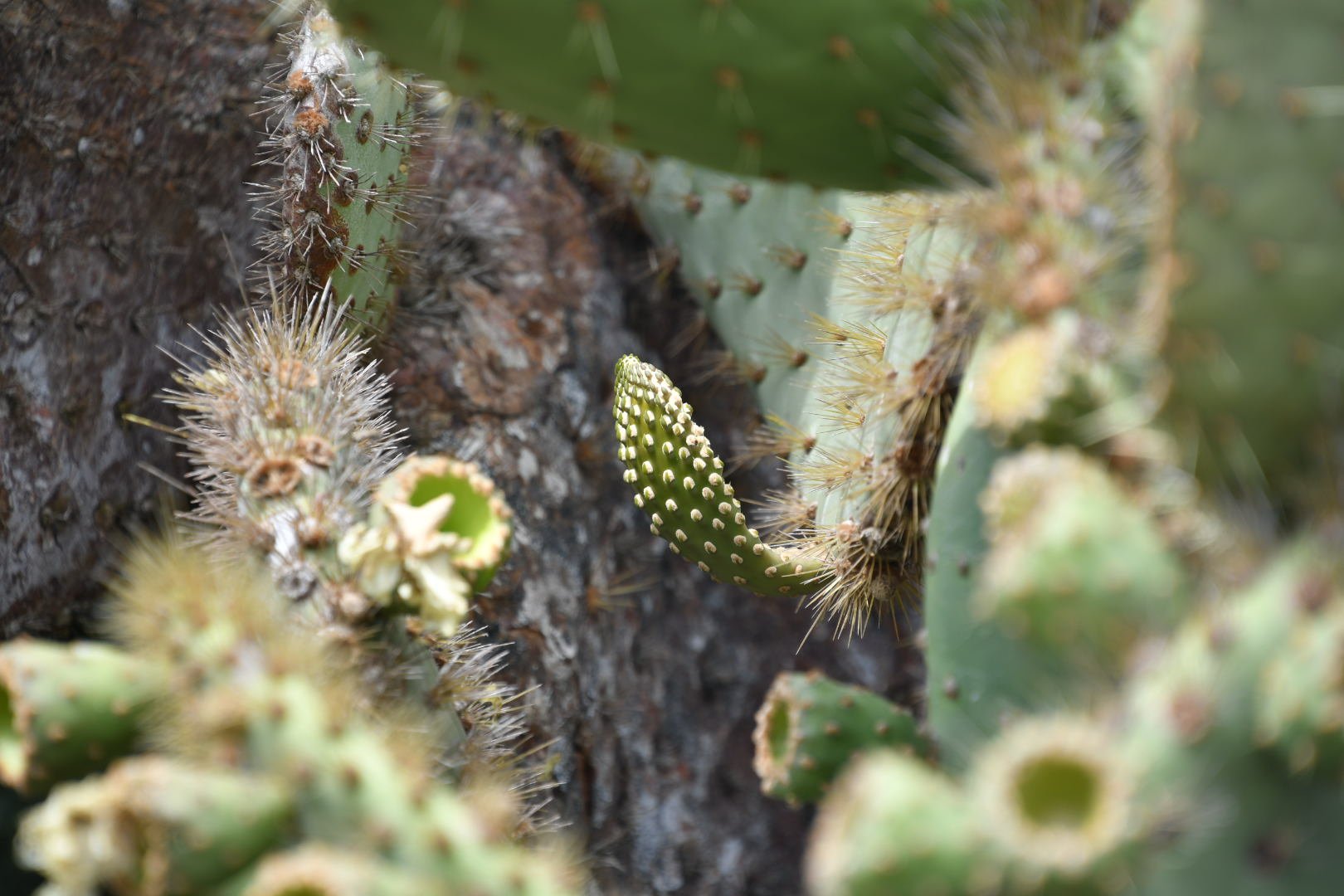 Moving around the island through a remarkable patchwork landscape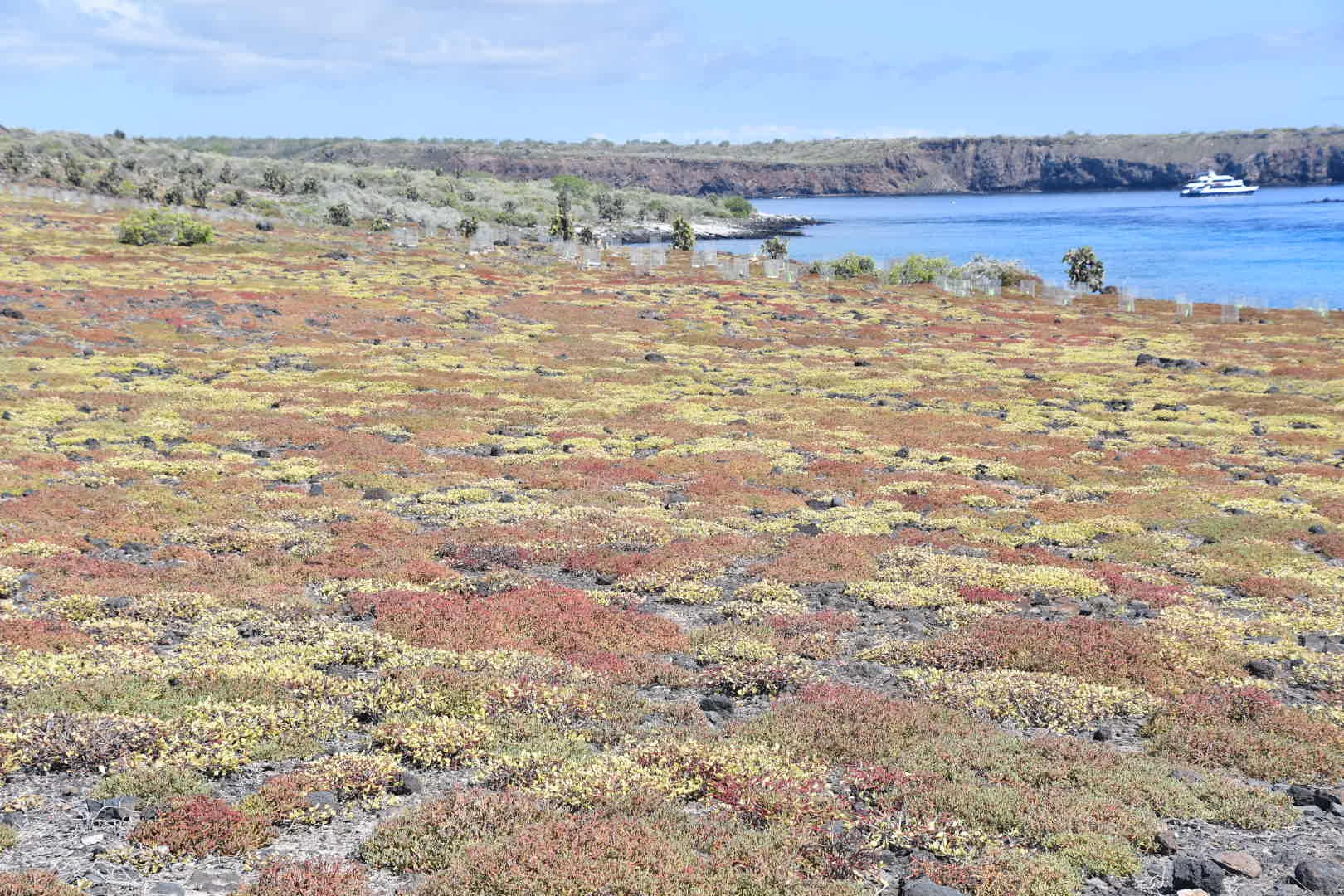 we got to a point where we might have seen Sheerwaters, or Noddy Terns, but all we got was this Frigate bird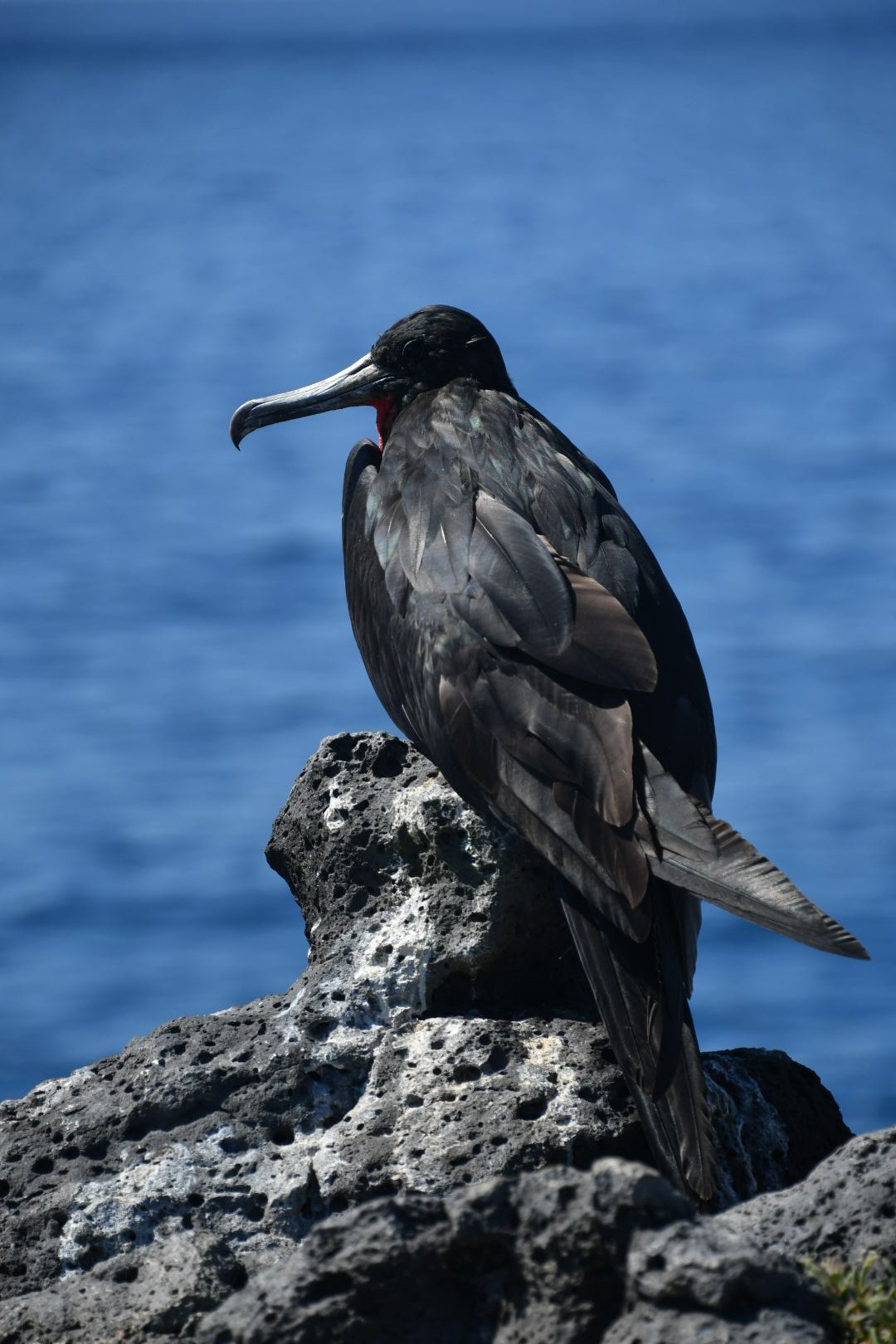 and by this point everyone was so overheated that we were all glad to get back on the panga to go back to the Origin.
A welcome rest from the scorching heat came in the shape of the next activity, which was a snorkelling expedition. Natasha hoped that we might see hammerhead sharks, and many of the group actually did. Also, flying overhead we saw a couple of red-billed tropicbirds, which Jane had wanted to see. No photograph, I'm afraid – my underwater camera is no good for fast-flying birds! No photograph of the hammerheads either – I was not in the lucky group to see these bizarre creatures, though I did get one or two sharp photos, including some of the white-tipped shark and others of some of the colourful and abundant sealife to be seen.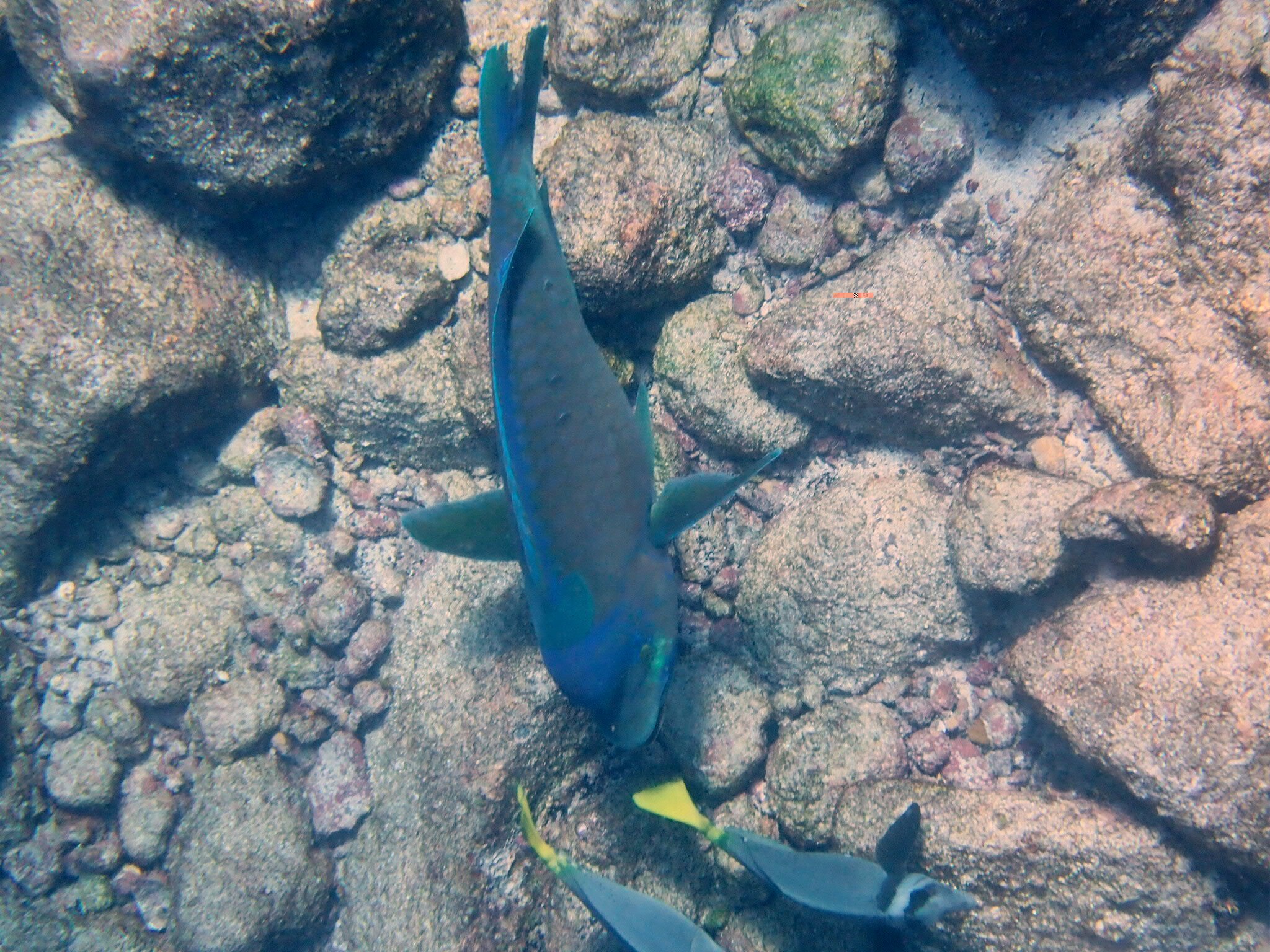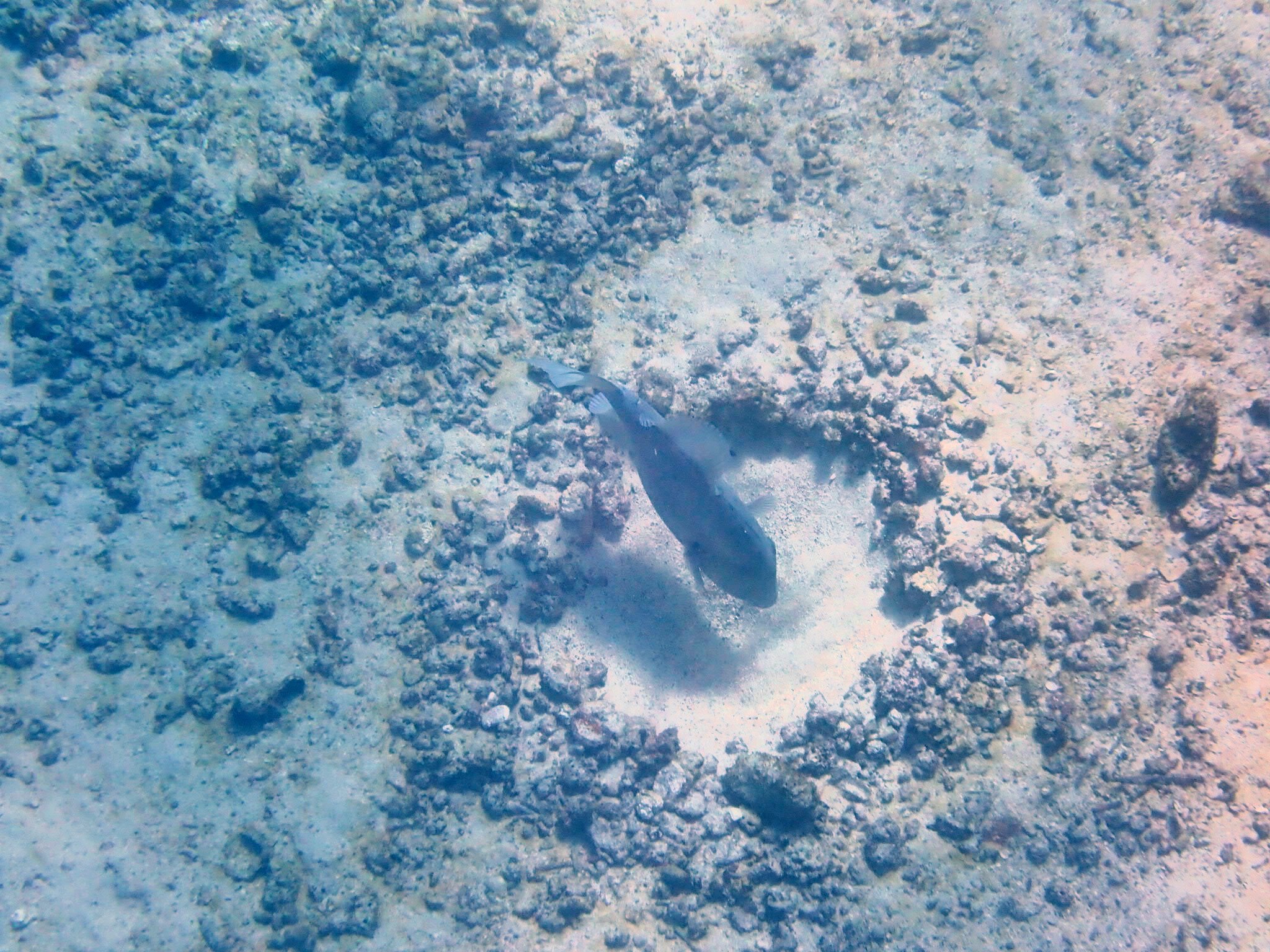 Frankly, I found the snorkelling to be less than entirely satisfactory, as there was a big conflict between my desire to get nice photographs or video footage and my also being able to stay with the group from our panga. It takes time and multiple attempts to get photos that are of acceptable quality, and I found I couldn't give the photography the attention it deserves without getting separated from the others. Hence, I missed seeing hammerhead sharks, but Jane did see them. I will include photo/video content from one of the other snorkellers when I can get my hands on it.
The final expedition of the day was another excursion into the scorching heat, on to North Seymour Island, though calling it an island somewhat bigs it up. The principal wildlife interest for this expedition was to see Frigate birds. Again, Jane had a specific interest to see the males with their distinctive red chest pouch inflated.
The island's landscape is pretty desolate, with dry-looking trees poking through a rocky terrain
But Frigate Birds have a colony there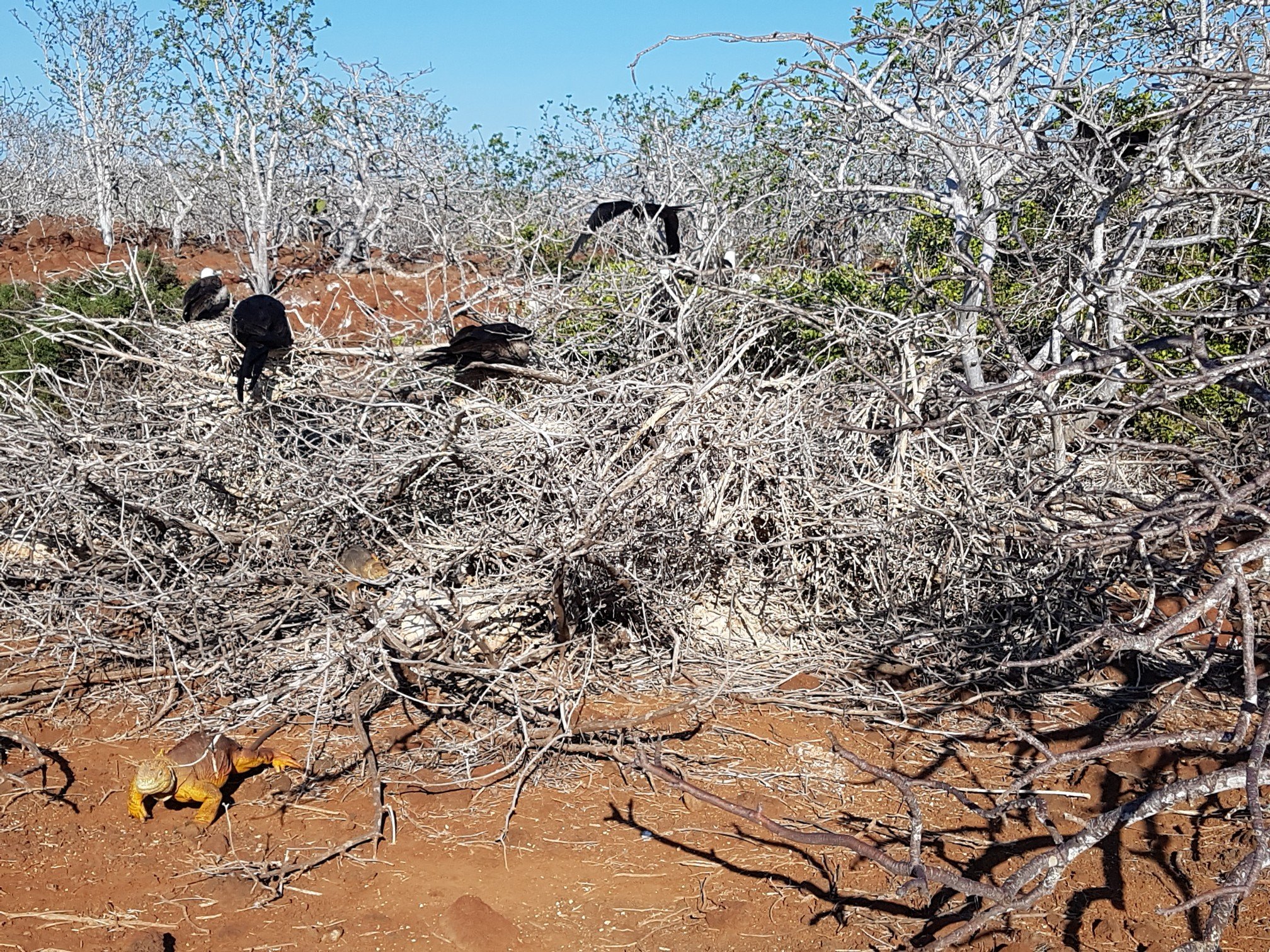 (note the land iguana creeping out at the bottom – they were on this island as well). You could see females and young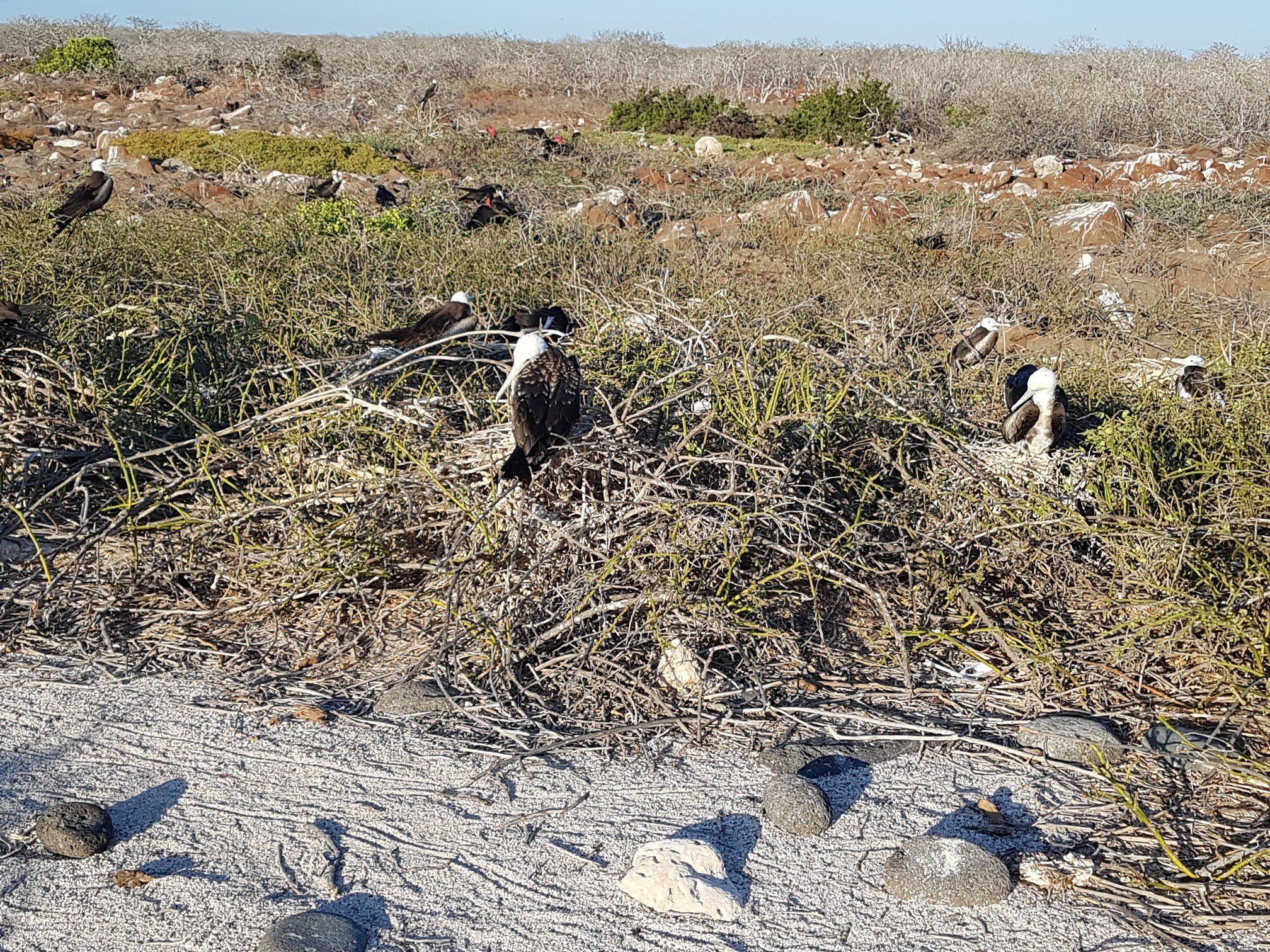 (white breast = female, white head = young). But it was the males that Jane specifically wanted to see, as they attract females by inflating a remarkable red pouch on their breast.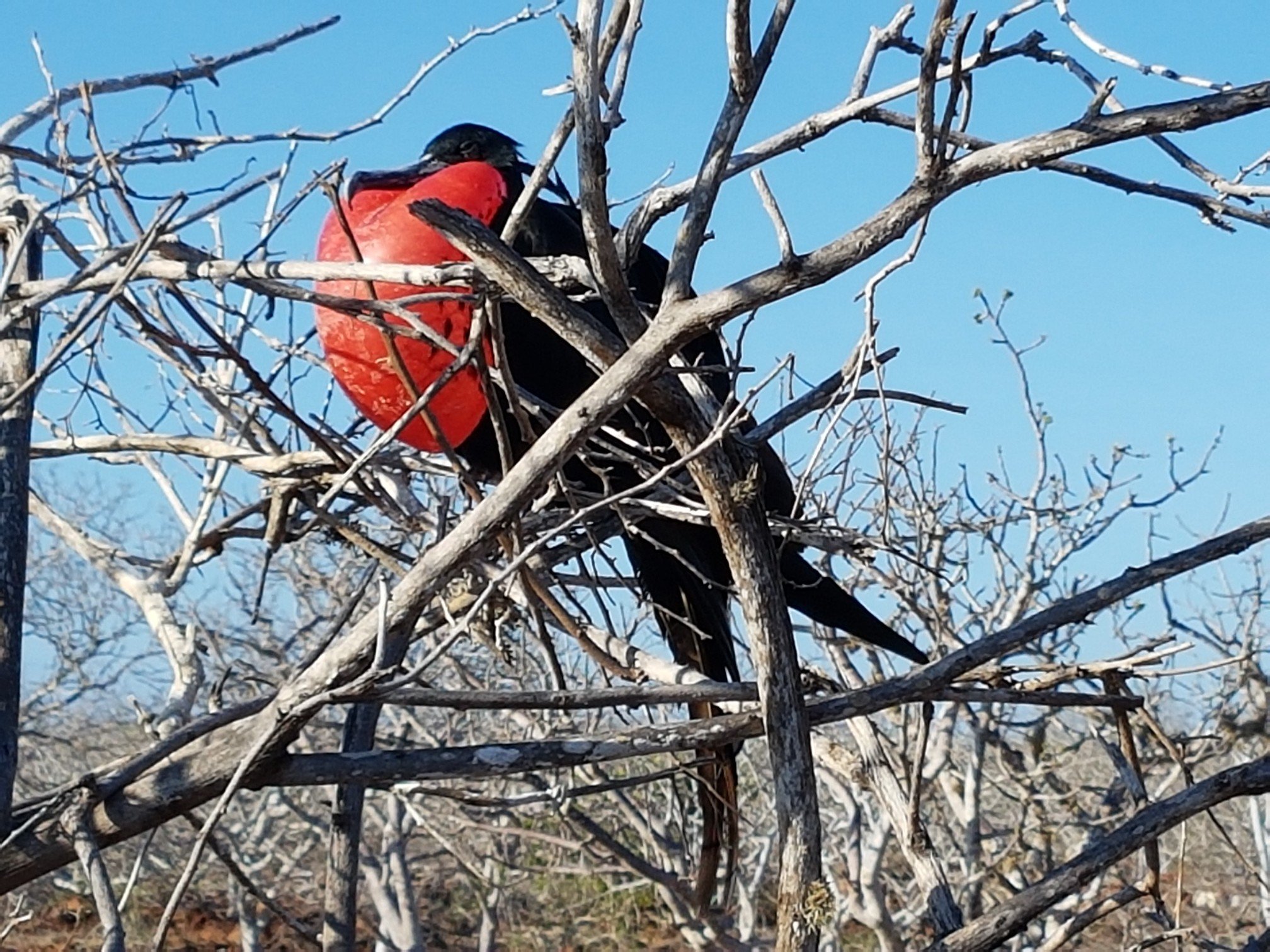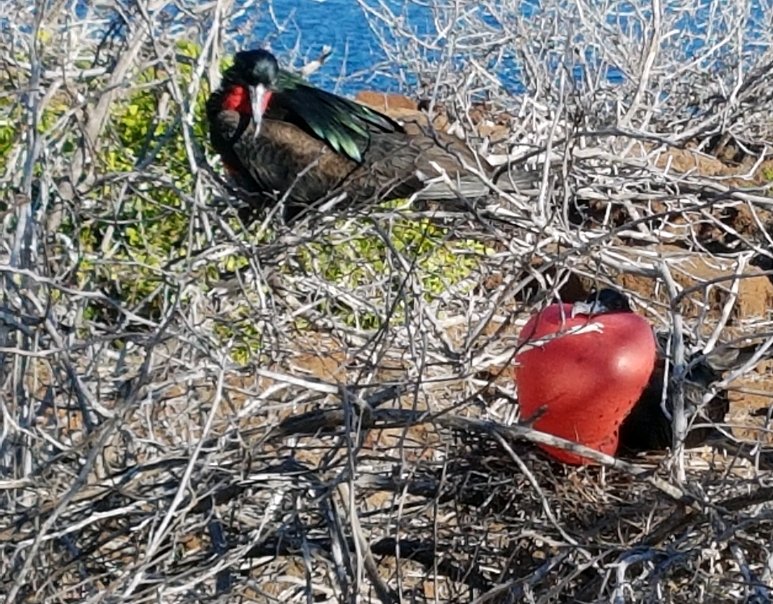 And then it was time for the farewell cocktail as the following day would see us having to depart for Quito.
Our week in the Galapagos was an intense experience – early starts in the morning, few opportunities to rest and relax without missing out on parts of the programme, huge amounts of information to absorb and try to remember. But the opportunities it presented – a superb way to see unique wildlife at close quarters, brilliant photographic scenarios and, best of all, a chance to meet and share the experience with a bunch of really nice people – made our week on M/V Origin a truly extraordinary passage in the already remarkable trip we're having in South America.